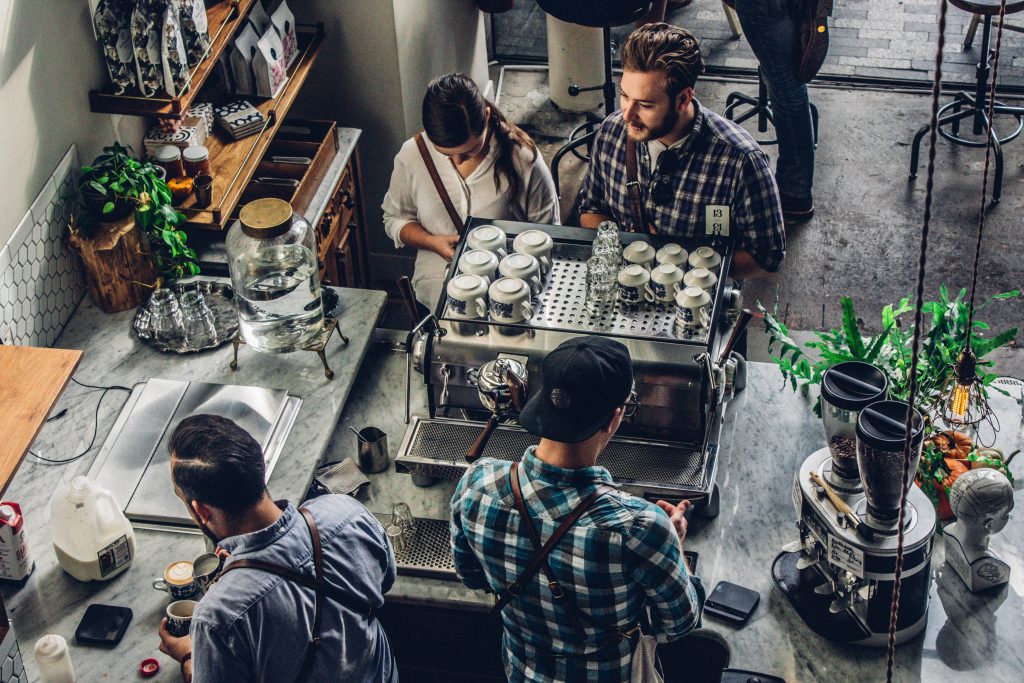 Facebook is now accepting applications for the Small Business Grants Program.
Although Facebook is still working on opening applications for cities outside the U.S., the social media company is now accepting applications from businesses in New York City, Seattle, and the San Francisco Bay Area. Applications for businesses in other eligible U.S. cities will open on April 22. Application closes on May 6, 2020 at 11:59 p.m., EDT.
Facebook is giving away $100 million in cash grants and ad credits to small businesses negatively affected by the COVID-19 pandemic. The program applies to more than 30 countries and 30,000 businesses across the globe. Each U.S. applicant, if approved, will be awarded a total of  $4,000 in cash and ad credits ($2,500 cash, $1,500 ad credits). Ad credits are optional. 
Eligibility Requirements
Eligible businesses must meet the following criteria:
The business must be a for-profit company
The business must have between 2 and 50 employees
The business must have been in operation for more than one year
The business must have been negatively affected by COVID-19
The business must be located in a city where Facebook operates
During the application process, applicants will also be required to provide the following documents:
Federal Employer Identification Number (FEIN)
Partnership documents
Business license
Proof of incorporation
Official registration
Applicants will also be required to state how the grant will help their businesses and how they will use the grant to impact their local communities. 
Eligible Locations
The grant is only open to businesses in locations where Facebook operates. Here is a list of eligible countries:
Argentina
Australia
Belgium
Brazil
Canada
China
Czech Republic
Denmark
France Germany
Hong Kong
India
Indonesia
Ireland
Israel
Italy
Japan
Malaysia
Mexico
Netherlands
New Zealand
Norway
Philippines
Poland
Singapore
South Africa
South Korea
Spain
Sweden
Switzerland
Thailand
Taiwan
United States
How to Apply
Currently, only businesses in New York City, Seattle, and the San Francisco Bay Area can apply. However, Facebook will open applications to other U.S. cities on April 22. To apply, applicants must follow these steps.
Step 1: Visit the Small Business Grants website and click "See Available Locations."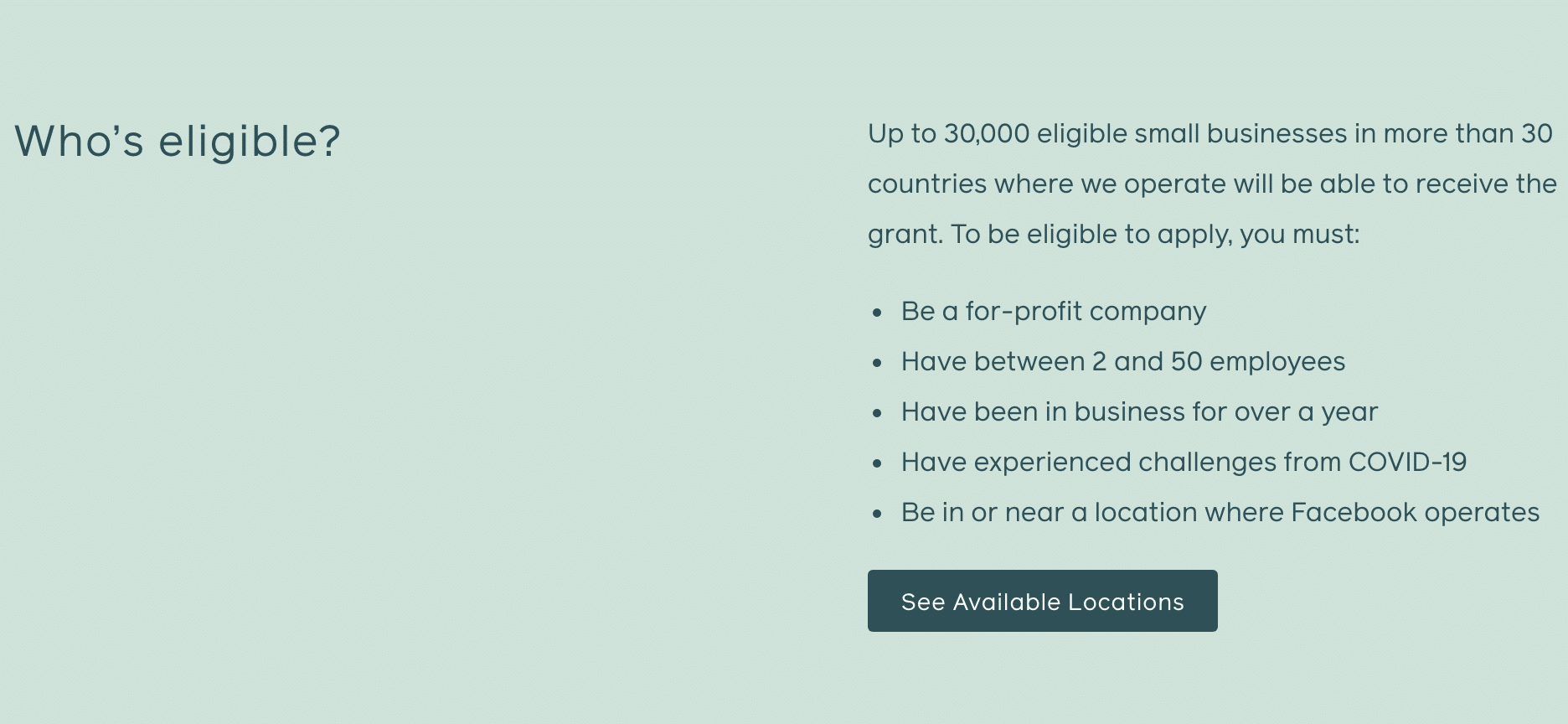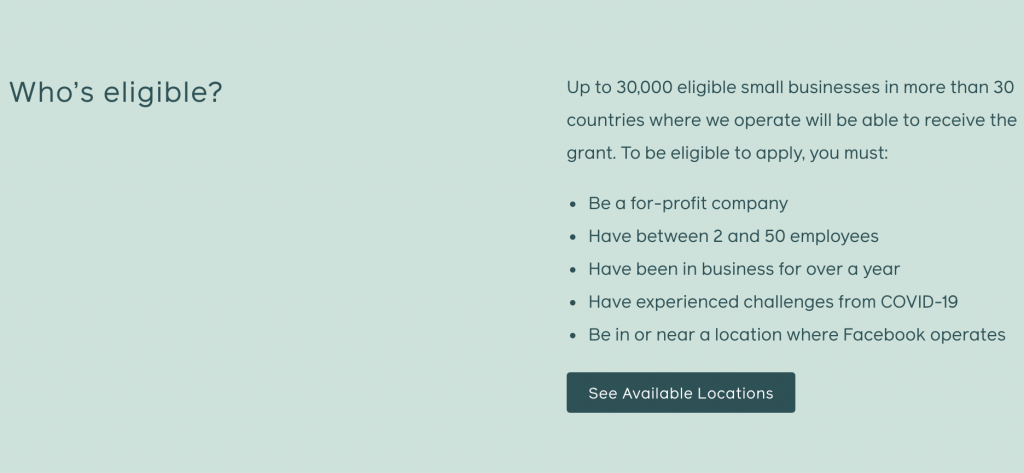 Step 2: Enter business location and click "Continue to partner site."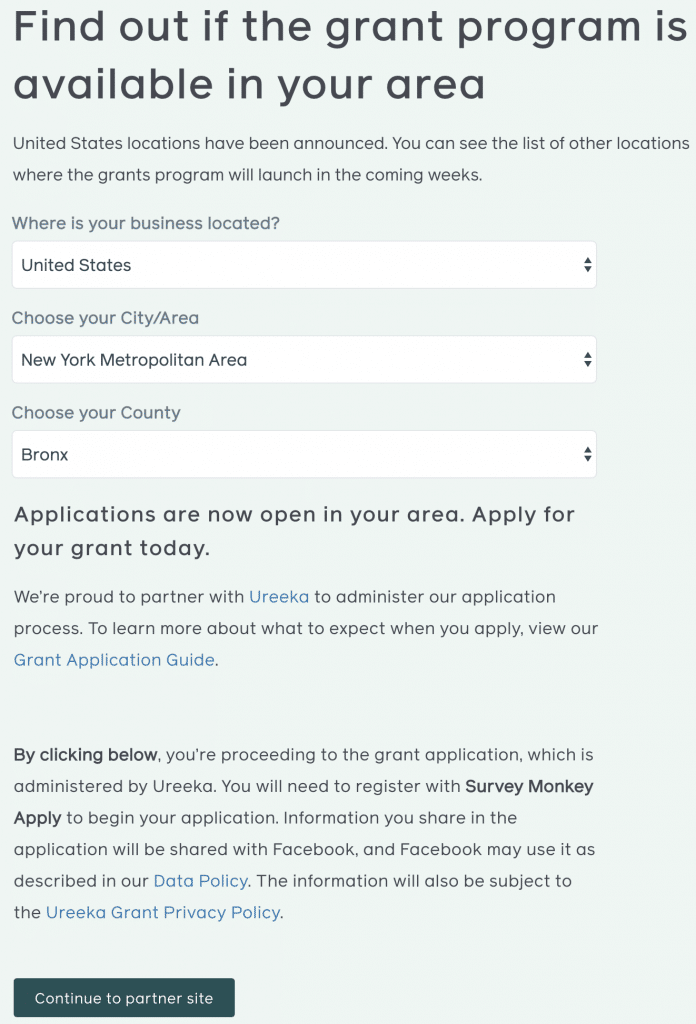 Step 3: Read the terms and grant policy.


Step 4: Click "Apply."
If applying before April 22, note that applications for certain cities will not yet be available. You will be redirected to a Ureeka page, where you will complete your application.

Step 5: Log in using your Facebook, Twitter, or Google account. You can also register with Survey Monkey.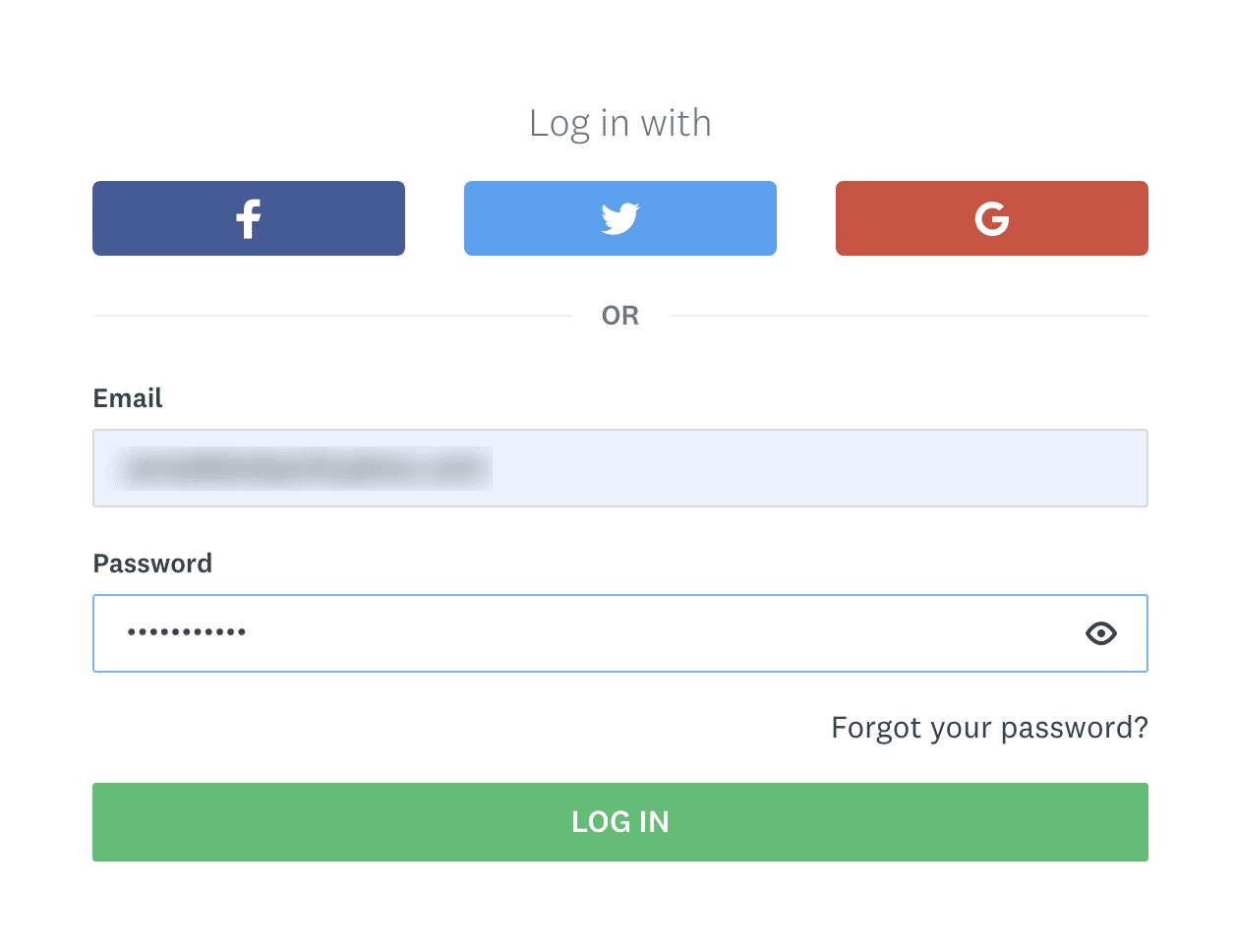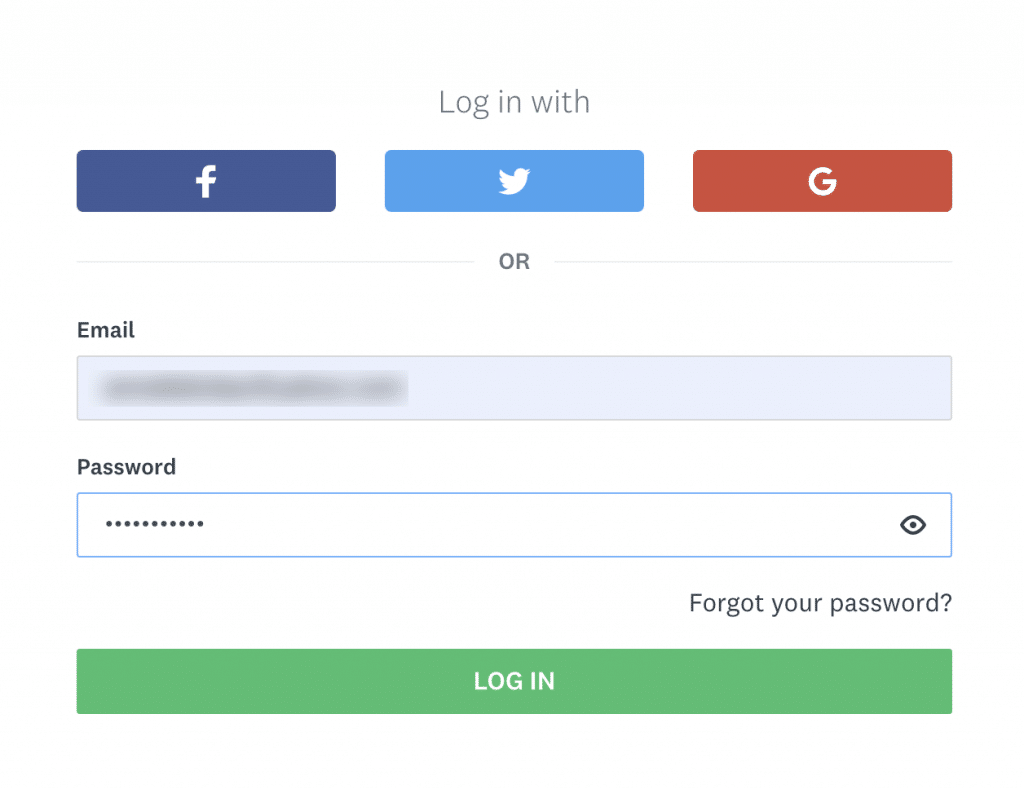 Step 6: Fill out your eligibility profile and save.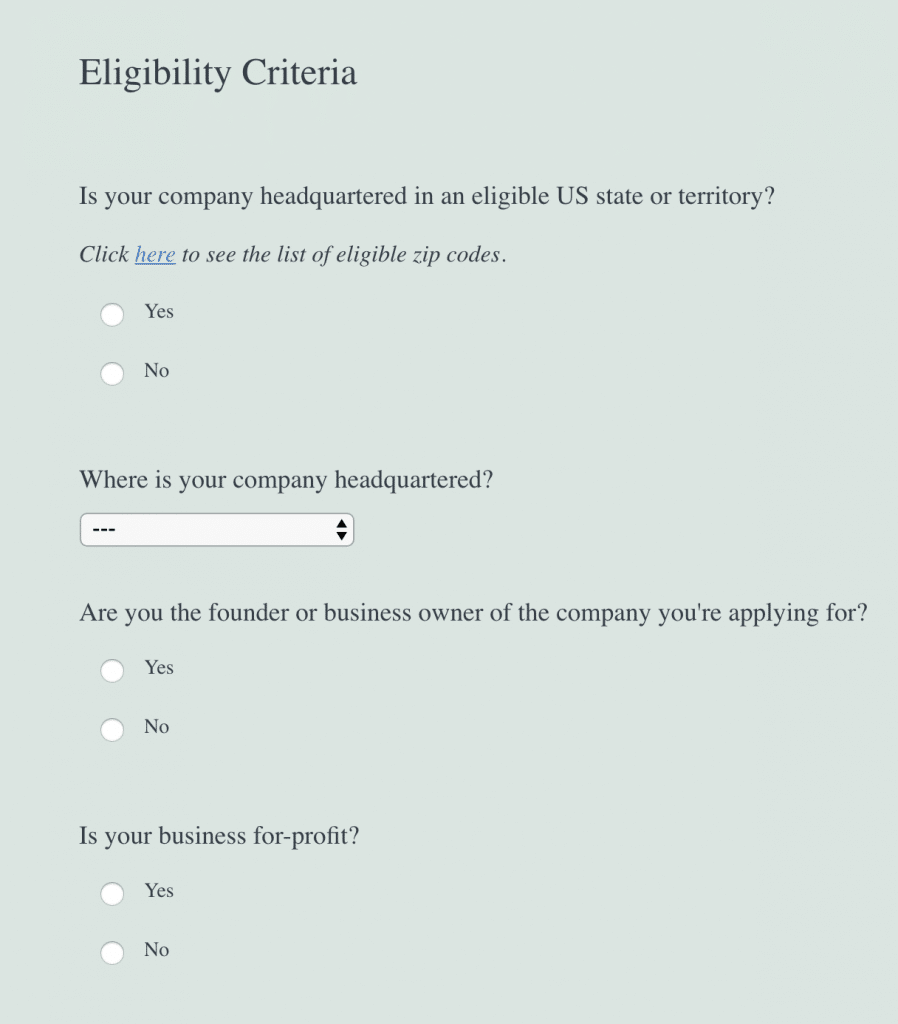 Facebook will ask you questions about your business to determine your eligibility. You will not be able to change the information on your profile after submission. Make sure the information you provided is accurate.

Step 7: Choose "Facebook Small Business Grants."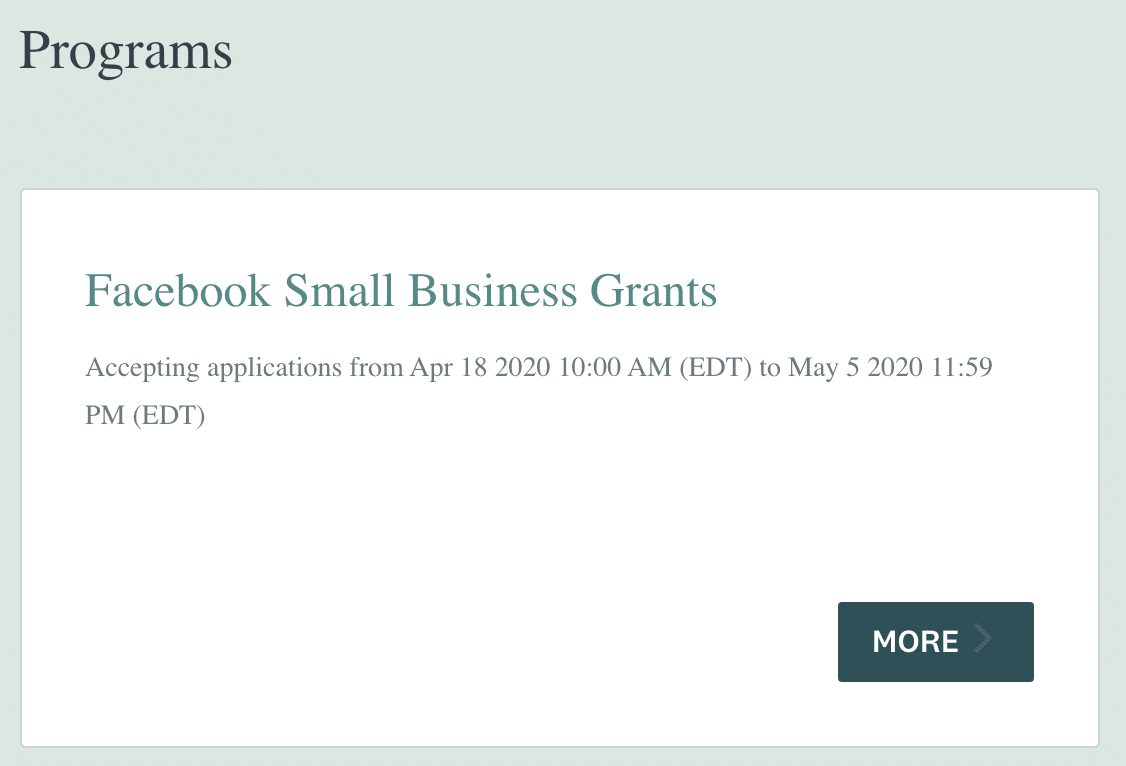 After clicking this, you may be redirected to the Grants page where you began your application. Click "See Application" to start.

Step 8: Provide required information.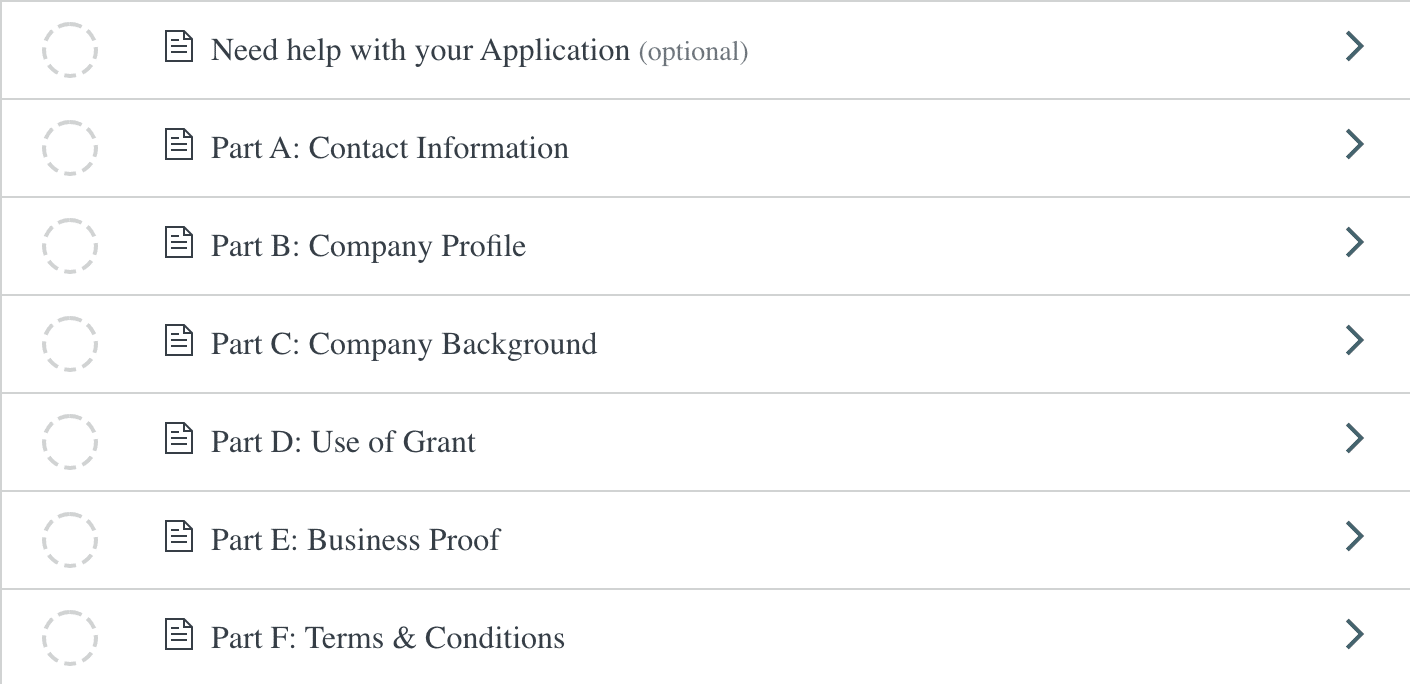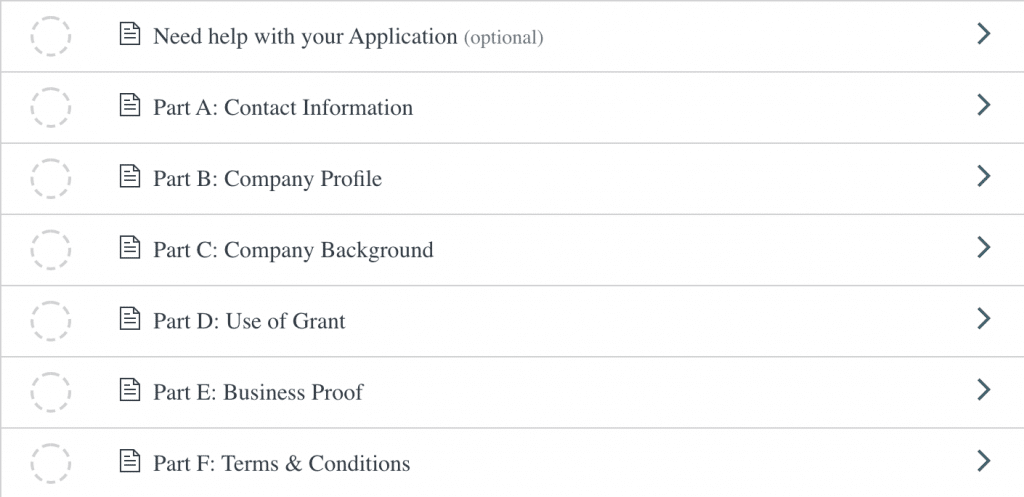 Facebook will ask you to fill out questions about your contact information, company profile, company background, use of grant, and business proof. You will also be required to agree to the grant terms and conditions.

Step 9: Review and submit.

By Anne Felicitas