From a series of Facebook Business and Product Update newsletters, we've put together a list of product updates to look for in the month of October.
1) Introducing More Control over Creative Assets within Automatic Placement
With asset customization, which Facebook says will begin rolling out over the next few weeks, advertisers will have more control over creative assets used when Facebook optimizes ad performance. In other words, advertisers will have the ability to customize elements of individual placements even when they run ads across multiple ad placements with automatic placement. Specifically, advertisers can upload a single image or video to the ad placement of their choice within the same ad set.
According to Facebook, asset customization will be available for:
Facebook feeds and in-stream video
Instagram feed and Instagram Stories
Audience Network display, native, interstitial, in-stream video, and rewarded video
The new functionality works with the reach, brand awareness, traffic, video views, app installs, and conversions objectives.
Keep an eye out for asset customization in Facebook's Power Editor, Ads Manager, and ads API.
2) Introducing Facebook Camera and Stories for Pages
Facebook camera and Stories, in the coming weeks, will be accessible for all pages on iOS and Android devices globally. With this new feature, page administrators can create genuine, visual experiences through photos and videos in the form of a Story that disappears after 24 hours.
Facebook says advertisers can use the Facebook camera and Stories capability to complement a page's Instagram Stories marketing strategy.
3) Announcing Updates to Right Column and Carousel Ads
Coming this month, Facebook says it's updating right column and carousel ads. For right column placement, Facebook is limiting advertisers' ability to buy right column ads with the objectives traffic, conversions, and product catalog sales. Also, advertisers can no longer use video within the right column placement. Only single image posts that contain a link or an image carousel are allowed.
Additionally, Carousel ads will now support multiple links. Instead of one call-to-action with a caption for the whole Carousel, each Carousel card will have its own CTA and caption.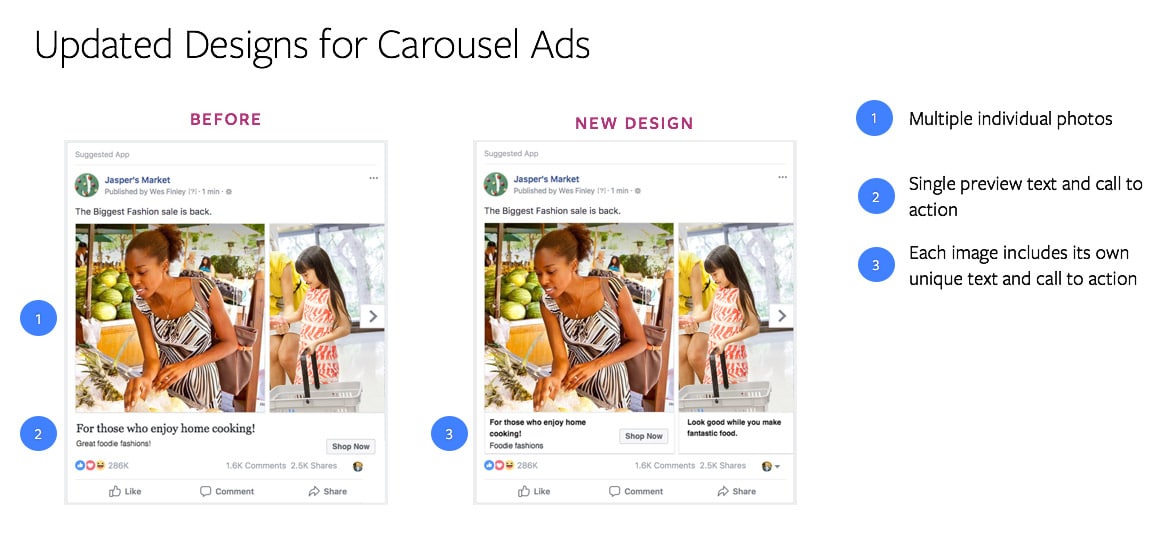 4) New Project Tools on the Creative Hub
This month, Facebook's Creative Hub will now allow creative teams to create a project within Creative Hub for mockups, work on projects over a collaborative workspace, and share projects with colleagues and partners. All that's needed is a Business Manager account.
Comments
comments