'Tis the season for Facebook product updates.
To continually improve advertiser's Facebook advertising experience, Facebook constantly updates its products. Here are four Facebook updates you should look out for.
1. Facebook Captioning Service
Because of videos' improved performance with the application of captions, Facebook launched a free professional captioning service courtesy of Facebook for English Captioning. With this free captioning service, Facebook aims to further improve video's performance. Facebook found that, with captions, videos have a 12% average increase in watch time, an 18% increase in video completion rate, and a 10% decrease in cost-per-ten-second view.
2. Tools for Apps
Facebook improved and added app tools for advertisers. Below are the updates:
Dynamic Ads for App Installs: Facebook launched dynamic ads for apps, ads that drive mobile app installs. Dynamic ads target an audience more likely to install your app, including people who recently browsed your products.
App Event Optimization: A tool released in July, App Event Optimization increases success for businesses in mobile commerce and gaming.
App Remarketing Products: Facebook's app remarketing products drive repeat actions from people who have already installed your app. The app markets to those who have already taken certain actions on your products, encouraging them to complete a desired action such as making a purchase, booking a trip, or playing a level in a gaming app.
View Through Attribution and Impression Data: View-through attribution, which is offered by Mobile Measurement Partners, assigns credits to ads that people viewed but never clicked. Impression data, on the other hand, explains how your ad campaigns impact incremental installs.
3. New Canvas Tools
Earlier this month, Facebook updated and added new Canvas features for easy use and navigation. Here are the updates:
Swipe-To-Open: Drives people to mobile sites seamlessly at the bottom of Canvas.
Store Locator: Canvases can now support the native store locator as a component within Canvas.
Canvas as an Ad Format: Brings Canvas to the forefront of campaign creation in Ads Creation flow.
In-Feed Redesign: Drives people into the Canvas experience.
4. Metrics Updates
After reporting some errors on its metrics, Facebook quickly made corrections. Here are Facebook's improvements to its metrics:
Improved Estimated Reach Methodology
To improve its estimated reach methodology, Facebook is updating its estimated reach tool. This new tool gives advertisers an estimate of both the potential overall reach and the estimated daily reach of their ads.
Facebook is also updating its methodology for sampling and extrapolating potential audience sizes. The update will provide a more accurate estimate for a given target audience and better accounts for audiences across multiple platforms such as Facebook, Instagram, and Audience Network. With this update, advertisers should expect to see less than a 10% change (increase or decrease) in the audience sizes shown in the tool.
Reallocated Streaming Reactions Counts on Posts
Currently, extra reactions on streaming videos appear on the "Reactions from Shares of Post" rather than on the "Reaction on Post" section. During this error, all total counts were and are correct but were captured in the wrong reporting column. To correct this, Facebook is reallocating reactions from the "Reactions from Shares of Post" column to the "Reaction on Post" column.
This update applies to all videos created mid-December. It will increase "Reactions on Post" results by 500% on average and decrease "Reactions from Shares of Post" results by 25% on average (actual impact to specific videos may vary).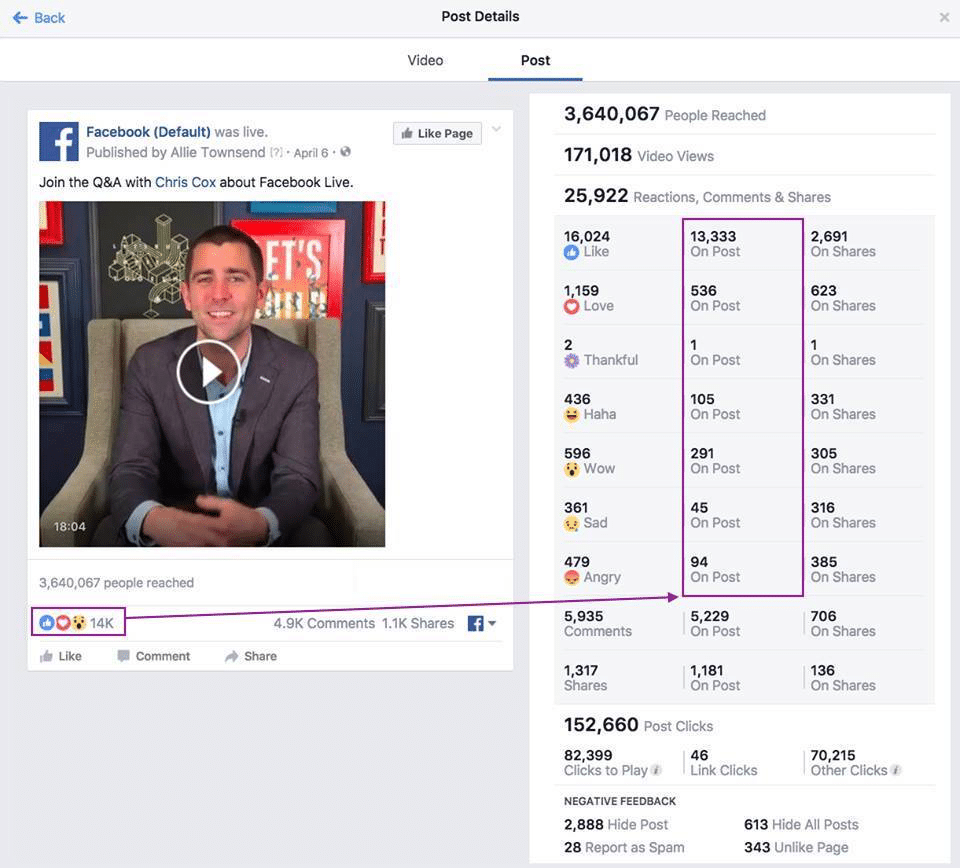 What do you think of these four Facebook updates? Leave your comments below or share story to friends.