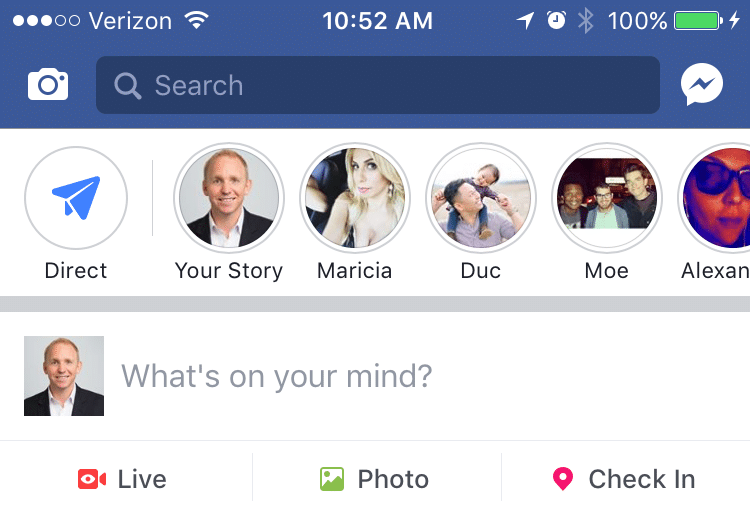 Earlier this week the AdvertiseMint team discovered a very pleasant surprise waiting in our Facebook apps: Facebook Stories. The appearance of this deviant new feature meant that the long-awaited Snapchat duplicate is officially rolling out.
Facebook Stories added three new features to the mobile app: an in-app camera (to better take those selfies), a Stories bar above news feed, and a private messaging feature called Direct.
Much like its sister duplicate, Instagram Stories, a derivative of Snapchat Stories, the original photo-sharing app, Facebook Stories allows you to send ephemeral photos and videos to friends. The photos and videos, which you can embellish with texts, drawings, stickers, and animated filters, disappear after 24 hours, a feature that, according to Connor Hayes, product manager of Facebook Stories, " Snapchat really pioneered."
Although Facebook Stories possesses similarities to Snapchat Stories, it has one deviation: rather than swiping left or right to change filters as you would with Instagram and Snapchat, you swipe up and down with Facebook Stories.
To create a story, swipe right on news feed or tap the camera on the top left corner of the app. After you take your photo or video, you can choose to share your story with all your friends or a subset of friends. Choosing to send your story to all of your friends will result in your story appearing on the Stories bar above news feed. If you choose to send it to only a select group of friends, the story will appear inside Direct, the feature that appears as a paper plane icon on the left side of the Stories bar.
News of Facebook Stories first emerged in January when it was still in closed beta. Now Facebook Stories is rolling out to all users.
Comments
comments