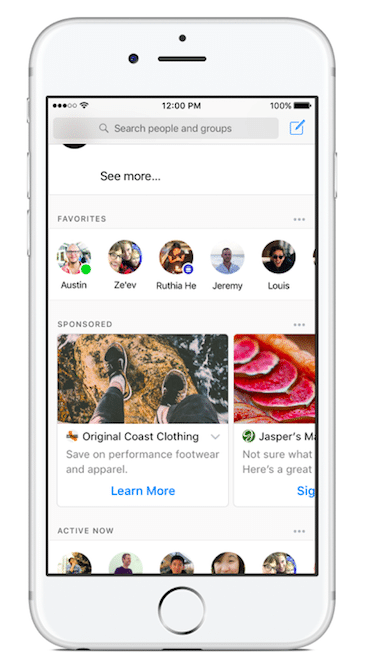 Facebook is currently testing carousel ads inside Messenger, ads that share some similarities with its news feed counterpart. Like news feed carousel ads, carousel ads inside messenger allow users to swipe through cards that display the ad's product or services. Unlike its news feed version, however, the Messenger version contains cards from different advertisers rather than several products from the same advertiser. Facebook plans to feature five different advertisers on the carousel ad.
The ads will appear below the fold which is underneath the bar that features your Favorites, or contacts whom you message the most.
Targeting for Messenger Carousel ads work similarly to Facebook's ad targeting: ads target audiences according to the targeting options the advertiser chose. The targeting options include:
Demographics-age, gender, interest, and language, among many others.
Connections-individuals who liked a brand's Facebook page or app and friends of those high-interest individuals.
Interest-individuals who are interested in a brand or who are likely to be interested in a brand; movies, music, sports, games, and shopping, among many others.
Custom Audiences-existing customers who are also Facebook users by uploading a customer contact list.
Behaviors-automotive, purchase, mobile, or financial behaviors, among many others.
Thus, Messenger Carousel ads will not target audiences based on information included in their private messages.
Currently, Facebook's ads in Messenger are only available to a small number of users in Australia and Thailand.
The risky move of bringing ads to Messenger started because Facebook is running out of places to show users ads in News Feed. This means the ads bidding process will be more competitive for advertisers. Including ads in Messenger will give more advertisers an opportunity to advertise on the social media giant's platform.
However, Facebook is uneasy about this move as Messenger is usually a private, sacred place, free from the reaches of Facebook ads. Placing ads in Messenger could be viewed by users as invasive. For this reason, Facebook approaches this new test tentatively.
"We are going to try on a very small scale and see how people react," said Stan Chudnovsky, head of product for Messenger, to Recode.
Chudnovsky also remarked that testing ads on Messenger is a great way to discover whether this move succeeds or not. After all, the idea of ads in News Feed, and in Instagram's feed, also felt weird when Facebook first started testing them. Now look at how popular and successful these ads are.
"Originally, people were also not very big believers in ads in News Feed because that felt very private, too," he said. "But the playbook that we had is the same. We are worried about [that], but we are also testing things even when we are worried about them."
Currently, Facebook does not plan to expand the test to more countries.
"We run long-term tests. It's not going to be expanding anywhere for a long time," Chudnovsky said.
If these Messenger ads do take off, they likely won't roll out for several months.
Comments
comments