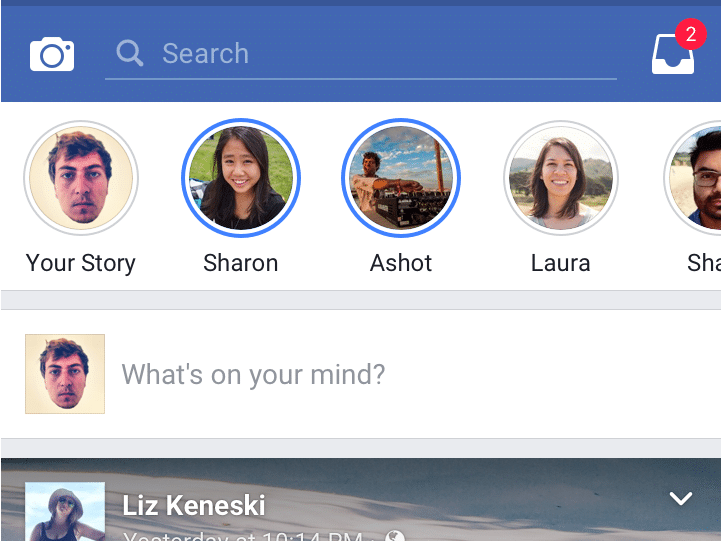 Facebook tests Facebook Stories, a duplicate of Instagram Stories and Snapchat Stories.
Much like Instagram and Snapchat, Facebook Stories is comprised of users' ephemeral photos and videos that last up to 24 hours. Facebook Stories is being tested on the social media giant's mobile app, appearing on top of the screen under the search bar.
The stories you post will not appear on your news feed or your profile's timeline, and, like Instagram, you can directly message someone through the story you're viewing. When recording a video or taking a selfie, you will be able to use Facebook's filters to liven your story.
It's not surprising that Facebook's own version of Stories closely resembles Instagram's. It is, after all, Instagram's parent company. The move to adopt a Stories feature into its own app shows that Facebook is trying its hardest to not only compel users to spend more time on its app but to also render Snapchat obsolete during its ongoing rivalry. Copying Snapchat's Stories worked perfectly for Instagram, compelling 150 million people to use Stories every day, a number almost as large as Snapchat's user base.
Currently, Facebook has 1.18 billion daily active users—that's 1.18 billion people who will potentially use Facebook's Stories and who will perhaps be audiences to mid-roll video ads. Earlier this month, Instagram tested full-screen video ads that appear on Stories with around 30 advertisers, including AirBNB, Nike, Netflix, and ASOS. If these full-screen video ads prove successful, it's likely that Facebook will also include mid-roll ads into Facebook Stories.
Although Facebook Stories is only currently being tested in Ireland, Facebook plans to bring it to more countries in the coming months.
Comments
comments