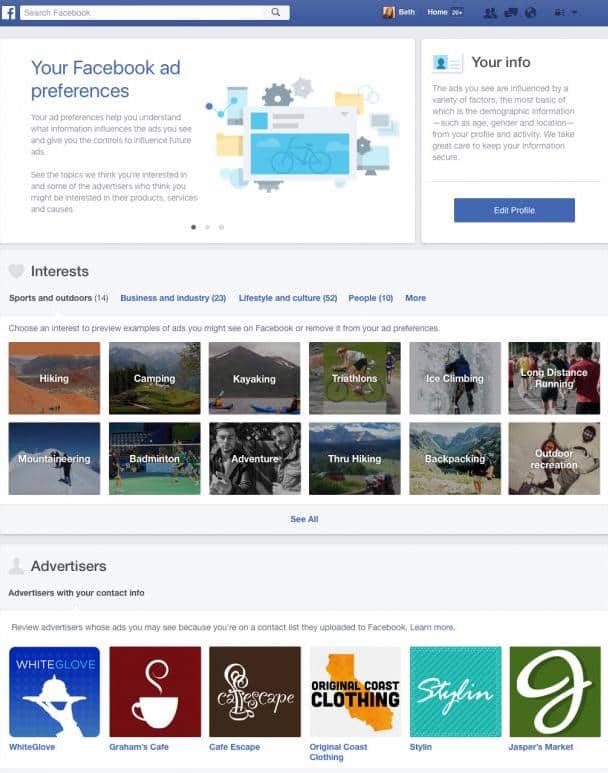 Facebook recently added a new update on its site that gives power to the people: new ad preferences. With this new feature, Facebook users can control which Facebook ads appear on their pages. For example, users can prevent companies from finding them on Facebook using their emails. Facebook does this by showing users which companies possess their emails then giving them the option to stop receiving ads from those brands.
In addition to hiding their emails from companies, users can adjust which ads they can receive based on interest. For example, users can check boxes labeled with interests that are relevant to them such as hiking, cooking, or fashion, among many others.
#Facebook users can control ads
Click To Tweet
Some advertisers may feel threatened by this new change. Many may wonder if this will hurt sales. On the contrary, the new ad preference settings benefits both users and businesses.
According to Adam Bosworth, this new empowering feature allows advertisers to suit its audiences' needs. "People can modify the interest we use to show them ads to make them more relevant to their interests," he stated.
The more relevant the ads are to Facebook users, the more likely they are to take action (i.e. clicking the add, visiting your website, or buying your products). After all, the number of audiences does not necessarily convert to the number of engagement. You may be sending an ad to 100,000 users but it's certainly possible that none of them will take action after seeing the ad, especially if it isn't relevant to them. As a result, giving users the power to choose ads benefits businesses by allowing them to spend money in an effective way.
With Facebook's new ad preference settings, both users and advertisers win.
Comments
comments