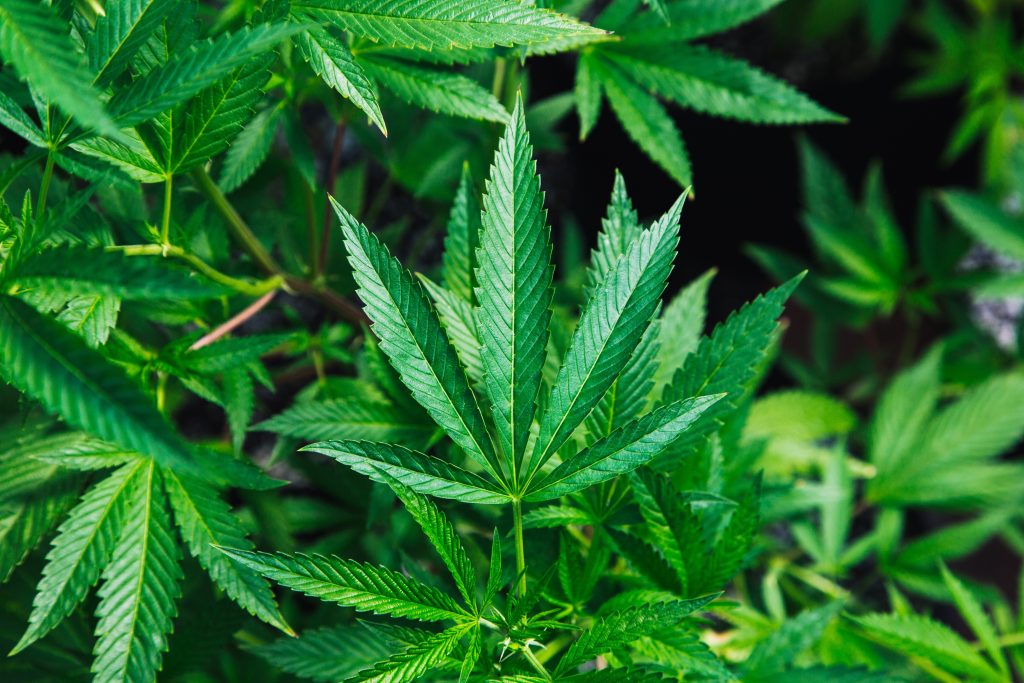 With more and more states legalizing marijuana, especially medical marijuana, more cannabis companies are emerging, looking for ways to reach their desired audience. But it's challenging to be in the cannabis business because there are so many advertising restrictions. How can you grow your business if you can't promote it?
Although social media platforms allow organic posts about recreational drugs, many of those platforms prohibit ads about recreational substances under any context. You can explore the social media advertising options available to you using this list of platforms and their policies on cannabis ads.
Pinterest
According to Pinterest's advertising policies, Pinterest never allows ads that promote the sale or use of illegal or recreational drugs. However, the company says it does allow ads promoting hemp and CBD-only byproducts of cannabis that don't contain THC.
A basic search on the platform shows that Pinterest does allow organic content containing information about cannabis that are artistic or educational. Therefore, you can share organic content about those substances on Pinterest.
Twitter
Twitter's advertising policies say the platform does not allow ads that promote drugs and drug paraphernalia globally. Examples the policies provide include
Illegal drugs
Recreational and herbal drugs
Accessories associated with drug use
Drug dispensaries
Depictions of hard drug use
Because Twitter does not allow ads about recreational and herbal drugs, it will not allow companies to advertise their cannabis products. However, Twitter appears to allow organic tweets that contain keywords like "marijuana." In fact, there's a Twitter page called Weed Tweets and a page called Cannabis Culture that includes tweets about cannabis. If you want to promote medical cannabis on Twitter, you can do so organically instead.
Snapchat
Snapchat's advertising policies do not offer specific examples, but Snapchat does prohibit ads about illegal or recreational drugs or drug paraphernalia. This means Snapchat won't allow your cannabis ads to run. However, if you search for "marijuana" or "cannabis" on Snapchat Discover, the platform appears to allow content about those recreational drugs as long as they don't promote illegal activity.
YouTube
Although YouTube's Community Guidelines does not specify that you can't post content about cannabis, it does stipulate that harmful or dangerous content is prohibited. If you're sharing content about medical marijuana, for instance, you are allowed to do so.
YouTube Help does say video content that promotes illegal drugs and dangerous products or substances is "not suitable" for advertising on the platform. However, you are allowed to share videos that discuss such substances for educational, documentary, and artistic purposes as long as they do not glorify illegal or dangerous use of the product.
Reddit
Although Reddit's Content Policy says the platform prohibits content that promotes illegal activities, it does not specifically state whether or not content about cannabis is prohibited. If you intend to share content about cannabis products in an educational or legal manner, it isn't an issue.
However, the platform's Advertising Policy says ads promoting the sale or use of recreational drugs or substances is not allowed. If you have such a product you want to promote, you cannot advertise it on Reddit.
Google
The advertising policies for the Google Network prohibit the promotion of dangerous products or services, including recreational drugs, either chemical or herbal. The policies do not specify whether Google exempts educational or artistic content about those types of drugs. Therefore, it is unlikely that you can advertise cannabis products on the Google Network.
If you want to use Google Blogger to write content related to cannabis, you may do so, but only if the blog does not encourage illegal or dangerous content. Google will delete your content if it violates this stipulation.
Facebook
Last but not least, Facebook's advertising policies also prohibit the promotion of illegal or recreational drugs. The platform has been working harder to give users a safe experience, so even if your company promotes healthy use or educational information about cannabis, the company will not allow it.
Facebook's ad policy suggests avoiding images that show smoking-related accessories, drugs, and drug use.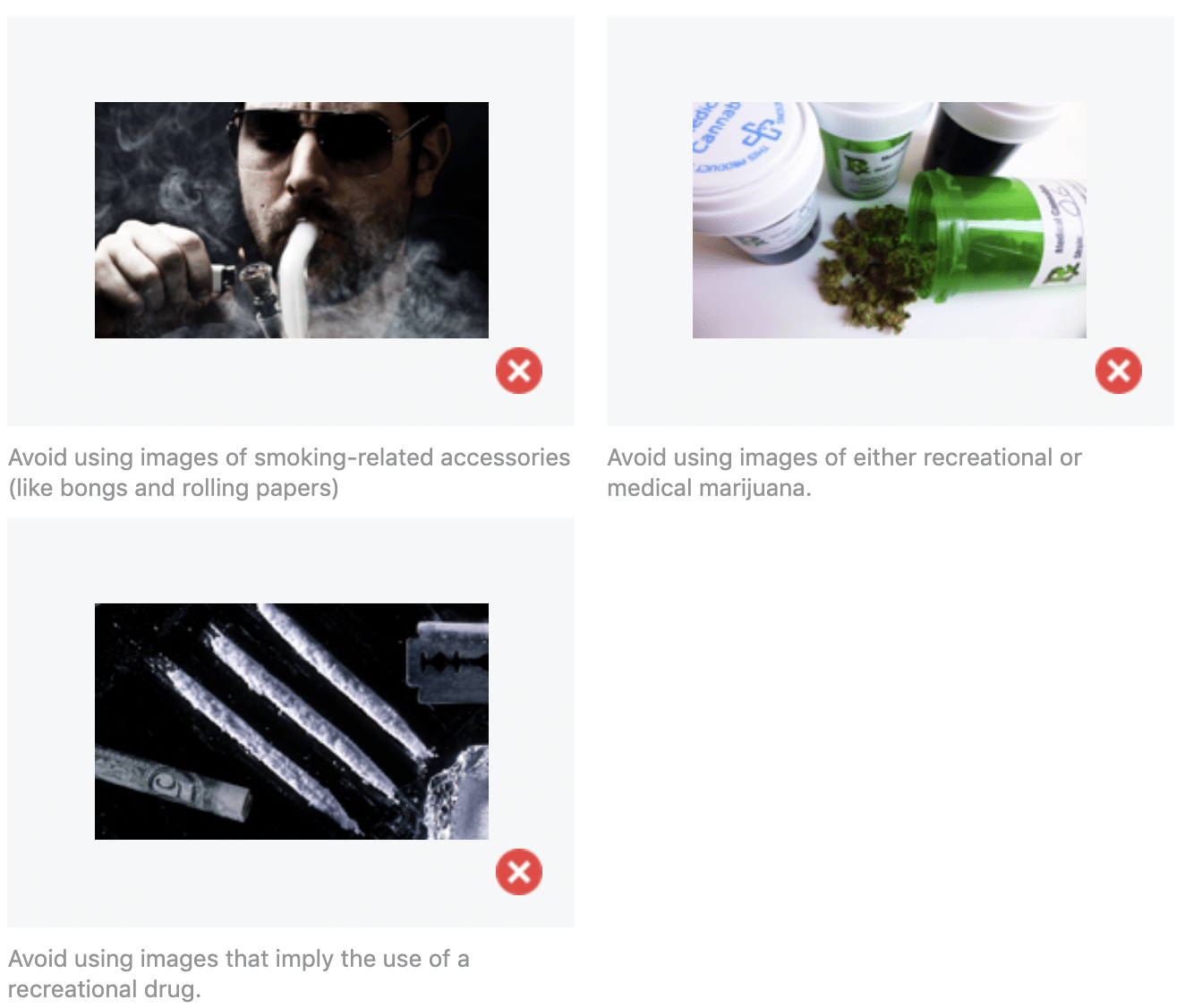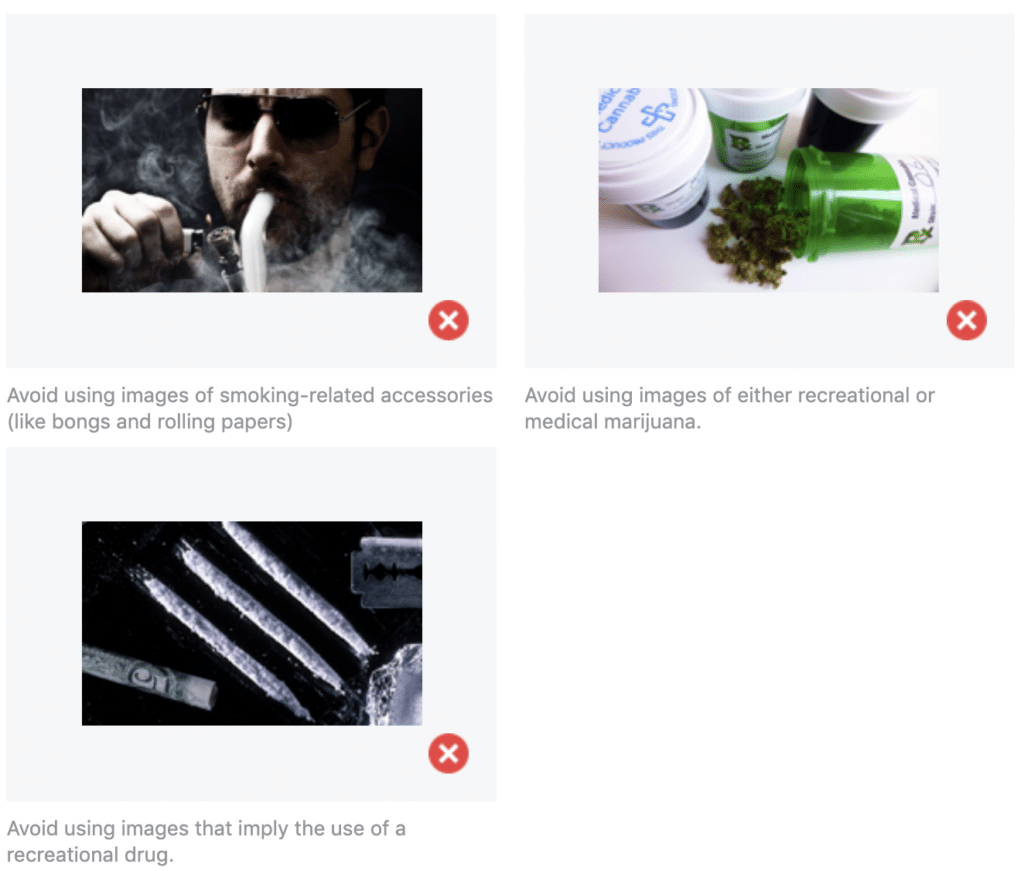 However, if you search for the words "marijuana" or "cannabis" on Facebook, you'll find business pages with organic content about the substances. As long as the content is educational or informative, Facebook appears to allow it. But if you choose to market your cannabis company on Facebook, proceed with caution because the company is strict about the type of content it allows.
If you want to promote a product like medical marijuana on any of the platforms discussed in this article that prohibit such products, it's prudent to contact the platform to review the material you want to advertise. The most important factor to consider is the message and presentation of the organic content you want to post on each platform. Slightly suggesting or encouraging illegal or harmful behavior will result in consequences.
Can You Advertise CBD on Facebook?
According to Facebook partner manager Nehemiah Bishop, CBD is also banned from Facebook advertising.
"Facebook has made the decision to include [as prohibited content] Marijuana, ingestible hemp products, all cannabis derivatives including CBD and products which allude to psychoactive effects in this distinction."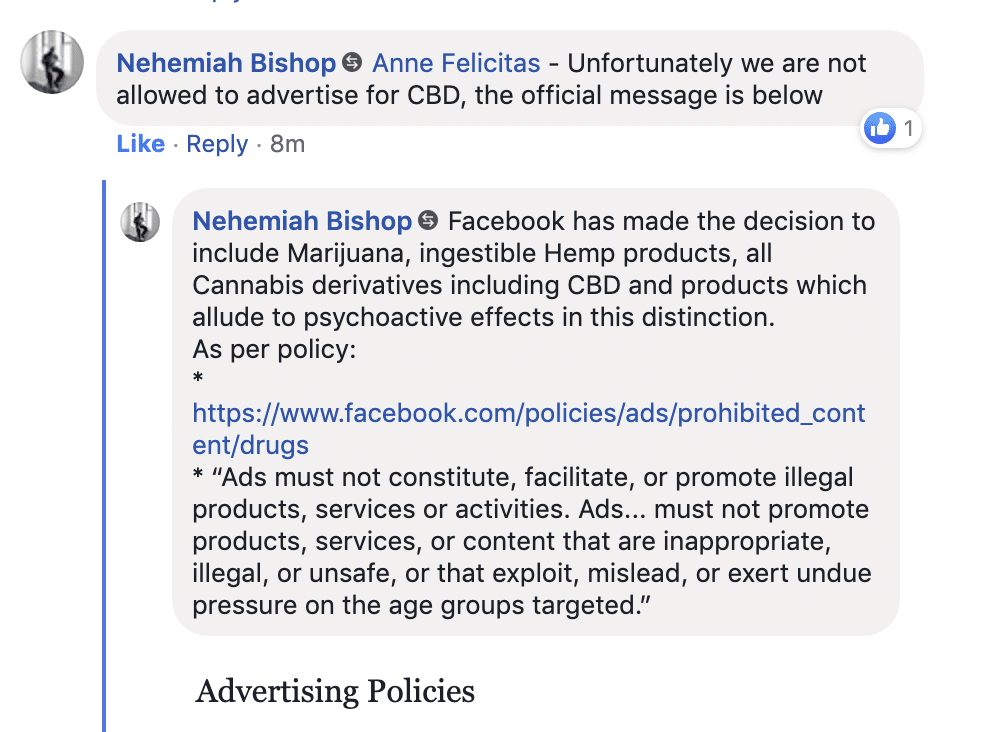 Along with marijuana, Facebook has also banned CBD products. In fact, all products that can create psychoactive effects, or anything close to it, are prohibited.
CBD, like marijuana, fall under Facebook's drug and drug-related products in its advertising policy. The current policy states, "Ads must not promote the sale or use of illegal, prescription, or recreational drugs."
Although you can't advertise CBD on Facebook, you can post organic content about it, as long as the content is informative and educational. Still, this type of content can cause the algorithm—and even users opposed to the products—to flag it.
What Now?
The advertising opportunities for cannabis businesses are very limited, but don't be discouraged. Research extensively on what's allowed and contact the social media company whose platform you want to advertise on to see if your content is permissible. Cannabis is a controversial topic, but that doesn't necessarily mean all cannabis companies are banned from social media circles altogether.
To learn more about Facebook's restrictions for advertising, see the 13 types of businesses that can't advertise on Facebook.
Written by Anne Felicitas