Alexander Shatov / Unsplash
In the wake of the coronavirus, smart e-commerce business owners recognize the value of creating personalized online shopping experiences. And those companies can most definitely harness the power of Facebook Messenger to create a conversational shopping journey.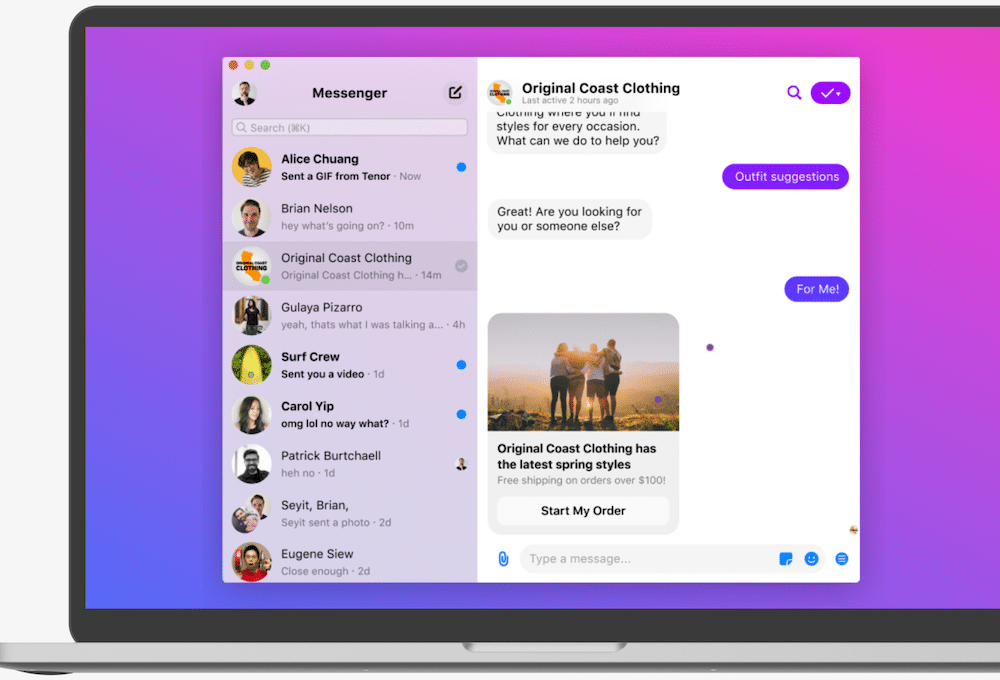 Source / Facebook
Using Facebook Messenger, brands can get closer to delivering an in-person experience – even if there's no brick-and-mortar store for customers to walk into. And they can do that while still offering the convenience of online shopping. Customers get the best of both worlds.
Facebook Messenger does more than just offer a way to chat with customers, though. It also helps to streamline the buyer experience. Let's get into the perks of using Messenger for e-commerce.
Lead Generation
By adding a Send Message call-to-action (CTA) to your Facebook Page, you can show visitors that they can get in touch with you the way many modern customers like best: through chat. You're also able to set up Facebook Ads that, when clicked, take the user to Messenger, where they can start a conversation with your brand.
If you want to add chat functionality to your website, you can do that, too. The Facebook chat plugin can go onto your site so that you can talk to customers there.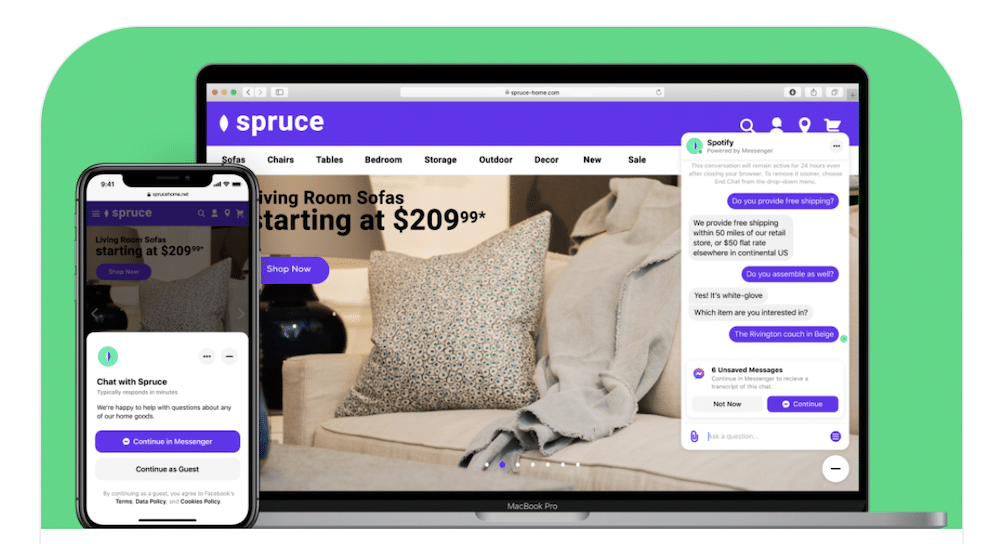 Source / Facebook
Here's another option: Add a QR code to your brick-and-mortar store signage, your product's packaging, or your direct mailers. When scanned with a smartphone, the QR code will take the user to a Facebook Messenger window, where they can start a conversation with you. You can also add hyperlinks to emails and social media posts that act in the same way.
Encouraging Sales
Messenger has a lot of rich features tailor-made for e-commerce stores to help drive sales:
Integrate your product catalog (you can also use

Facebook Shops

to sell services, FYI)

Send receipts and shipping updates to customers

Alert customers when a product they have their eye on is back in stock

Automate FAQs so your human agents can be freed up to take on more pressing queries – and so customers get answers right away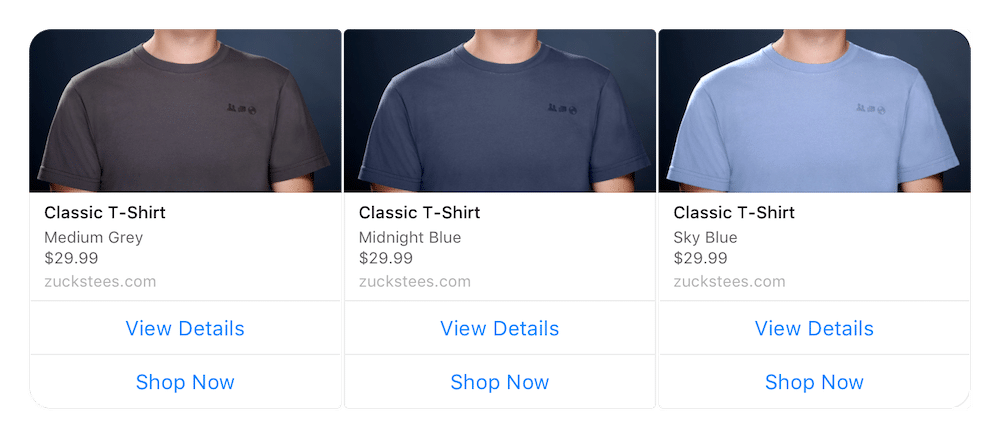 Source / Facebook
Here's something else to keep in mind: when an order is placed through Messenger, it can be routed to the correct department (like inventory management) so they can take over the process from there. 
Also, payments can be taken directly through Messenger – you don't have to make the customer leave Facebook, go to your website, check out, etc. Everything can be handled in the app.
Building Relationships and Establishing Trust
When you use Messenger for your e-commerce store, you won't just connect with a potential or current customer once and then forget about them. The channel allows you to follow-up and engage (and re-engage) with them on a steady basis so you can continue building trust and the customer-brand relationship.
Customers can ask questions about the products in your catalog and then place an order when they're confident enough to move forward with the purchase. This means you're able to get rid of a huge hurdle to buying, all through Messenger. That shortens the customer journey, speeding up both your sales and your customer's satisfaction.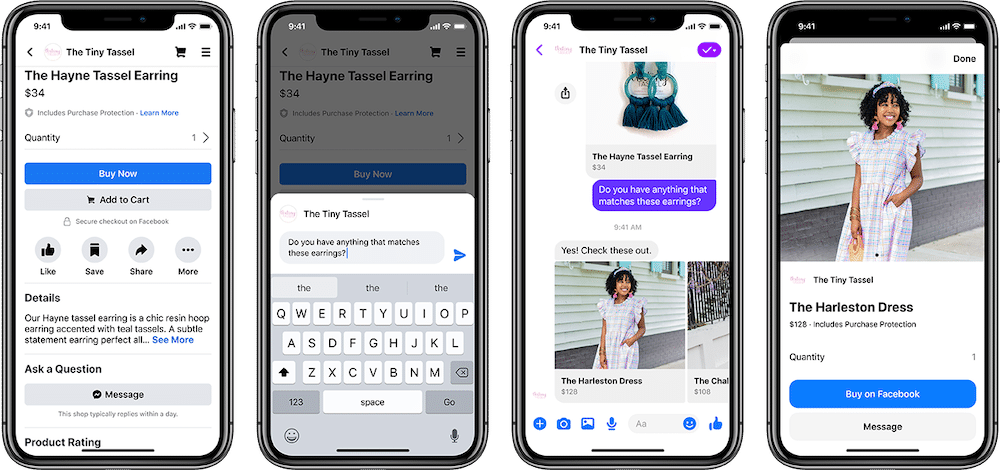 Source / Facebook
How to Get the Most Out of Facebook Messenger
Knowing that Facebook Messenger can be used to drive sales and improve your relationships with your customers doesn't mean you know how to use it best. In this section, we'll cover the top must-know best practices so you can get the most out of Messenger.
Monitor Expectations When it Comes to Response Times 
Today's customers are accustomed to instant gratification. Case in point: you can order practically anything from Amazon and have it delivered within two days, max. The same is true for chat – customers want to be heard right now. 
Realistically, that's not always possible. So, when you're not around to carry on the conversation, let customers know. You can have an auto-response set up that tells the user when your hours are so they know when (and when not to) expect to hear back from you.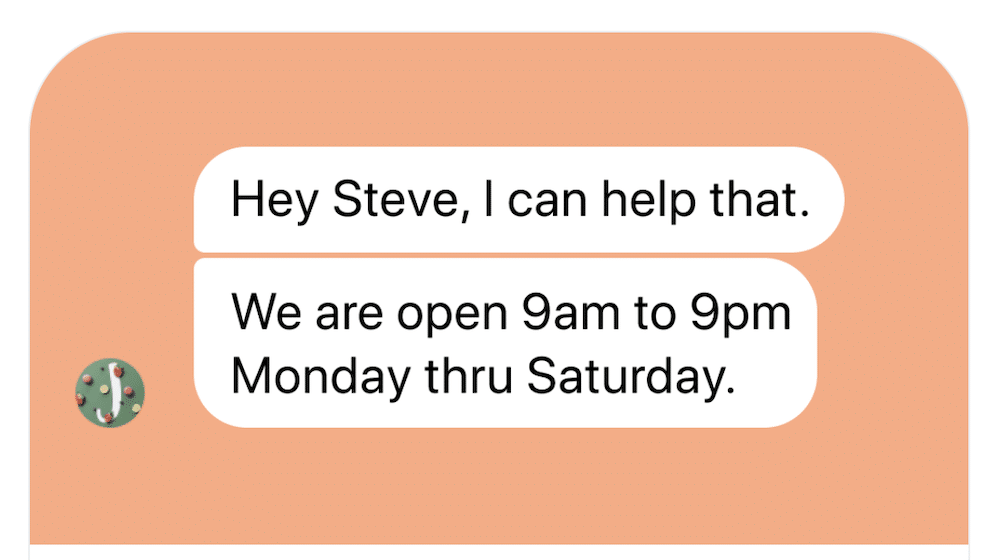 Source / Facebook
Keep All Responses Succinct
Facebook may be a social media channel that's heavy on peer-to-peer contact, but that doesn't mean that a potential or current customer wants to get into a long-winded convo with a brand. When responding, stick to the point and write short sentences (while remaining friendly, of course). Don't get too wordy – customers want to get in and get out.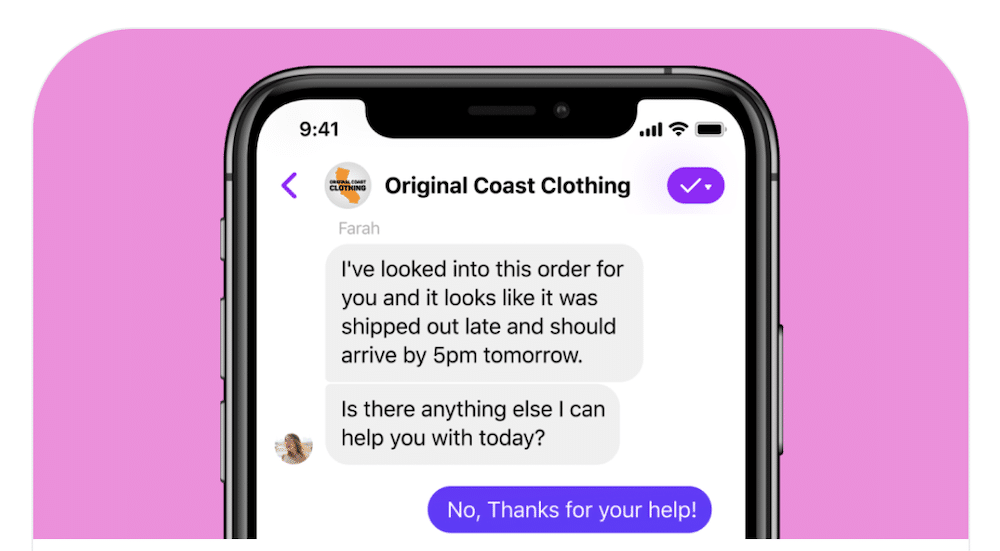 Source / Facebook
Only Send High-Value Messages
This tip is especially important when it comes to the automatic messages you can send when you're not there to answer in-person. You want to make sure that anything you send is of high value. For example, sending users an alert that their product has shipped is a high-value message; sending an ambiguous "update" on their account – that doesn't say anything has changed – is a low-value message. 

You have to be careful when sending out messages of any kind (automatic or live) because if too many of them are low-value, the customer will start automatically ignoring them. 
One way to ensure every message a customer receives is a high-value one is to let them pick the content they get. For example, after a customer places an order, you can confirm it, then ask if they'd like to receive shipping updates.
How Will You Implement Facebook Messenger? 
With Facebook Messenger, e-commerce brands have a modern way to connect with their customers – both current and (hopefully) future ones. By automating certain messages, like answers to FAQs, account updates, and standard after-hours responses, you can let Messenger take over some of the customer service must-dos for you. And the rest of the time, you can be present to speak one-on-one with your core audience. 

Ready to explore more? Check out these four ways you can leverage Facebook Messenger ads.