Do you want to know how to make an Amazon account?
In today's digital age, having an Amazon account opens the doors to a world of convenient online shopping and various services. Whether you want to snag the latest gadgets or outfits, Amazon offers various products and services to cater to your needs.
In this step-by-step guide, we'll walk you through the process of setting up your own Amazon account.
Step-by-Step Guide to Creating an Amazon Account
To create an Amazon account, you will need an email address, a means of payment, and a few personal details. Once you have these requirements, you can follow these steps to create your Amazon account:
1. Visit the Amazon website.
Open your web browser and go to the official Amazon website, www.amazon.com.
2. Go to Amazon registration.
You will see the "Create Account" window on the Amazon Registration page. There, you will find the blanks you need to fill out to create your account.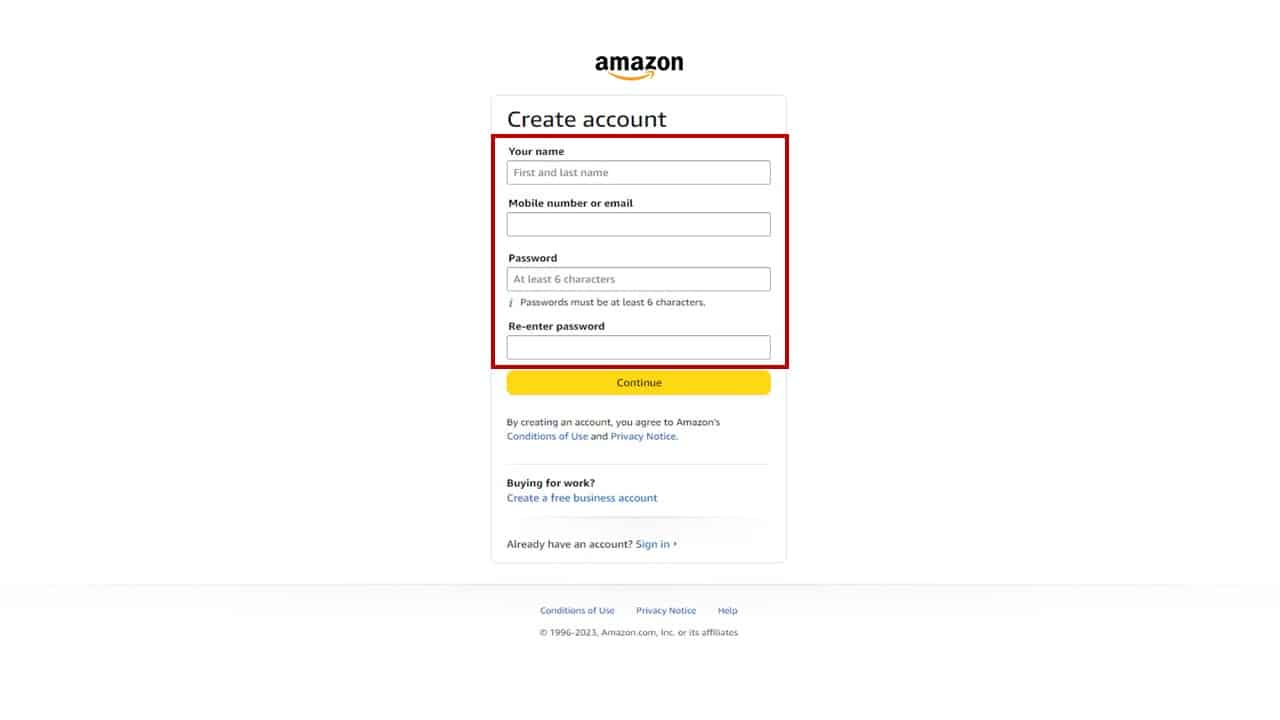 3. Input your details.
You need to input three pieces of information: your name, mobile number or email, and password. Remember to create a strong, unique password for your account. Once done, click "Continue."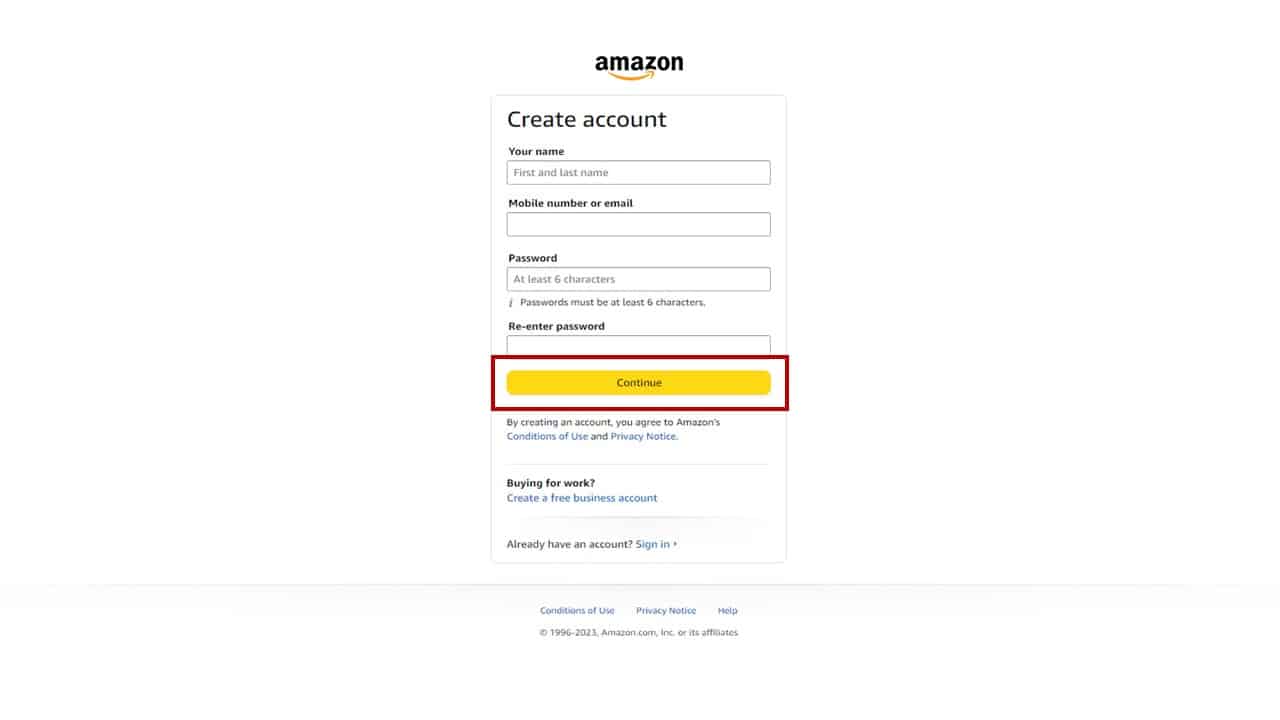 4. Verify your email address.
Once you provide the necessary information, the site will direct you to a page to verify your email address. The system will require you to enter the OTP sent to your email. Enter your OTP and click "Create your Amazon Account."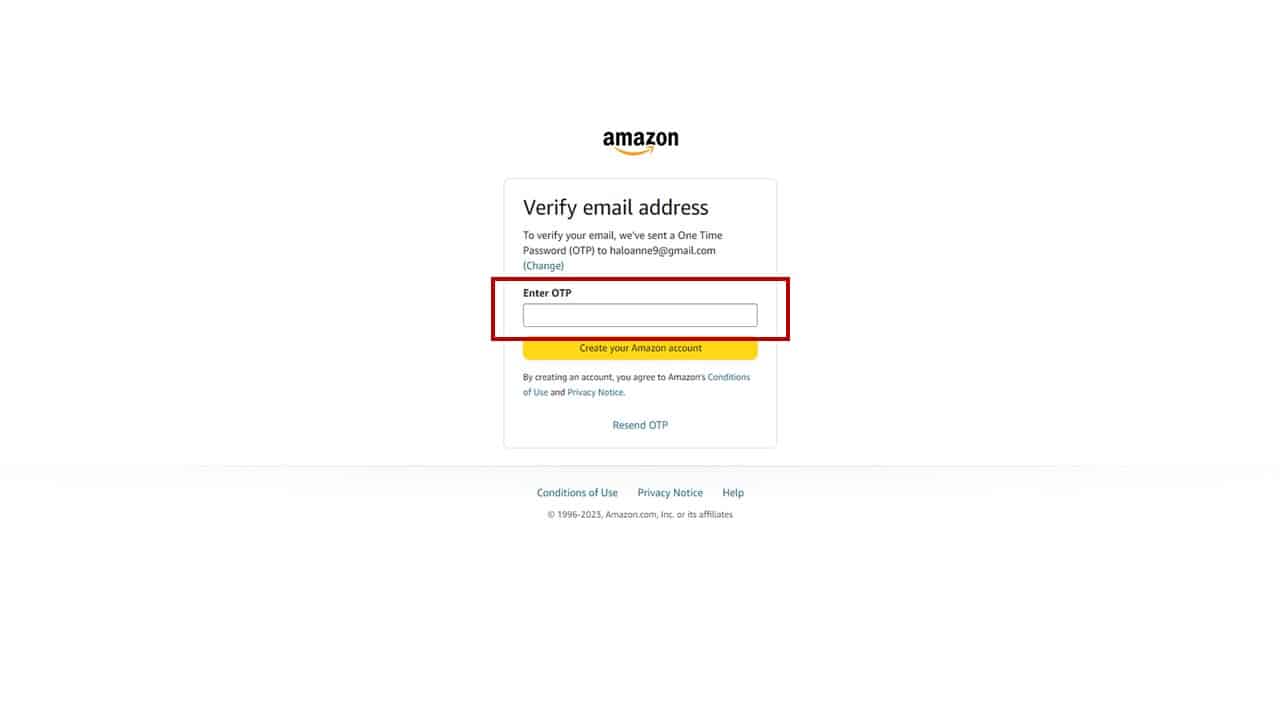 In instances where you couldn't receive your OTP, click on "Resend OTP" under the Create your Amazon Account button.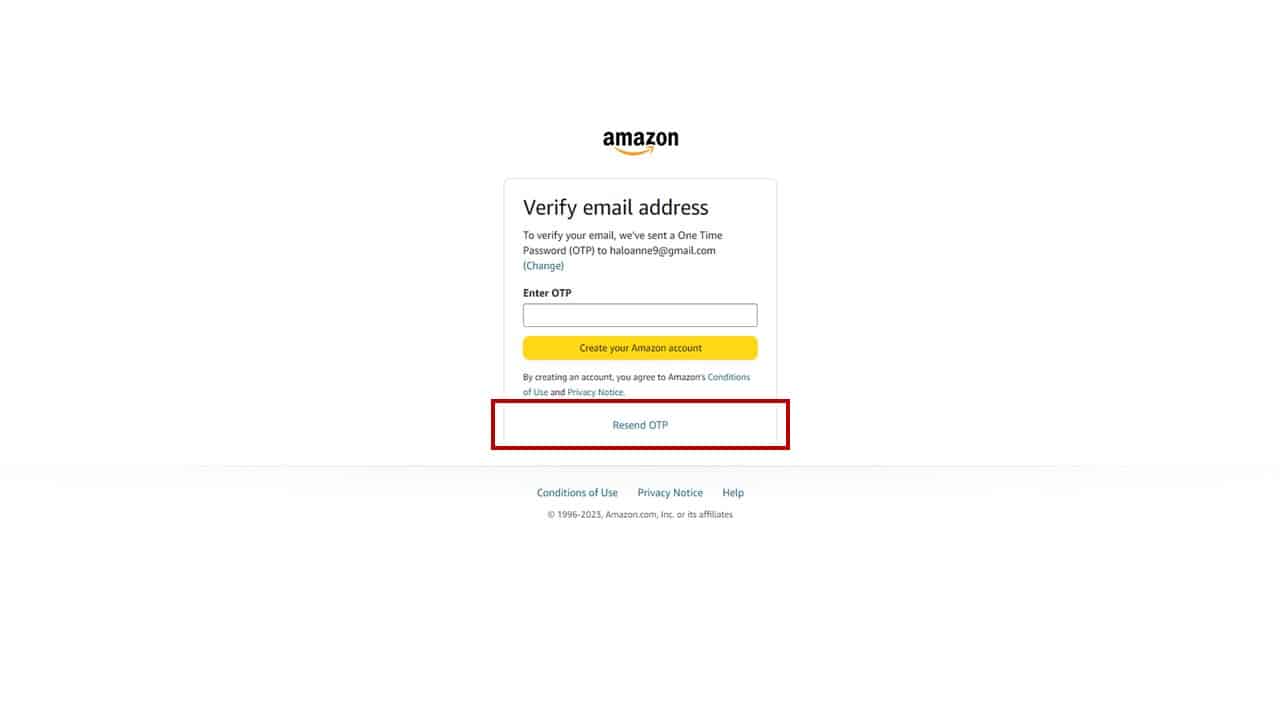 5. Navigate your new account.
Once you have verified your account, you will be directed to the Top Picks page. It indicates that you have successfully made your account.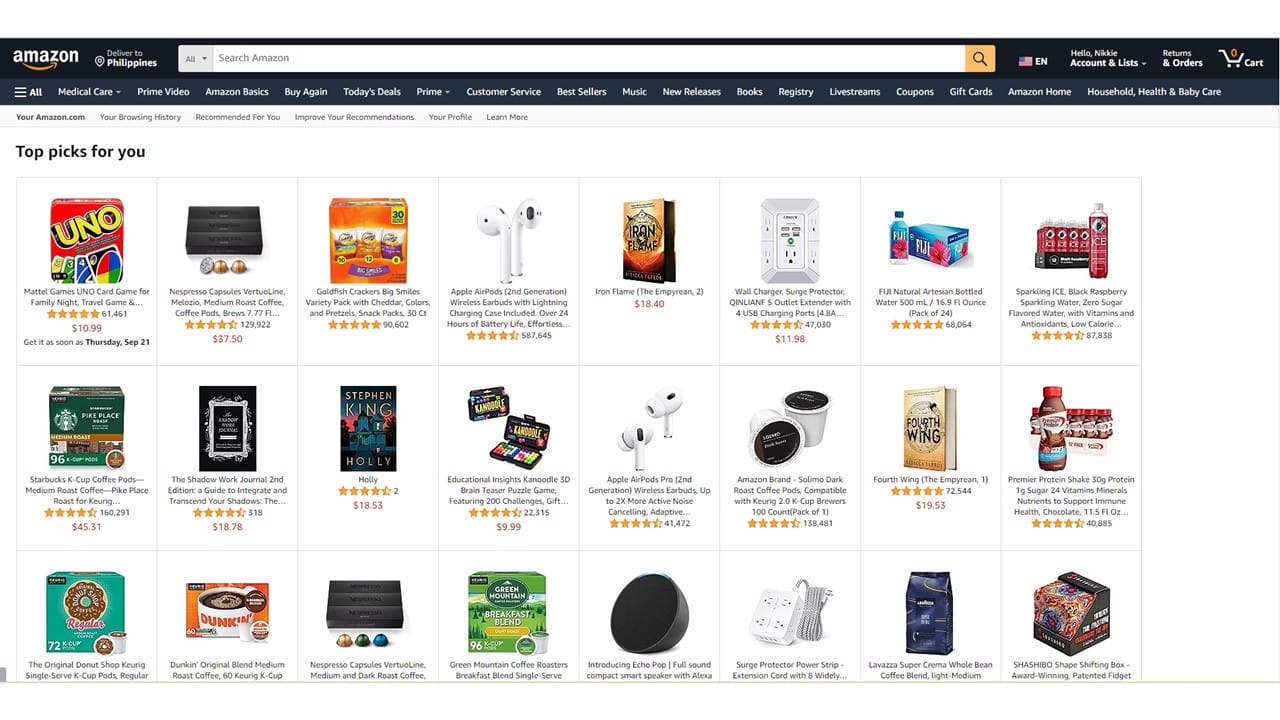 To check your profile, go to Account and Lists on the upper right side of the screen. You will see your orders, login details, payments, and more here.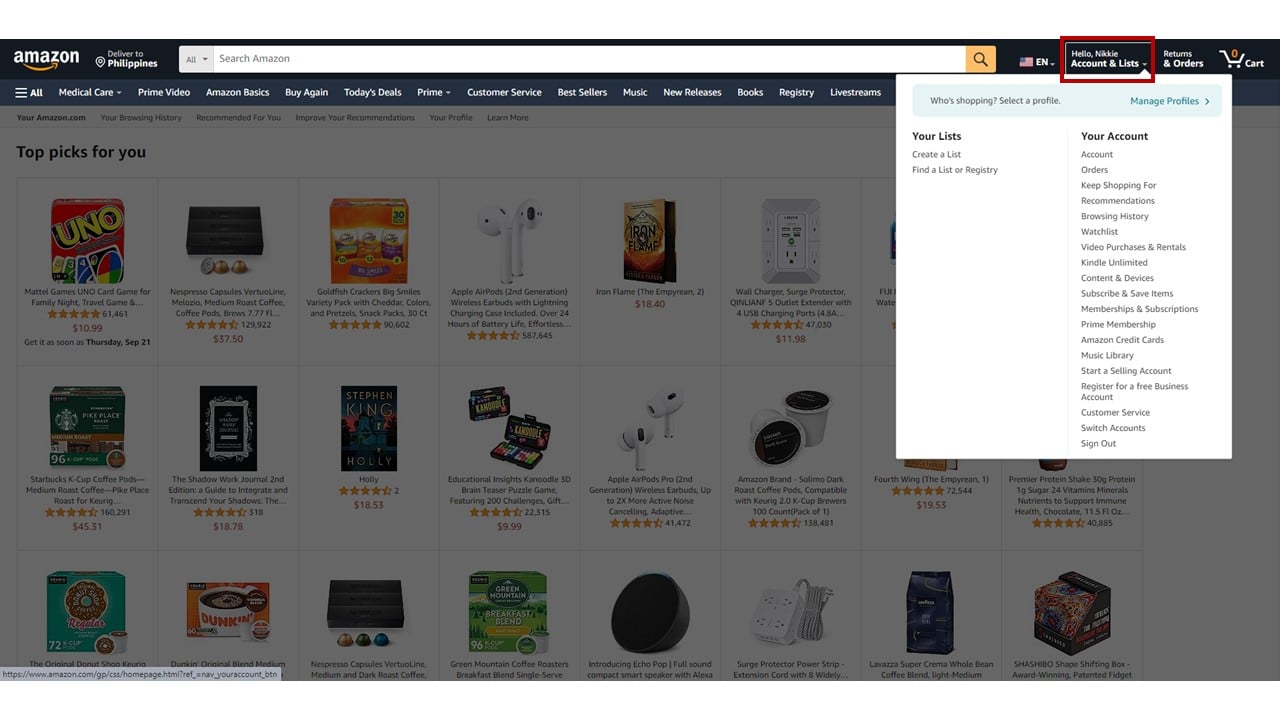 If you plan to sell products on Amazon as a professional seller, include your business address in your account information. It will aid in effective order fulfillment and customer communication.
Exploring Amazon Account Features
Now that you have your Amazon account, let's explore some key features:
1. Accessing your account dashboard.
After logging in, click on "Account & Lists" at the top right to access your account dashboard.
Here, you can view your order history, manage your payment methods, and more.
2. Managing payment methods.
In the account dashboard, click on "Payment options."
Add or edit your credit/debit cards, bank accounts, or other payment options.
3. Setting up shipping addresses.
Under "Account & Lists," click on "Your addresses."
Add, edit, or delete shipping addresses for easy order placement.
4. Customizing your account preferences.
Click on "Account & Lists," then choose "Your Account."
Explore settings like "Communication preferences" to manage email notifications.
In "Login & security," you can change your password or enable two-factor authentication for added security.
Making Your First Purchase on Amazon
Ready to shop on Amazon? Here's how to make your first purchase:
1. Browsing and searching for products.
Go to the Amazon homepage.
Use the search bar to find products or browse categories.
Click on a product to see details, prices, and customer reviews.
2. Adding items to your shopping cart.
When you find something you want, click "Add to Cart."
You can continue shopping or proceed to checkout.
3. Checking out and making payment.
To complete your purchase, click "Cart" (usually at the top right).
Review the items in your cart and click "Proceed to Checkout."
Choose your shipping address (or add a new one).
Select your preferred payment method.
Review your order, including shipping options and the total cost.
Click "Place your order."
Troubleshooting Common Account Creation Issues
Encountering issues while creating your Amazon account? Here's how to troubleshoot common problems:
1. Forgot password or email address.
Click on "Sign-In" on the Amazon homepage.
Select "Need help?" below the sign-in box.
Follow the prompts to recover your password or find your account using the email address.
2. Payment method issues.
If your payment method isn't working, ensure you've entered the correct information.
Double-check that your card is valid and has available funds.
Try using an alternative payment method if available.
3. Account verification problems.
If you're having trouble verifying your account:

Make sure you've entered the correct verification codes sent to your email and phone.
Check your email spam folder for the verification email.
Contact Amazon customer support for assistance if the issue persists.
Final Thoughts on "How To Make an Amazon Account"
It is a simple process creating an Amazon account. With a valid email address, a secure password, and basic personal information, you can join the millions of satisfied Amazon customers who enjoy the vast selection of products, fast shipping, and more.
Do you want to boost your brand's visibility and profit on Amazon? Get the best Amazon advertising agency.
Frequently Asked Questions
Do you need a valid bank account number to make an Amazon seller account?
When setting up your Amazon seller account, you may be asked to provide a bank statement as part of the verification process.
What is a seller central account?
It is an account on Amazon Seller Central, provided by Amazon for individuals and businesses to sell products on the Amazon marketplace.
What is an Amazon Prime account?
An Amazon Prime account is a subscription service offered by Amazon that provides its members with a range of benefits and features. These features include free shipping, Prime Video and Prime Music, early access to deals, and more.
Related Articles
How to Delete Amazon Seller Account