In the fast-paced world of digital marketing, collaboration and data security are paramount. As businesses leverage the power of Facebook advertising to reach their target audiences, managing access to ad accounts effectively becomes crucial.
By setting permissions for Facebook ad accounts, businesses can ensure data confidentiality, streamline collaboration among team members, and protect sensitive information from unauthorized access.
In this comprehensive guide, we will walk you through the process of setting permissions for Facebook ad accounts, enabling you to maximize the efficiency and security of your ad campaigns.
What is a Facebook ad account?
A Facebook ad account is a dedicated space within Facebook Business Manager where businesses and advertisers can create, manage, and run their advertising campaigns. It serves as the central hub for all ad-related activities on the platform.
Through the ad account, advertisers can create various types of ads, set targeting parameters to reach specific audiences, allocate budgets, and monitor ad performance. Each ad account can have multiple ad campaigns, ad sets, and individual ads.
By using Facebook ad accounts, businesses can efficiently promote their services, products, increase brand visibility, and engage with their target audience on one of the largest social media platforms in the world.
Understanding Facebook Ad Account Roles and Permissions
Sometimes, managing an ad account by your lonesome is a difficult endeavor. With accounts to manage, a business to run, and a personal life to maintain, overseeing multiple ad accounts can be overwhelming and exhausting. That's why you might need a Facebook advertising company.
Fortunately, adding people on Business Manager to lend you some extra help is fast and easy. On Business Manager, you can add multiple people to your ad accounts and assign them ad account roles. To set permissions for Facebook ad accounts on Business Manager, follow the steps below.
Step 1: Go to Business Settings
From your Business Manager homepage, click "Business Settings" located on the lower right corner of your cover photo.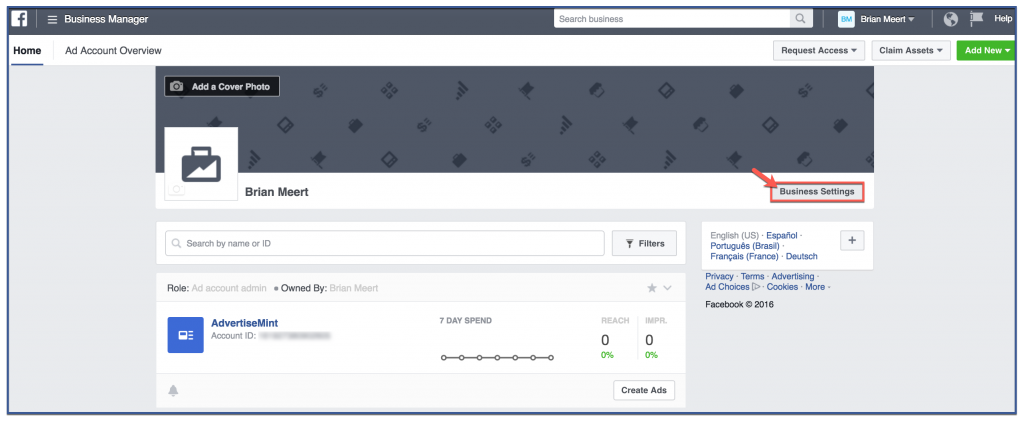 Step 2: Go to ad accounts and add people
Go to your ad account by clicking the third icon under "People and Assets". This will take you to a list of your ad accounts. Choose the ad account you want your employee access to under "Ad Accounts" then click "Add People".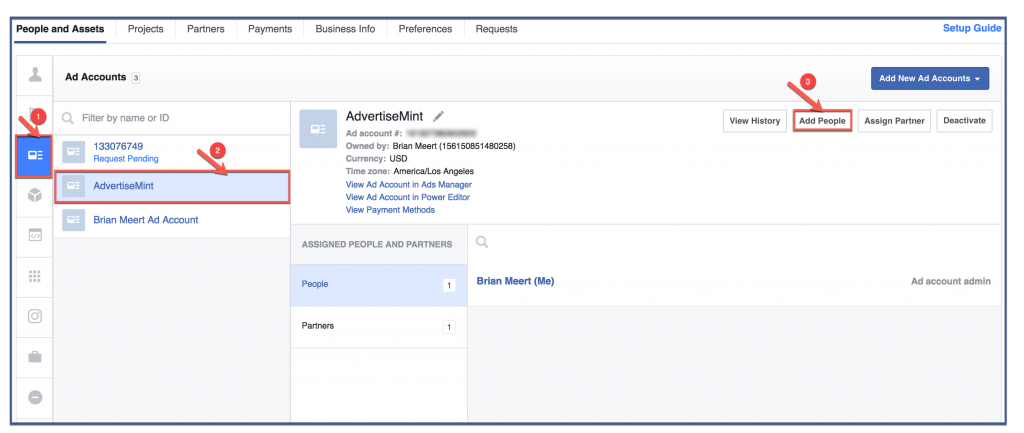 Step 3: Assign Roles
Click the person to whom you want to give access, then click the tab next to "Default Role". Choose a role from the drop down menu then click "Save Changes".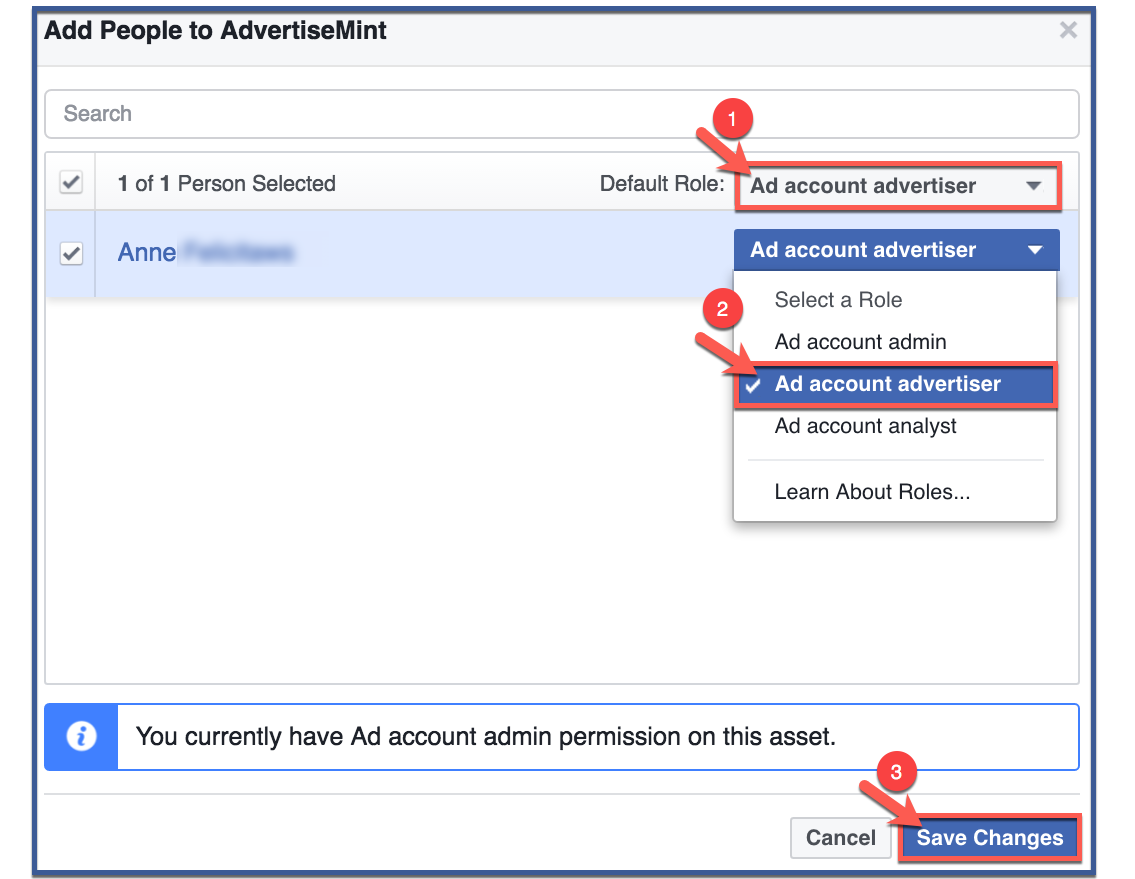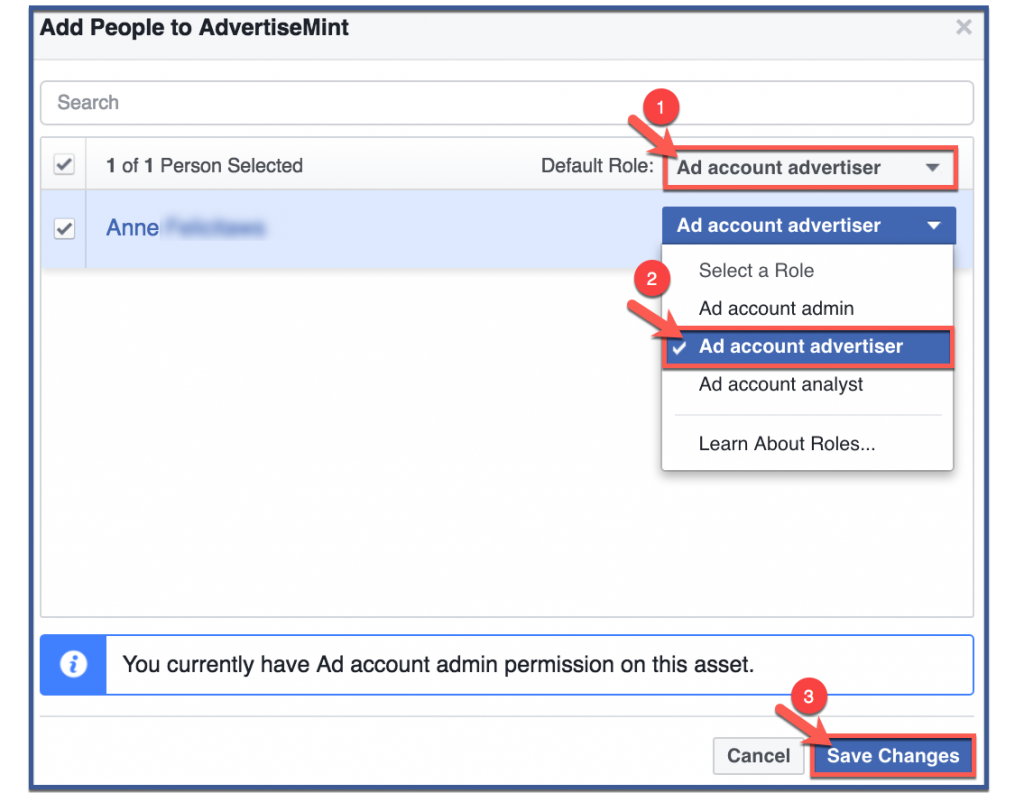 Step 4: You're done!
The list of people to whom you've assigned ad account roles should appear on the Ad Accounts page.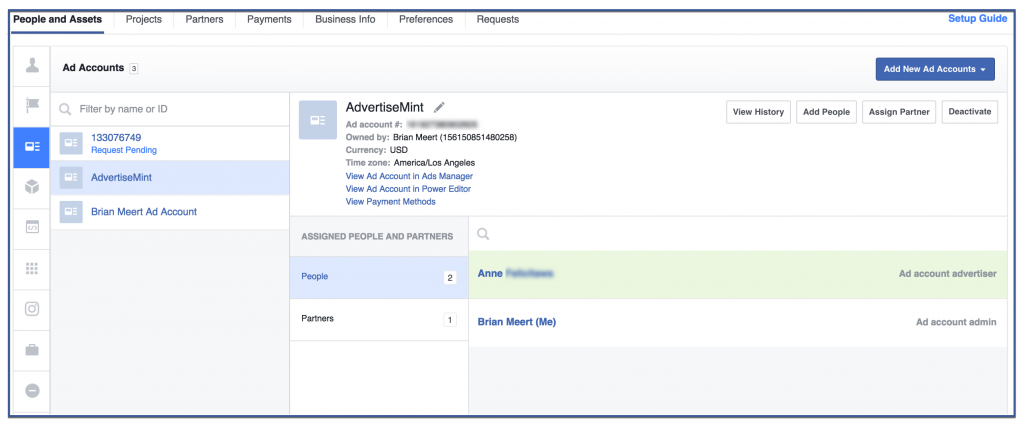 Why should you set Permissions for a Facebook ad account?
Granting permission to a Facebook ad account is essential for effective digital marketing and collaborative efforts within a business. By providing access to the ad account, team members can contribute to ad campaign creation, management, and analysis.
The different roles and permissions available allow businesses to assign appropriate levels of control and access to individual team members based on their responsibilities and expertise. This ensures that the right people have the right level of authority to execute tasks without compromising sensitive data.
Moreover, granting permissions fosters a collaborative environment, enabling team members to work seamlessly together and streamline the ad campaign process.
By giving permission to Facebook ad accounts, businesses can leverage the collective expertise of their team, optimize marketing strategies, and achieve better results in their social media advertising endeavors.
Ad account permissions by role on the Facebook ad account
When it comes to advertising accounts, there are three types of admin permissions that can assist you in managing your account. Once you grant someone access to your ad account, you can assign them a role to determine their level of access and control.
Admin: The Admin has full control over the ad account and all associated assets, including the ability to manage roles and permissions, add or remove team members, and edit account settings. Admins have unrestricted access to all aspects of the ad account and are responsible for managing the account effectively.
Advertiser: Advertisers have the ability to create, edit, and manage ad campaigns within the ad account. They can create new ads, set budgets, and target specific audiences. However, advertisers cannot modify account settings or access sensitive financial information.
Analyst: Analysts have a more limited role and can access ad performance data, including insights on reach, engagement, and audience demographics. They cannot create or modify ads, making their role focused on analyzing campaign results and providing valuable feedback.
Benefits of giving permissions by role.
Granting permissions by role on a Facebook ad account offers numerous advantages for efficient ad campaign management and data security.
By assigning specific roles to team members, businesses can ensure that each individual has access only to the necessary tools and features required for their responsibilities. This streamlines the workflow and minimizes the risk of accidental changes or unauthorized access to sensitive data.
Furthermore, permissions by role facilitate collaboration, as team members can work together seamlessly without interference from irrelevant ad account settings. The clear division of roles also promotes accountability, as each team member is responsible for certain aspects of the ad campaign.
Overall, setting permissions by role enhances team productivity, protects data integrity, and empowers businesses to execute successful and well-organized Facebook ad campaigns.
Some facts about Facebook ads.
There are over 100 million active Facebook ad accounts. Of those 100 million accounts, over 75 million are used by businesses.
The average Facebook ad account spends over $1,000 per month on advertising.
Facebook ads are seen by over 2 billion people every day.
Carousel ads are a newer type of Facebook ad that allows businesses to showcase multiple images or videos in a single ad.
Conclusion
In conclusion, setting permissions for Facebook ad accounts is crucial to effective ad campaign management. Properly managing access ensures data security, allows for efficient collaboration among team members, and protects sensitive information.
By understanding the various roles and permissions available, customizing access to specific tasks, and implementing best practices for account security, businesses can optimize their Facebook ad campaigns and achieve better results.
Frequently Asked Questions:
How do I access the permissions settings for my Facebook ad account?
To access the permissions settings for your Facebook ad account, log in to your Facebook Business Manager account. Click on "Business Settings" in the top right corner, then navigate to "Ad Accounts" in the left-hand column. Select the ad account for which you want to set permissions and click on "Assign Partner" or "Assign Assets" to manage roles and permissions for team members.
What are the different roles available for setting permissions on a Facebook ad account?
Facebook offers three levels of access for managing ad accounts. The roles include Admin, Advertiser, and Analyst, Editor. Each role has specific capabilities and limitations, allowing businesses to grant appropriate access to team members based on their responsibilities.
Can I customize permissions for individual tasks within the ad account?
Yes, Facebook allows you to customize permissions for specific tasks or functions within the ad account. This means you can grant access to certain ad campaigns, ad sets, or ads while restricting access to other components. Customizing permissions ensures that team members have access only to the areas relevant to their tasks, promoting a more efficient workflow.
How do I add or remove team members from my Facebook ad account?
To add team members to your ad account, go to the Ad Account Settings in Facebook Business Manager. Under the "Ad Account Roles" tab, click on "Add People" and enter the email credentials of the individuals you want to invite. Assign the appropriate role to each team member. To remove a team member, go to the same "Ad Account Roles" tab, locate the person's name, and click on "Remove."
How often should I review and update permissions on my Facebook ad account?
It is important to periodically review and update your Facebook ad account permissions, especially when team members change roles or responsibilities. Regular audits help ensure that access aligns with current needs and that team members have the right level of authority for their tasks. Reviewing permissions regularly allows you to maintain a secure and organized ad account structure.
Related Articles: