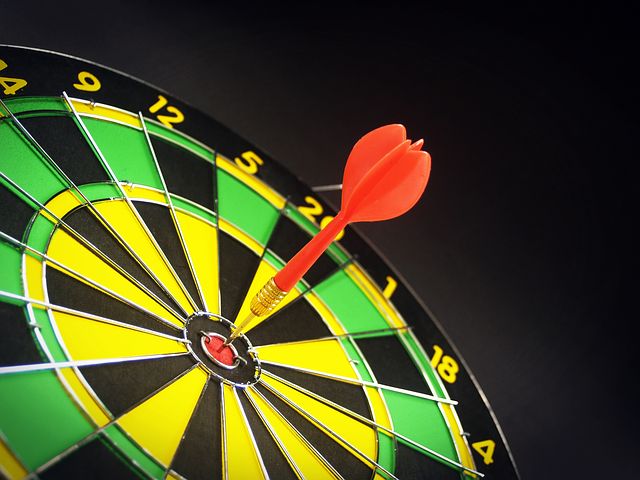 Facebook offers broad audience targeting for your business or partner social media advertising company to reach potential online customers who've never before visited your website or app. What this means is for consumers who have an online history that indicates interest in your (or similar) products, you can reach them with dynamic ads that showcase products from your catalog.
According to a Facebook Business post, before you can target a broad audience, you need to have:
Implement the Facebook Pixel into your website. You will also need to use standard events to track product IDs. Facebook Business recommends working with a website developer to accomplish this.
A product catalog to showcase your product(s).
What is Broad Audience Targeting?
Broad audience targeting on Facebook refers to an advertising strategy where you expand the scope of your audience beyond specific criteria to include a more diverse group of users.
Instead of narrowly defining your target audience based on factors like demographics or interests, broad audience targeting allows Facebook's algorithms to identify and display your ads to a larger pool of users who share general characteristics with your ideal audience.
This approach aims to discover new potential customers, foster brand awareness, and explore uncharted segments.
While maintaining relevance, broad audience targeting can help you uncover hidden opportunities and connect with individuals who might not have been part of your original targeting strategy, ultimately maximizing the reach and impact of your ad campaigns.
Steps for Defining Your Broad Audience
Step 1 – Go to your Ads Manager or Power Editor to create your dynamic ad. Once your ad is created, you will be prompted to choose your audience. Select "Define a broad audience and let Facebook optimize who sees your products."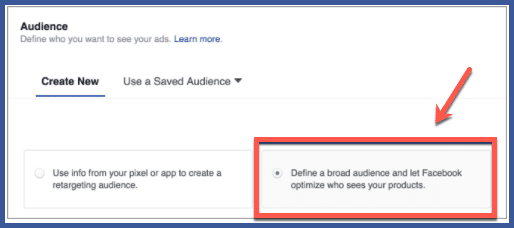 Step 2 – Indicate your location, age, and gender targeting options. Then select "Show Advanced Options." This allows you to define your audience further, as well as select an audience type you want to exclude (i.e., users unlikely to click on your ad).
There are three types of exclusion to choose from:
"No exclusions"—No one meeting your targeting specifications is excluded from viewing your ad.
"Exclude people who purchased"—For users who have already made a purchase through your dynamic ad within a specified number of days of your choosing.
"Create a custom exclusion"—You create a custom rules set for exclusion preferences.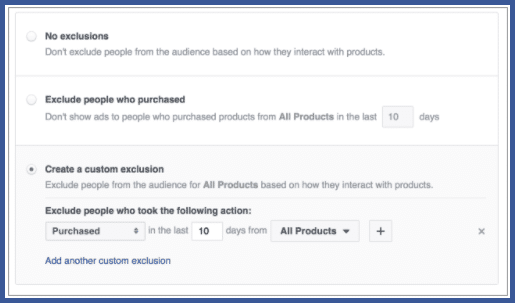 Strategizing Your Dynamic Ad Campaign
Before integrating dynamic ads with broad audience targeting, it's essential to have a well-defined strategy in place. What are your campaign objectives? Are you aiming to increase brand awareness, drive conversions, or encourage engagement? Your objectives will guide your choices throughout the campaign creation process.
Additionally, integrating your product catalog and Facebook Pixel with your dynamic ads lays the groundwork for a seamless experience. The dynamic content will draw from your catalog, ensuring that users are presented with products that align with their interests and behavior.
Leveraging Broad Audience Targeting
Now that you clearly understand dynamic ads and a solid campaign strategy, it's time to leverage the potential of broad audience targeting. Think of it as a way to open new avenues of discovery. 
Facebook provides a range of options to broaden your audience – from demographic attributes to interests and behaviors. The beauty of broad targeting lies in its ability to uncover hidden audiences – individuals who might not have been on your radar but share commonalities with your existing audience.
As Facebook's machine learning algorithms kick in, your ad delivery becomes smarter, maximizing the impact of each impression.
Facebook's Broad Audience Tips
With broad audience targeting, Facebook Business offers several tips to keep in mind:
Don't use Lookalike Audiences or detailed behavioral and interest preferences. The purpose of a "broad audience" is to reach new customers. Getting too specific makes your audience too narrow. Lookalike Audiences are great for targeting a very specific group of customers, but in the case of broad targeting, you want to avoid it.
Exclude shoppers who have already made a purchase through your dynamic ad within the last 10 days. Since they've just purchased something from you, they are not likely to make another purchase again so soon.
Don't exclude visitors of your website. Facebook explains that including previous website visitors "helps train the model Facebook uses to determine who to show your dynamic ads to."
Optimize ads for standard events, which include Purchase, Add-to-cart, and Registration.
Test your creatives and make them relevant to new customers. Since they aren't regular customers, you want to capture their attention.
Use URL tracking to measure the performance of your dynamic ads.
Balancing Act: Finding the Sweet Spot
While broad audience targeting offers exciting possibilities, finding the right balance is crucial. Striking the perfect equilibrium between broad and specific targeting ensures that your ads reach the targeted audience without sacrificing relevance.
Experimentation and A/B testing are your allies here. Tweak your targeting parameters, test different creatives, and monitor the results. This iterative approach will fine-tune your campaigns and extract insights that guide your future decisions.
Measuring Success and Nurturing Growth
Regularly monitoring key metrics – click-through rates, conversion rates, engagement – provides a window into your campaign's performance. 
Facebook's Ad Manager offers robust analytics tools that empower you to make data-driven decisions. If certain audience segments or creative variations are outshining the rest, capitalize on that knowledge. 
Remember, growth is a continuous journey. As you gather insights from one campaign, you can apply them to the next, refining your strategies and maximizing your return on investment.
Conclusion
The synergy between dynamic ads and broad audience targeting makes possibilities a reality. With the art of personalization and the science of machine learning, your ads can find their way to users who are ripe for engagement – users you might not have reached otherwise.
FAQs
What is broad audience targeting?
Broad audience targeting is a Facebook ad targeting option that allows you to show your ads to a large group of people who are likely to be interested in what you have to offer. This is done by showing your ads to users with similar interests and demographics to your existing customers.
How does broad audience targeting work for dynamic ads?
Dynamic ads automatically show products or services to people who have previously been interested in your brand. When you use broad audience targeting for dynamic ads, your ads will be shown to people who have visited your website, engaged with your Facebook page, or interacted with your ads in the past.
Can I maintain ad relevance with broad audience targeting?
Yes, maintaining ad relevance is crucial, even with broad targeting. Craft compelling ad creatives that resonate with a broader audience while addressing common pain points or desires. A/B testing can help refine your ad content to ensure relevance.
Is there a risk of overspending with broad audience targeting?
While broad targeting can potentially increase reach, proper budget allocation and monitoring are essential to prevent overspending. Set clear campaign objectives, establish daily or lifetime budgets, and regularly analyze performance to optimize spending.
Can I combine broad audience targeting with other targeting options?
Yes, you can combine broad targeting with other options like interests, behaviors, or demographics to refine your audience further. This hybrid approach can help strike a balance between broad reach and specific relevance for optimal results.