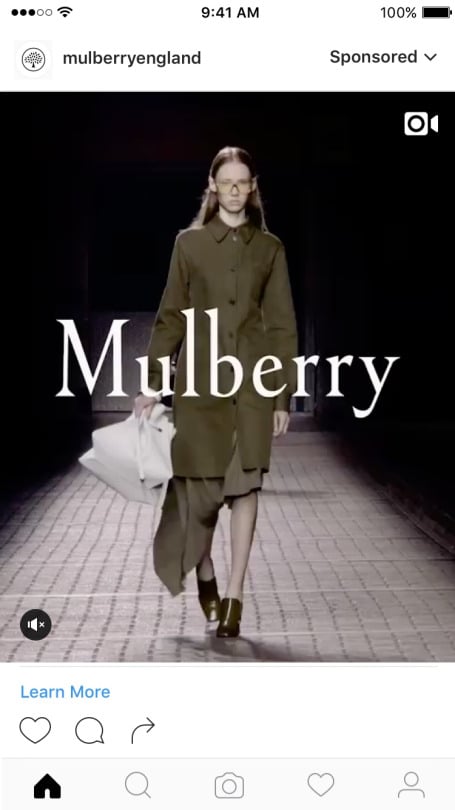 Instagram recently announced that advertisers can now create video and image ads in the vertical format with an aspect ratio of up to 4:5.
Because portrait has been available on Instagram for posts and because it is a popular format for content consumption, Instagram decided to give advertisers the opportunity to explore and experiment with vertical format to Instagram ads.
Multiple advertisers worldwide have already started using vertical ads, advertisers for companies such as Mulberry, Guaraná Antarctica, and LG USA. These experiments have proven successful. Take soft drink manufacturer Guaraná Antarctica, for instance, whose view rates increased thanks to the vertical format.
"Vertical formats in mobile advertising are of great interest to us," says Richard Lee, digital manager of Guaraná Antarctica. "With Instagram being such an important platform for our brand, we were really excited to test. First results seem promising!"
Vertical format seems to be slowly growing in popularity not only on Instagram's platform but also on its parent company's platform, Facebook. Back in September, Facebook launched vertical videos, a video format that proved to lower CPMs.
Jason Stein, CEO of Laundry Service, a social media agency that launched the vertical video format to LG, Hennessey, stated back in September that vertical video's CPM rates were three times more efficient than square video. Because CPMs are higher, vertical videos cost less for advertisers.
"CPM is three times less expensive on vertical video than square thus far. For example, $5 CPM versus $15 CPM," said Stein.
Not only do vertical formats cost less but they also enable advertisers to focus on an important character or object: the screen expands wider, filling up the otherwise unused black space seen with regular horizontal video formats.
With Instagram's launch of vertical ads, Instagram users should expect vertical ads to populate their feeds in the near future.
What do you think of Instagram's new vertical ad format? Leave your comments below or send this story to friends.
Comments
comments