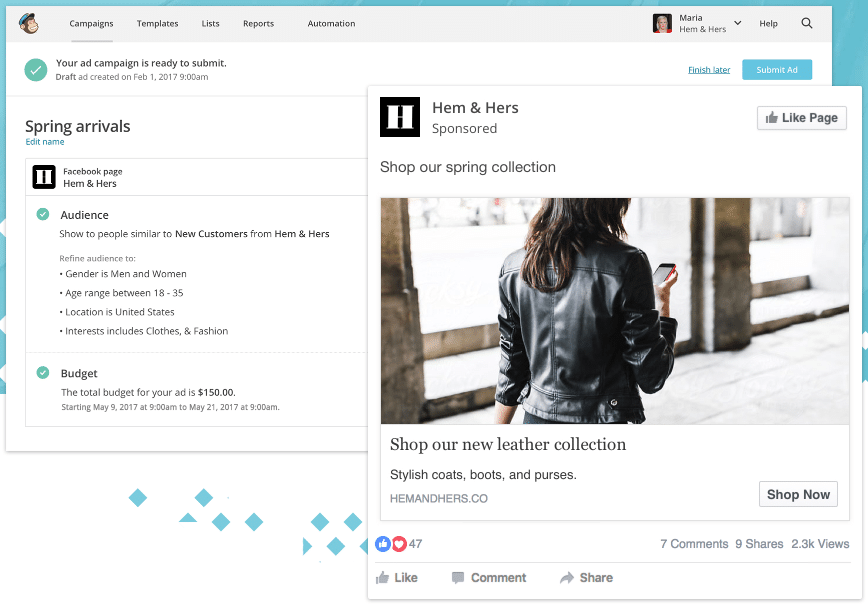 On Thursday MailChimp launched a feature that allows its 15 million users to create, buy, and manage Facebook ads from its dashboard. The process of designing these Facebook ads are similar to the process of designing MailChimp email campaigns.
MailChimp's ad campaigns include targeting options based on the brands' email lists and Facebook's Lookalike Audience. Additionally, as MailChimp works with Facebook to find users likely to respond to their ads, it will also help them grow its already existing email list.
This new Facebook-ads service will also allow marketers to run click-based ad campaigns with small- and-medium-sized budgets and to track ROI with a new revenue-reporting feature.
In the future, MailChimp plans to integrate with other platforms, including Instagram and Google AdWords and to test direct-mail campaigns.
Integration of Facebook ads into its platform is MailChimp's goal of giving easier access to and simplifying marketing tools for small online businesses.
"If you use Facebook's web interface, it's actually kind of difficult," says MailChimp CEO Ben Chestnut. "We take away a lot of the steps, a lot of the minutiae, that Facebook has in its interface."
This move for expansion will also help MailChimp grow its ecommerce business, a growth that has already increased by 46% over the past year.
Comments
comments