What makes a successful Facebook ad?
As previously mentioned, successful ads contain carefully crafted copy and high quality, compelling images. However, successful Facebook ads don't only contain good copy and good images. There more ways to creating an ad that shines among many, that rises from mediocrity.
When creating an ad, try to include these four essential elements:
Value proposition: the benefits the ad offers
Social proof: proof that people are taking action because of the ad (i.e. the amount of likes, purchases, shares, etc.)
Call-to-action: words or phrases that urge buyers to take action
Compelling images: high quality, relevant, surprising, or unique images
Below are examples of Facebook ads that include some or all of the four essential elements. With each ad I list and analyze the essential elements.
NatureBox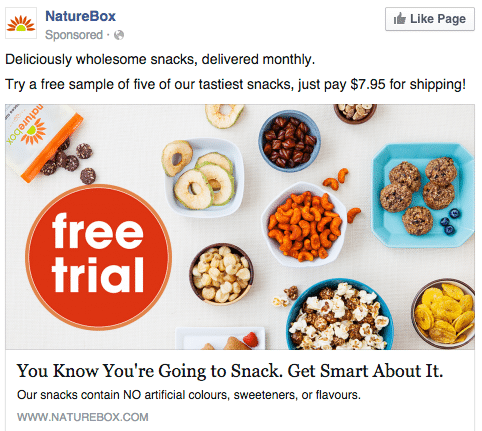 This ad is effective because of…
Value Proposition
NatureBox lures the audience with the promise of free samples: "Try a free sample of five of our tastiest snacks." Offering free products is a great move because buyers, who often love free items, are more likely to convert when an ad offers good deals. With this value proposition, buyers have nothing to lose and everything to gain.
Not only does NatureBox entice buyers with free samples, but it also promises healthy products: "Our snacks contain NO artificial colours, sweeteners, or flavours."
Call-to-Action
NatureBox also uses call-to-actions effectively. The word "Try," an example of a CTA, lets buyers know that they should click the ad and place the order. Additionally, it urges buyers to like the page, giving them a second option if they decide not to place the order.
Compelling Image
Not only does NatureBox's image arouse the taste buds, but it also gives the audience a glimpse of its products.
Club W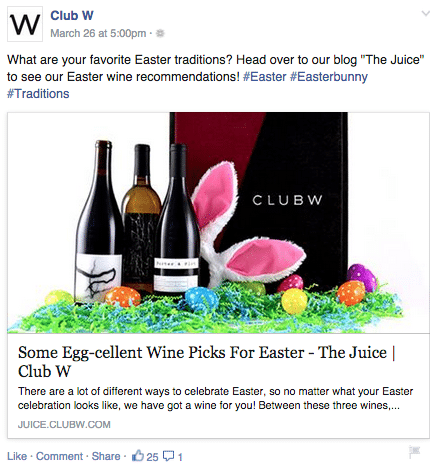 This ad is effective because of…
Value Proposition
Club W offers the audience its wine expertise: "see our Easter wine recommendations!" This offer, although not as enticing as a free bottle of wine, offers wine explorers knowledge.
Call-to-Action
Club W urges customers to visit their blog as indicated by the imperatives "Head over" and "see."
Compelling Image
This high-quality image combines the two main focus of the ad: Easter and wine. This creative combination, using Easter eggs and rabbit ears to communicate its Easter theme, causes buyers to stop mid scroll. Additionally, Club W expertly establishes its brand by including its logo on the image.
Social Proof
Although subtle and easily overlooked, the number of likes located on the bottom of the ad is an example of social proof. Club W shows that 25 people have liked the ad. This proof's positive influence may urge buyers to believe that they should make the same action.
Tortuga Music Festival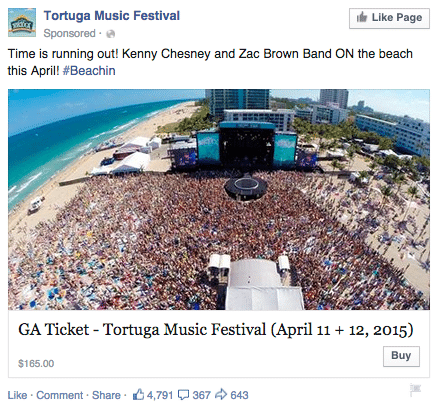 This ad is effective because of…
Value Proposition
Tortuga Music Festival offers buyers the opportunity to meet Zac Brown Band and Kenny Chesney. Although this offer may not be as enticing as discounted tickets or a package deal, this proposition will attract Kenny Chesney and Zac Brown Band fans.Tortuga Music Festival also shows its value proposition through the image. As it illustrates, this huge event promises a festive time next to the glimmering blue ocean.
Call-to-Action
This ad's call-to-action appears as a button on the top and bottom part of the ad. "Like" encourages people to like the ad and strengthen social proof while "Buy" urges people to purchase tickets.
Social Proof
Tortuga Music Festival's compelling social proof shows over 4,000 likes, 300 comments, and 600 shares.
Jasper's Market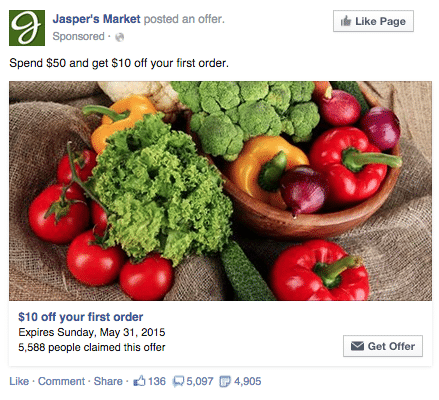 This ad is effective because of…
Value Proposition
Jasper's Market offers buyers a discount of $10. While it could verbally emphasize its offer of fresh, organic products on the text above the image, the photograph visually communicates this value proposition. It features vibrant, glowing vegetables, vegetables so aesthetically appealing that you can't question its freshness.
Call-to-Action
Jasper's Market urges buyers to make a purchase with the words "spend" and "get." Additionally, it urges buyers to engage with the ad with the "Like Page" and "Get Offer" buttons.
Compelling Image
As previously stated, Jasper's Market features an image that screams delicious and fresh. The vibrant colors, glowing vegetables, and mouth-watering varieties draw the audience's eye.
Social Proof
Jasper's Market uses its 136 likes, 5,097 shares, and 4,905 as social proof.
Rue La La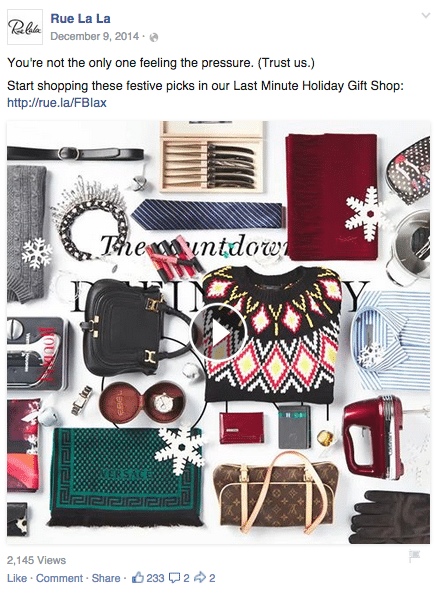 This ad is effective because of…
Call-to-Action
Rue la la urges buyers to make a purchase with the words "Start shopping" and lets them know that the web link will direct them to a product catalog.
Compelling Image
Rue La La's vibrant image simultaneously pleases the eye with its aesthetics and offers customers its holiday product catalog.
Social Proof
To provide social proof, Rue La La features its 233 likes, 2 comments, and 2 shares.
Now that you can differentiate between a mediocre ad and a successful ad, I encourage you to scroll through your news feed and analyze the ads that you see. Practice analyzing the value proposition, social proof, compelling image, and clear CTA as I have done here. Then decide conclude whether or not it is an effective Facebook ad. Share your discoveries below on the Comment's section. I'd love to hear your thoughts.
Comments
comments