Facebook Is Helping Nonprofits Do More Good
Non-profits have it hard. They adamantly work to raise awareness about their causes, activate supporters and raise the funds they need for their organizations. Unsurprisingly, a lot of them use Facebook to accomplish those goals. So, Facebook did a super cool thing and launched a new website for nonprofits and NGOs.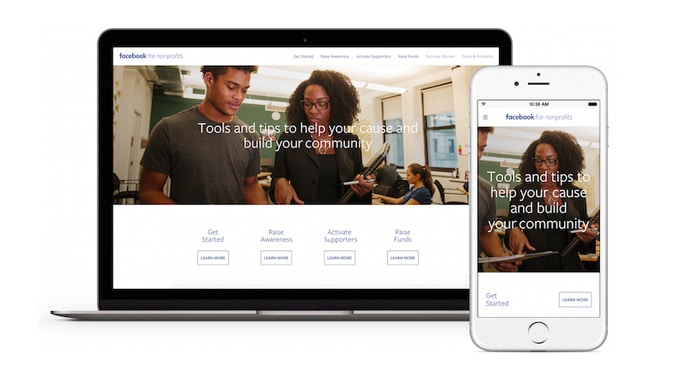 The purpose of the website is to help nonprofits define their objectives on Facebook and provide the information and tools that they need to meet them. This includes things like best practices and success stories from other nonprofits. Both, organizations and individuals can use the website to learn how to strengthen their Facebook presence, connect with people that care about the same causes and much more.
So, how did this happen? It is a beautiful story of Facebook being inspired by how many people were using their platform to improve the lives of others and help their communities – so much so, that they decided that they needed to help these people do even more good. Even better, this new site is just one of the ways that they want to support their large community of volunteers, donors and activists that are using Facebook to give the world a better future. After all, when people are connected, they can achieve truly extraordinary things!
The website is currently only available in English, but not for long. Facebook will keep adding tools and information for the global community on Facebook as they become available. This is truly exciting news for the nonprofit and NGO community, college campus organizations and even the students in high school that are thinking about launching their own ideas. It now allows these causes to get access to resources that can help them reach more people and make a difference. More good being done on Facebook = more being done in real life. Facebook, thank you for supporting every single cause that needs to be supported in the world.
This release is exciting news for AdvertiseMint, who also offers the AdvertiseMint for Good scholarship program that allows non-profits and causes to apply for free Facebook ad credits and account management for selected causes. Each month, three causes are selected by the CEO and all employees vote on which one should receive a $250 – $2,500 Facebook ad credit along with complimentary managed advertising services by AdvertiseMint. These funds can be used to generate more awareness for the cause, drive attendance for an upcoming event or be used to help generate donations. To qualify, causes must be a registered non-profit or crowdfunding campaign, must be nominated by an employee or current client and must be focused on improving the lives of those in need and/or making the world a better place.
Comments
comments