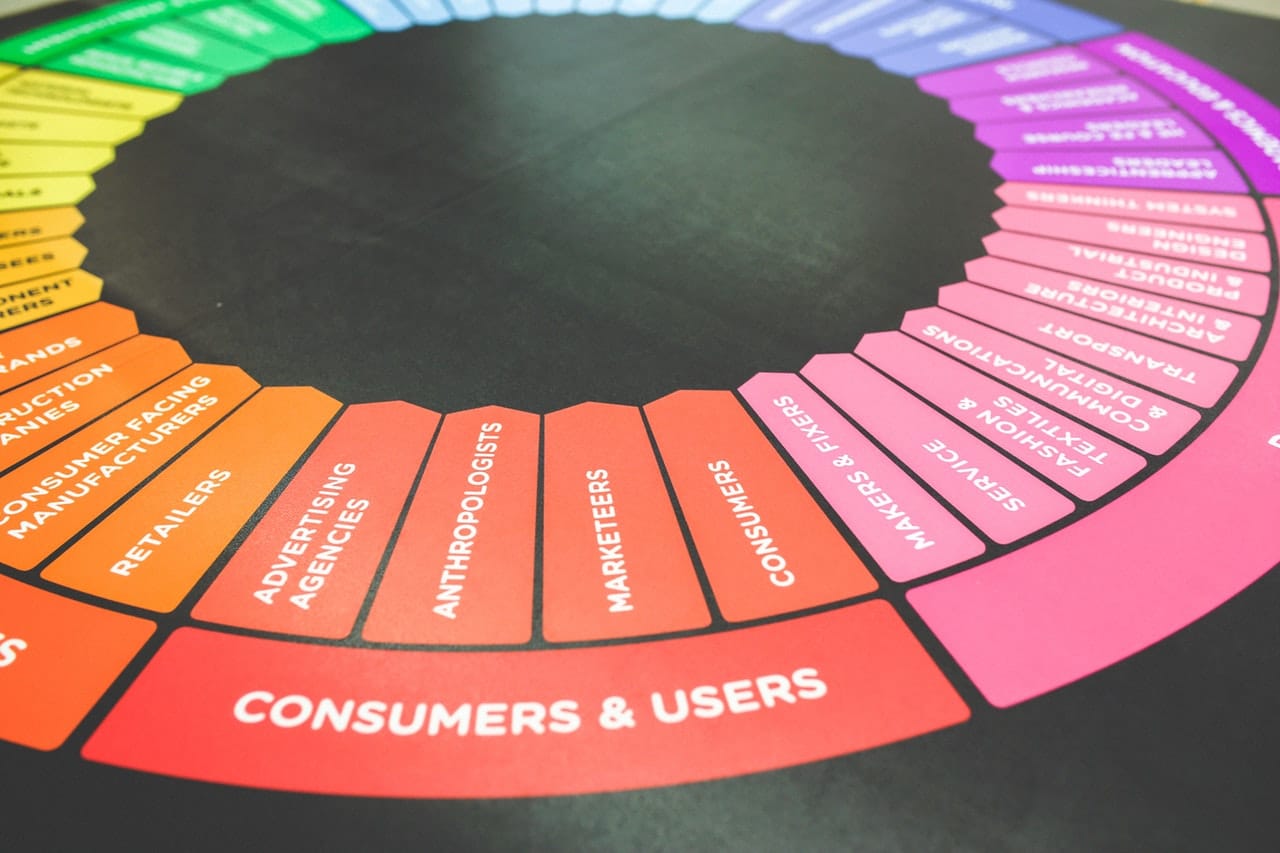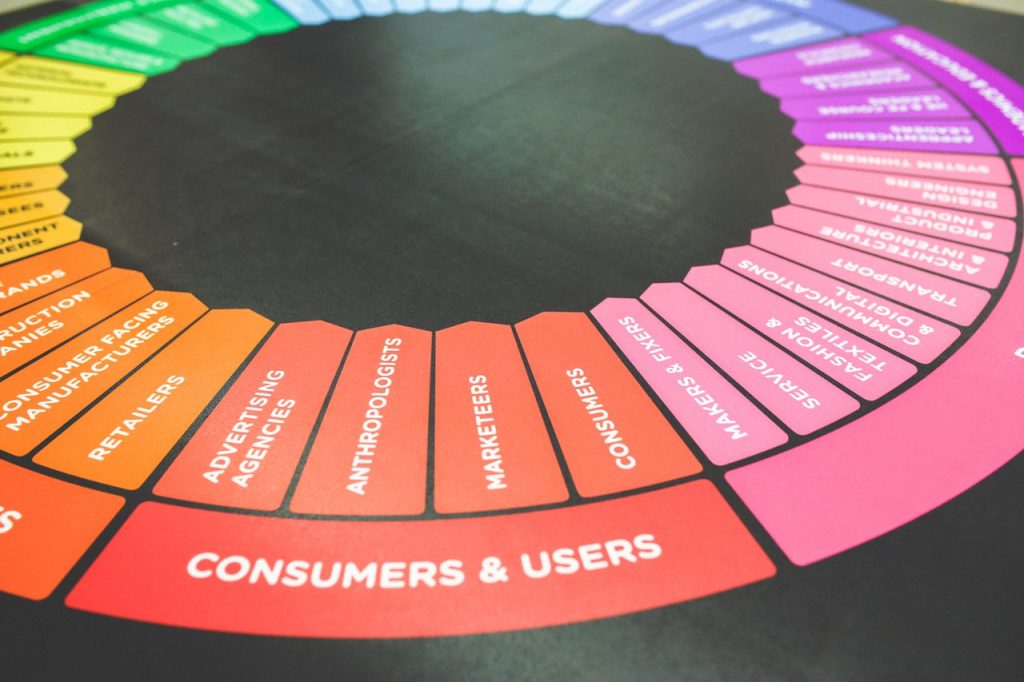 With Facebook now having more than two billion users, there are many opportunities for businesses to grow on the platform. Although your first thought might be the drop in organic reach for brands and publishers on News Feed, don't forget the power of advertising on Facebook. Because of its advertising features and options including objectives, targeting, and segmenting, you can reach your ideal audience right where they are and right where they expect to see you.
To turn users into loyal customers, push them through the three stages of the sales funnel:
Top of the funnel: the awareness stage where customers are looking for answers, resources, and education.
Middle of the funnel: the consideration or evaluation stage where customers heavily research whether or not your product or service is a good fit for them.
Bottom of the funnel: the purchase or conversion stage where customers look for final validation to make their purchase.
By guiding your audience through the funnel, you can ensure the highest return on investment no matter where they are right now. Let's break each of these stages down.
Top of the Funnel: Social Discovery
In case you're inclined to garner more purchases, the one and only focus of your ads, think about this: Facebook users don't log in to the platform to be sold. Instead, they come so they can socialize. This includes liking other people's updates, commenting, and messaging.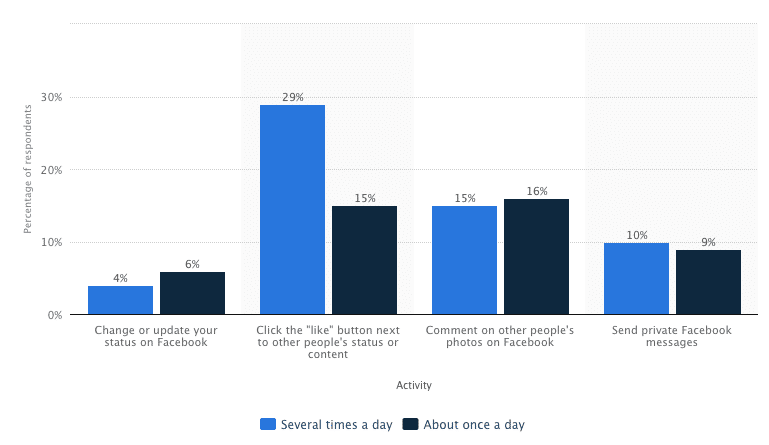 For you, this means you need to provide them with content they will want to like, comment, or share, so instead of selling, you will see the highest engagement if you educate, engage, and entertain. The ideal way to do this is with video.
Because video is changing the way consumers shop, think about what they would enjoy seeing from you and what they could engage with. There are two main ways you can work with video at this stage of the funnel: you can post it organically or you can increase its reach by either boosting a Facebook post or creating a video ad. As customers watch your video, Facebook gathers data about those customers who you can take into the next stage of the funnel.
Middle of the Funnel: Consideration and Segmentation
Once your video has been published for some time, you're ready to build your segmented audiences. The best thing about using video on Facebook is not only can you create specific groups (called Custom Audiences) you can advertise to, but you can also use the Lookalike Audiences to build groups that are likely to be interested in you because they're similar to that first group that's already engaging with you.
To get started on your segmented audiences, go to your Audiences tab in Business Manager and select Custom Audience from the Create Audience dropdown menu. Then choose Engagement, choose Video, and select the video you used as the top of the funnel content. The best part here is you can create multiple audiences based on how much of the video your customers watched.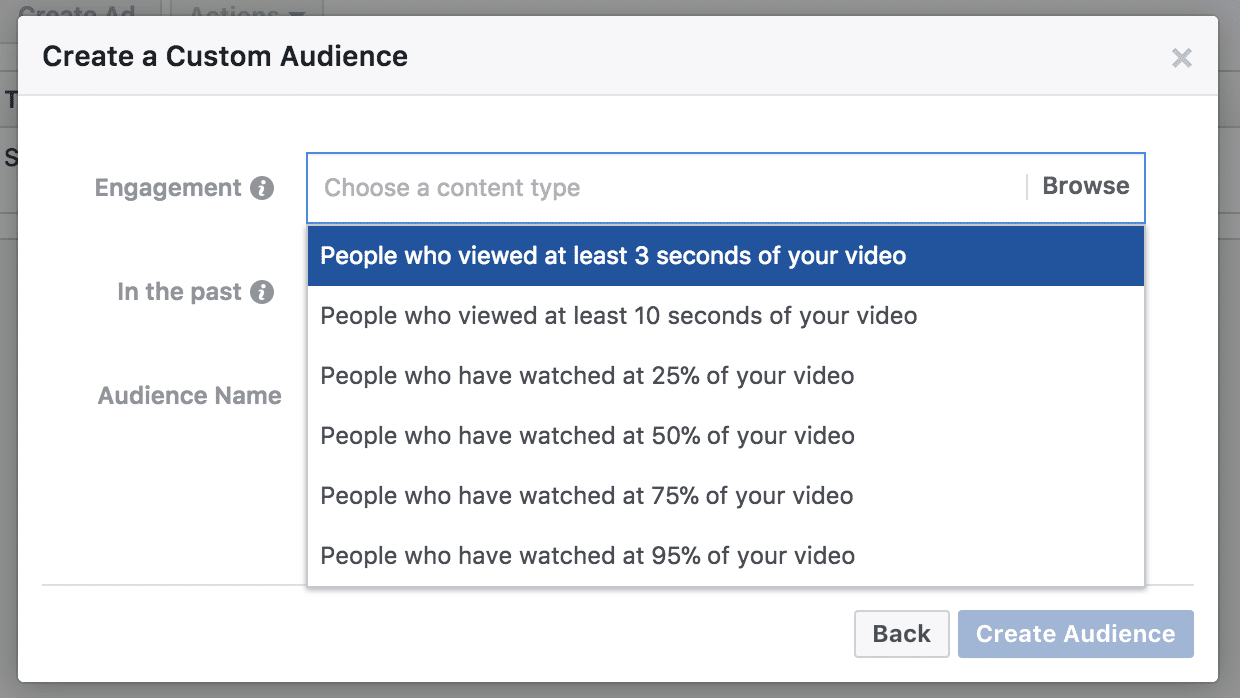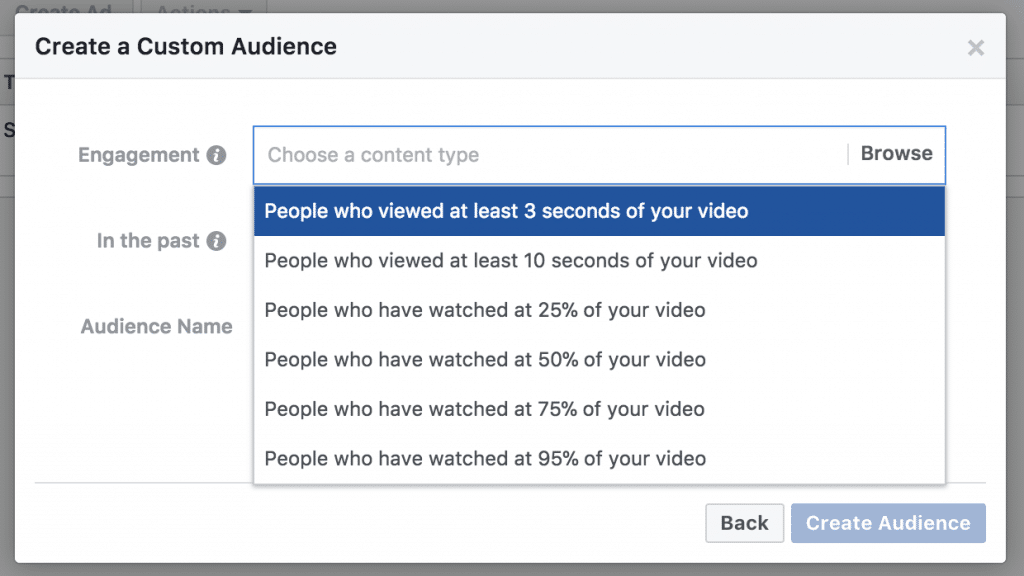 Once you create your audience, you can go ahead and select Lookalike Audience from that same dropdown menu mentioned earlier. After you've selected the audience you want to replicate, you can add countries and the audience size for your Lookalike Audience.
Now that you've defined your audiences for the middle of the funnel stage, your next step is to make them your target audience for content that fits this consideration stage (also called evaluation stage). Remember, you're now advertising to audiences already familiar with you, so you want to use this opportunity to serve them in-depth content that proves you're the expert in your industry. Content like long-form blog posts, webinars, free trials and live demos can produce brilliant results because they further build up your audience's awareness of you and increase trust in your authority.
Bottom of the Funnel: Nudge toward Conversion
At the final stage of the funnel, the Facebook Pixel is your strongest asset. With it, you can track and analyze the audience that engaged with your middle-of-the-funnel content and retarget them with even more relevant Facebook ads.
The audience that has come this far through your sales funnel now knows what you can do for them. They watched your video, landed on your website, consumed the content you served them there, and signed up for additional free value you offered—they now need a final nudge from you.
Because of the Facebook Pixel, you can target your audiences with Dynamic Product ads and Multi-Product ads, showing them products based on their browsing history on your website or the products they've added to their shopping cart.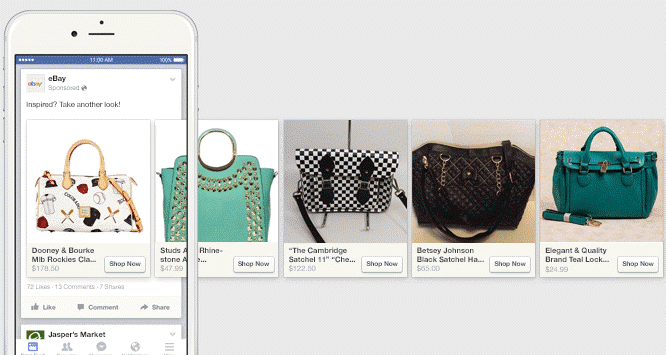 Other options include retargeting these engaged audiences with offers like discounts, vouchers, or free shipping. This works because they've shown interest in your products or services, and this is a gentle way to incentivize them to take that final step and complete the purchase.
The three stages of the sales funnel are the steps you need to take to turn your ideal audience from stranger to paying customer.
Marijana Kay is a freelance writer and content strategist working with SaaS and marketing brands on their content marketing strategy. She creates long-form, actionable content that grows her clients' visibility, authority, and revenue. Marijana is also a judge for marketing industry awards, and she hosts a content marketing podcast called Content Love.