May 19, 2017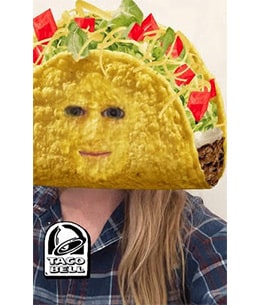 Were you one of the many users who advertised for Taco Bell on Cinco de Mayo with the Snapchat taco head filter?
Snapchat's latest augmented-reality (AR) lens feature allowed Taco Bell to reach millions of users on May 5, the one day that the specialty lens was available. On May 15, Snapchat released World Lenses, allowing users to play with 2D or 3D interactive content—such as large taco heads, cartoon butterflies, etc.—and allowing advertisers to include their company brand stamp within such Lenses.
@TacoBell reached millions with @Snapchat AR taco head Lens on Cinco de Mayo. #digitaladvertsing #adwar #cincodemayo
Click To Tweet
These advertising lenses could catapult Snapchat out of its unfortunate Q1 2017 earnings report. According to Bloomberg Technology, a typical advertising lens campaign can run between $300,000 and $700,000.
Taco Bell isn't the only brand to take advantage of the AR lenses. Warner Bros. Entertainment Inc. and MGM Studios Inc. recently used the feature to advertise their teen romance movie, Everything, Everything. Other campaigns are expected to come from Netflix and Dunkin' Donuts.
Will It Work?
Snap Inc. is trying to encourage user creativity while also bringing in revenue from advertisers to compete with Facebook's high advertising base. But Facebook and Instagram have already duplicated Snapchat's face filters. It is likely that the duplicating competition won't stop.
Snapchat users seem to find the interactive lenses and geofilters quite addicting, with reportedly one-third of Snapchat's following using them daily. However, revenue earned from AR lens campaigns will determine the overall success of the Snapchat feature. Although it seems to be off to a solid start, Facebook may retaliate yet again with a competitive stab.
What do you think of Snapchat's lens feature? Share your thoughts in the comments section below.
Comments
comments