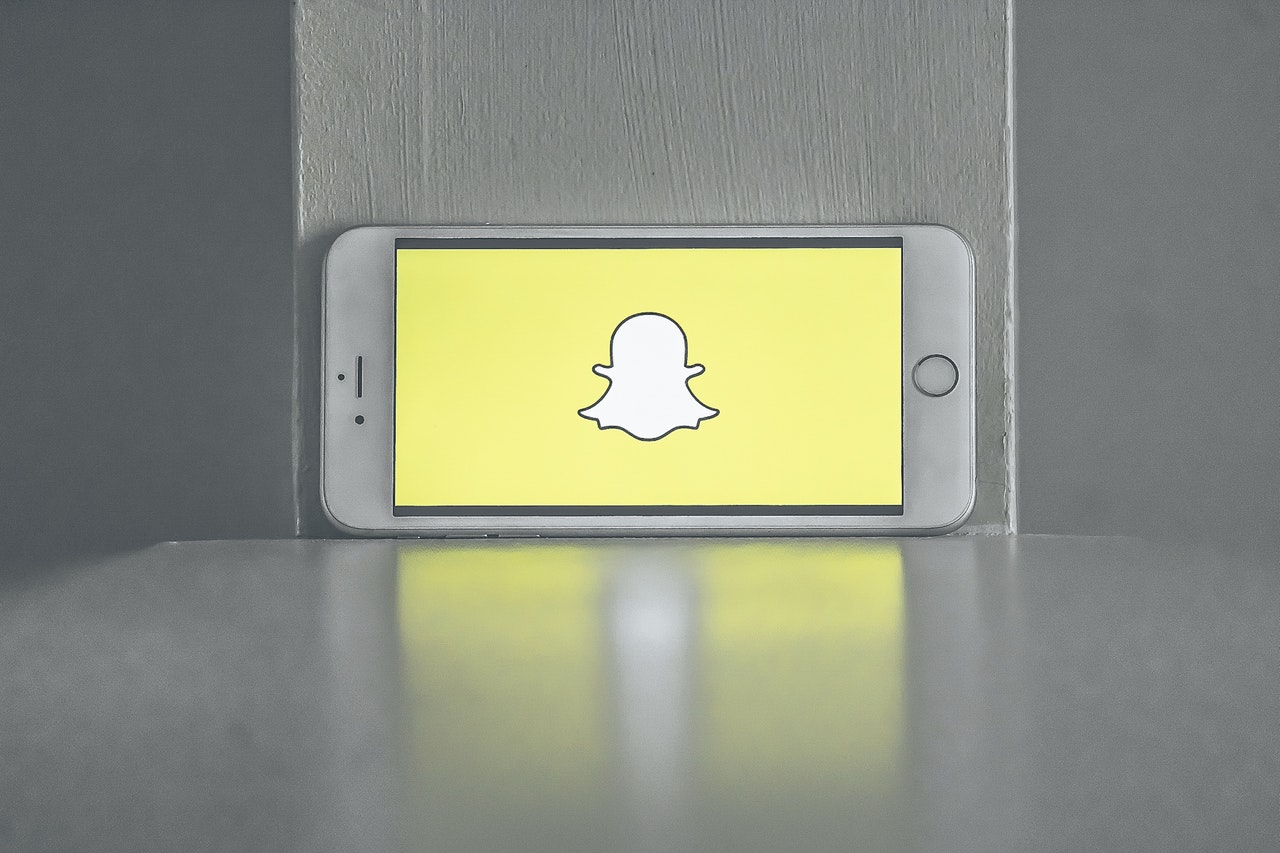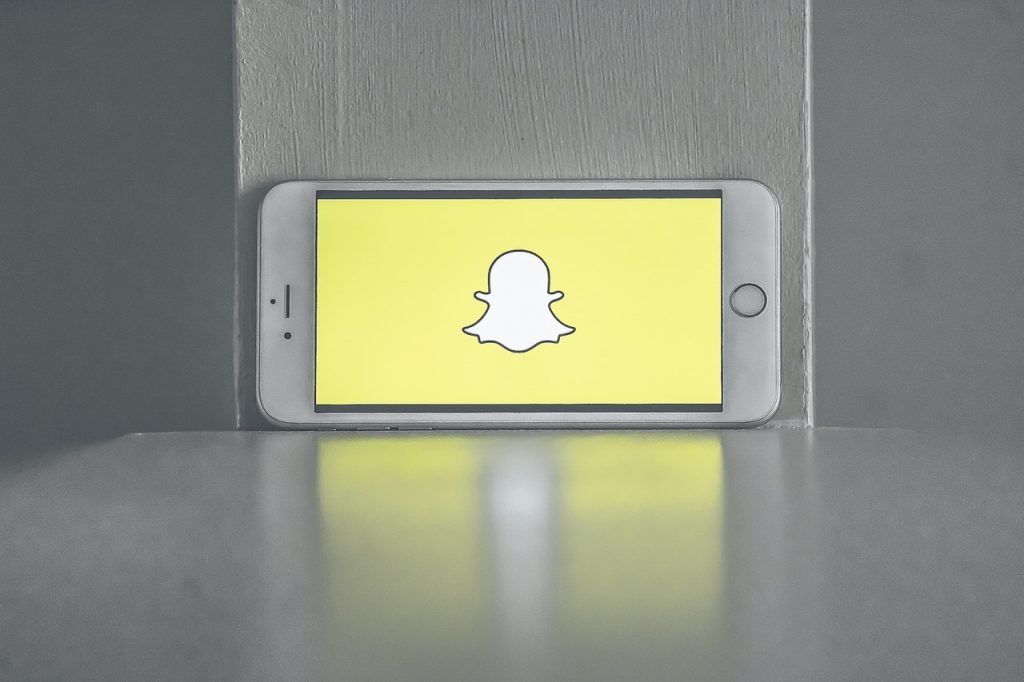 It's time to get your creative on. Snapchat for Business recently shared a YouTube tutorial about creative best practices for Snapchat ads. This article covers the highlights from the tutorial to help you plan your next stellar Snapchat campaign.
Before Starting, Answer These Questions
Before you create your ads, you must first answer these three questions.
What is your key objective? For example, your objective might be to increase app installs or product sales. Knowing your objective will help you choose the ad format and message that will best achieve that objective.
What is the most compelling reason people should choose you? The answer to this question is your value proposition. As with all ads, Snapchat ads are either viewed or skipped based on each individual user's choice. You need to create ads that are instantly impactive. The best way to do this, according to Snapchat, is to nail down your value proposition and make your ads easy to understand.
How are you measuring the action you want Snapchatters to take? For example, if you want Snapchatters to fill out contact forms, you will measure cost per lead. Knowing what you want to measure and how you want to measure will help you refine creative.
To achieve success with Snapchat ads, know your value proposition and bring it to life in a compelling way.
Get to the Point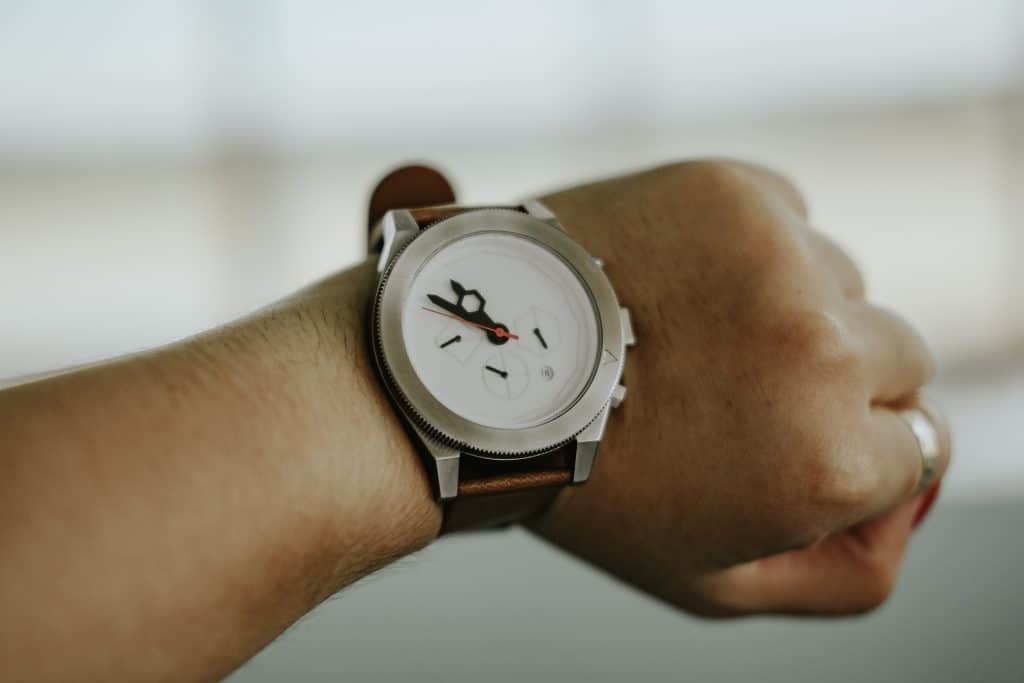 To create effective Snapchat ads, you must understand user behavior. Looking at organic Snaps by the everyday user, you'll notice that the Snaps typically last only about two seconds, yet they still convey a short, memorable story within that brief period. Snapchatters can recall two-second Snaps because they capture life events as they are happening without the unnecessary lengthy buildup. Snapchatters get straight to the point. To see optimal results for your brand, you need to communicate to users in that same way.
There are a few ways you can can better communicate to Snapchatters. First, build Snaps that last only 5 seconds or less. Because Snapchatters take action quickly, the first two seconds matter the most. When creating short five-second ads, jump straight to the ad's main message with your call-to-action (CTA) and offer right away. Avoid placing your main message and CTA at the end of the Snap to achieve immediate brand awareness and action. Finally, because 60 percent of users watch Snaps with sound on, don't forget to include purposeful sound design, such as soundtracks and voice-overs, to bring your ad to life.
Follow These Recommendations for Direct Response Objectives
Your objective may be one or all of the direct response objectives Snapchat offers. When using one of those objectives for your ads, make sure to follow Snapchat's recommendations.
Driving app installs: Visually demonstrate your value proposition to better convey your message. Also, include a strong visual CTA, such as "Install Now," with a voice-over from the opening frame and show your app in action.
Driving mobile app engagement: Use deep-link attachments to engage users and visually demonstrate your value proposition to better convey your message. Your creatives should align with the app destination (i.e., show users where they will be taken when they engage with your ad). And finally, include a strong, visual CTA with a voice-over in the opening frame.
Driving web traffic and conversions: Snapchat recommends this objective for brands driving actions to their website, such as purchases or signups. Because measurement is very important for this objective, track all web activities with the Snap Pixel. Snapchat also recommends aligning your ad with your landing page. This seamlessly helps Snapchatters feel like they're where they're supposed to be. You should also tease any offers, showcase your product visually, and use a strong voice-over with a CTA in your messaging.
Driving lead generation: For the lead generation objective, use a web-view attachment ad to generate leads. Snapchat suggests promoting a singular offer (i.e., what you want people to sign up for) and dialing up your value proposition. You should also align your ad with the landing page and use the autofill functionality on a simple landing page to makes it a seamless process for users to take action. A voice-over and strong CTA also helps reinforce the offer.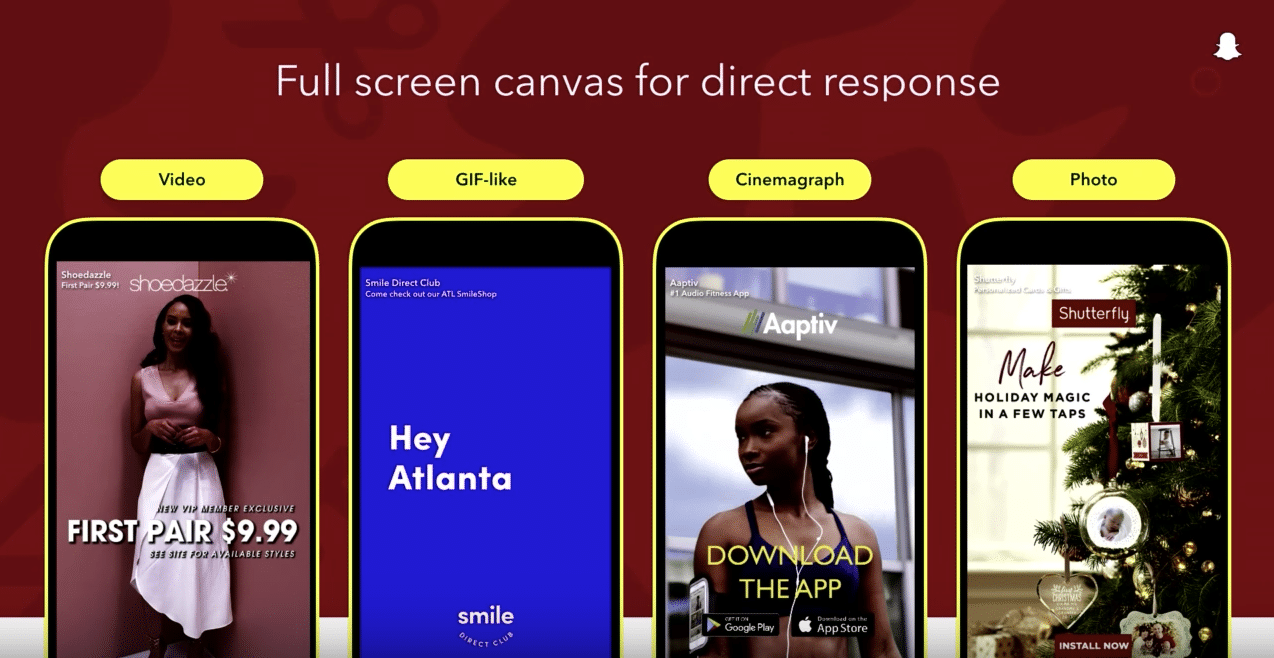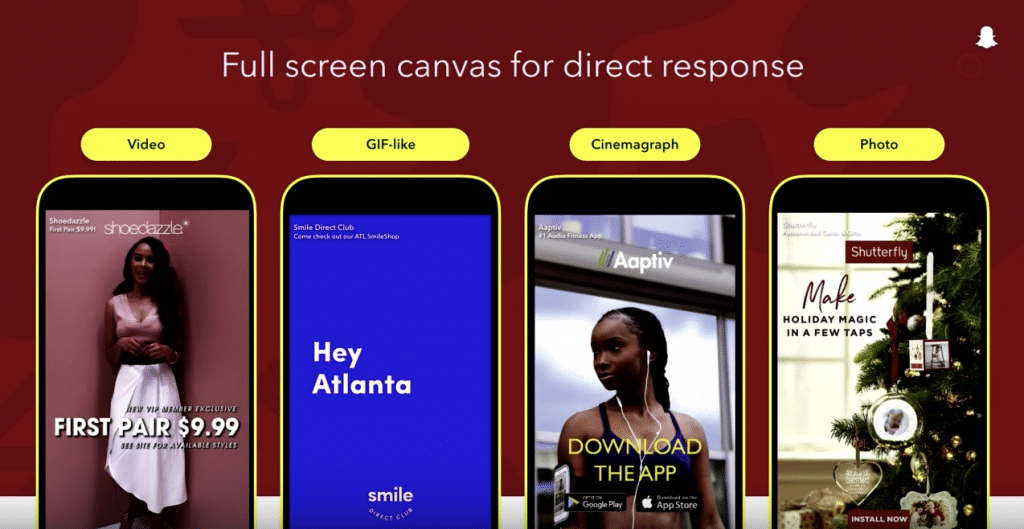 Choose the Right Media and Production Style for Your Brand
There are a few different media to choose from. But which one will perform the best? Media vary from brand to brand. What works for one brand might not work for another. The answer: testing. Here are examples you can use:
Video
GIF-like
Cinemagraph
Photo
Still images and GIFs easily showcase products in your ad. Videos and cinemagraphs drive strong, emotional influences and action as long as the brand logo, CTA, and offer are at the forefront of the ad. Snapchat suggests using templates to test and learn what works for your brand and then scale creative production efficiently.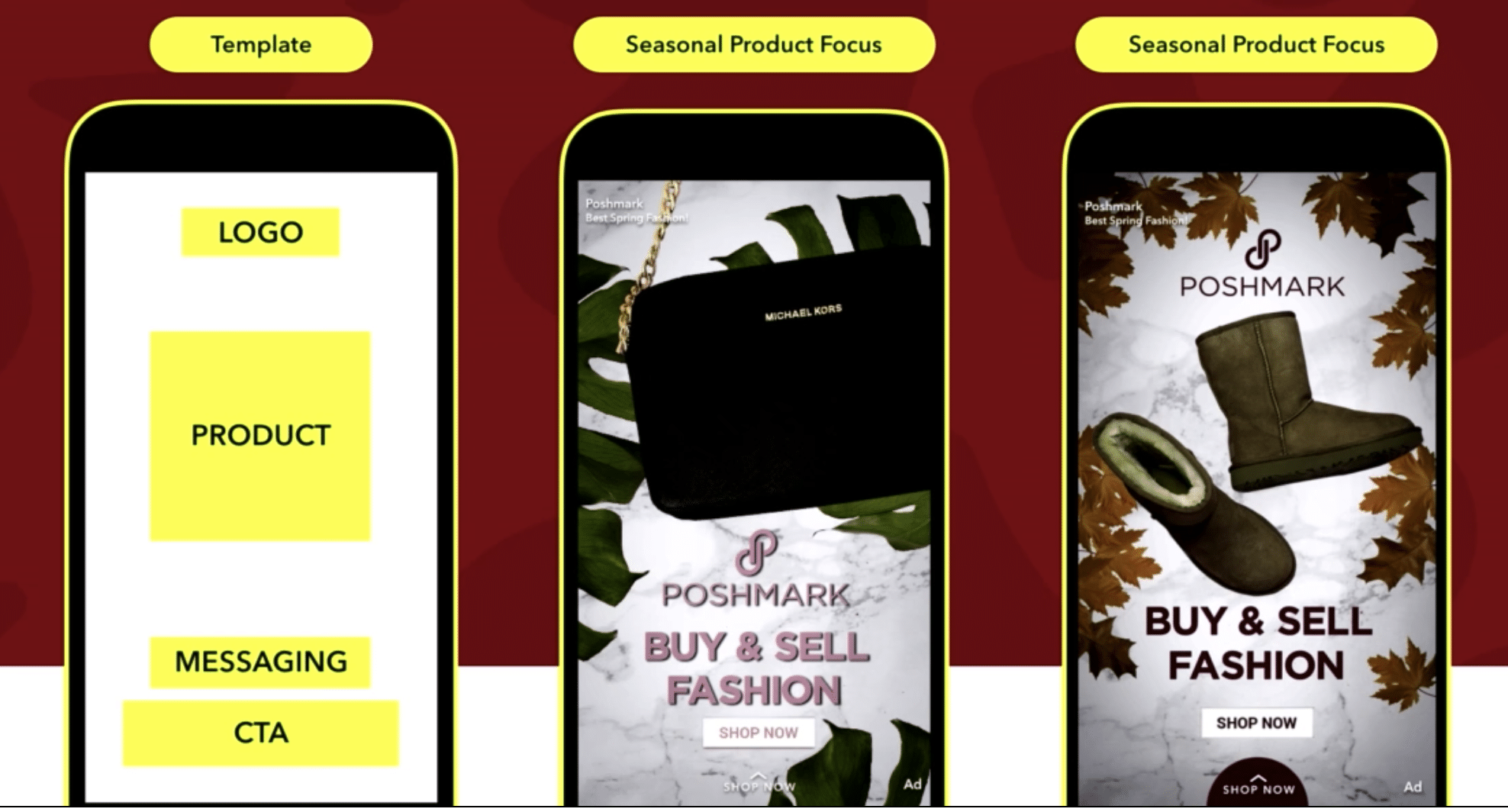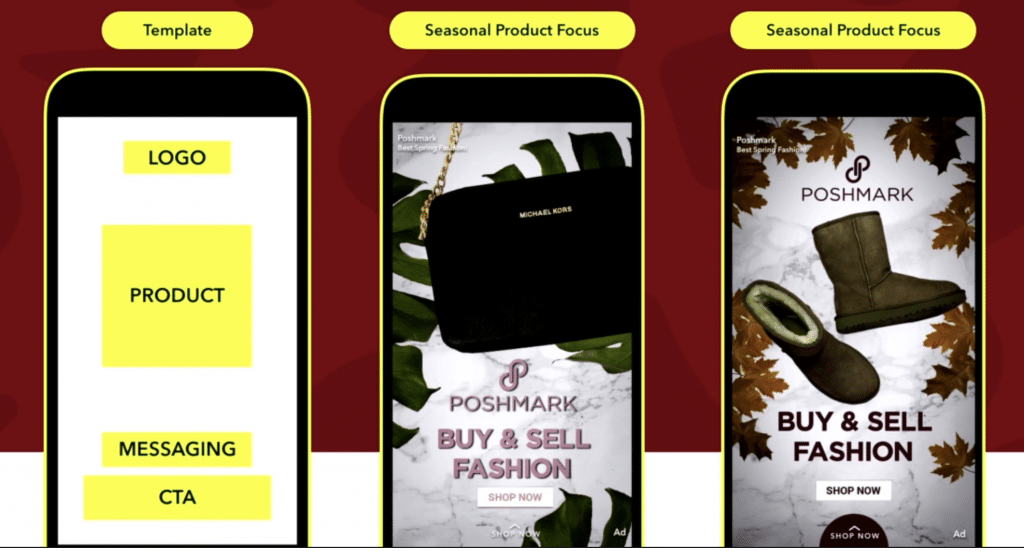 In addition to media, you also need to think about the production styles you want to use. Styles can range from user-generated content to highly-produced shows. There are four production styles to consider:
Selfie Style (Direct Address)
Content that personally connects the viewer to characters in your ad, similar to how friends connect with each other. This style has a very native feel and looks like a Snap you might send to a friend.
Vertical Camera (Direct Address)
Unlike the selfie style that uses the front camera, this style involves filming forward using the back camera. The vertical camera style is a great way to focus on the user experience.
Creative Tools
Using emojis and doodles in your ad appeals to the native user experience.
Product Demos (In-Device or Fullscreen)
If you're promoting an app, demonstrating what it looks like makes it easy for users to immediately recognize that it's an app. This style is particularly helpful for new apps. You can test whether showing the app in fullscreen or in-device performs better for your ad.
Have a Creative Learning Agenda
According to Snapchat, having a creative learning agenda is a great way to see what works and what doesn't for your brand. It's a mapped-out plan for testing your creative variables. With creative learning agendas, you can purposefully build campaigns for clear business objectives and single-minded messages.
The first step is to answer this simple question "What will we learn in this campaign to make us smarter for the next?" Since the agenda informs your future campaigns, this question is key.
Next, you want to choose for your agenda one of three testing criteria:
Creative (vary style, format, and messaging in the creative itself)
Targeting (adjust the audiences the campaign will reach)
Buy model (Bid on different actions and optimize)
When testing one of these criteria, keep the other two criteria as constant variables that don't change. Only vary the one criterion you're testing to see what in that criterion performs best before moving on to one of the other criterion. Your creative learning agendas should isolate creative features to help you learn what is working. When you find what works, you then scale that to make the best campaign for your brand.
Follow Snapchat's Story Ads Recommendations
Story Ads help you tell your story in the content section of Snapchat, where users watch the Stories of their favorite brands, publishers, and celebrities. When users swipe to this section, they will see Storytiles, which serve as teasers for what users will see or read when they select that Story.
Snapchat offers some recommendations for tiles and Stories:
Tile Recommendations: How to Intrigue Users to Opt into Your Story
Tease an informational or entertaining reward in a digestible format (e.g. "Top 7…," "The Best…," "8 Reasons…").
Include urgency and relevant days or seasons to the informational or entertaining reward (e.g. "You can't miss X this summer").
Don't give too much away or you'll fail to incite intrigue.
Don't use clickbait that doesn't deliver in your Story every day".
Story Recommendations: How to Keep Users Engaged and Achieve Your Objectives
Leverage mixed media types to keep the story dynamic.
Use a direct address style to direct the narrative (e.g. Selfie Style).
Align the content with your key KPI (e.g. if you're measuring swipe-ups, include the swipe-up early on in your Story).
Jump right into the main content—don't waste time on an introduction.
How to Start Creating Snapchat Ads?
What are your options for making your Snapchat ads a reality? Snapchat suggests various creative production options:
Snap Creative Partners: You can work with Snap Creative Partners to create your ads. You can find the full list on Snapchat's business website.
Creative Agencies: If you have an in-house or hired agency, this may be your preferred choice.
Snap Publisher: This is Snapchat's video editing software. Using Snap Publisher to make your ad can take as little as two minutes. You can also use it with Ad Manager to try out various types of creative. The software offers various ad templates that fit your objective.
If You Need More Help…
It's time to take what you've learned and apply it to your campaigns. Spread the word about your brand on one of the most popular and fun social networking apps out there. But if you have any questions about Snapchat advertising, call your Snapchat sales representative. There are various elements to consider for your creative so if something is unclear, this is the simplest way to receive the answers to your questions.