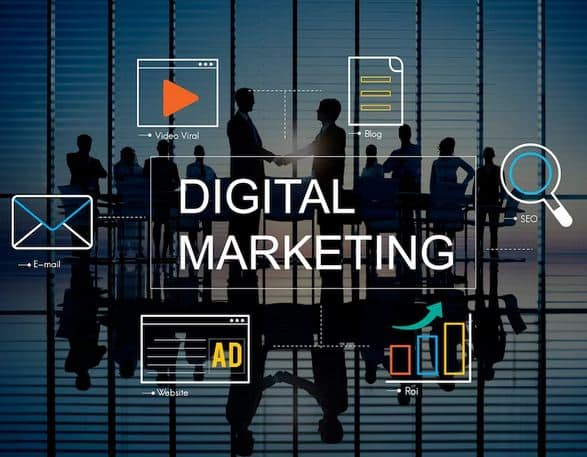 The winds of change are blowing in the digital marketing frontier. Sheriffs at the biggest tech companies are laying down the law. We are heading to a cookieless future, so no more third-party cookies will be allowed for online marketing.
Privacy-concerned heavyweights have spoken. Cookies are being crumbled.
Targeted advertising without baking consent leaves a bad taste.
This impending cookieless future spells uncertainty for the advertising industry. Marketers and advertisers who use cookies to lasso customers seem to be at a crossroads
. But the stampede towards a p
ost-cookie era
can't
be stopped
.
In this article, we'll discuss how cookies became an endangered species.
You'll get tips on new ways to reach target customers and do personalized marketing minus cookies
.
Even after the cookie crumbles

, your business can still thrive!

Let's explore a digital marketing world where third-party cookies will no longer be a part of your marketing strategies. 
The Future of Cookies
Let's start by reviewing what cookies actually are. Basically, cookies are small text files that sites place on your device to collect data about your online activity.
They've been the backbone of online advertising and marketing for decades.
Ever seen ads for shoes following your browsing history? Cookies at work! Marketers rely on third-party cookies from platforms like Google to target and analyze ads based on your web surfing.
For a while, this cookie-free-for-all flew under the radar. But attitudes are shifting. Growing privacy concerns, especially in Europe, put cookies under scrutiny. Landmark regulations like GDPR gave users more control over their data.
Now, the pendulum is swinging away from unfettered cookie tracking:
Google plans to phase out third-party cookies in Chrome by 2024.  A massive blow for advertisers and marketers!
Browsers like Safari and Firefox already restrict cookies. The walls are closing in.
Regulations like CCPA and upcoming US policies add consent requirements around data collection.
It's the end of an era. The unregulated cookie potluck is winding down. So what's next for digital marketing?
While third-party cookies are crumbling, first-party cookies baked from your sites will still enable visitor tracking. But targeting capabilities will diminish.

Source: makeitbloom.com
The path forward requires adopting new tools and strategies ahead of the post-cookie era. Relying on doomed legacy methods is not a winning play. We'll explore promising options shortly on this page.
The key is balancing privacy and functionality. Digital marketing can evolve past its cookie addiction while still delivering value. But mindsets and methods must change.
The Evolution of Cookies Till 2022
Cookies have been key for digital marketing since the 1990s. Early on, cookies enabled handy tools like shopping carts, logins, and personalization. They gave websites memory.
Marketers soon saw other uses for cookie data. Third-party cookies from platforms like Google allow tracking of people across sites. This powered targeted ads.
With data on user actions, marketers optimized ad spending. The online ad business boomed thanks to cookie tracking.
But unchecked cookie use raised privacy issues. Users didn't know how much they were being tracked. Laws like GDPR pushed back.
By 2022, attitudes toward cookies shifted. Browsers like Firefox blocked them. Google said it would stop supporting them. Cookies were losing steam.
Cookies enabled key features but overlooked transparency. The next era must balance utility and privacy better.
The Phases of the Cookieless Transition
Phase 1: Critical Preparations (2022 – 2023)
Businesses and marketers take immediate action to prepare for the end of third-party cookies.
Stakeholders investigate alternative identifiers that align with privacy requirements.
Phase 2: Adapting Strategy (2023 – 2024)
Site owners, businesses, and marketers adjust their marketing approach for diminished third-party cookie capabilities.
This includes leveraging first-party data and contextual strategies to the fullest extent.
Phase 3: A New Paradigm (2024 and beyond)
Third-party cookies are fully retired.
Cookie alternatives should now be fully implemented.
Digital advertising strategies fully adapted to the cookieless environment.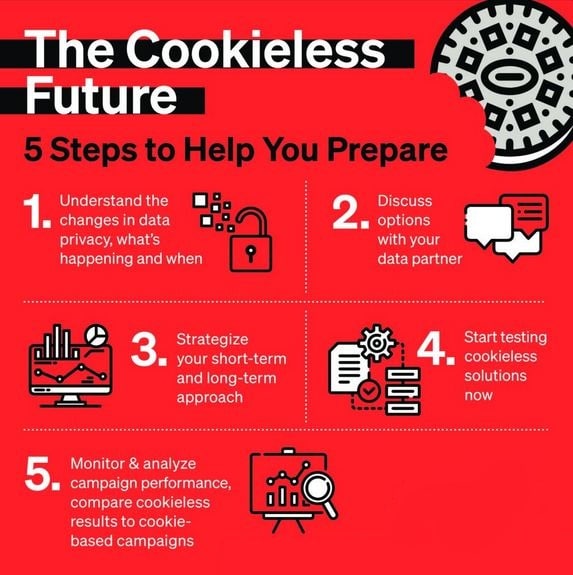 Source: dstillery.com
The timeline remains fluid, but marketers must start immediate preparations. As the digital marketing landscape goes cookieless, opportunities await those ready to evolve.
Impact of a Cookieless Future in the Online Advertising Industry
Brace yourself, my friend – the cookieless future is coming like a privacy-primed meteor! While it brings opportunities for marketers and advertisers, adaptation won't be easy.
Third-party cookies have always been of immense benefit to marketers and businesses. They enable conveniences like targeted ads and analytics. But that convenience came at the hidden cost of user privacy.
Companies quietly tracked all sorts of browsing behaviors and interests behind the scenes.
Regulations like GDPR shone a light on this opaque data free-for-all. Rightfully so – consumers want more transparency and control. The pendulum is swinging back towards privacy.
For digital marketing teams, this cookie crackdown means:
Limited ability to track user behavior across sites with third-party cookies. Less targeting and personalization data.
Potential declines in ad performance as targeting blunts. More waste from broad blasting.
Reliance on methods like fingerprinting and device IDs to try reclaiming some user tracking. More consent procedures are needed.
But there are upsides too!
Opportunity to forge real relationships with engaged first-party audiences without covert tracking.
Motivation to get creative with smarter contextual strategies vs. blind behavioral targeting.
Reason to build legit loyalty and trust through value vs. manipulative persuasion.
The cookieless future requires a mindset shift from tracking to transparency. From coercion to consent. From manipulation to meaning.
It won't be easy to ditch old tracking cookies. But the marketing that emerges could be something much better – for both consumers and businesses. That's a little idealistic, but positive change often breeds innovation.
The Dilemma of Advertisers in a Cookieless World
This cookie conundrum leaves many advertisers scratching their heads. How do you precisely target, track campaigns, and personalize without third-party cookies? Plenty of fears are swirling around, but marketers need to find new ways to succeed in a cookieless world.
It's like suddenly Google Maps goes away, and you have to navigate unfamiliar streets with only vague directions. You can't simply ask every passerby for personal details to guide your ads, either. You need a new playbook.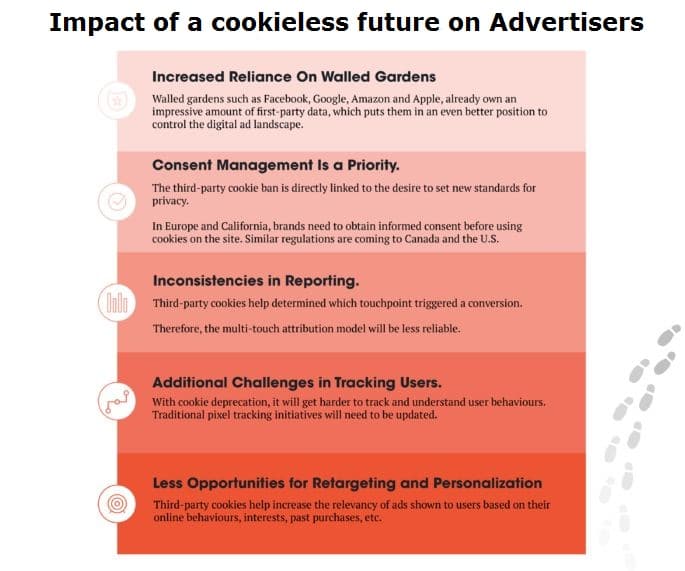 Alternatives and opportunities exist to fill the cookie void. But adaptation will be an iterative process with missteps. Refocusing marketing around transparent value and consent over covert surveillance is the right path.
Let cookies crumble – the most impactful marketing connects people without trickery. You'll learn some great alternative solutions in the next few sections of this article.
Navigating Legal and Compliance Issues
New privacy rules come with the cookieless future. Laws like the 
European Union's General Data Protection Regulation
(GDPR)
and the California Consumer Privacy Act
(CCPA)
spotlighted how unrestricted cookies caused issues. They are giving control back to users over their data.
For email marketing, this means tighter signup procedures to ensure consent. No more buying or renting random email addresses – quality over quantity.
Tools that make user data anonymous allow
overall
reporting without tracking individuals. Metrics can inform strategy without monitoring people in marketing campaigns.
When merging data, transparency and consent reduce privacy worries. You need to explain
plainly
how the data improves the experience.
Review legal papers like privacy policies to ensure they reflect actual practices. Avoid hiding behind complex text – be clear.
While compliance adds steps, it also builds trust. By showing the value of data, people
gladly
grant access. Legitimate interest goes both ways.
The cookieless future has hurdles but also opportunities. Privacy-focused digital marketing strategies that respect people foster creativity and care.

Consumer Perspectives on a Future Without Cookies
How do regular people feel about the cookieless future in advertising and marketing? Turns out many welcome it, even if it means fewer targeted ads. 
In a 2021 Deloitte survey, 66% of surveyed consumers expressed concern regarding how their personal data is used by companies they engage with online.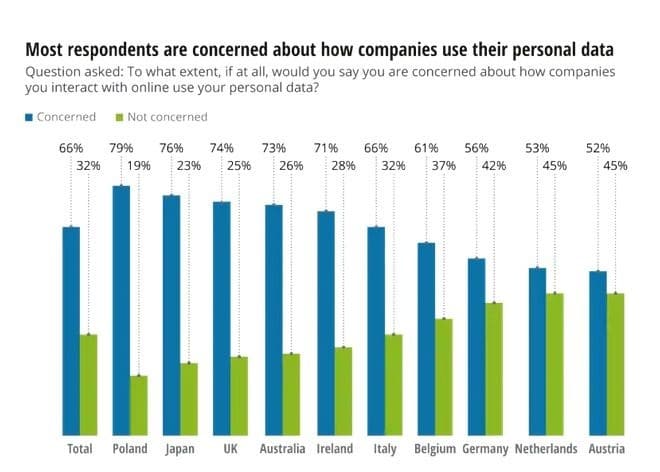 People get tradeoffs – cookies enable handy tools like logins and shopping carts. But distrust happens when tracking 
is hidden
without consent. 
While covert cookies brought targeting convenience, people like value from visible engagement. Many approve of 
mutually
beneficial, consensual data use.
The cookieless future is a chance to reset consumer relationships. A reset that
is built
on trust and transparency, not hidden surveillance. With permission, data creates shared value.
Adapting digital marketing without cookies may be bumpy. But earning consumer trust fosters loyalty beyond transactions. Experience matters more than exploitation. 
People understand the need for relevant ads and marketing. Doing it together
ethically
beats manipulating people
secretly
. Perspective brings optimism for a future without cookies in the
digital advertising ecosystem.
Solutions That Could Help Marketers in Place of Third-Party Cookies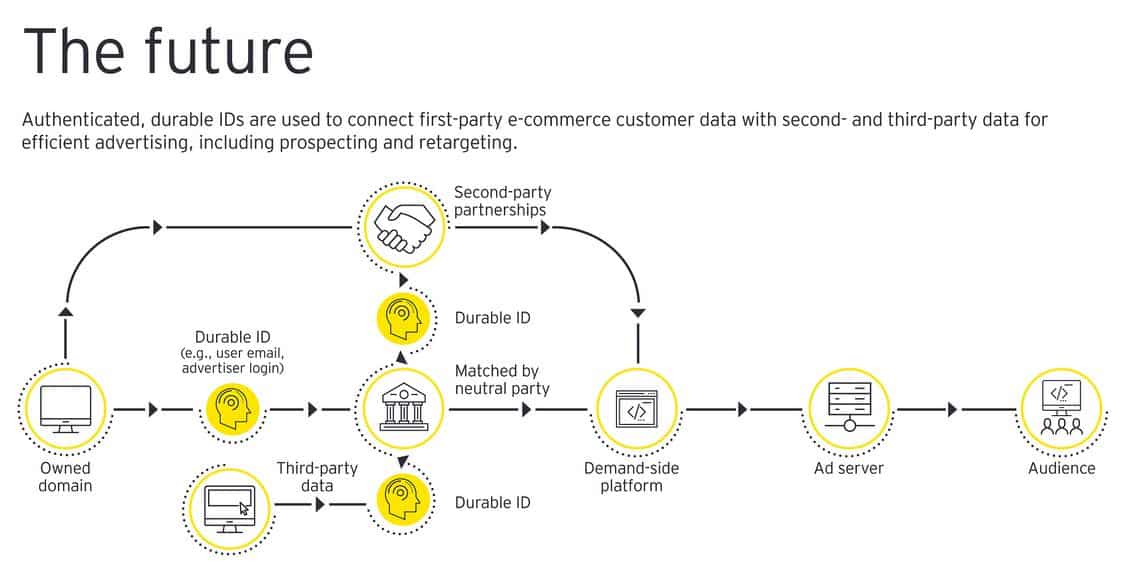 Source: ey.com
While losing third-party cookies deals a blow, innovative solutions offer hope for cookieless digital marketing done right. Here are some solutions that marketers and advertisers could deploy to move away from third-party cookies.
Contextual advertising places ads based on real-time page content, not past user actions. More relevant placements, less transparency issues. Dedicated platforms like TripleLift or Sharethrough excel in this regard.
Consent-based data sharing allows consumers to actively opt-in and get explicit permission to use their data. This provides legitimate value. Platforms like SourcePoint and Cookiebot enable consent flows.
Cohort modeling leverages first-party data to group users based on behaviors. You can target Lookalike Audiences on platforms using your existing high-value groups.
User identifiers like hashed emails help maintain continuity and track actions without personally identifiable data (PID). But transparency remains critical to avoid suspicion.
Customer relationship management (CRM) platforms become more vital to unifying first-party data and identity management. Integrations with marketing automation optimize flows.
Data clean rooms allow secure analysis of aggregated information between brands without sharing underlying data. They enable broader insights minus third-party data risks.
Identity resolution services stitch together disparate first-party data fragments into cohesive profiles while maintaining security. This solution improves targeting.
Marketers must get creative and embrace new opportunities like these to adapt. While third-party cookies provided past convenience, future tools can enable ethical digital marketing done right – and earn consumer trust.
Content and SEO Implications in a Digital Landscape Without Cookies
The imminent demise of third-party cookies also impacts content and SEO strategy. Let's look at some key implications.
Content is key without cookies
Content becomes even more important to attract engaged visitors without cookies. Great stories and experiences bring people in based on quality alone.
Use data on your own users to make content they like. Try different formats like videos or podcasts. Focus on two-way community engagement, not one-way promotion.
SEO without cookies
Solid SEO basics like fast speed, good mobile experience, and quality content-matching keywords still work.
Review Google Analytics to see and improve organic traffic. Study visitor click patterns to find popular entry pages to optimize.
Content personalization and SEO
Balance personalization to serve tailored experiences while keeping core pages accessible for SEO.
Use AI and machine learning to analyze first-party data. Understand individual interests. Then, customize content accordingly.
Having compelling, search-friendly experiences beats targeting tricks. There's hope for a cookieless future built on genuine value and visitor engagement.
Brands That Are Successfully Adapting to a Cookieless World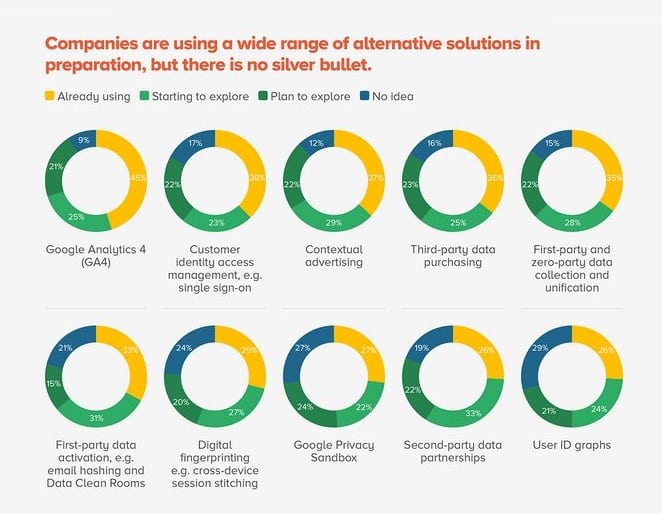 Source: relay42.com
Here are some brands that are proving that privacy-minded marketing can thrive:

The publisher keeps readers happy without cookies. It uses data from registered users to suggest personalized articles and pages.
Despite strong privacy rules, Apple is growing its services business.
They thrive using compelling bundled offers, CRM messaging, and content/recommendations based on 
purchase
history
. Privacy preserves the company's premium brand status.
Nike moved from targeted ads to interest and context-based ads. Its ads became more relevant and efficient. Focusing less on individuals protected the sportswear brand. Workout app signups stayed strong.
TikTok grew huge thanks to fun and creative short videos matched to engaged young users – not cookies. Data shows
overall
user patterns.
Netflix uses powerful recommendation algorithms based on individual watching behaviors. This keeps people watching movies for long hours. Contextual cues enhance the experience while protecting privacy.
First-party data strategies still allow personalization and segmentation while protecting privacy.

Context signals drive relevant ads without tracking.

Great content and communities are more important than targeting.
Conclusion
As digital marketing changes, it's key to stay updated on big shifts like cookies going away. While third-party cookies provided easy targeting, privacy issues meant they had to evolve. Welcome to a cookieless future!

Marketers must now focus on transparent strategies that offer real value to customers in a
digital marketing world without cookies.
We've highlighted some innovative strategies in this article.

But making this customer-focused future happen takes more than ideas – it requires flawless execution
. This is where working with pros pays off.
At AdvertiseMint, we understand what a cookieless marketing world means for businesses. And how to craft advertising solutions that match what your consumers want. 
Our social media paid ads services can drive real results for your business as digital marketing advances
. With AdvertiseMint as your ads ally, your business can thrive in this constantly changing marketing industry.

An effective paid ads campaign is what you need to scale your business. 
Our ads experts can help you with that.