Facebook is continuing to make itself the "cross-platform platform," as they announced a way to track performance of advertising across devices. Now marketers can see how people are balancing desktop, mobile and tablet before they make a conversion.
Through the new reporting, marketers can see the full story of how different devices influenced certain actions. To understand why this is so important – according to a recent study by Altimeter, more than 60 percent of U.S. adults use at least two devices daily, and more than 40 percent sometimes start an activity, like shopping on one device and converting on another.
This really isn't surprising. If you come across an item that you would purchase on your phone, do you really buy it right then and there? No. You probably go back to your desktop computer. Facebook even did their own study to prove why their new cross device measurement capabilities are so significant.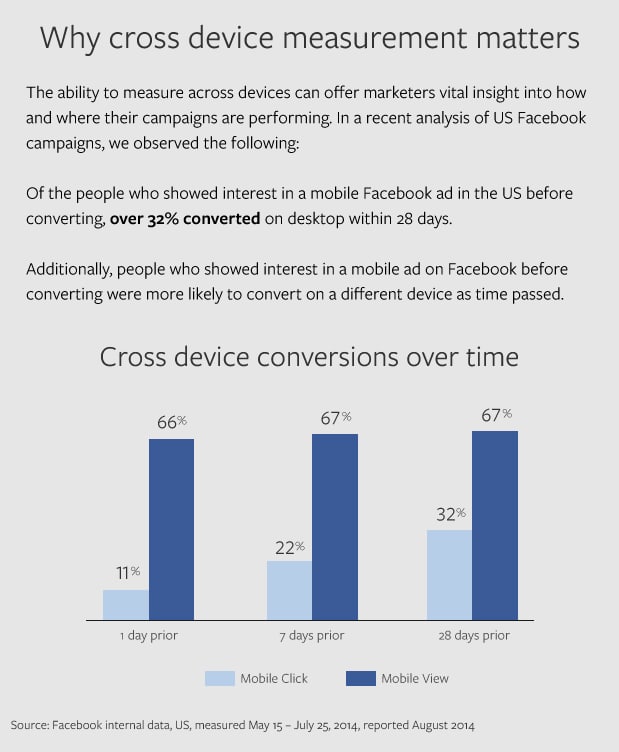 You can see your own cross-device data, too. Here's how:
You will need to install the Facebook pixel on your mobile and desktop websites and choose the Facebook pixel or App Events in your ads. If you're using the Facebook SDK, you can install the Facebook SDK into you app and configure the app events as well.
Then, to see cross-device data in your Ads Manager reports:
Go to your Ads Manager
Click the campaign, ad set or ad that you want to view
Click Breakdowns
Under By Delivery, select Placement and Device
Under By Action, select Conversion Device
To see cross-device data in your reports in Power Editor:
Go toPower Editor and then click Reporting
UnderReport Settings, click Breakdown
SelectConversion Device
If you have a cross device marketing strategy, this will make it better and if you don't have one it all, here are the tools to create one. Get on it!
Comments
comments