A few weeks ago, Facebook announced that Instant Articles will be open to all publishers of any size and anywhere in the world on April 12, 2016. To make it easier for publishers to share their content to Facebook, they've partnered with Automattic, a parent company of WordPress.com VIP, to build a free plugin just for Instant Articles.
This is awesome news because EVERYONE knows how to use WordPress. The platform actually powers over 25% of the sites on the web so millions of publishers are going to be able to bring the Instant Articles experience to their readers.
Facebook even worked with a small group on publishers to beta test the WordPress plugin to ensure, "a seamless way to adapt web content for the Instant Articles format, with a built-in suite of interactive tools that help stories come to life on mobile." They make it sound magical, right?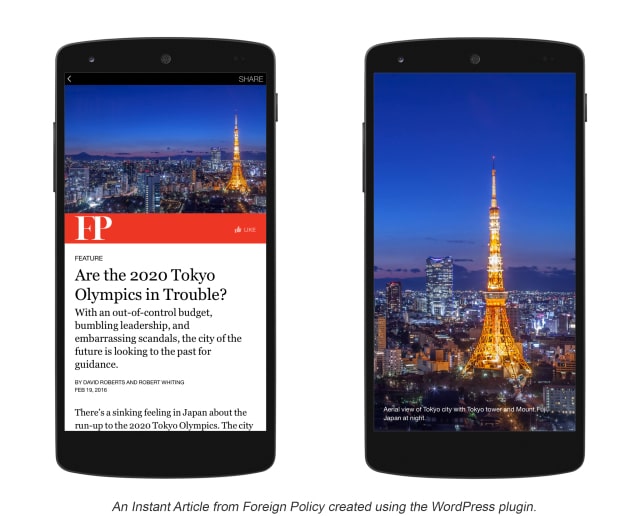 Well, it practically is and let me tell you why. The plugin recognizes the image found in this Foreign Policy article and specifies the correct markup so that the photo renders correctly in the Instant Article. The photo also expands to fill the screen when the user taps it and allows exploration just by tilting the phone. The plugin also supports native autoplay video as well as social and interactive graphic embeds.
When Instant Articles opens next month, publishers that want a more customized production experience can extend the plugin to support addition elements. If you're curious or have more questions, check out the plugin's documentation and FAQs.
Publishers will have the ability to make design tweaks to their Instant Articles page layouts from within WordPress, but Facebook will have a final review process in place to verify publishers' Instant Articles are correctly formatted and adhere to its community standards and content policies before they appear on the platform.
Facebook is also encouraging publishers that will go on to try the Instant Articles plugin to give them feedback as an issue on GitHub. Additionally, if you write a compatibility layer for another popular plugin, Facebook wants you to share it with the WordPress community through a Pull Request.
Who else is on the edge of their chairs for Instant Articles' launch?
Comments
comments