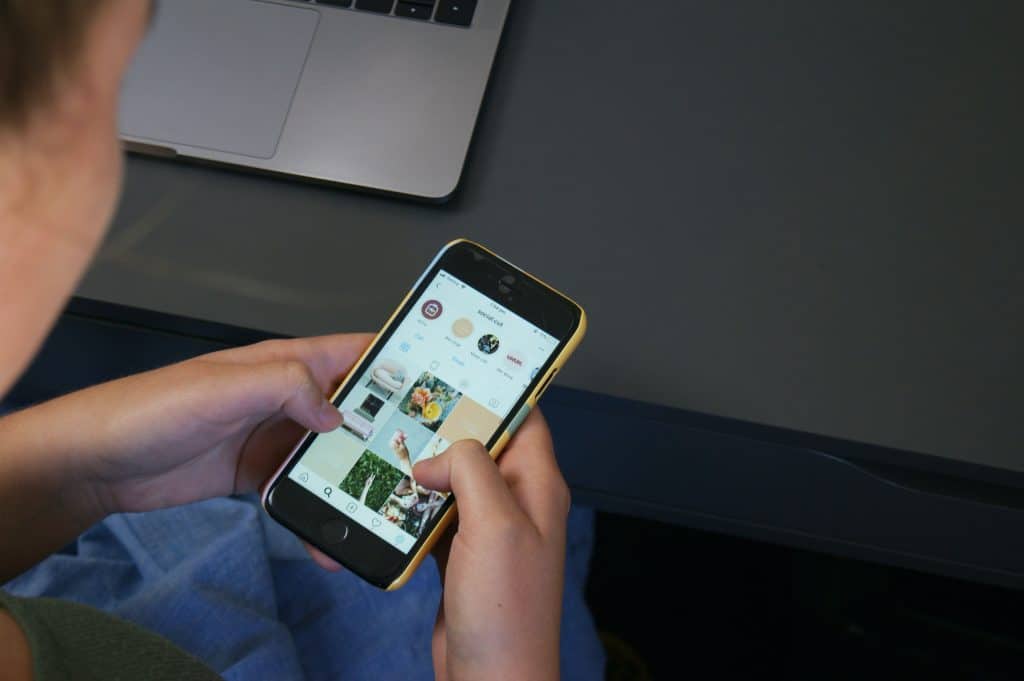 Affiliate marketing can be tremendously lucrative. As of this year, the industry is estimated to be worth more than $12 billion globally. More than 80% of brands currently operate some kind of affiliate program, and they exist in every niche you can think of. 
Affiliate marketing is a form of revenue sharing. You (the affiliate) share links to a third party's products (the merchant). Each time a customer purchases using your affiliate links, you make a commission. Merchants use affiliate management technologies, such as Impact, to monitor and reward their affiliates while affiliate marketers use affiliate tracking software to track and optimize their campaigns. 
Unfortunately, affiliate marketing can suffer from an undeserved bad reputation. Due to the poor behavior of a minority of affiliates and merchants, many dismiss it as a get-rich-quick scheme. However, affiliate marketing is legitimate. At its best, it's a way to share products you love with your audience and make money while doing so. Companies you'll be familiar with that use affiliate marketing include Walmart, Amazon, Ebay, and TripAdvisor. Some of the top affiliate marketers include Pat Flynn of Smart Passive Income and Jeff Rose of Good Financial Cents.  
Can Affiliate Marketers Make Sales Using Instagram? 
Yes!
Whether you're an influencer, marketer, or expert in a particular niche, you can leverage your Instagram following to make money. Even better, you can do so without spamming your audience or turning them off. After all, chances are you occasionally share products or services you love with your followers. Most people do this on social media without even thinking about it. Affiliate marketing is simply a way to monetize these recommendations. 
Want to do affiliate marketing on Instagram the right way? Here are the core principles of how to do that: 
Promote products or services that you genuinely love and believe in. You should use them yourself and be knowledgeable about them — this will help you connect with your audience and provide valuable content. 

Partner with well-regarded, trustworthy companies. 

Always be honest with your audience.

Focus on providing great content and building your promotions into it organically. 
How to Make Money on Instagram through Affiliate Marketing
There are many ways to promote your affiliate links and make money, and using social media is just one of the most effective. With more than a billion active monthly users on the platform, if you still ignore Instagram, merchants are here to remind you of its true potential.  
Many affiliate marketers ignore Instagram due to its restrictions around linking. You cannot post a clickable link within a photo or video caption, and you can only include one link in your profile. Therefore, you'll need to be a little more creative if you want to make the most of the platform. Instagram can be a great source of revenue if you use it well. 
Here are some of the best Instagram affiliate marketing strategies. 
1. Define your style.
Influencer marketing has a reputation of being overly curated to the point of being unrealistic.  Exotic locations, high-end camera equipment, and a team of image professionals all work to build an image that is not relatable to many people. 
In recent months, however, travel restrictions and social distancing have forced influencers to go for a more DIY approach. Instead of featuring beautiful scenery, Instagram users are now sharing photos taken at home, perhaps featuring their families or pets. 
It's a cliché but a truism: The most powerful thing you can be is yourself. Defining your own style can be a struggle, but it's what will set you apart. Make sure that everything, from the color scheme you choose to the copy to the choice of products you promote, speaks to who you are as an individual. 
Studies show that people tend to trust people they perceive as being like them. A perfect, filtered, Instagram-ready life simply isn't relatable to most people, especially in the current challenging climate. By presenting a more real self on social media, you'll allow your audience to feel more of a connection to you. In turn, this authenticity and connection means you'll have more impact as you share products with your audience. 
Here's an example from actor, blogger, and lifestyle influencer, Yenis Monterrey: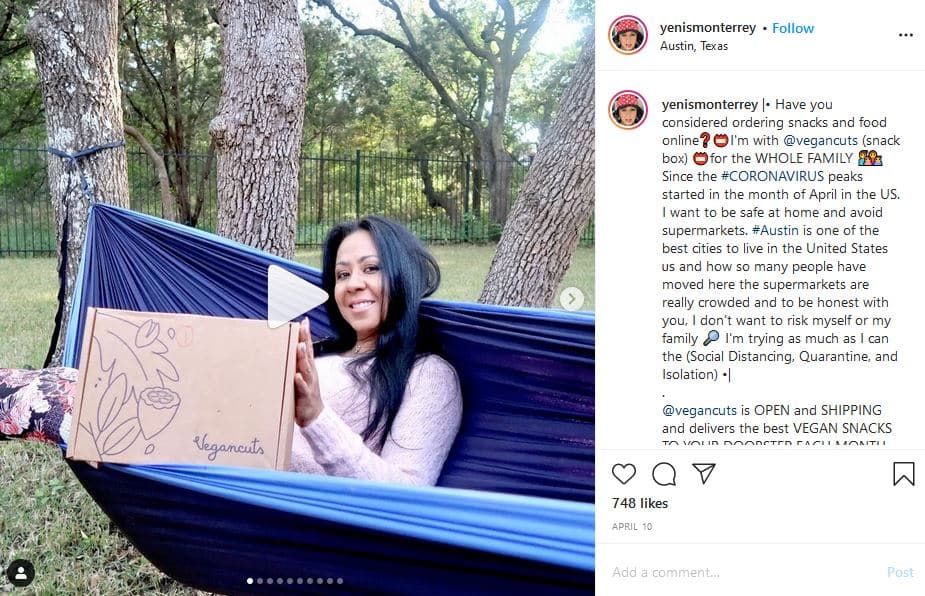 @yenismonterrey / Instagram
In this post, Monterrey uses a natural and unfiltered photograph and addresses the reality of how shopping for food has changed in the wake of COVID-19. By sharing how the product she's advertising has helped her family during this time, it comes across as more genuine. 
You also don't need to be relentlessly positive at all times. In a world where there is currently a lot of negativity, positive social media posts can be a welcome respite from the harsh reality. However, excessive and relentless positivity can come across as disingenuous or out of touch. This will have an impact on your affiliate earnings in the immediate and long term, and it can do serious damage to your reputation. 
Strive to be empathetic and sensitive. Influencers should be aware of what's going on around them and seek to use their influence and reach to address these problems. In other words, don't be afraid to address the ways in which the world is a scary place right now. 
2. Run contests and giveaways.
Instagram contests are a great source of affiliate leads. They can drive traffic to your site, grow your following, increase your engagement, and make you more attractive to the best affiliate programs in your niche. 
The mechanics of your contest should reflect your goals. For example, if you want to get more followers, you should require participants to follow you in order to be eligible for entry. You can also ask your followers to tag a friend. Photo contests where participants must tag you and the brand or use a special hashtag are also hits among the Instagram community. Here's an example of an Instagram giveaway: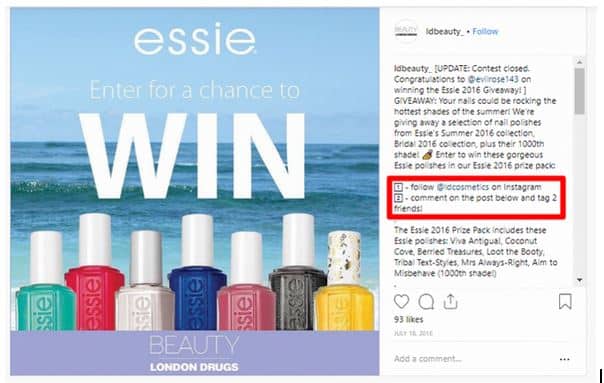 @ldbeauty_ / Instagram
Make sure your rules are clear. For example, if there is any geographical restriction, say so upfront. Following the best practices for Instagram contests will keep your followers and the company you're promoting happy. It's also recommended that you announce the winner publicly. This shows the contest was genuine and builds trust with your audience. 
The benefits of a well-run contest can last far beyond the immediate term. Ecommerce retailer Coconut Bowls ran an Instagram giveaway that generated more than 40,000 new email leads and more than 37,000 new social media followers. 
How did Coconut Bowls do it? Here are the core principles the company followed, which affiliate marketers can also use for their contests:
A thorough and robust understanding of its audience

A great prize that carried high value relevant to the company's audience (in this case, a Vitamix blender, which retail for $350 to $600)

The use of bonus actions as an opportunity for participants to earn more entries

Utilizing video content to promote the giveaway

Kickstarting the giveaway with an announcement to its existing email subscribers

Asking brand partners and influencers to share the giveaway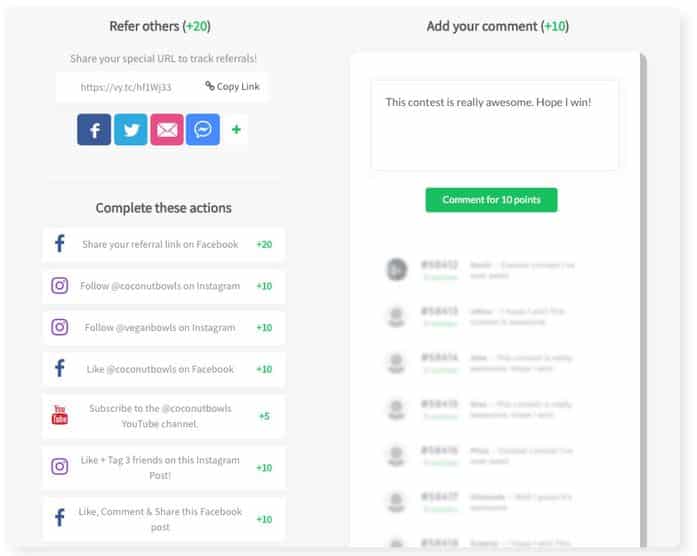 Source: Vyper
If you think it has to be prohibitively expensive to generate this kind of engagement, you'd be mistaken — this campaign cost less than $1,000! This success story proves the power of giveaways in leveraging social sharing and rewarding engagement. 
3. Invest in sponsored posts.
A sponsored post is a type of paid advertising where you pay a fee to Instagram to put your content in front of more people. If your Instagram profile is attached to a Facebook Business page, you can easily advertise on Instagram through Facebook Ads Manager. Otherwise, you need a business profile to take advantage of Instagram's promotional features.
If you don't have much of a following or you have just started your Instagram profile, sponsored posting is a great way to boost your following and engagement. You can define who you would like to see your sponsored posts based on target demographics and interests. For example, if you promote a clothing line aimed at young people, you might target college students and 20-year-olds. If you promote a line of home gym equipment, you'd target fitness enthusiasts, and so on. 
Contrary to misconceptions, a sponsored Instagram post doesn't have to be tremendously expensive. Since you get to set your own maximum spend, you're in complete control, and you can boost a post for as little as $1 per day. Of course, the more you spend, the more people you can potentially reach. If you only have a small advertising budget, don't be put off. You can still make sponsored posts work for you.
If you want to maximize the effectiveness of your sponsored ads, follow these tips:
Refine your audience to ensure you're targeting the right people. What is your ideal customer's age, gender, geographical location, and area of interest?

Be clear on your campaign's objective. Are you looking to generate awareness, grow your following, or make immediate sales? 

Use an appealing, eye-catching, and relevant image. 

Make sure your ad copy is as good as it can be. You have only seconds to capture your audience's attention, so make them count. 

Include a relevant and click-worthy call to action. 
Finally, make sure to use an affiliate tracking software that integrates with the Facebook Conversion API, so you can measure and optimize your campaigns according to real conversions as opposed to just engagement. That way, you can make tweaks to improve your results as you go along. 
4. Be smart with your hashtag game.
Hashtags are a great way to get your post noticed by the right people. They allow people who aren't following you to find your content, and they help build a community around your posts. Hashtags allow you to be part of a wider conversation centered around a niche, an interest, a geographical location, or an event. 
Branded hashtags connected to the companies you work with identify you as an affiliate marketer promoting that brand, and it can help existing fans of the products or services find you. These hashtags allow you to run contests, collect user-generated content, and monitor how well your brand is doing in Instagram Insights. 
You can use up to 30 hashtags in an Instagram post. Unlike other social media platforms, the more the better. As long as they're all genuinely relevant, use as many hashtags as you like. Do some research to see what other affiliate marketers and influencers in your niche are using. You should also take some time to see what's trending and tie a promotion or product ad to a trending hashtag. 
Here's how fashion influencer Ewelina Kanty does it: 
@ewelinakanty / Instagram
By using relevant fashion- and style-related hashtags, she increases the organic reach of her post, ensuring the right people will see it. 
As an affiliate marketer, hashtags can also keep you on the right side of advertising law and Instagram regulations. If your post contains any affiliate links, or you're making money from it, the FTC requires this to be disclosed. A simple way to do this is to use hashtags like #aff, #affiliate, or #ad. Kanty does this in the screenshot above with the hashtag #affiliate. 
5. Include a coupon code in your photo description or Instagram Story.
Although you cannot post affiliate links directly in your Instagram captions, coupon codes are a great workaround. If you have an exclusive coupon code for a great discount or bonus, it's a win-win for you and your audience. They'll get a great deal, and you'll become a preferred affiliate each time they shop. 
A coupon code works quite similarly to an affiliate link: When your followers go to your partner's online store and type in the coupon code, the site recognizes it as a referral from you and credits your account with the commission.  Here's an example of an Instagram post using an affiliate coupon: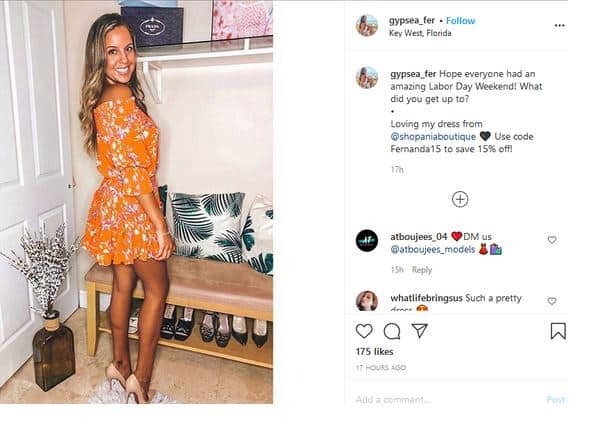 @gypsea_fer / Instagram
Include coupon codes in your bio, photo captions, or your Instagram Stories. You can even edit them directly into images so followers will see them as they scroll through their feed, if you wish. 
6. Use the "link in bio" workaround. 
Instagram only allows you to put one link in your bio and does not allow clickable links in photo captions at all. Fortunately, businesses and influencers have created a useful workaround. You may have noticed many Instagram users captioning photos with phrases like "link in my bio." You can do this and change the bio link each time you have something new to promote. However, this is time consuming and inefficient. Instead, use an Instagram linking tool. These useful tools allow you to send your followers to a simple landing page where they can find all your relevant links. The most popular tools include lnk.bio and Linktree. 
Here's an example of how it looks: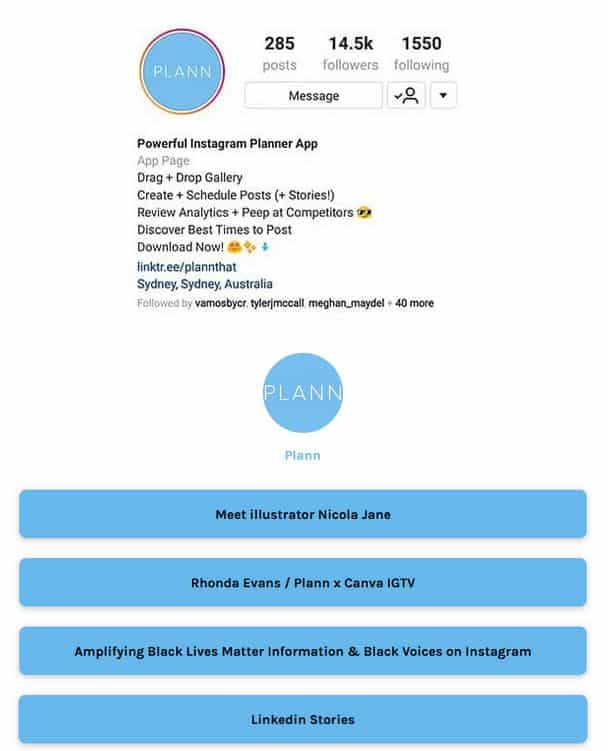 Plann / Linktree
Just remember to use "link in bio" in your posts and add the relevant affiliate link to whichever linking tool you're using. 
7. Send people to your blog from Instagram.
Do you have a blog or website where you promote your affiliate products? If so, you should share each new blog post or piece of content on Instagram, using the link-in-bio workaround mentioned above to send your followers to your blog. This strategy has a number of advantages: If your followers love your blog content, they'll likely return again and again, and you'll become their preferred affiliate when they need what you sell. In addition, more web traffic also boosts your search engine optimization (SEO), allowing your site to show up higher in search results. This leads to more organic traffic and — you guessed it — more sales.
Also, because none of the "link in bio" tools let you connect with the Facebook Pixel or Google Analytics, sending visitors to your blog lets you build up Custom Audiences. 
Pro tip: Sync your latest blog post with your current Instagram promotion so users always land on the right blog post when they click on your "Link in Bio."
8. Use Instagram Insights to see how your posts are doing and inform your approach.
There's a lot more to being a successful affiliate marketer than just posting and waiting. The highest-earning affiliates take a scientific approach and use data to make their affiliate marketing campaigns more effective. That's where Instagram Insights comes in. 
Instagram Insights helps you determine which posts have the widest reach and where your traffic comes from. You can also see the best days and times for posting on Instagram. If you're posting on a Sunday, the data shows that the best times are 7 a.m. and 4 p.m. EST, while on Mondays the best times are 6 a.m. and 10 p.m.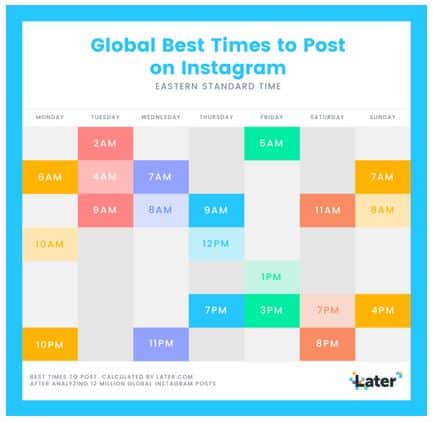 Source: Later
Instagram users see new content first. Therefore, by paying attention to this data, you can maximize the number of people who will see your posts. 
Tracking your metrics is also essential for seeing how your posts are doing and where you could improve. Is one type of content getting much more engagement than another? That's valuable information that will help you tweak your approach and maximize your sales. 
9. Collaborate with other influencers.
Marketing is more powerful when people work together. Therefore, why not team up with another influencer for a collaboration? You obviously don't want to be competing for the same sales, so find someone who is promoting products in a different but related niche. For example, if you're a beauty and fitness influencer, you might team up with a fashion influencer. 
Here are a few fun ways to collaborate: 
Agree to share each other's links or coupon codes. This is a win-win for both of you and for your audiences.

Do story takeovers on each other's accounts.

Use the "Go Live with a friend" function to host an Instagram Live video together or do a crossover

Instagram Reel

with another user.

Create a mutually beneficial bonus. For example, a discount code for your store for the other person's existing customers, and vice versa. 
By working together, you can find new audiences and expand your reach. 
10. Use swipe-ups to promote affiliate deals through Instagram Stories.
Instagram Stories is a tremendously powerful way of boosting your affiliate earnings. More than 500 million people use Stories every day, and brands use it to interact directly with their followers and fans in real time. The Swipe Up feature allows you to post a link within an Instagram Story. Users can visit the link simply by swiping up on their smartphone screens. Here's an example of how it can look: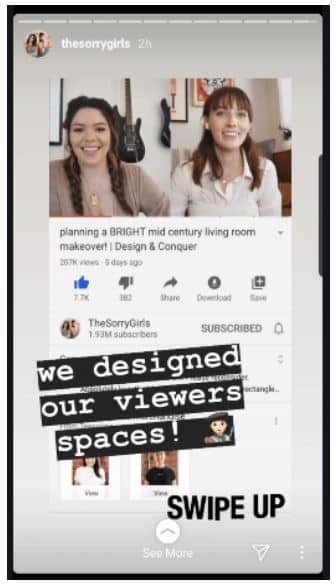 @thesorrygirls / Instagram
Unfortunately, this feature requires that you have at least 10,000 followers, so it's not available to every user. If you have a large following, you should definitely make use of it. 
Wrapping Up
There is no doubting the power of Instagram. With more than one billion active users and still growing, it's one of the world's biggest social networking platforms. For that reason, affiliate marketers and influencers cannot afford to ignore it as a source of revenue. 
You don't have to use every idea on this list. Pick just one or two to start with. You can always scale your efforts later. As with any other marketing channel, approach Instagram marketing strategically and make sure you have a plan. If you do, you'll boost your following, get more clicks on your affiliate links, and increase your earnings.