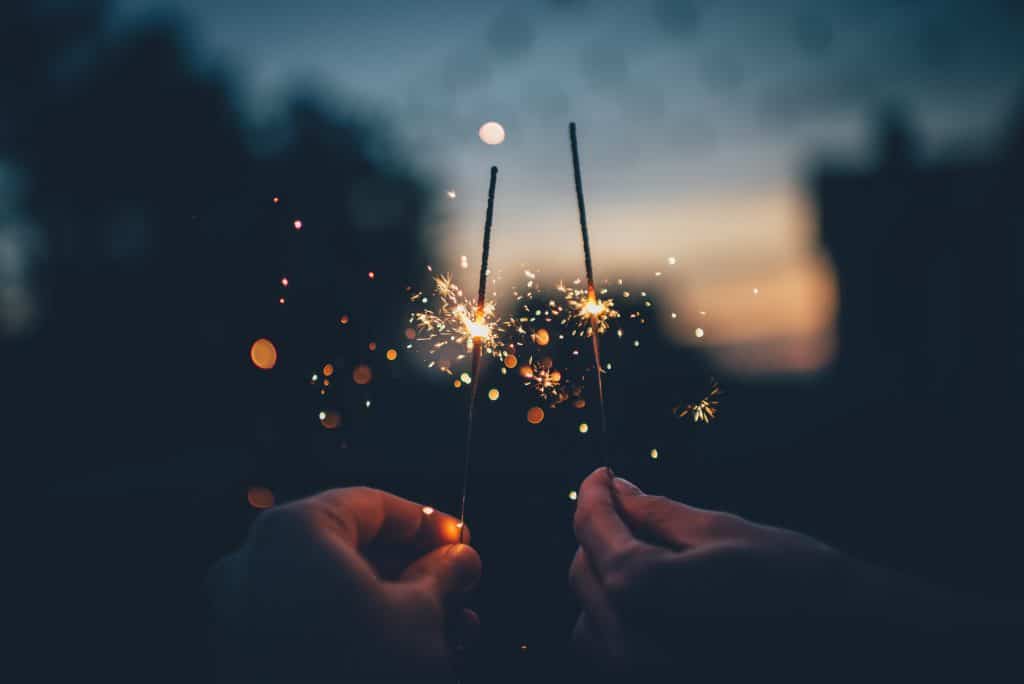 New year, new you. That adage shouldn't only apply to your personal life—it should also apply to your advertising habits, especially if your habits  are bad enough to land you in Santa's naughty list, whether it's neglecting to A/B test, to create new creatives at least every two weeks, to analyze data, or to explore new digital marketing strategies. As you walk away from 2016 and enter 2017, leave those bad habits behind and try better ones such as the habits suggested below.
Here are five new year's resolutions you should make as you enter 2017.
1. Use Original Images
In an experiment by Ad Espresso, the digital advertising company wanted to discover whether or not product photos perform better than stock photos. After A/B testing their ads, Ad Espresso found that product photos performed better than stock photos.
Many advertisers are guilty of using stock photos for their ads, and it's easy to imagine why: you can obtain these free photos easily, and you don't have to worry about hiring a creative team to generate new content, which could take more time and money. However, you can have new product images without creating them from scratch. Simply tweak existing product photos. For example, you can place your photos against a quirky background, edit them with new filters, add captions, stickers, among many other decorations, or turn them into gifs. That way, you can combat ad fatigue without paying for new product images.
For the new year, abandon stock images. As AdEspresso illustrated, original photos outperform stock photos.
2. Use Instagram Live
Earlier last week, Instagram officially released Instagram Live, a new video tool that allows creators to record a live video. It's very likely that advertisers who are too comfortable with Instagram ads will overlook this feature. However, Instagram Live can help you reach the right audience at no cost.
Unlike Instagram ads, Instagram Live costs nothing. Instagram will not charge you for the amount of views you garner, even if those views are up to millions. Additionally, shooting a live video doesn't require a creative for which you need to hire a graphic designer and copywriter. In fact, all that you need is your smartphone.
Instagram Live also helps you easily connect with your followers. Each time you go Live, Instagram will send a notification to your followers, encouraging them to view your video.
Its cost-effectiveness and ability to reach a relevant audience aren't the only perks that come with Instagram Live. It can also help you engage with customers in real time and stand out against competitors who aren't using this new feature.
3. Use Facebook Live
Since its launch on August 2015, Facebook live has helped creators reach millions. For example, it helped Vin Diesel promote his new Fast and Furious movie to millions of viewers, and it helped Chewbacca mom go viral.
Whether your brand is a food or beverage company, a hospitality or fashion brand, you can use Facebook Live to acquaint your customers with your products in a more personal level. If you're a food company, for instance, you can host a weekly or bi-weekly cooking show, showcasing recipes using your product. If you're a hospitality brand, you can give live tours of your hotel or restaurant.
4. Use a Targeting Guide
Many advertisers who don't understand Facebook's ad targeting options don't properly target their ads. Because most advertisers only use one of Facebook's hundreds of targeting options, the one option which is the most popular and thus most competitive, advertisers squander their budgets and not reach a larger, more relevant audience likely to convert. Thus, it is imperative that advertisers have a Facebook ad targeting guide like this that gives them a quick glimpse of the targeting landscape and options available on Facebook.
Unlocking Facebook's targeting options is indeed an advertising advantage. In fact, many advertisers who have used Facebook ad targeting saved money on their ads. Coca Cola, for example, found that Facebook ads are three times more cost-effective than TV advertising and six times more cost-effective than other digital video advertising. During its Facebook ad campaign, Coke increased its individual reach by 42% while using only 3.5% of its budget.
Facebook advertising allows advertisers to target specific groups of highly engaged individuals with an 89% accuracy. With the right Facebook ad targeting guide, advertisers can find the right customers across devices, deliver relevant messages to high-interest people, and save money on ads.
5. Use Facebook Messenger
This year, Messenger has been receiving advertising-friendly updates. One of the most significant Messenger updates this year is the Messenger ad, an ad that, once clicked, takes customers straight to your Messenger's chat box. From there, customers will either be greeted by a Messenger bot's automated message or a copy of the original ad the customers clicked on. Customers, in the chat box, can ask questions, make a purchase, or learn more about your business.
Another significant update, although still in its testing stages, is group calls. This Skype-esque feature, which is only available on desktop, allows advertisers to simultaneously communicate with employees or clients.
This year, Facebook Messenger has proven to be more than a messaging app. Now it can serve as your own business AI and a video calling platform. Rather than purchasing separate tools for these, you can do all that for free with Facebook Messenger.
For 2017, start your new year with new advertising strategies and explore areas you have yet to explore.
What do you think of these five new year's resolutions? Leave your comments below or share link to friends.