Numerous tactics exist to help you create a successful Facebook ad. As previously mentioned in one post, most successful ads contain social proof, value propositions, strong CTA buttons, and compelling images. As also previously mentioned in a different post, good ads include well-written copy that is clear, concise, and grammatically correct.
When creating an ad, other questions might have occurred to you, questions that have not been answered in any of our four posts that help you craft successful ads. Fortunately, these questions have been answered below, answers which Ad Espresso's A/B tests proved to be true. Note, however, that an accurate Facebook ad A/B test requires at least 10,000 impressions and 500 ad clicks. Because some of the examples below have less ad clicks, you should consider the examples as guidelines (rather than a rule) for your own A/B tests.
1. Will Including Emojis in Copy Increase Click Through Rates?
Answer: yes.
Ad Espresso found that a copy with an emoji had higher click through rates than a copy with no emoji.
Ad Espresso A/B tested one Scoro ad against another. Although the ads shared the same texts, images, and CTA buttons, one headline had a flag emoji while the other did not. Surprisingly, the ad with the emoji had a CTR of 0.846% while the ad without the emoji had a CTR of 0.351%.
2. Are Product Images Better Than Stock Photos?
Answer: Product images are better than stock photos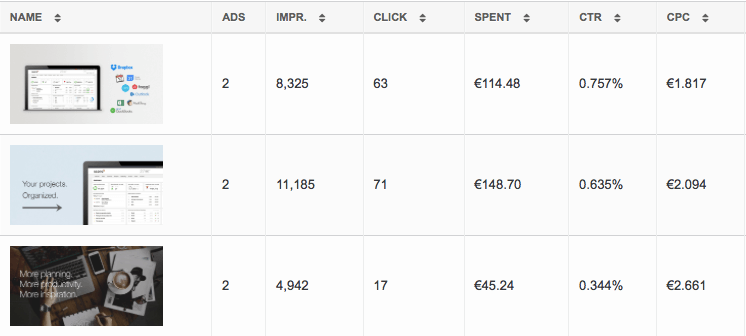 Ad Espresso tested three different ads against each other. While all three ads had the same copies and CTA buttons, two had a product photo while the third one had a stock photo. Ad Espresso found that both the ads with the product photo outperformed the ad with the stock photo.
3. Is "Learn More" a Better Performing CTA than "Sign Up"?
Answer: "Sign Up" is the better performing CTA
While A/B testing one Scoro ad against another, Ad Espresso discovered that the ad with the "Sign Up" CTA outperformed the ad with the "Learn More" CTA by 14.5%.
4. Are Exclamation Marks on Copy Effective?
Answer: No

When A/B testing an ad with an exclamation mark on the copy against an ad without an exclamation mark, Ad Espresso found that the ad without the exclamation mark had a CTR of 2.32%. In contrast, the ad with the exclamation mark had a CTR of 1.10%. The ad with no exclamation mark also outperformed the other variation by 187% in terms of cost per click.
5. Is Desktop News Feed a Better Placement Than Mobile News Feed?
Answer: Mobile news feed is better.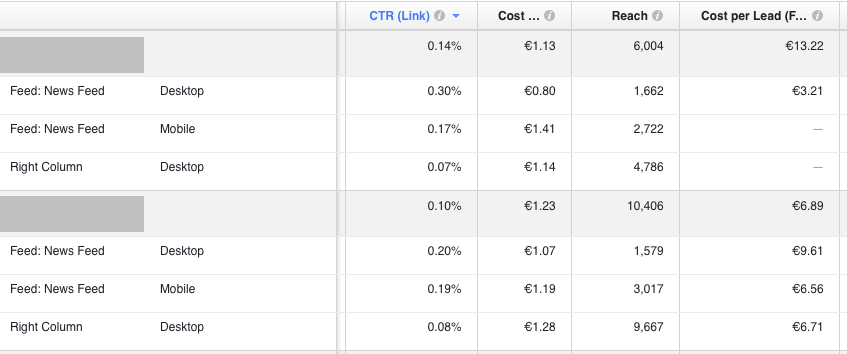 Ad Espresso found that the click through rate was highest for desktop ads (0.30% vs. 0.17% for Mobile placement vs. 0.07% for right column placement). However, mobile (cost-per-lead $6.56) and right column (cost-per-lead $6.71) outperformed desktop ad placement (cost-per-lead $9.61) by 146% and 143%, respectively. Thus, advertising on mobile costs less than advertising on desktop.
What do you think of Ad Espresso's findings? Leave your comment below or share to friends.