Facebook users are more than just consumers ­— entrepreneurs, managers, and salespeople are on the platform, too. They're as interested in running B2B ads as shoppers are to see their favorite products appear on their feeds. B2B Facebook ads can build brand awareness, encourage first-time customers to buy, close a sale or market a promotion, and appeal to any number of audiences and objectives.
If you're wondering whether Facebook ads work for B2B, the short answer is yes. Although B2B advertisers also use other platforms, such as LinkedIn, Facebook's native ad platform lets you target users by job title, so you can make sure you're reaching professionals. Plus, almost three-quarters of Facebook users are high earners, so they can afford business solutions, even ones on the costly side.
There are all sorts of ways to create Facebook ads and target them to your audience. Here are nine tips for creating engaging B2B Facebook ads that will encourage your audience to act.
1. Identify a Common Pain Point
This is the golden rule to selling anything: Identify your target audience's problem and solve it for them. When it comes to business professionals, they probably want a way to do their job more efficiently. In this ad, Grammarly illustrates what it's like to regret the tone of an email when it's too late to fix it, something every professional has cringed over.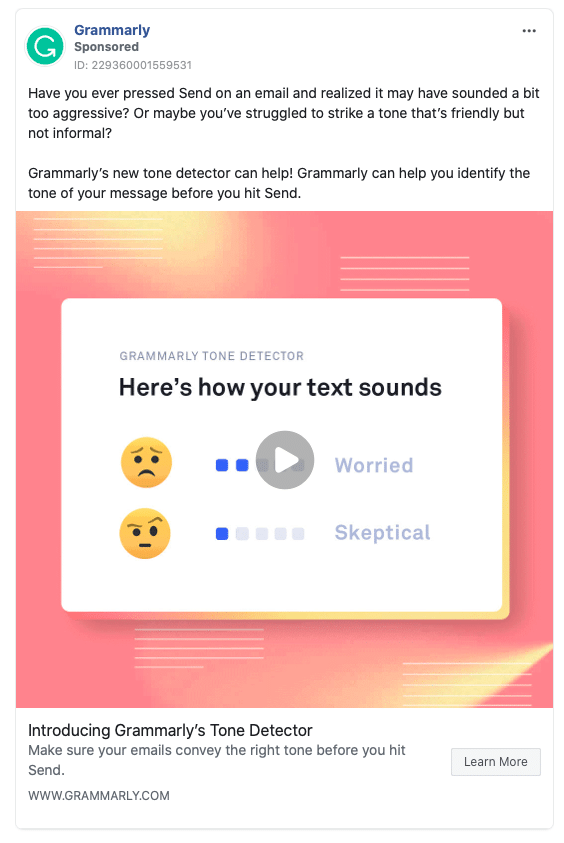 2. Compare Your Product to a Competitor's
By comparing your product or service to one that your audience already uses, you can showcase why yours is better. Encourage them to make the switch or at least learn why they should consider it. This ad from Slack makes the point that your current workflow is clunky and that switching your strategy will give you countless options for streamlining it.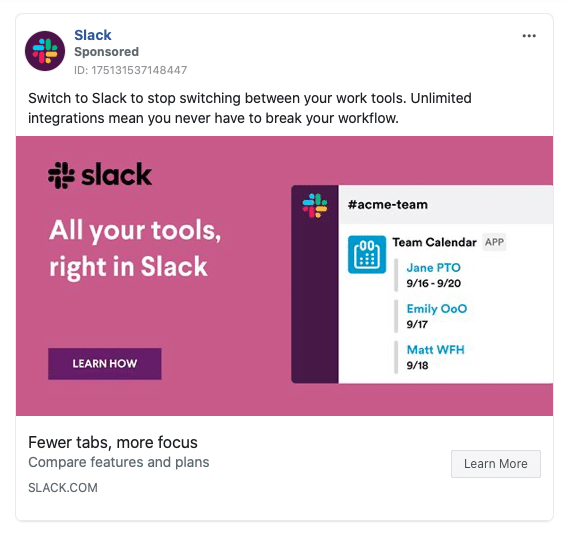 3. Clearly State the Value of Your Offer
Exactly what will your product do for your audience? Paint a picture of what life would look like after they've tried your solution. Business leaders need to make decisions fast, so they have to know what you're offering without doing extra work. In this ad, Raelyn Tan offers two full years of weekly email content that's already planned and optimized for engagement.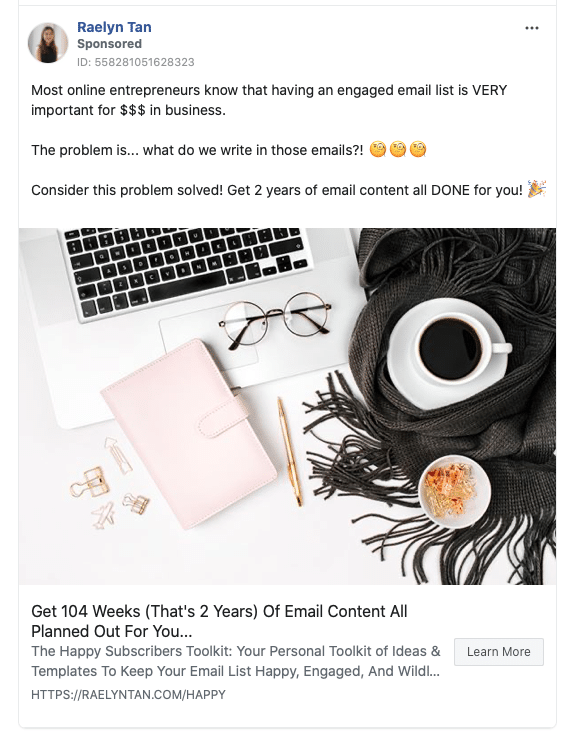 Again, be exceedingly clear. What is the customer getting? You're dealing with professionals in a B2B audience, and they need to know what exactly they'll receive and why it's valuable. Here's another example: Design Pickle efficiently lists what you get by using its service, and the ad also states your next step: booking a consultation.
5. Show the Interface of a Business Tool You're Promoting
SaaS is a huge market for B2B companies, and the tool's interface is a major selling point. By showing the dashboard the customer will be working with, they can make an immediate decision about whether or not it's right for them. Shift includes an illustrated version of its interface, which couldn't be cleaner or simpler.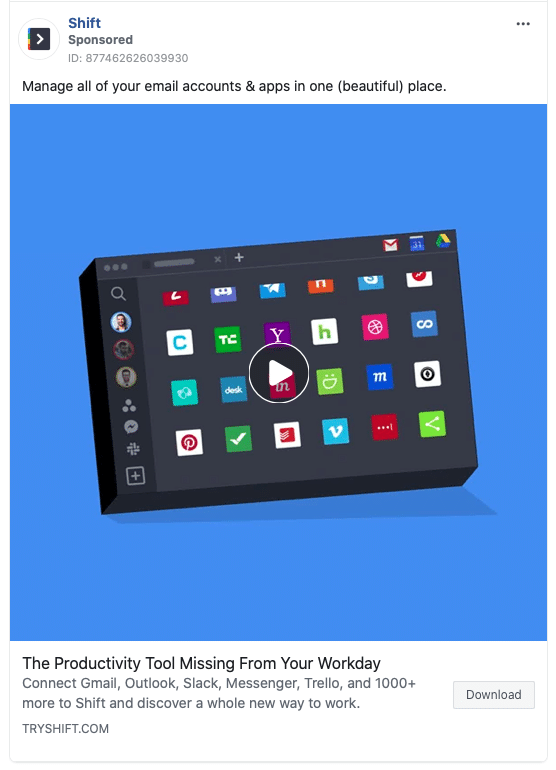 6. Prove That You're the Right Person for the Job
Nobody is going to subscribe or buy if they don't know who you are or why you're trustworthy. Use the name of a reputable brand or individual who trusts what you're promoting. This Zoom ad talks about how Gartner vouches for them.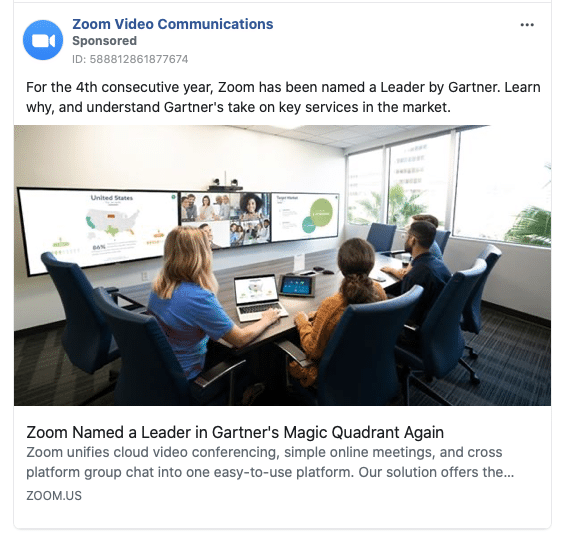 You can also mention how many customers, readers, or subscribers you have. If you're promoting an event, mention how tickets are quickly selling out. If possible, use hard numbers to showcase your expertise, like Kimberly Ann Jimenez does in her ad. Also, since she created this program from scratch, it presents her as a thought leader in her field.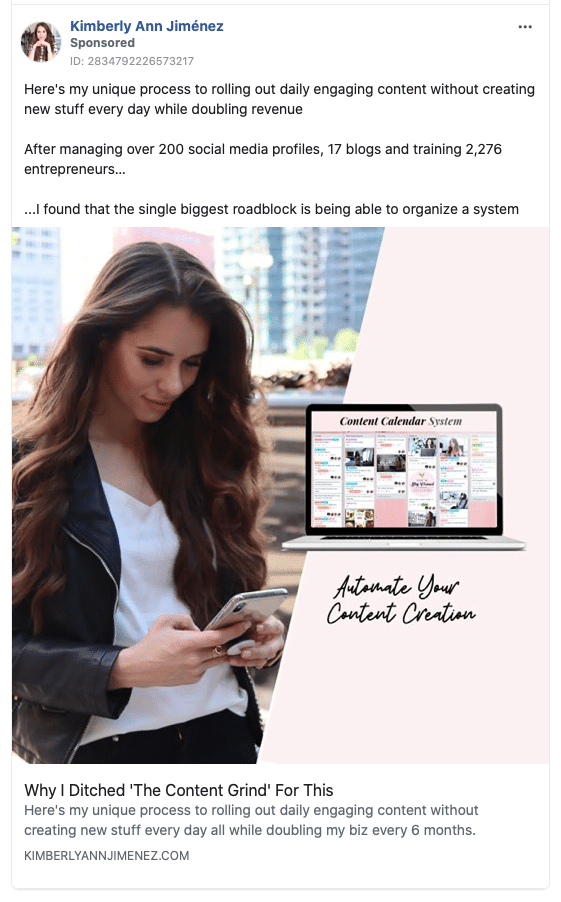 7. Make Your List or Package Better Than the Competition's
Win over your audience by offering more high-quality help than your competitors. However, don't get so carried away that you fly past helpful and into overwhelming.
Use visual bundles, like this one offered by Mega Presets, to help your audience digest the information better. If you're not a photo- or video-based company, turn your text into infographics.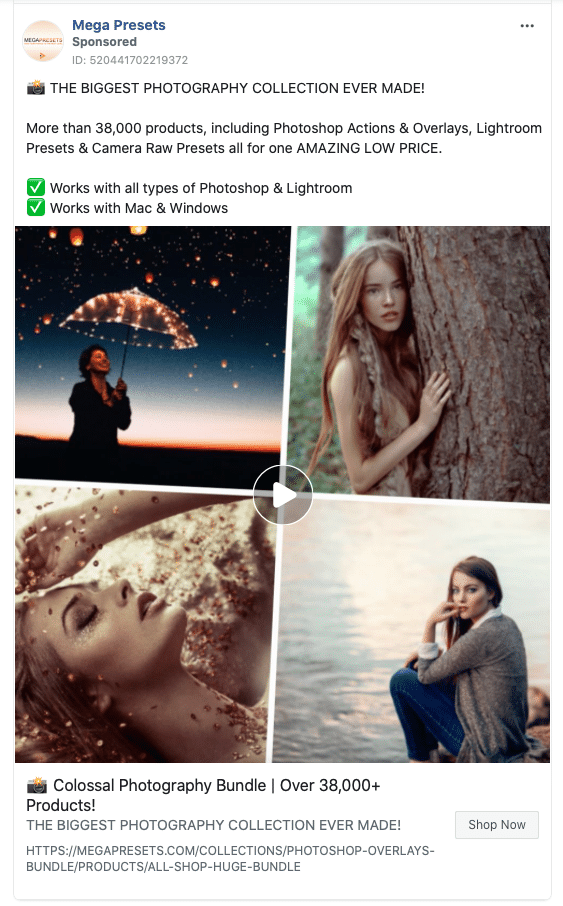 8. Catch Your Audience's Eye with Something Adorable
Is there anything cuter than a puppy? Use a must-look-at visual, like cuddly baby animals, to get people to pause. Make sure to surround the image with your promotional message. Also, don't go too far into the lifestyle zone here — you still have to be business-focused. Shopify takes advantage of this too-cute-for-words pup by using it as just one example of how you can make your shop shine.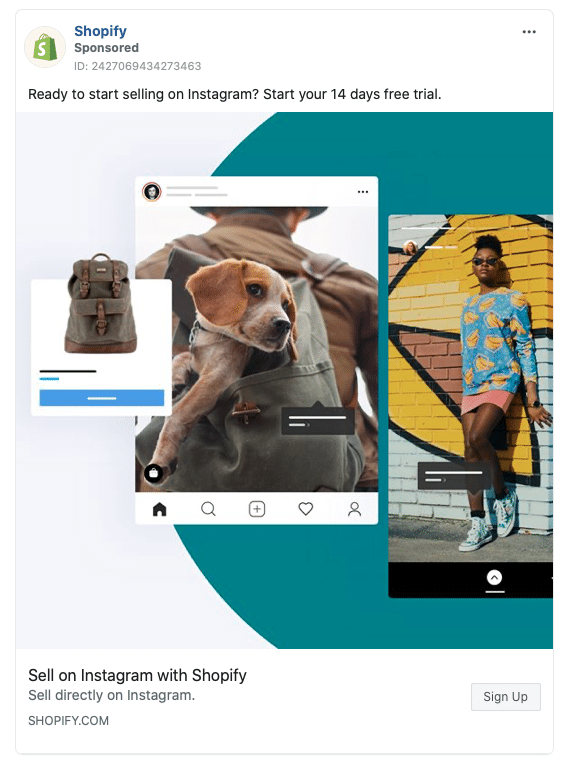 9. Match Your Visuals to the Buyer Persona
Show that you know your customers by reflecting their image back to them. For example, a graphic for a trendy startup company should feature young, hipster-looking people working instead of buttoned-up corporate employees. Dropbox nails this with a cool, modern depiction of a workplace.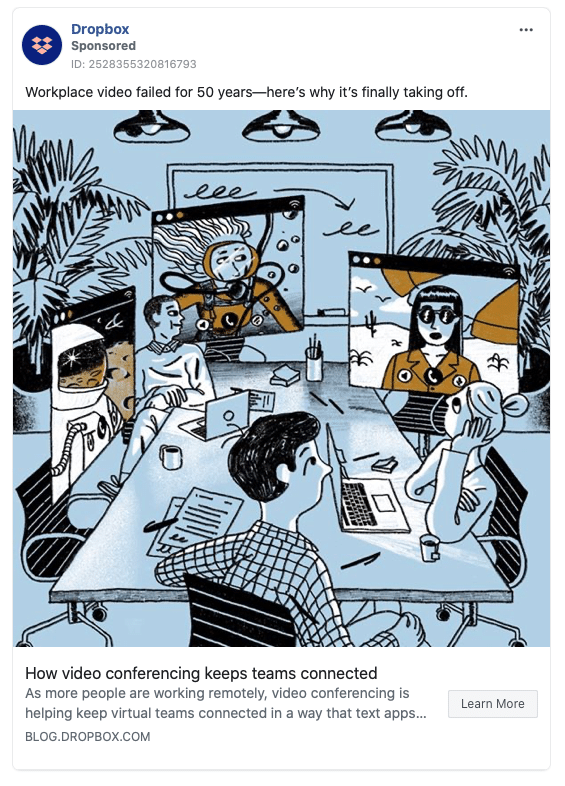 Wrapping Up
Facebook is one of the best social platforms for all types of marketing, including B2B marketing. It has tons of different objectives and options to fit your advertising needs. Whether you use Facebook Messenger advertising or carousel ads on Facebook, Beginners and experts alike will find value from the platform. Plus, you'll have access to in-depth insights to track the performance of your ads, learn from your successes and failures, and tweak your campaigns for increasingly better results.
By Lindsay Pietroluongo