Are you searching for inspiring Amazon influencer storefront examples?
In today's digital landscape, influencers are pivotal in shaping consumer choices. One powerful avenue where this influence shines is through Amazon influencer storefronts.
This blog post will dive deep into this powerful concept, explore real-life examples, and reveal the secrets behind their success.
What are Amazon Influencer Storefronts?
Amazon influencer storefronts are a unique feature empowering social media influencers, content creators, and public figures. These storefronts provide a personalized space where influencers can curate and showcase their favorite Amazon products to their followers.
Here's what you need to know about them:
Personalized storefronts: Amazon influencer storefronts allow influencers to create their mini e-commerce shops within Amazon. These storefronts are customizable and tailored to the influencer's niche or brand, making it easy to feature products they love and recommend.
Product recommendations: Influencers can handpick and display a selection of Amazon products that align with their interests and content. This allows them to directly recommend and endorse items they trust.
Earn commissions: Influencers can earn a commission through the Amazon Associates program when their followers make purchases from their storefronts. This commission incentivizes influencers to drive sales and engage their audience effectively.
Boosted credibility: These storefronts add more trust and credibility for consumers. Followers often see influencers as experts in their respective niches, so their product recommendations carry significant weight.
Enhanced engagement: Amazon Influencer Storefronts provide influencers with a valuable platform to engage with their audience, answer questions about recommended products, and provide insights and reviews.
Successful Amazon Influencer Storefront Examples
Let's explore some real-world Amazon Influencer Storefronts to see how influencers are making the most of this platform:
1. The Skinny Confidential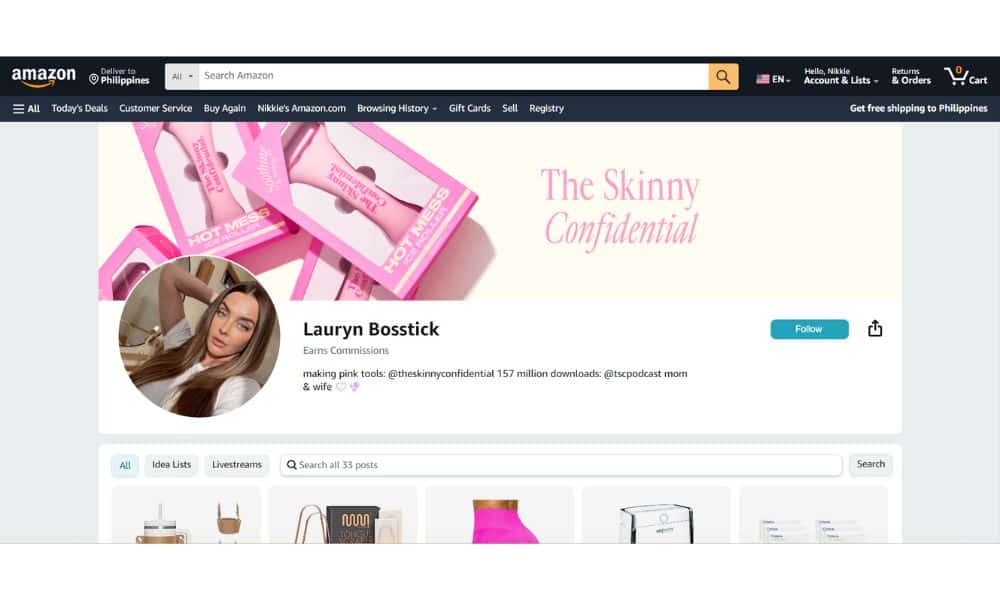 Lauryn Evarts Bosstick, owner of The Skinny Confidential Amazon storefront, started creating blogs out of boredom in 2011. She is a blogger, author, podcaster, and lifestyle Amazon influencer who shares tips and tricks about beauty, fashion, and more.
She named her storefront The Skinny Confidential to connect with women globally and discuss various topics. Some product categories on her Amazon storefront include:
Skin and Beauty
Health/Wellness
TSC Office Vibes
Home
Content Creation
2. Lia Griffith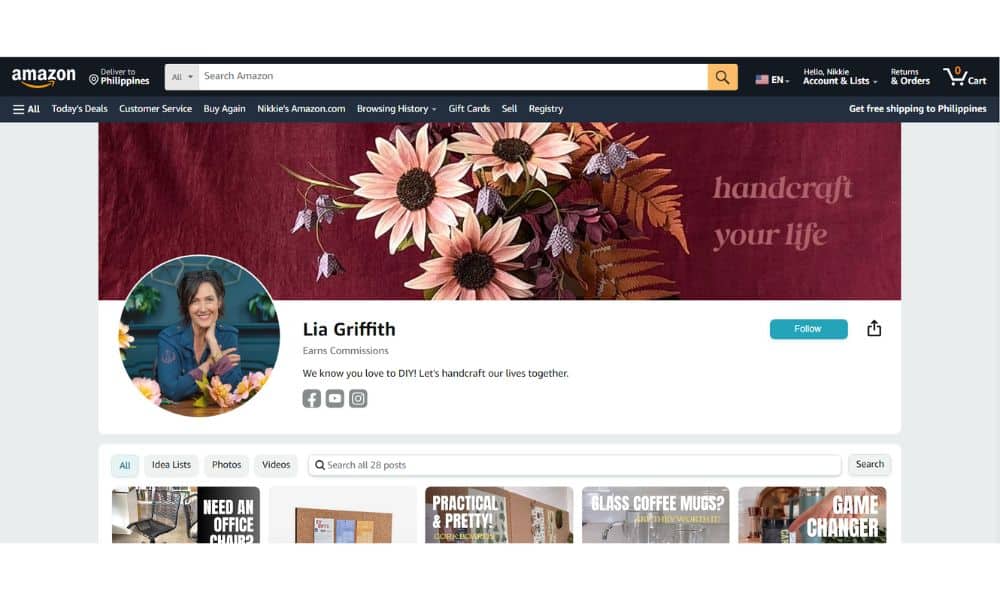 This is an Amazon storefront created by Lia Griffith. Lia inspires her followers and clients to embrace their creative side. She has a craft site where she helps people develop new skills and complete beautiful DIY projects.
Some categories of products you will find on her Amazon storefront include:
Paper Flower Arrangement Supplies
My Kitchen Favorites
Style Your Workplace
Cricut + Tools
Outdoor Living
3. The Heart and Haven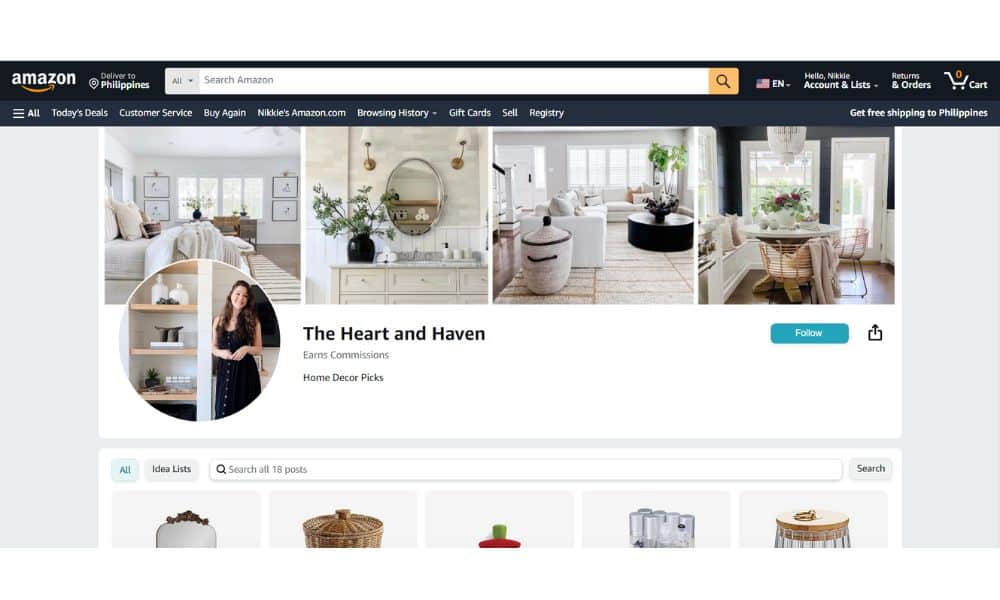 Erin is a lifestyle influencer who shares inspirational tips on various products. She loves showing and sharing her passion for home decor and lifestyle with her followers. The Amazon Influencer program allows her to earn money from recommending her favorite products.
Here are some product categories on her storefront:
Home Tools
Kitchen
Oils
Erin's Sexy Read List
Holiday
4. Ryan's World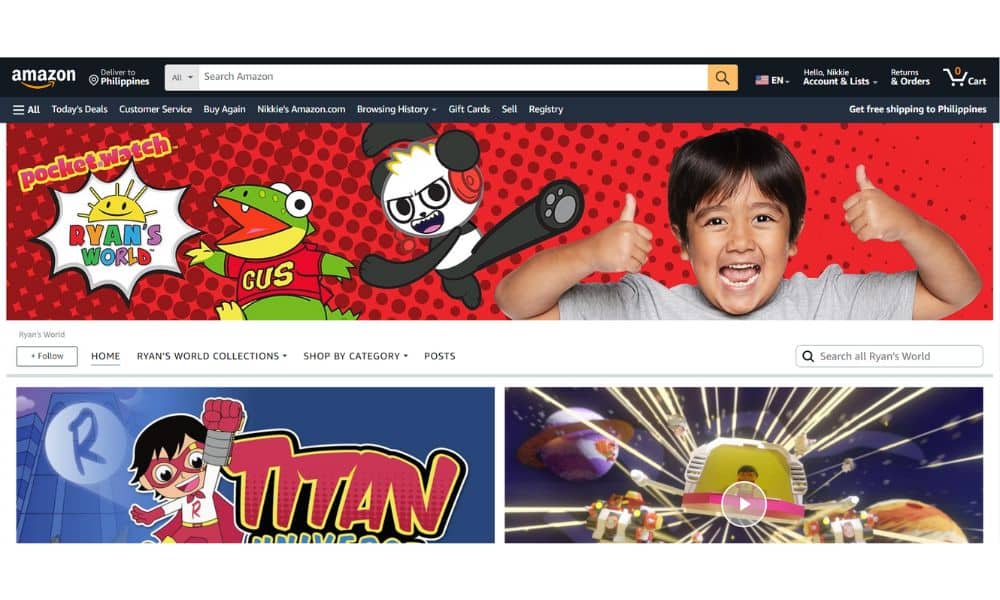 Ryan's World is an Amazon store run by the young sensation Ryan Kaji. He is a child influencer who became popular among kids by unboxing and reviewing toys. Ryan joined the Amazon influencer program to connect with more kids and recommend products directly to them.
Featured categories:
Toys & Games
Clothing & Accessories
Watch and Read
Sports & Play
Best Sellers
5. Linus Tech Tips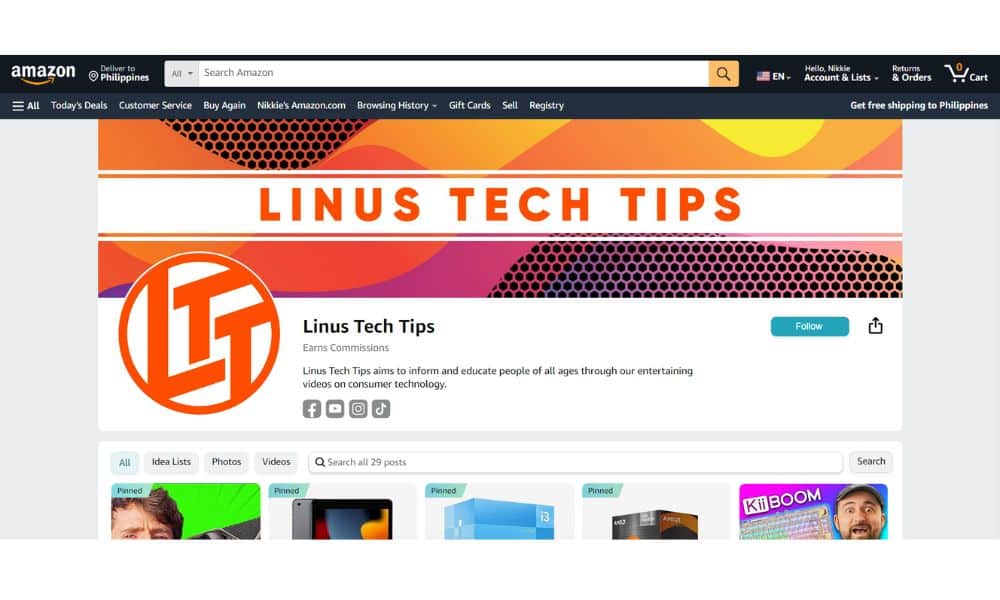 Linus Sebastian is the creator behind Linus Tech Tips. He is a prominent tech influencer with over 27 million subscribers on YouTube. In 2014, Tubelifter included Linus in the top 1% of Google's preferred tech advertisers on YouTube.
Linus unboxes, reviews, and shares tips about tech products through his storefront for his Amazon followers. Some of his works on Amazon include:
Best Budget Tablets
$5oo Budget Gaming PCs
AMD Budget Gaming Build
Suggested Dash Cams
Most Average PCs
Tips for Aspiring Amazon Influencers
If you're looking to become a successful Amazon influencer, consider these practical tips to get started on the right track:
1. Finding your niche and target audience.
Before diving into the world of Amazon influencer marketing, choosing a niche you're truly passionate about is crucial. Additionally, take the time to research and understand the interests and preferences of your target audience to ensure your content resonates with them.
2. Creating and optimizing your influencer storefront.
Your Amazon influencer storefront is like your online shop window. Ensure it's complete, well-organized, and provides all the necessary information about your niche and the products you promote. Regularly update your storefront with fresh content and relevant product recommendations.
3. Develop a content strategy that aligns with your storefront.
To engage your audience effectively, plan your content to complement the products in your storefront. Also, consistency in your posting schedule and diversification of content formats, such as videos, blog posts, and social media updates, can help keep your audience engaged.
4. Building partnerships with brands and leveraging Amazon Affiliates.
Collaborating with brands that align with your niche can open doors to new opportunities. You should also join the Amazon Affiliates program to earn commissions on sales generated through your links. However, you should always be transparent about your affiliate relationships with your audience.
5. Measuring and analyzing performance.
Utilize Amazon's analytics tools to monitor the performance of your storefront. Pay close attention to audience feedback and adjust your strategy accordingly. It's also essential to set clear goals for your influencer journey and regularly track your progress to ensure you're on the right path to success.
Final Thoughts
Successful Amazon influencers have harnessed the power of influencer storefronts through strategic branding, high-quality content, niche alignment, audience engagement, and Amazon's resources. Their achievements serve as a testament to the potential for influencers to thrive on the platform. As an aspiring influencer, you can take inspiration from these strategies to embark on your path to Amazon influencer success.
Are you seeking an expert to increase your sales on Amazon? Get the best Amazon ad agency.
Frequently Ask Questions on Amazon Influencer Storefront Examples
Does an Amazon Influencer have the right to sell a brand's products on Amazon?
No. When Amazon influencers join the program, they are only required to promote products. They don't have the right to sell the product themselves.
Is there another way to earn a commission on Amazon?
Yes, there are multiple choices for earning a commission at Amazon, including the Amazon Associates Program, Amazon Hand Made, and more. Each program in Amazon has its approach and requirements.
As an Amazon Influencer, can I promote my products on Amazon?
Yes, as an Amazon Influencer, you can promote your own personal products on Amazon, but you should keep the Amazon guidelines in mind.
Related Articles
How to Sell Used Items on Amazon
What Can I Sell on Amazon Without Approval?