Eight months after the demands of an angered public, Congress finally releases all of the politically divisive Facebook ads the Internet Research Agency disseminated during the 2016 US presidential election. The hefty files, which contain thousands of ads from fake Facebook pages, date back from 2015 to 2017.
A few of those pages posing as US organizations included Black Matters, LGBT United, L for Life, Being Patriotic, and Born Liberal. These pages often promoted posts that discussed politically divisive issues such as LGBT rights, Black Lives Matter, gun rights, and immigration.
In one ad, Being Patriotic, a right-leaning political group, argued for people's right to possess Confederate flags during a time when the ownership of Confederate memorabilia was heavily debated.
"Do not ban American history." The red caption rested underneath an image of the American and Confederate flags crossing over a bloody United States. The relevance of the ad showed the Internet Research Agency's keen knowledge of American culture and attitudes.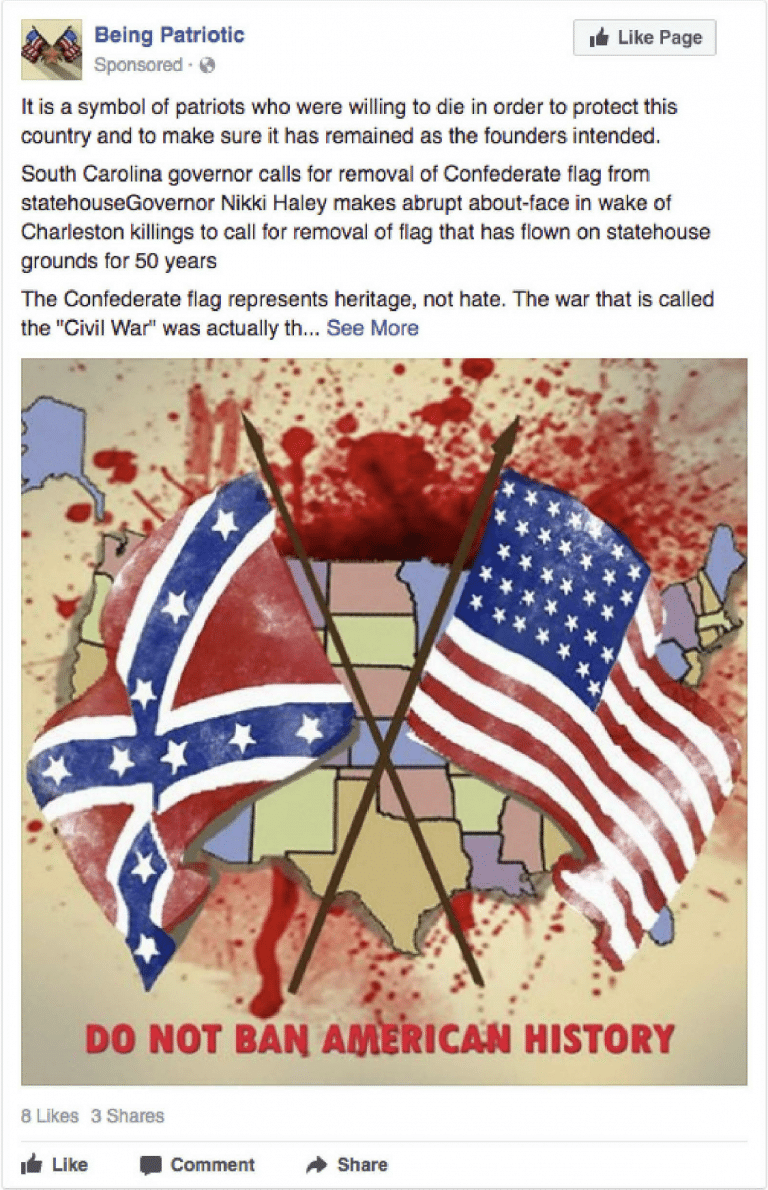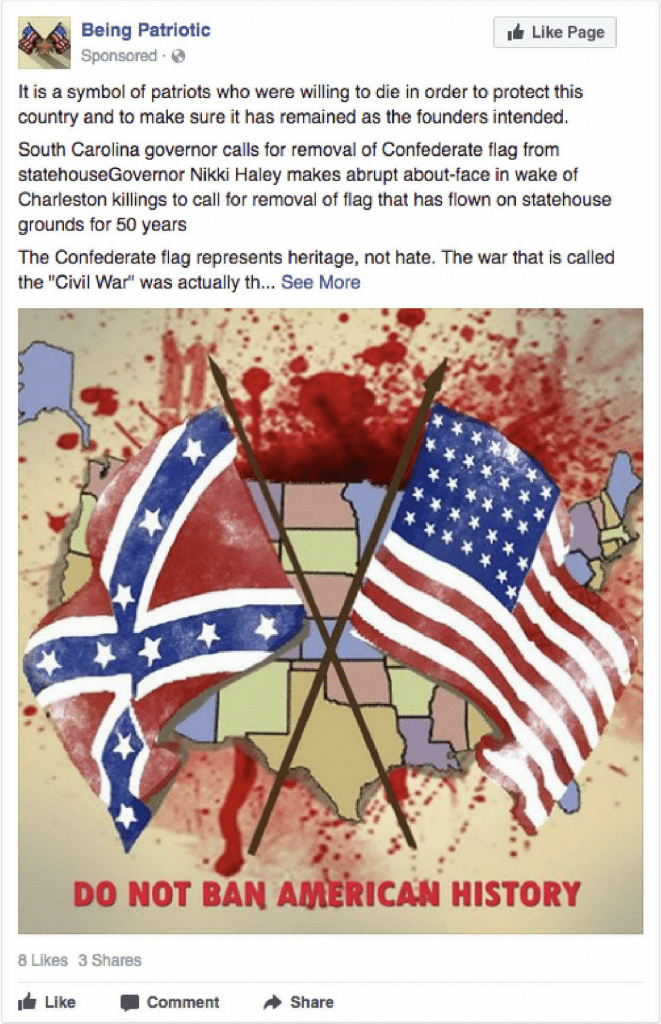 In another ad by Black Matters, the Russian-ran Facebook group featured victims of police brutality. "Keeping an eye on our brother's [sic] cases and much more," the ad said.
Because the Russian ads collectively appealed to both sides of the political spectrum, it is clear that the Internet Research Agency was attempting to intensify the divide between the political left and right. However, not all ads were political. Black Matters, for example, published an ad that quoted the song "California Love" by 2Pac and Dr. Dre. L for Life, too, posted apolitical content, in one occasion promoting a cat meme and in another a cityscape seemingly taken from Google images.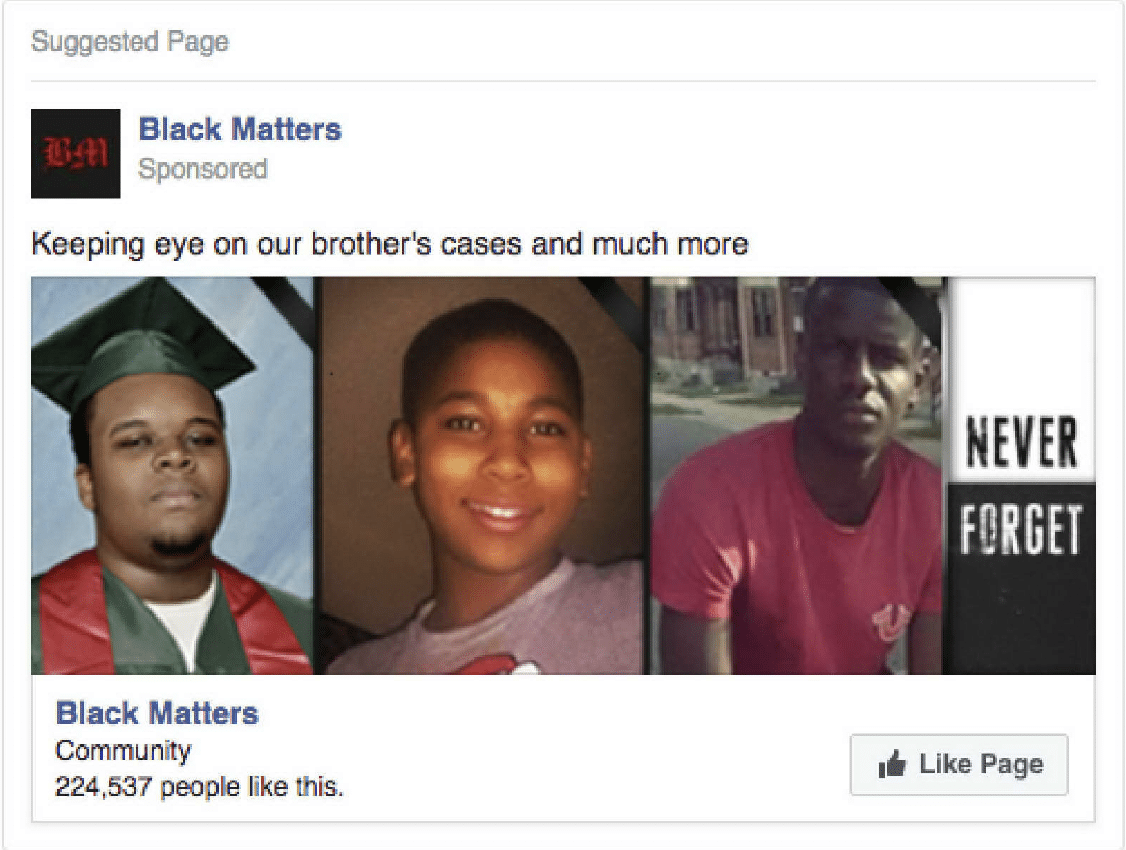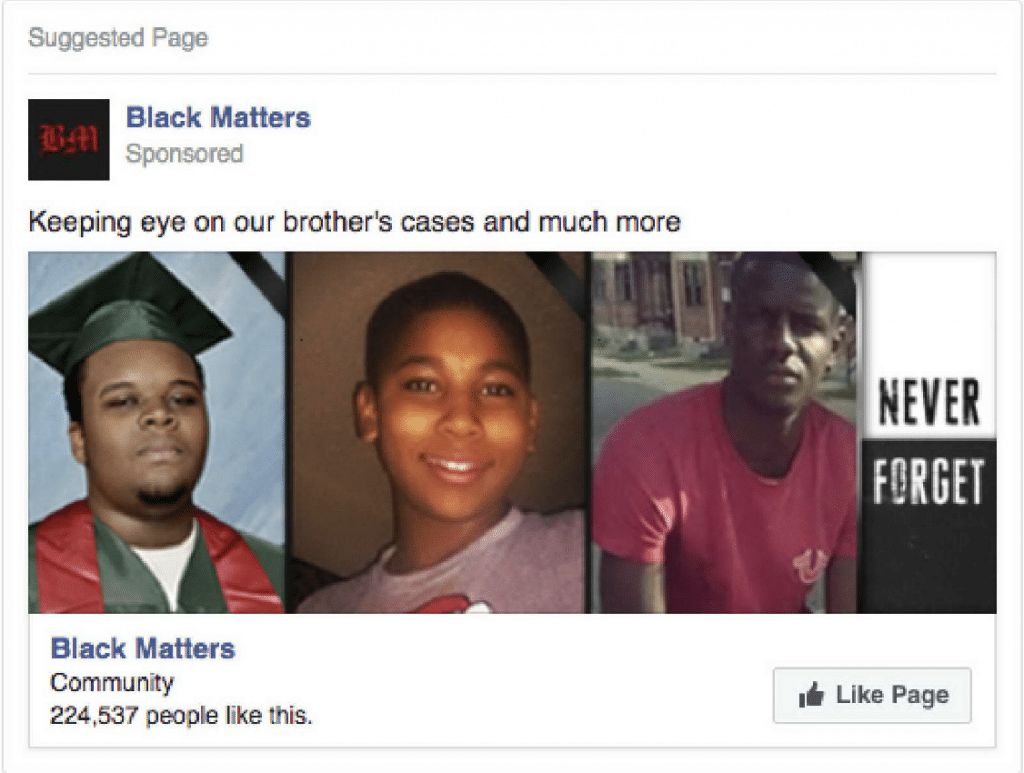 Apart from ad ID, landing page link, and ad targeting, Congress also released information about the ads' performance—impressions, clicks, and total spend—giving the public an idea of the ads' scope and influence. Some ads weren't influential at all, garnering no impressions or clicks. Others, such as the aforementioned ad by Black Matters, garnered 2,740 ad clicks.
Facebook first announced the dissemination of fake ads in September 2017. After the resulting backlash, the social media company implemented changes to prevent future foreign interference by increasing transparency for pages and ads, requiring political advertisers to verify their identities, and including an About feature for all articles posted in its platform. Despite its efforts, the public is not yet ready to forgive, especially after journalists revealed that Cambridge Analytica harvested personal information from 50 million Facebook profiles.
The ads Congress provided are only the tip of the iceberg. Soon, Congress will release 80,000 organic content posted by the Internet Research Agency.
Comments
comments