Most entrepreneurs new to Facebook advertising begin with a Boosted Post. It is the easiest ad to create, after all. In fact, boosting a post does not involve most of the steps required to create a Facebook ad through Ads Manager. Because of its simplicity and ease, those who do not have a Facebook advertising agency to help them professionally should begin with boosted posts before dabbling with the more complex ad formats like canvas, single image, video, and carousel ads.
What is a "Boost Post" on Facebook?
Boosting a post on Facebook refers to the process of paying to promote a regular post from your Facebook Page to a larger and more targeted audience.
When you boost a post, it appears higher in the news feeds of users who fit your specified criteria, such as location, demographics, interests, and behaviors. This increased visibility helps your content reach a wider audience beyond your current followers.
Boosted posts are a form of paid advertising that is labeled as "Sponsored" to signify that they are promoted content. The goal of boosting a post is to enhance its reach, engagement, and visibility, making it an effective way for businesses and individuals to achieve specific marketing objectives.
Creating a Boosted Post
To learn how to create a Facebook Boosted Post, follow the steps below:
Step 1: Create post then boost
To create a Boosted Post, you must first write a regular Facebook post on either your fan page or business page. Note that you cannot create boosted posts from your personal Facebook account.
After writing your post, click the "Boost Post" button on the bottom.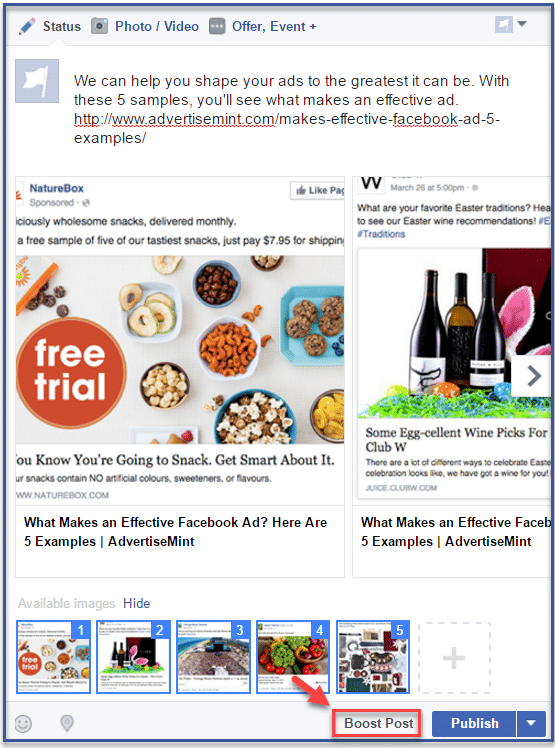 Step 2: Choose your audience and budget
Choose your audience by adjusting who you want your post to target. If you're new to audience targeting, consider reaching out to a Facebook marketing partner for help.
Afterward, proceed to the next section where you can adjust your budget.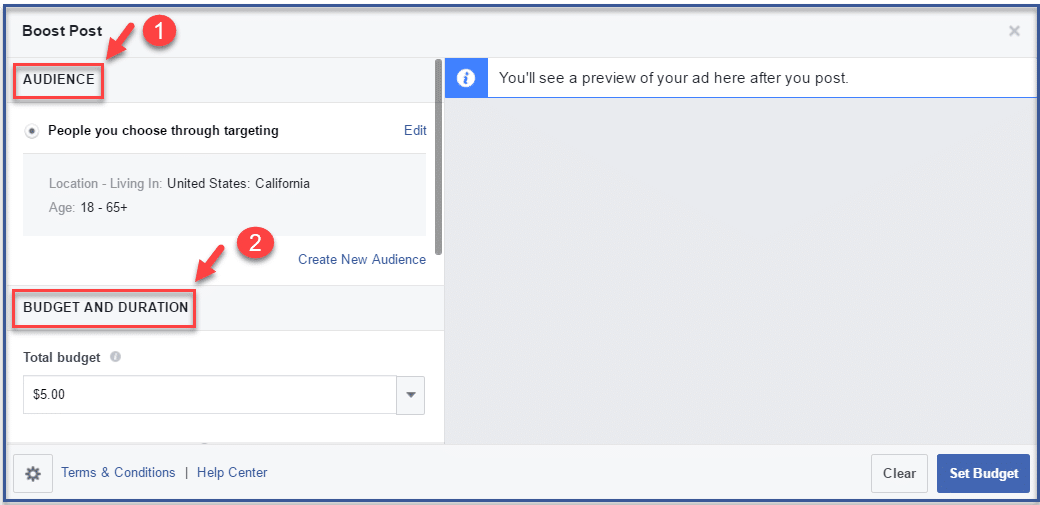 Step 3: Choose payment method then set budget
Choose your preferred payment method. You can choose to pay with either your credit card or your Paypal account. After you've chosen your payment method, click "Set Budget."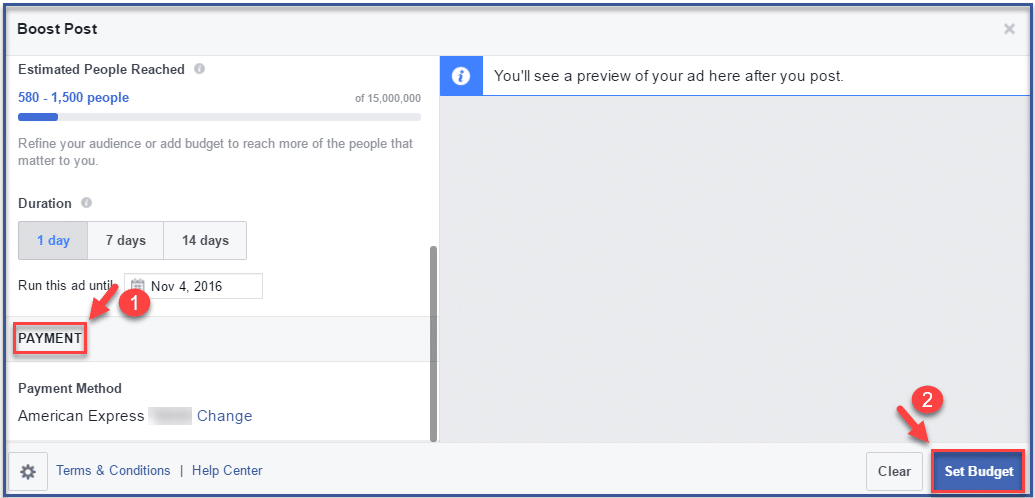 Step 4: Click "Publish"
You will see, as indicated by the highlight below, the budget amount next to the "Publish Button." This confirms that your post is a boosted post. As soon as you publish, your post will be sent to Facebook for review. Once approved, Facebook will serve your post to your preferred audience.
Click "Publish" to publish your Boosted Post.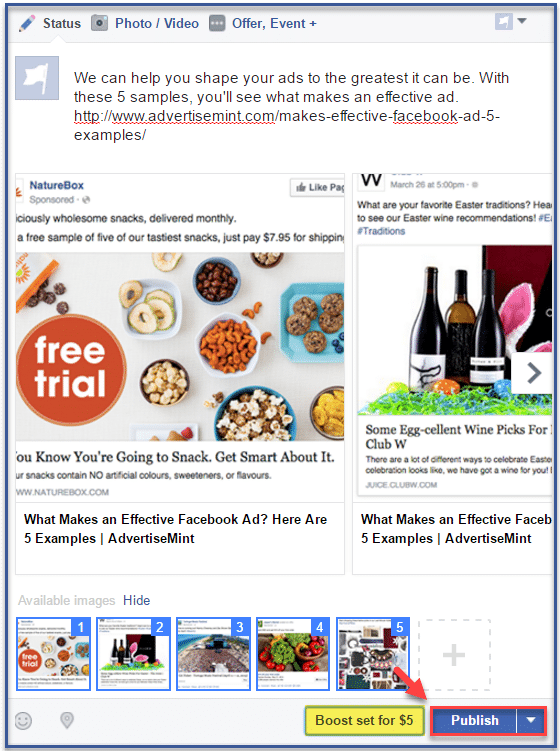 Step 5: You're done!
Your post should appear on your Facebook timeline. If you want to cancel your post, simply delete it.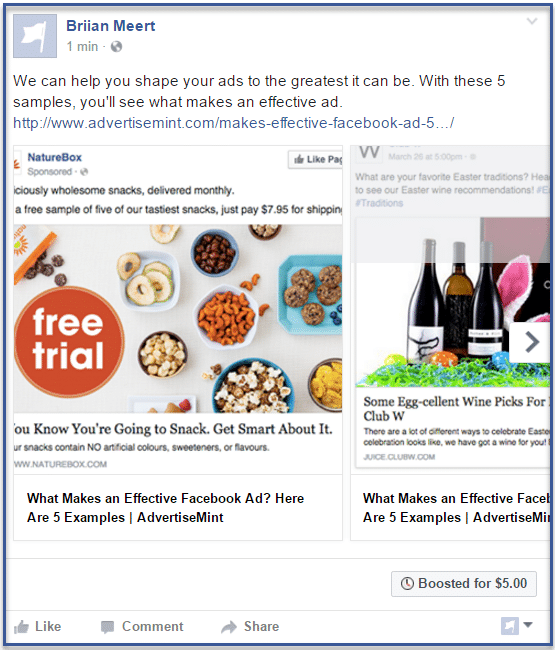 Why use the "Boost Post" feature?
Using the "Boost Post" feature on Facebook can bring several valuable benefits to your social media strategy and business goals. Here's why it's important to consider boosting your posts:
1. Increased Visibility
Boosted posts reach a larger and more targeted audience beyond your current followers. This increased visibility can help you reach potential customers who might not have discovered your content otherwise.
2. Improved Engagement
A wider audience means more opportunities for engagement. Boosted posts can generate likes, comments, shares, and clicks, enhancing your overall online presence and interaction with your audience.
3. Cost-Effective Advertising
Boosting posts is a more accessible and budget-friendly form of advertising compared to more complex ad campaigns. It allows businesses of all sizes to promote their content without a significant upfront investment.
4. User-Friendly Interface
The "Boost Post" feature is user-friendly and intuitive, making it an ideal choice for beginners in online advertising. You can easily create and launch a boosted post without requiring extensive technical knowledge.
5. Targeted Audience Reach
Boosting posts allows you to define specific criteria for your audience, including demographics, interests, and behaviors. This ensures that your content reaches individuals who are more likely to engage with your message.
6. Enhancing Organic Reach
Due to algorithm updates, the reach of Facebook Page posts may be restricted. To overcome this issue, boosting posts can assist in expanding your content's exposure to a larger audience.
Who should use the "Boost Post" feature on Facebook?
The "Boost Post" feature on Facebook is a versatile tool that can benefit a wide range of users, from businesses and brands to individuals and organizations. Here's a breakdown of who should consider using the "Boost Post" feature:
Small Businesses
Small businesses with limited advertising budgets can use boosted posts to increase their online visibility and reach a targeted audience. Boosting posts can be an effecient way to promote products, services, special offers, and events.
Local Businesses
Local businesses looking to attract customers in their immediate vicinity can benefit from boosted posts. They can target users within a specific geographic radius, making it a valuable tool for boosting foot traffic and local engagement.
Startups
Boosted posts can help startups gain initial exposure and build their online presence. They can showcase their unique value propositions, build brand awareness, and reach a broader audience.
E-Commerce Stores
E-commerce businesses can use boosted posts to highlight new products, seasonal offers, and discounts. Targeting specific demographics interested in their products can drive traffic to their online store.
Tips for creating a successful boosted post
Creating a successful boosted post involves careful planning, strategic execution, and continuous optimization. Here are some tips to help you make the most of your boosted posts:
Set Clear Objectives: 

Define your goals before creating a boosted post. Are you looking to increase website traffic, generate leads, boost sales, or simply raise brand awareness? Your objectives will shape your post content and targeting.

Choose the Right Post: 

Not all posts are suitable for boosting. Select engaging, informative, visually appealing, and relevant content to your goals. Highlight promotions, events, or compelling stories.

Know Your Audience: 

Understand your target audience's demographics, interests, and behaviors. Use this information to create a tailored audience for your boosted post. The more precise your targeting, the better the results.

Craft an Attention-Grabbing Headline: 

Your post's headline should be concise, compelling, and relevant to your content. Capture the audience's attention and make them want to read more.

Write Engaging Copy: 

Keep your post copy concise and to the point. Clearly convey the value or message you're offering. Use language that resonates with your audience and includes a clear call-to-action.

Use High-Quality Visuals: 

Visual content is essential on social media. Include eye-catching images or videos that relate to your post. Ensure they are of high quality and meet Facebook's guidelines.
Final Thoughts
Facebook Boost Post is a great way to reach a wider audience with your content. This feature suits businesses, organizations, and individuals seeking to promote their products or services, obtain leads, or enhance brand awareness.
FAQs
What is a boosted post?
Boosted posts on Facebook are regular posts that you pay to promote. Boosting a post increases its visibility in people's news feeds, allowing it to reach a larger audience.
How much does it cost to boost a Facebook post?
The cost of boosting a Facebook post varies depending on a number of factors, including your target audience, the length of time you want your post to run, and the bidding strategy you choose. However, you can typically expect to pay anywhere from a few cents to a few dollars per click.
What are the best practices for creating a successful boosted post?
Here are some tips for creating a successful boosted post:
Choose the right target audience.

Set a clear goal.

Use a strong call to action.

Use relevant keywords.

Use a compelling image or video.

Keep your text clear and concise.

Track your results.
How do I create a boosted post?
To create a boosted post, follow these steps:
Go to your Facebook Page.

Click on the "

Boost Post

" button below the post you want to boost.

Select your target audience.

Set your budget and schedule.

Review your boosted post and click "

Boost.

"
Did you find this How To article about creating a Facebook Boosted Post helpful and informative? Then you might be interested in discovering more about Facebook courses for beginners, or perhaps some interesting Facebook advertising statistics!