During Q3 of 2020, Facebook reported that it has 1.82 billion daily active users and 2.74 billion monthly active users. That's a lot of people who are viewing Facebook ads every day. Plus, as many as 1.6 billion people around the globe are connected to a small business on Facebook. As a Facebook marketing agency, we have a lot to say about what this means for advertising on Facebook.
When Facebook and other social media research companies come out with their studies, it can be difficult to separate ad-specific information from the rest and to figure out what all those facts and figures mean. This article covers Facebook ads statistics for 2020 that business leaders and marketers need to know.
Facebook Ads Are Changing for the Better
By Q3 of 2019, ad impressions had increased by 37%, and the average price per ad decreased by 6%. That means you can get more out of your ads by spending the same amount of money or lower your ad spend and keep your results steady. This is vital to the future of Facebook ads management.
Impression growth included Instagram ads, and the growth was driven by ads in Facebook and Instagram feeds and Instagram Stories. During Facebook's earnings conference call, the social media company also said that Stories ads monetize at lower rates. Thus, it may be worth dedicating some of your ad efforts and budget to Stories on Facebook and Instagram. Consider hiring an influencer as a Facebook marketing partner to create compelling Stories of their own that include your sponsored content.
The 2019 Social Media Marketing Industry Report from Social Media Examiner found that although marketers plan to spend less time with organic marketing on Facebook, they want to increase their use of Facebook ads, including Messenger ads. If you notice that organic content is disappearing, don't assume that means there's less competition.
Facebook Ads Reach a Global Audience
Almost half of Facebook ad revenue comes from the U.S. and Canada. If your business caters to international audiences or if you hope to establish a more global presence, there's a big opportunity to reach overseas audiences without the competition you get in North America.
Hootsuite's report expanded on geography-based findings. India has the largest Facebook ads audience, followed by the United States, Indonesia, and Brazil. The locations where ads reach the highest proportion of adults are Aruba, Malta, Qatar, and the United Arab Emirates. If your business can accommodate buyers in those regions, you can get a lot out of your ad campaigns.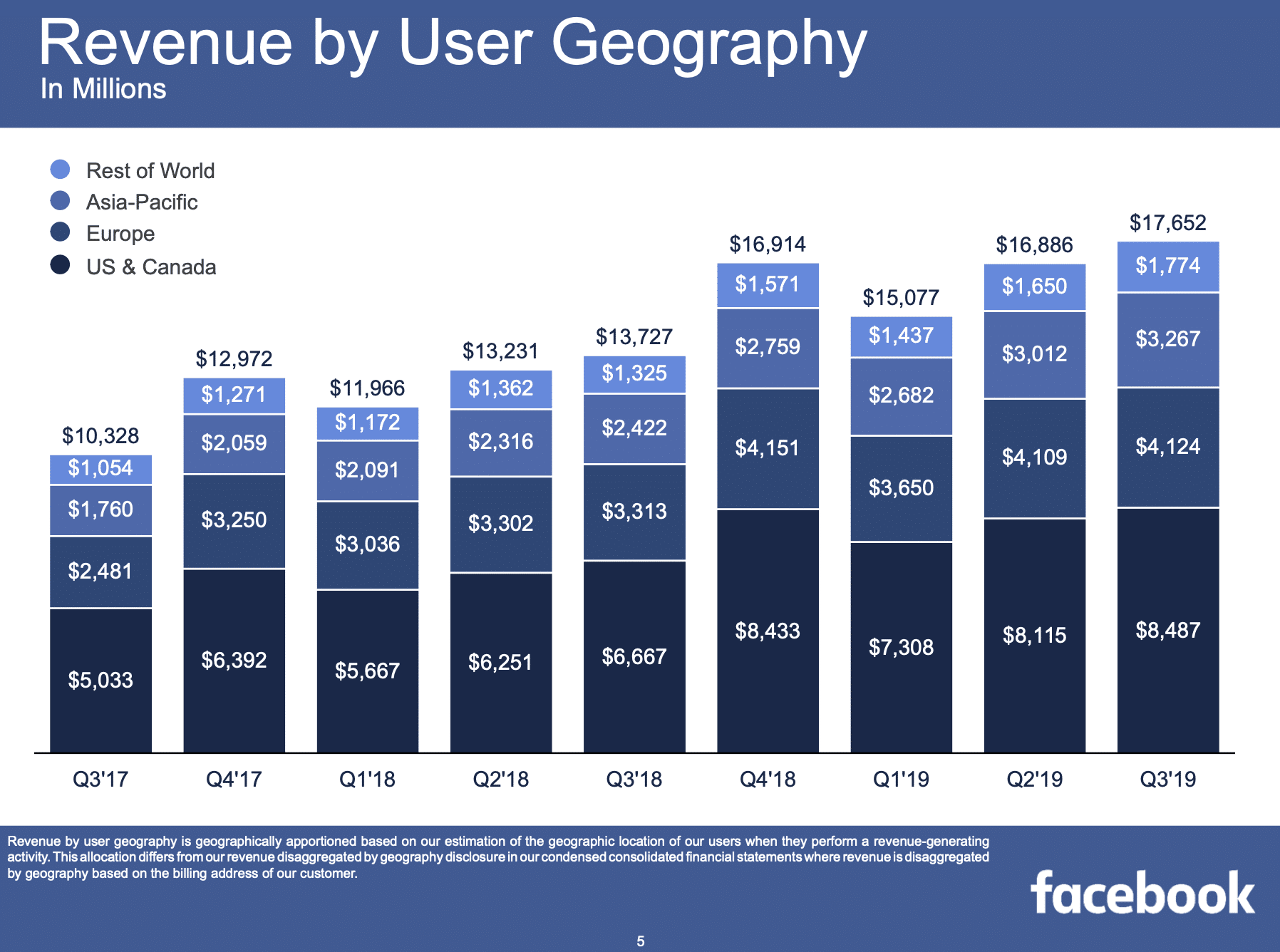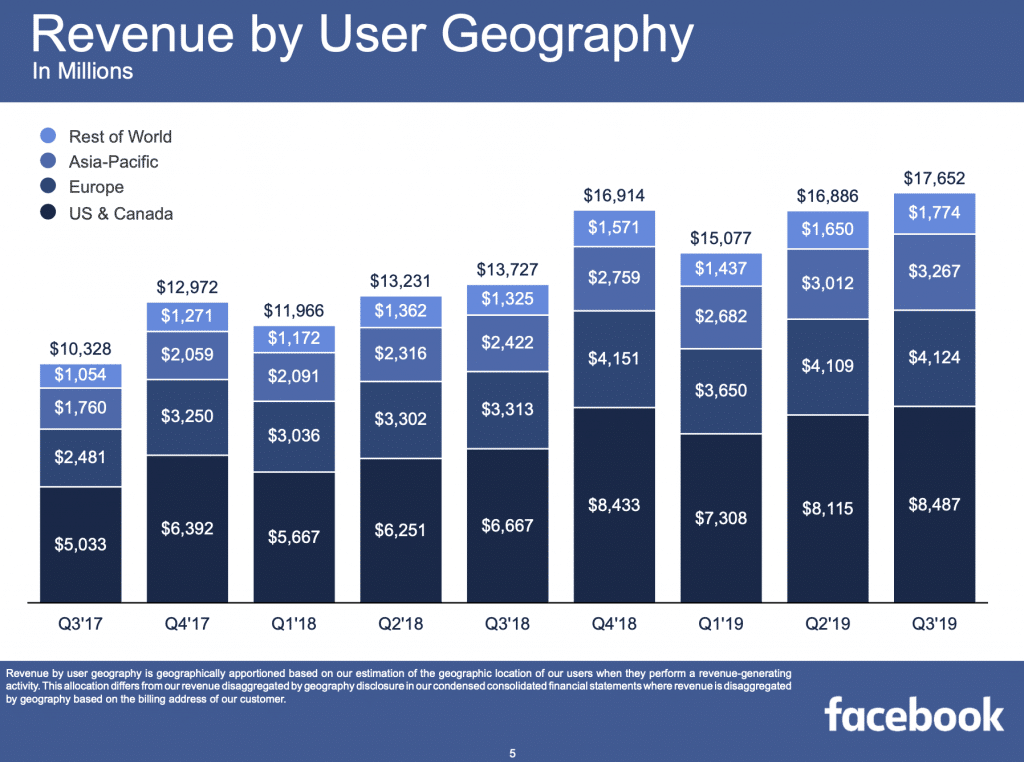 Facebook Ads Reach a Diverse Age Group
The Pew Research Center found that between 2015 and 2019, more boomers (mid 50s to mid 70s) and silents (mid 70s to early 90s) adopted Facebook. Businesses with audiences in those demographics may get more out of their advertising efforts than in the past. Millennials (mid 20s to late 30s) and members of Generation X (early 40s to mid 50s) continue to make up a big portion of Facebook users. Eighty-four percent of millennials use Facebook and 74% of generation Z are on the platform.
Hootsuite's The Global State of Digital in 2019 Report also found that a large portion of the Facebook ads audience falls into generation Z, specifically people between 18 and 24. That generation can be a bit hard to measure because they include children under the age of 10 to people in their mid 20s.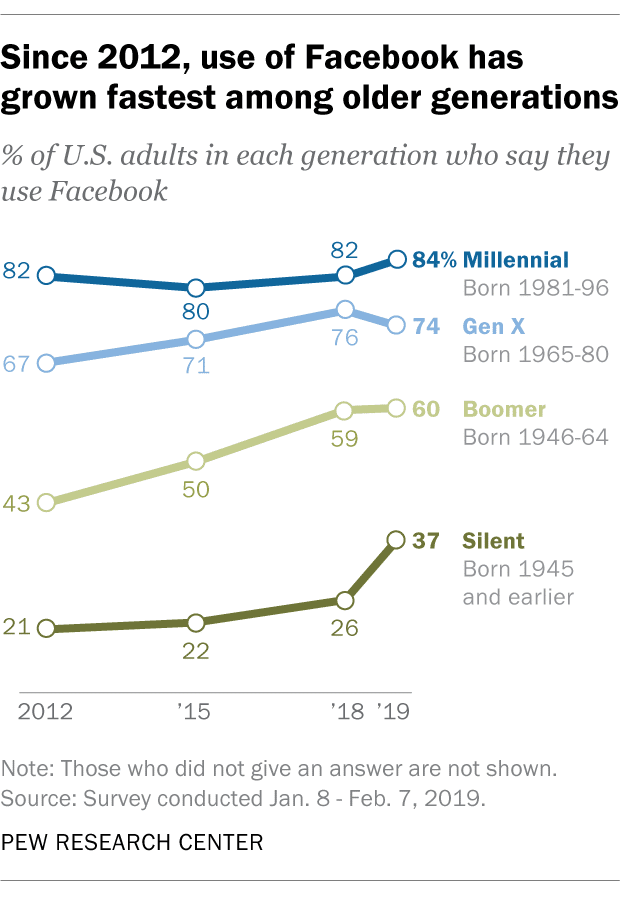 Facebook Ads Get Maximum Engagement
Wondering if you should prioritize mobile-friendly content? The answer is a resounding yes. Ninety-four percent of Facebook ad revenue is from mobile. Put most of your ad budget toward mobile-optimized ads and always make sure your content is easily viewable on a mobile device.
According to a 2019 Hootsuite report, users take five primary actions:
Liking pages
Liking posts
Writing comments
Sharing posts
Clicking ads
Of those five, liking posts and clicking ads had the most frequency within a 30-day period. When writing your CTA, encouraging people to like your post or click the ad may get more engagement than asking them to do other activities.
Facebook Video and Stories Ads Are Taking Over
Hootsuite also found that video posts get more engagement than other types of posts. Compared to video engagement at 6.04%, photo posts are at 4.36%, link posts at 2.78%, and status posts at just 1.66 percent.
Social Media Examiner's report also shows that you should prioritize video on Facebook. Marketers are most interested in Facebook and YouTube for video marketing, and even though YouTube is a video-centric platform, professionals have the same exact amount of interest in both.
Facebook has been pushing the use of Stories lately, especially after finding that when used along with News Feed campaigns and placement optimization, ad performance can increase by at least 21%.
Facebook Ads Average CPC
WordStream found that the average cost per click (CPC) of Facebook ads across all industries is $1.72. WordStream broke down average CPC by industry, too, making it possible to test the Facebook average, as well as your industry's average. Knowing your target CPC can help you determine how much to spend to see solid ROI. Since industry isn't the only indicator of CPC — audience plays a role, too — experiment with a few different CPCs and then compare results.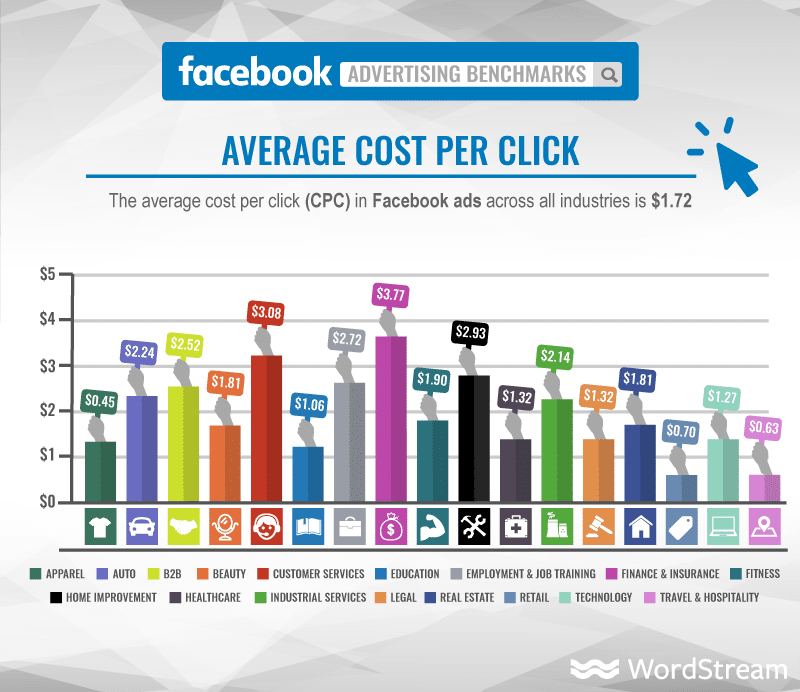 Another important stat to know: A whopping 74% of Facebook users are high earners who make $75,000 or more per year. That number is second only to YouTube, which has high earners as 83% of its audience. Brands with products or services at high price points should prioritize Facebook ads over most other ad platforms. To compare, Snapchat only has 22% of its user base in that high-earner category and Twitter is at 31%.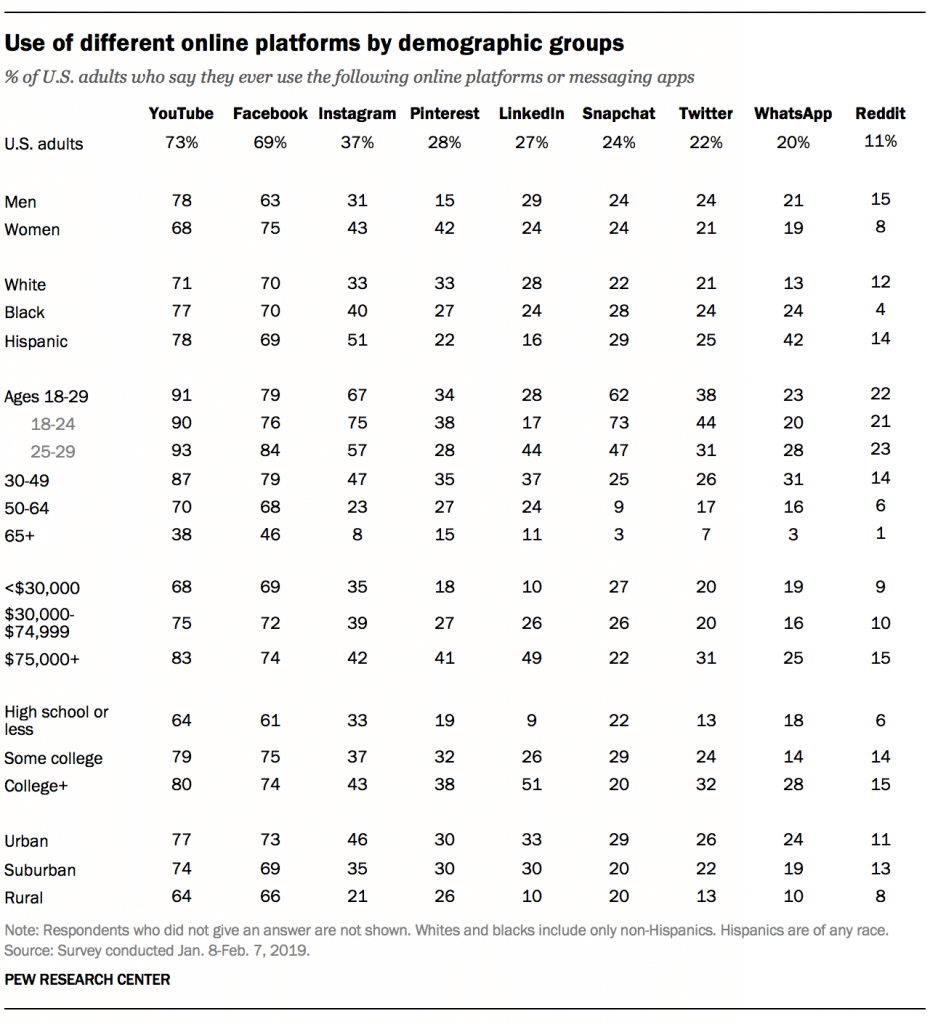 Do Facebook Ads Work? 
Definitely. Hootsuite reported that the potential reach of Facebook ads is 1.9 million people: 43% women and 57% men. The largest Facebook ads audience is men between 25 and 34, accounting for 19 percent. Following that are men between 18 and 24, making up 15%; women between 24 and 35, making up 13%; and women between 18 and 24, making up 10%.
What does all this mean for your business? First, it means that female and male audiences are relatively balanced, so you can use Facebook ads even if your demographic is gender-specific. Second, if your target audience falls into any of those top four percentages, you should definitely be using Facebook ads. And with other generations showing interest in the platform, there isn't a B2C or B2B business that shouldn't give Facebook ads a try.
Related Articles: