Perhaps you already have a Facebook profile, fan page, and Business Manager. You have it all. You have ad accounts to manage, clients to appease, hell, you even have successful ads running as you read this.
However, perhaps you're missing something. Perhaps you realize you need to create a Facebook ad account or another ad account in Business Manager. How do you add an ad account? Will it require a long, arduous process?
The good news is, like most actions performed on Business Manager, adding a new ad account takes less than five minutes. With our help as a Facebook ad agency, it'll take less than two. Follow the steps below to create a new Facebook ad account in Business Manager.
What is a Facebook ad account?
A Facebook ad account is a digital space within Facebook's advertising platform where businesses can create, manage, and run their ad campaigns. It serves as the foundation for all advertising activities on the platform.
Each ad account is associated with a specific payment method and currency, allowing businesses to fund and monitor their ad spending. Within the ad account, marketers can create and customize ad campaigns, set targeting parameters to reach their desired audience and select their preferred ad formats.
The ad account provides valuable insights and performance metrics, enabling businesses to measure their ads' success, track key performance indicators, and make data-driven optimizations.
By creating a Facebook ad account, businesses can effectively leverage the platform's extensive reach and targeting capabilities to promote their products, services, and brand messages to a global audience.
How to create a new ad account on Facebook manager?
Click "Add New" & "Ad Accounts"
To begin, click "Add New," the green button located on the upper right side of your screen. When the drop down menu appears, click "Ad Accounts".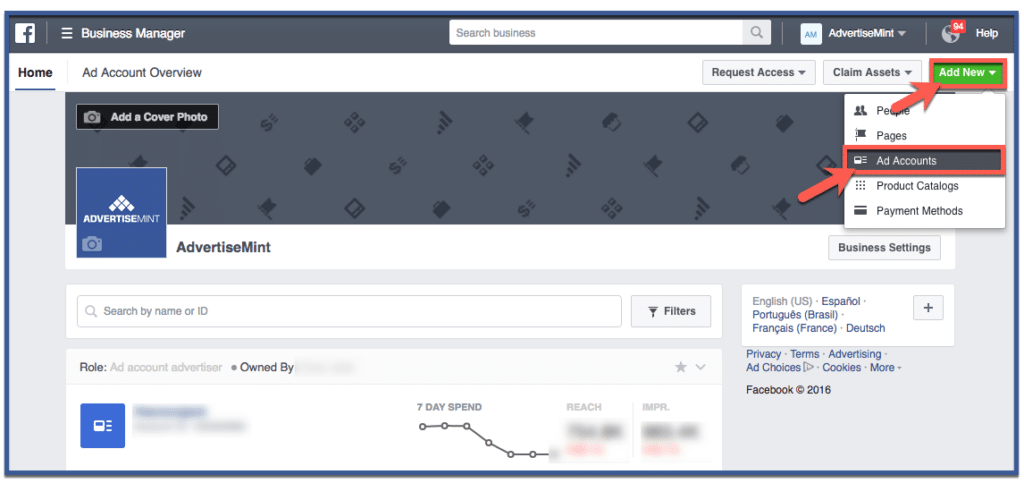 To create a new ad account, answer the required fields below. You will need to create an ad account name (most ad account names are the names of clients' businesses), include a partner who will advertise on your behalf, your time zone, currency, and payment method. Afterward, click "Create Ad Account".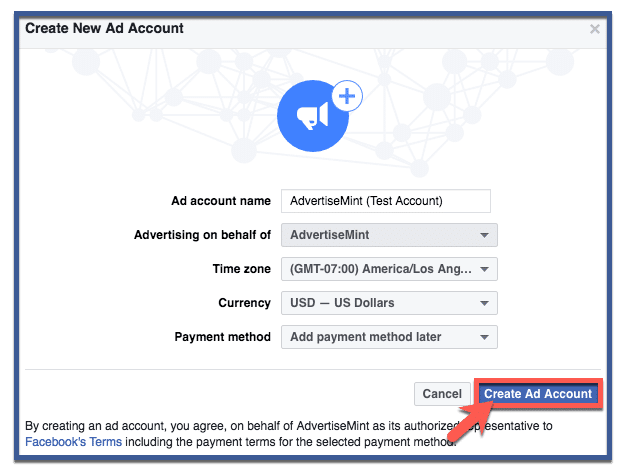 Add people to your account.
Facebook will then allow you to give people access to your account. When selecting people, you can also assign roles. You'll see here that we just assigned the roles of those who work at our Facebook advertising agency. Because this step is optional, you can choose to skip. Otherwise, choose who you want to have access then click "Save Changes".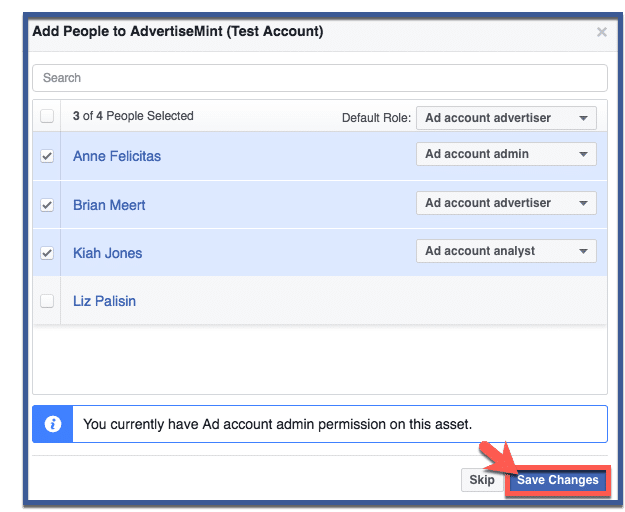 Set Up Facebook Pixel (Optional)
For advanced tracking and optimization, you can set up Facebook Pixel to monitor user interactions on your website. Access the Events Manager in Business Manager to create and install your Facebook Pixel on your website.
Click "OK" to finish.

You new ad account will appear here. Whether you're advertising your business, personal brand, or making a Facebook political ad, make sure you're familiar with Facebook's ad policies before you start using your new ad account. This will help you ensure that your ad avoids the common reasons Facebook ads are rejected.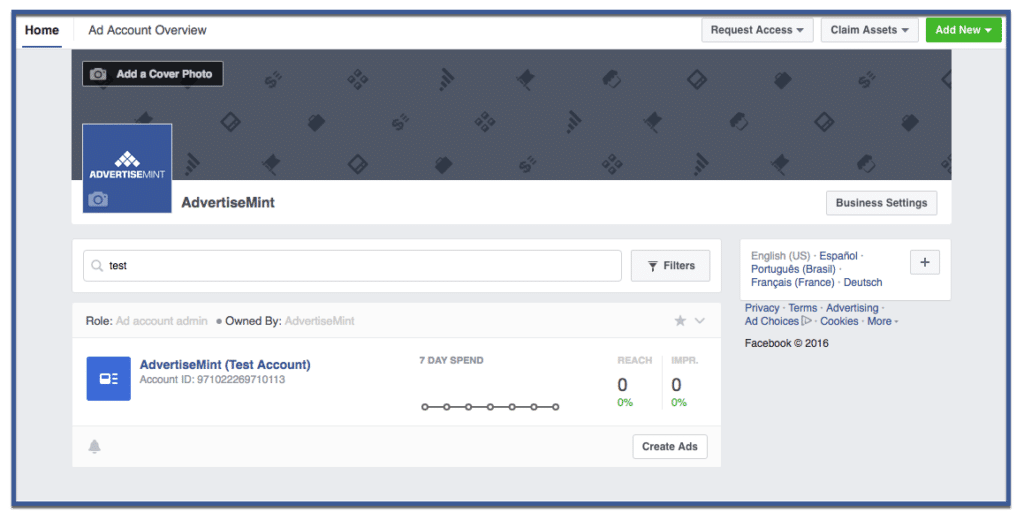 What are the benefits of a Facebook Ads Account?
A Facebook ad account provides businesses numerous benefits that empower them to reach their target audience and effectively drive marketing success.
With over 2.9 billion monthly active users, Facebook offers unparalleled reach, enabling businesses to connect with a vast global audience. The ad account allows precise targeting based on demographics, interests, behaviors, and location, ensuring ads are shown to the most relevant audience.
Furthermore, Facebook's advanced ad platform offers various ad formats, including carousel ads, video ads, and lead ads, providing creative versatility to captivate audiences. The platform's powerful analytics tools provide valuable insights into ad performance, enabling data-driven decisions and optimizations.
Businesses can set their desired budgets and bid strategies, ensuring cost-effective advertising campaigns. Moreover, Facebook's retargeting capabilities allow businesses to re-engage with previous website visitors, increasing the chances of conversion.
With the Facebook ad account, businesses can harness the full potential of this social media giant, connect with potential customers, and achieve their marketing objectives efficiently.
Conclusion
Creating a new ad account on Facebook Ads Manager through Business Manager empowers businesses to take full control of their advertising efforts.
By following these detailed steps, you can efficiently set up and manage your ad account, ensuring smooth collaboration with team members and effective execution of your marketing campaigns on the world's largest social media platform.
With a properly configured ad account, you can harness Facebook's extensive targeting capabilities and reach your target audience with precision, maximizing the impact of your digital marketing endeavors. Start creating your ad account on Facebook Ads Manager today to elevate your brand's online presence and drive business success.
Was this How To article creating a new Facebook ad account on Business Manager easy and helpful? Leave your thoughts on the comments section below!
FAQs
How to access Facebook Business Manager to create a new ad account?
To access Facebook Business Manager, visit business.facebook.com and log in with your Facebook credentials. If you don't have a Business Manager account, you can create one by clicking "Create Account" and providing the necessary information.
What information do you need to provide when creating a new ad account in Business Manager?
When creating a new ad account, you must provide essential details such as the account name, time zone, and currency. Selecting the correct time zone and currency is crucial, as this affects ad scheduling and billing.
How to add Facebook Page to Business Manager for ad account management?
To add your Facebook Page to Business Manager, navigate to the Business Settings tab, select "Accounts," and click on "Pages." Choose "Add a Page" if you own the Page or "Request Access to a Page" if you need to request access from the Page owner. Follow the instructions to connect your Facebook Page to Business Manager.
What roles and permissions can you assign to team members for ad account management?
Business Manager offers different roles such as "Admin," "Advertiser," "Analyst," and "Employee." Admins have full access and control over the ad account, while other roles have specific access levels. You can assign roles based on your team members' responsibilities for effective ad management.
How to set up a payment method for the new ad account in Business Manager?
You need to add a payment method to activate the new ad account. Click on "Billing" in the Business Settings tab, then select "Payment Settings." Enter your payment details, such as credit card information or PayPal, to fund your ad account. Facebook accepts various payment methods for your convenience.