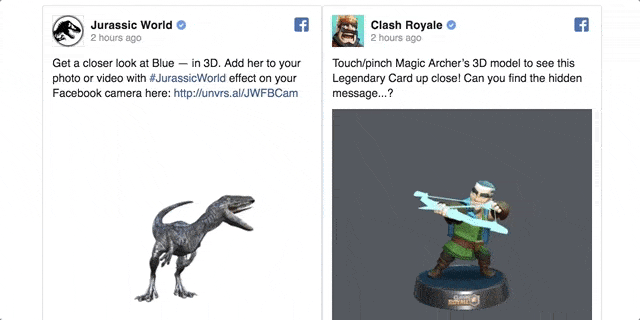 Back in October, Facebook teased interactive 3D objects in News Feed. Now, Tech Crunch says Facebook is adding the final touches to stages one and two of its 3D posts, and the results are exciting for both developers and users alike.
According to Tech Crunch, these 3D posts will now support the standard glTF 2.0 file format, which means developers can enjoy textures, lighting, and realistic rough or shiny rendering for their models.
How It Works
Developers can now make 3D modeling apps or cameras to share on News Feed. Even websites can be featured as 3D posts.
On the user side, 3D objects can be dragged, moved, and dropped into News Feed, as well as brought into Facebook Spaces, the network's VR hangout space, as a post.
When creating a post containing a 3D model, Tech Crunch says users can choose a background color and texture.
"We're trying to make 3D a native part of the Facebook ecosystem. Stage 3 is getting these 3D objects into AR," Facebook's creative director for social VR, Ocean Quigley, says in a Tech Crunch article. "We're trying to lay the foundational steps so Facebook can go with users into their 3D worlds of VR and AR."
The ultimate hope is that the process of developing and sharing 3D posts is as seamless and convenient as possible, requiring only the minimum level of tech skills so anyone can do it.
With glTF 2.0 referred to as the "JPEG of 3D" by Quigley, Tech Crunch says Facebook is open sourcing converters on GitHub to make it easy to convert to this file type, which is preferred by Facebook.
The Future: AR Commerce
As Facebook continues to explore new AR (augmented reality) capabilities, the future of digital advertising will likely come in the form of AR commerce. Rather than displaying products in photos or static images, advertisers would create 3D models of their products for a more interactive and exciting shopper experience.
Facebook's AR exploration is a direct response to competition presented by Snapchat. In December, Facebook rolled out AR Studio, a creative tool for making AR experiences, to creators worldwide.
One thing is definitely certain: the future of digital advertising is going to be advanced by AR capabilities in one way or another. The only question is how soon.
Comments
comments