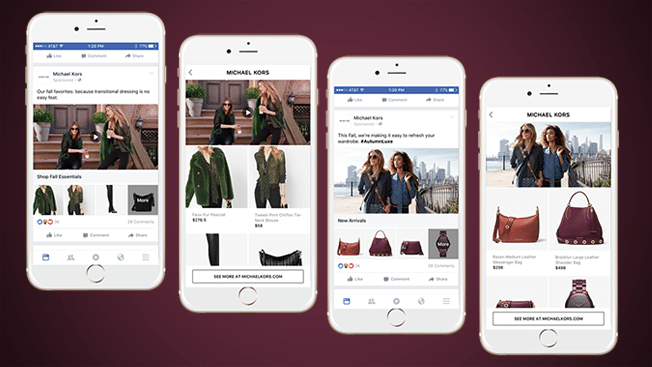 Facebook is currently testing ads that contain multiple products within the news feed, ads that focus on both brand awareness and direct response.
These multiple-product ads (not the official name) couple a main image or video with related product images underneath. If customers click a related product image, a second page showcasing more products will appear. If customers click the related product a second time, the ad will direct customers to the retailer's website where they can purchase the product.
This new Facebook ad format was created in the hopes of giving customers enough product selections to encourage them to purchase an item beyond the original product of their queries. Some may claim this new format forges Google's "showcase shopping" ad format that it released this summer. Showcase shopping ads, which are featured in Google search, aim to connect retailers with potential buyers who might be interested in a product even if their search query isn't quite exact. Facebook's multiple-product ad, however, seems to be more an evolved version of Facebook's carousel ad, an ad that also has the ability to feature multiple products at once.
Brand such as Michael Kors and Lowes have already started creating multiple-product ads. These brands will be joined by others later this month throughout the holidays, as stated by a Facebook spokesperson to AdWeek. Facebook also predicts that more retailers will join later in the year, especially if retailers who are currently testing the new multiple-product format are pleased with the results. So far, these new formats have been faring well. Michael Kors, for example, stated that, with the use of the multiple product ads, its cost per conversion has declined by 79%.
Facebook's multiple-product ad, which allows advertisers to showcase up to 50 products, may just be the type of ad to help them win this holiday season.
Comments
comments