Facebook's Momen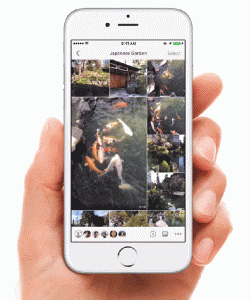 ts (their private photo-sharing application) now supports video sharing! This feature is available in the updated version of the Moments application for iOS and Android devices so don't ignore your app updates list this week. P.S. In a few weeks, Moments will also let users include videos in their Moments slideshows.
Along with this news, Facebook updated us on the popularity of their app. Since Moment's launch in June 2015, over 400 million photos have been shared. 100 million of those happened in the last month alone thanks to Facebook's heavy push. They've been promoting Moments in the News Feed, something that they usually don't do.
However, Moments is a different story. It didn't just get a News Feed push, it also integrated with Facebook's notifications and Facebook Messenger where it alerted users to share new photos shared by friends. Get this, Facebook believed in Moments so much that it shut down its photo-syncing service and pointed users to Moments instead. The last time Facebook did this dance was when it was pushing Messenger installs, which is now a top 10 app on the App Store.
So, will we be seeing Moments on that list too?
Yes, most likely. Moments is currently ranked No. 12 in the highly competitive "Photo and Video" category on the Apple App Store (No. 81 Overall) and No. 2 in the "Photography" category on Google Play.
If you haven't had the chance to try it yet, Moments simplifies photo sharing by automatically identifying who that person is in your photos, when and where they were taken in order to make smart suggestions about whom you should send a group of photos. As more of your family and friends sign on to Moments, they can add to that shared collection of photos from the event. So go on, share that funny video clip of your dad dancing to "Shake it Off"' with your cousins.
Comments
comments