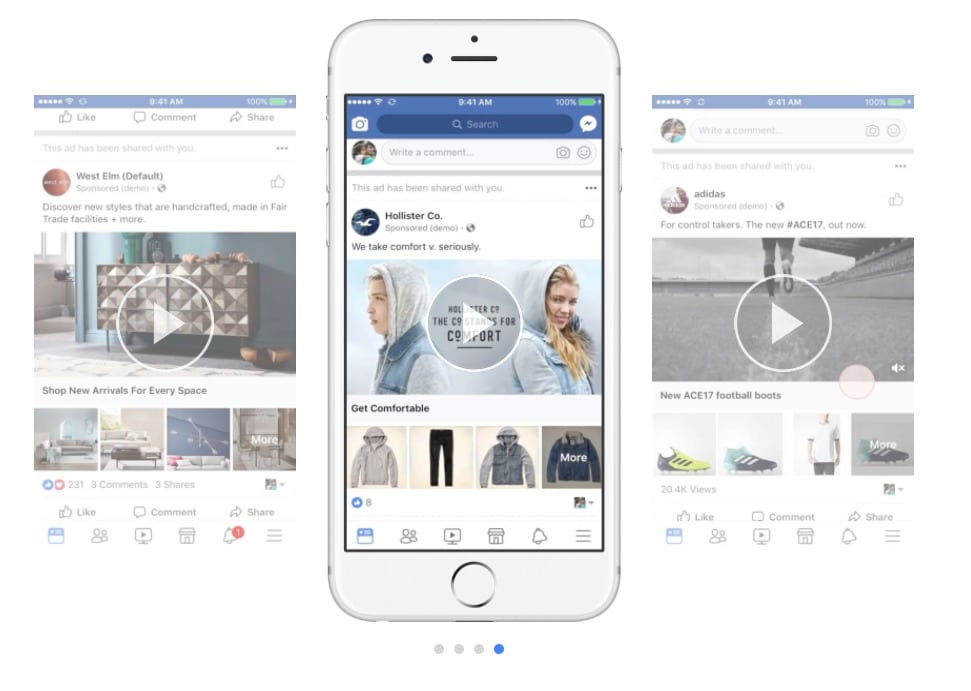 Enliven your lifestyle products with Facebook's new Canvas template, Lifestyle Layout.
As frequently mentioned in the past, the majority of today's Facebook paid ads migrates to mobile. Facebook's Canvas, a creative platform for developing mobile ad experiences, has multiple templates for its Collection ads. However, the Lifestyle Layout template allows advertisers to build immersive, branded collections with lifestyle imagery in the form of people, places, or experiences.
What do we mean by lifestyle? Think clothes, fashion, décor, fitness, etc. The new layout allows advertisers to give context to their products in a captivating mobile display.
How to Use Lifestyle Layout?
According to Facebook, the Lifestyle Layout template is available in Canvas' collection format as a full-screen experience.

Additionally, the template includes call-to-action buttons and store locator maps to encourage and prompt users to purchase your product.
Benefits of using Facebook's New Lifestyle Layout
The integration of Facebook's New Lifestyle Layout into Canvas Collection Ads brings a host of compelling benefits for advertisers.
More immersive and engaging experience:

 The Lifestyle Layout uses lifestyle imagery to create a more immersive and relatable ad experience. This can help capture users' attention and keep them engaged with the ad.

Increased click-through rate (CTR):

 The Lifestyle Layout has been shown to increase click-through rates (CTR) for Canvas Collection Ads. This is because the more immersive and engaging ad experience can make users more likely to click on the ad to learn more.

Improved conversion rates:

 The Lifestyle Layout can also help to improve conversion rates for Canvas Collection Ads. This is because the more engaging ad experience can make users more likely to take the desired action, such as signing up for a newsletter or purchasing.

Enhanced brand awareness:

 The Lifestyle Layout can also help to enhance brand awareness for businesses. This is because a more immersive and engaging ad experience can leave a lasting impression on users.

Easy to use:

 The Lifestyle Layout is easy to use and can be customized to fit the needs of any business.

Wide reach:

 Canvas Collection Ads can be seen by users worldwide, making them a great way to reach a global audience.
Best Practices for New Lifestyle Layout
Visual Storytelling
Craft a compelling narrative that flows seamlessly across images and videos. Use each canvas to tell a part of your brand's story, guiding users through a visually captivating journey.
Concise Captions
Accompany your visuals with concise and impactful captions. Clearly communicate the value and message of your ad to enhance user understanding.
Interactive Elements
Incorporate interactive elements, such as product tags or buttons, to encourage user engagement. Allow users to explore products or services directly within the ad.
Consistent Branding
Maintain consistent branding elements, such as color schemes and logos, to reinforce brand identity and recognition.
Mobile Optimization
Since Facebook is heavily used on mobile devices, ensure your Canvas Collection Ads are optimized for mobile viewing. Test your ads on various devices to guarantee a seamless experience.
Call to Action (CTA)
Include a clear and compelling CTA that guides users on what to do next. Whether it's to shop, learn more, or sign up, make the desired action evident.
Testing and Optimization
Regularly monitor the performance of your Canvas Collection Ads using Facebook's analytics tools. Identify what's working and iterate on your campaigns to optimize results.
A/B Testing
Experiment with different variations of your Canvas Collection Ads to determine what resonates best with your target audience. Test different visuals, captions, and interactive elements to refine your approach.
Additional Enhancements for Collection Ads
Facebook also announced additional updates for Canvas' collection ads.
The first, Engagement Custom Audience, allows advertisers to retarget users who have previously clicked on a collection ad.
The second update, the Store Visits Objective, allows advertisers to use their collection ads to drive store visits and in-store sales.
Finally, a new enhanced tracking feature gives advertisers the ability to track the performance of their products featured in collection ads, specifically in regards to traffic flow to the business' website or app.
The new Lifestyle Layout will be available to advertisers sometime this month.
Conclusion
In the dynamic world of digital advertising, staying ahead of the curve is essential.
Facebook's new lifestyle layout, coupled with the immersive power of Canvas Collection Ads, presents a golden opportunity for advertisers to break through the noise and make a lasting impact.
By leveraging this innovative combination, brands can create engaging, personalized, and visually stunning narratives that resonate with users on a deeper level.
Frequently Asked Questions
What is the Lifestyle Layout?
The Lifestyle Layout is a new template for Canvas Collection Ads that makes it easy for businesses to create engaging and effective ads. The Lifestyle Layout features lifestyle imagery, such as people, places, and experiences, that can be used to create a more immersive and relatable ad experience.
How do I use the Lifestyle Layout?
To use the Lifestyle Layout, you will need to create a Canvas Collection Ad. Once you have created your ad, you can select the Lifestyle Layout from the template options. You can then add your images, videos, and text to the ad.
When should I use the Lifestyle Layout?
The Lifestyle Layout is a good choice for businesses that want to create engaging and compelling ads that can help them reach their marketing goals. The Lifestyle Layout is especially well-suited for businesses that sell products or services that are related to lifestyle, such as fashion, travel, or food.
How does the New Lifestyle Layout enhance the effectiveness of Canvas Collection Ads?
The New Lifestyle Layout amplifies the impact of Canvas Collection Ads by providing a larger canvas for storytelling. The immersive design ensures that users engage with content more captivatingly and interactively, leading to higher brand recall and longer interactions. The personalized delivery of ads within the layout also ensures they reach the right audience at the right time.
Related Articles: