Yes, many of you may have cringed at the words "stock photos," but truthfully they are a blessing in disguise for many marketers advertising on Facebook. When used correctly, they can bring your ads to life.
What Are Stock Photos?
Stock photos refer to a collection of images supplied for public use. Rather than hiring a photographer for customized shoots, marketers and any Facebook marketing agency use these readily available images for various commercial projects.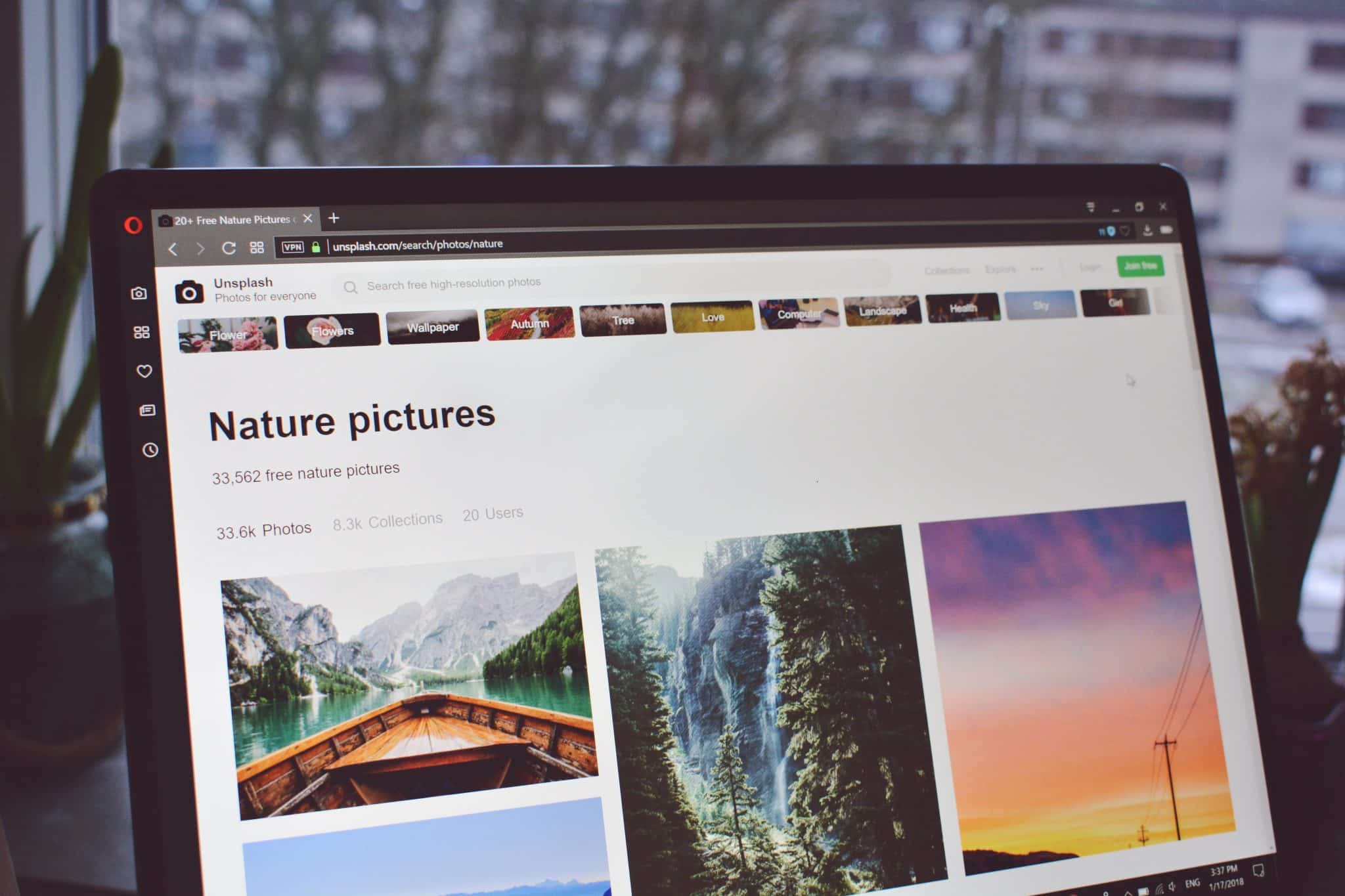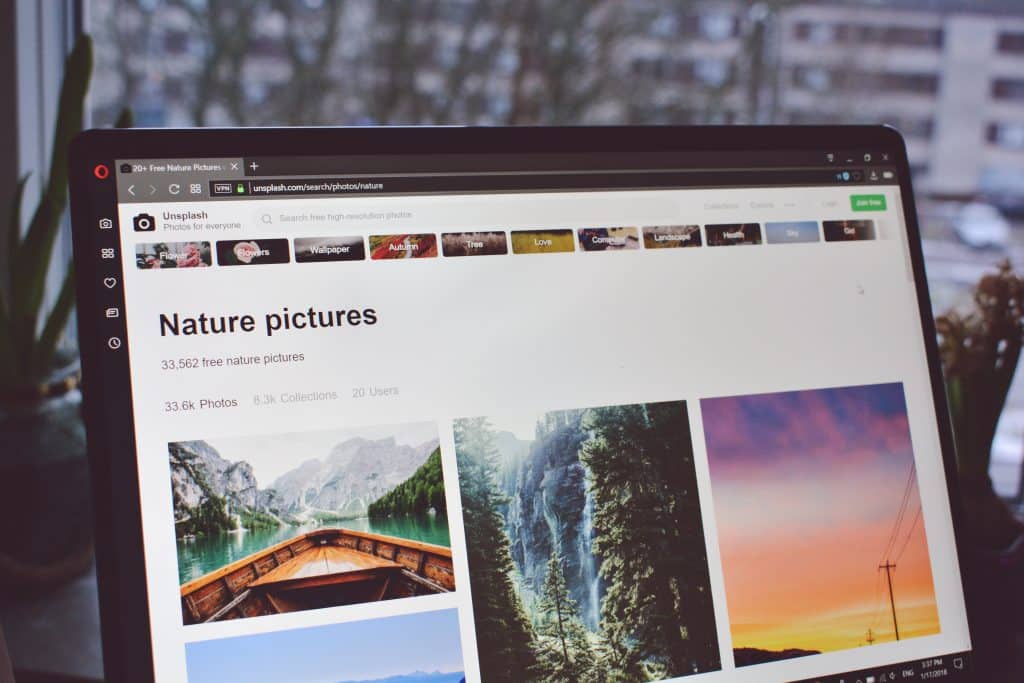 Stock photographs are priced differently, depending on the resource you use. Fortunately, plenty of sites, such as Unsplash and Pexels, offer free stock photos that help you if you're running low on your budget. There are also paid services that sell photos on a per picture and per bundle basis.
Are Stock Photos Legal to Use?
Avoid legal issues by checking the license of each image you download. Stock photos come with varying licenses that allow for commercial use and modification. If you're looking for stock photographs to use in your Facebook ads, you will likely find yourself dealing with these three licenses:
Royalty-Free License – The most common and popularly used is the royalty-free license. With this license, you only have to pay a one-time flat fee, which will allow you to download the photo as many times as you want for a project of your choice. On the downside, royalty-free licenses are non-exclusive. This means you may find other marketers using the same image for their ad campaigns.
Rights Managed – The rights managed agreement is a one-time charge for the use of a photo. This license can be negotiated according to the project's time frame. For example, you pay a specific rate to use the image for your Facebook ad. However, you will have to pay additional royalties if you want to expand its usage to other digital marketing platforms.
Extended Licenses – Similar to the rights managed license, the extended agreement allows commercial use by paying a specified fee. It also enables you to use the images for resale products, such as printing on mugs or t-shirts.
When using stock photos, you must carefully read the terms and conditions of each license. Ignoring them can often result in the termination of your Facebook ad and even a costly lawsuit. Moreover, be aware that specific sites require attribution to the photographer, so make sure to carefully adhere to them.
Are Stock Photos Effective for Marketing?
Facebook advertising is tough, and it keeps getting tougher with each passing day, as more marketers realize its potential. The stock photo industry, too, is competitive, flooded with generic- and unrealistic-looking photographs. There is no shortage of cliché images, and using them to target a growing user base on Facebook may not be a profitable solution. In fact, a study shows 63% of consumers find repeated and generic brand messages a nuisance. Since Facebook's ad guidelines include the 20% text rule (text must not take up more than 20% of the image), you must make the photo do most of the talking.
The good news: Authentic-looking stock photos are there and can be as effective as you want them to be. The key is to carefully select images that resonate well with your audience.
How to Choose the Best Stock Photos for Facebook Ads?
Keep in mind the tips below when choosing stock photos for your Facebook ads. 
Look for Candid Images
Kaiser Permanente Thrive / Facebook Ad Library
If you've scoured a stock photo website, you've probably seen pictures of a woman laughing alone with a salad bowl or a family (with kids) posing for the camera during dinner. As mentioned earlier, the biggest problem with stock photos is the inauthentic portrayal of people. When searching for stock photos, look for those that don't appear staged. Remember, humans relate well with other humans, and images with genuine emotions will help your brand get the message across more effectively.
Aim for Relevance
This should go without saying, but look for pictures relevant to your ad's marketing message — not just something that looks pretty. For example, adding a picture of a milkshake for your accounting ad or displaying a dog's image to market a finance software is not the best move. Adding pictures that are not relevant to your product or service will confuse your audience. Ultimately, this will reduce their trust in your brand and negatively impact their purchase decision.
Here is a great example of a relevant image. Domino's uses a close-up of pizza to promote its $5.99 deal.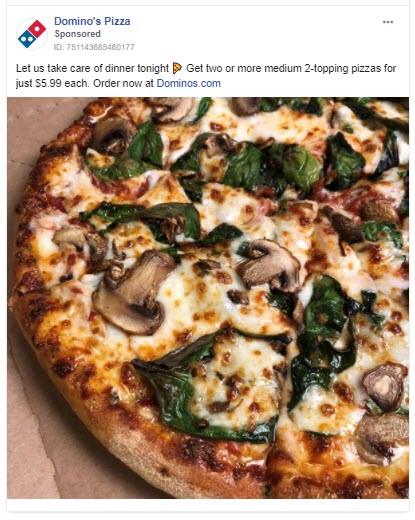 Domino's Pizza / Facebook Ad Library
Focus on the Audience
Is your product catered toward millennials? Then showing an image of a middle-age person will not resonate with your target audience. Don't just use the first image you see. Instead, thoroughly think  about your audience to target them effectively and to make your marketing campaign successful. 
Princess Polly does a great job of featuring its target audience. In this ad, the millennial- and women-focused clothing retailer features a young model in her 20s — exactly the type of person the brand's target audience relates to.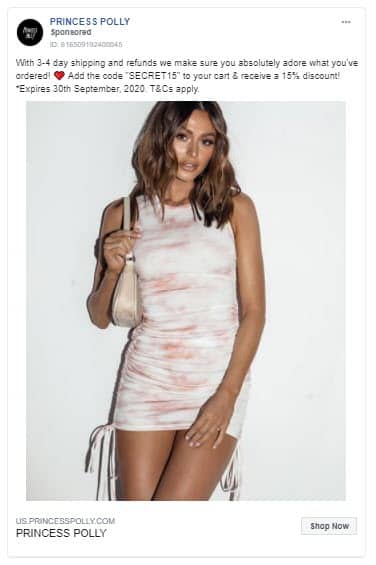 Princess Polly / Facebook Ad Library
Choose High-Quality Images
Some stock photos are bad. Blurry subjects, dark lightning, or colors that don't transition well with the overall layout are just examples of images that lack quality. Even if you're low on your budget, don't choose an image of a lower caliber. Numerous stock photo sites offer images ranging from free to a couple of dollars per piece. Depending on your budget, dig a little deeper into those sites for high-resolution and high-quality pictures. Anything less can harm your advertising campaign.
Use Fresh Images
Instead of the most popular ones, go for images that are fresh and the least-used. Most stock photo sites give you the option to filter search results with keywords. Do an in-depth search to find images that are most suitable for your content. You can also check how many times an image has been used by dragging it into the Google Image Search taskbar. This will show you if other sites are using the same image or not.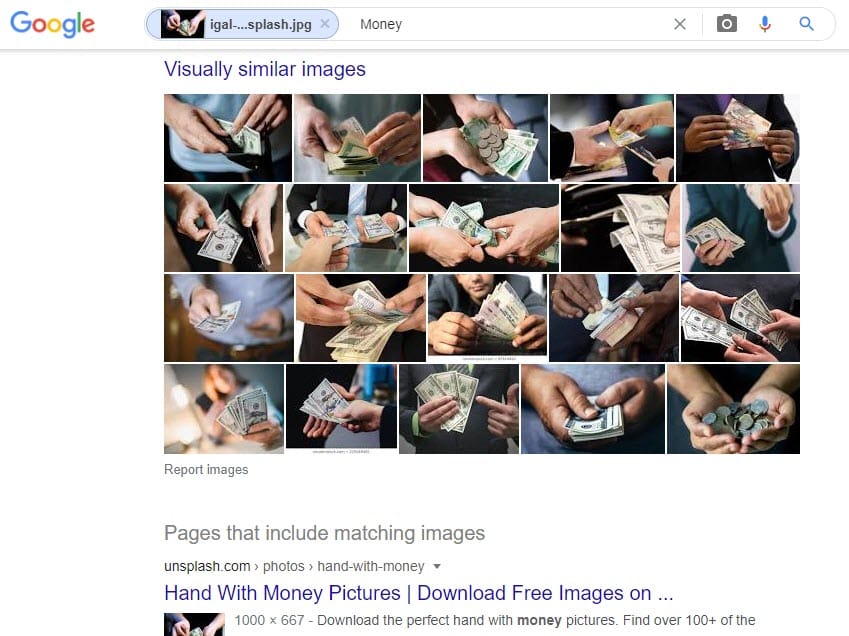 Look for Photos to "Un-Stock"
Most stock photos allow modification. This means you can crop, resize, add texts or overlays, and even change the contrast of the pictures to adapt to your ad. There are several great tools available to help you with your images, such as Snagit and Photoshop. Don't forget to check with the stock photo site to ensure editing is allowed.
Test Your Ads
Stock photo sites usually leave you spoiled for choices with their endless database of images. Because of their wide availability, you don't have to limit yourself to one image per ad. Experiment with your pictures and use two to three visual variations for one ad. Keep the text the same for all ads and run them simultaneously. Track results to see how one ad performs against the other.
Final Thoughts
The best way to make stock photos work is to make them not look like stock photos. With the help of these tips and a little effort, you can easily customize your stock photos and use them in your Facebook ads without hesitation.
Related Articles: