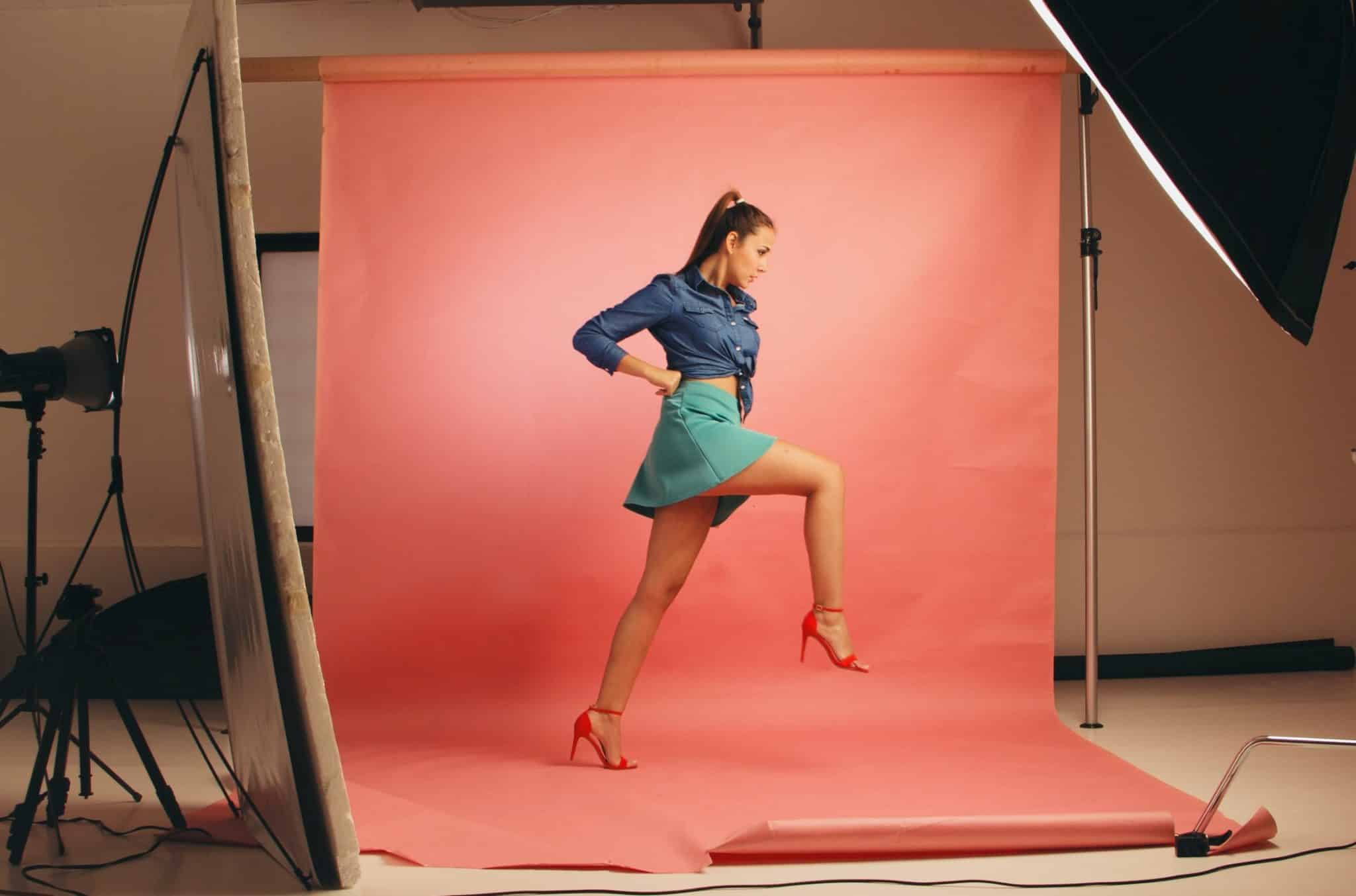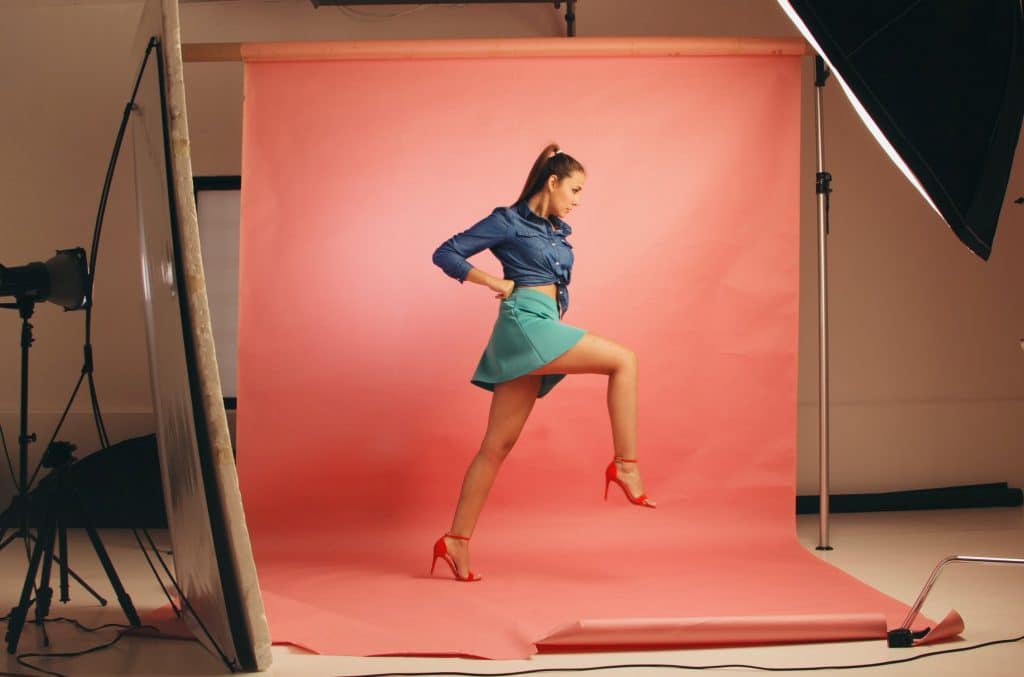 There's a lot of talk about influencers nowadays, and Instagram is perhaps the most popular social media platform for influencer marketing. If you're good at social media, perhaps you've even considered becoming an Instagram influencer yourself, but you might be stuck as to how to get started. For that reason, here's a guide to becoming an Instagram influencer. 
Why Become an Instagram Influencer?
The most obvious reason you might want to become an Instagram influencer is for the money. After all, who hasn't seen an influencer showing off their flashy lifestyle on Instagram and thought "I want that!" at one time or another?
Although it's possible to make money as an influencer, you need to be realistic. You probably won't be able to quit your day job overnight or retire at 30. Still, there are reasons you might want to be an influencer:
Although there are no right or wrong answers to why you should be an influencer, it's important to know what the answer is for you. There might be more than one motivating factor, of course, but you can only achieve your goals if you get really clear on what they are and why you have them. 
Macro vs. Micro vs. Nano Influencers
When people hear the word "influencer," they tend to think of those with millions of followers and a seemingly endless flow of cash. Although this is one type of influencer, it's far from the whole picture. Did you know that even those with a relatively smaller audience can be considered influencers? Let's take a look at the four kinds of Instagram influencers: mega, macro, micro, and nano.
At its core, the difference between the three comes down to follower count. As a rule of thumb, a macro influencer has more than 100,000 followers. A micro influencer has 10,000 to 100,000 followers, and a nano influencer has 10,000 followers or fewer. There's also a fourth kind: the mega influencer. A mega influencer has more than one million followers. However, since it's rare for anyone but an already well-known celebrity to reach this level, we won't focus on it today.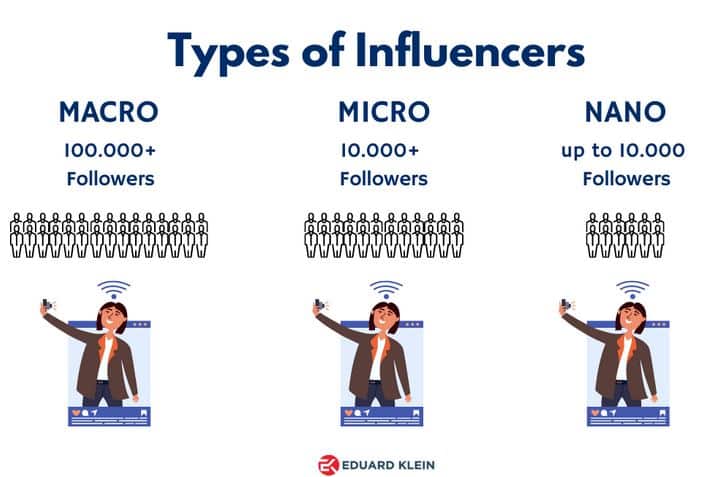 Source: eduardklein.com
Let's look at some examples.
Photographer Jesse Driftwood would be defined as a macro influencer with his (at time of writing) 162,000 followers.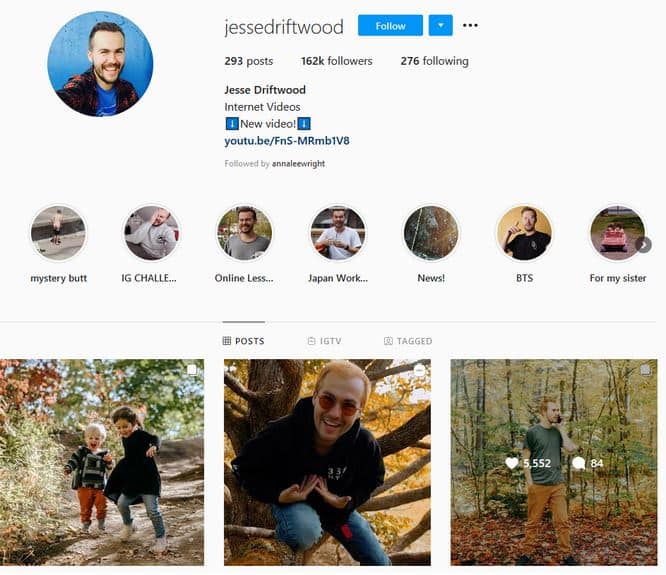 @jessedriftwood / Instagram
Driftwood shares behind-the-scenes photography from his family life, as well as travel snaps, fun selfies, and occasional insights into the photography process. His platform serves to advertise his YouTube channel, which boasts an even more impressive 190,000 followers. 
Jessica Pattison DeMelfi (@jessicademelfi) is a micro fashion influencer with around 11,400 followers. She receives hundreds of engagements on each post. DeMelfi is a blogger who uses her substantial platform not only to promote her blog and to advertise products for brands but also to stand up for causes she believes in, such as Black Lives Matter and the importance of voting.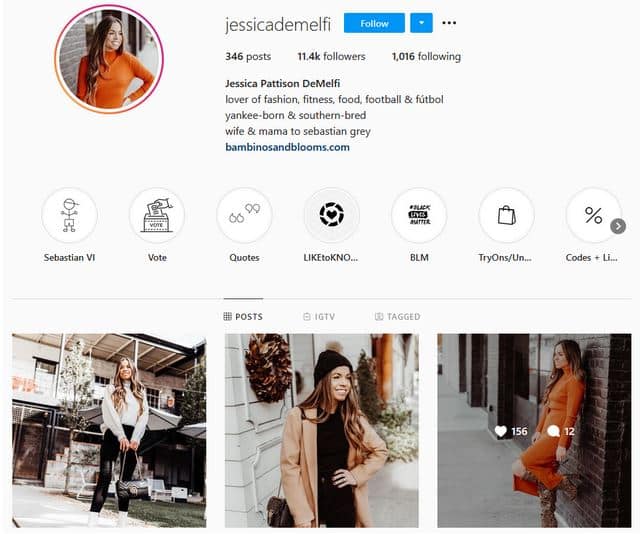 @jessicademelfi / Instagram
Sibel Oxha (@sibelsbeautybar__) is a nano influencer in the beauty niche. Though she has a relatively small following of just more than 3,500 people at the time of writing, her followers are highly engaged and she receives hundreds of likes, views, and comments on most of her Instagram posts.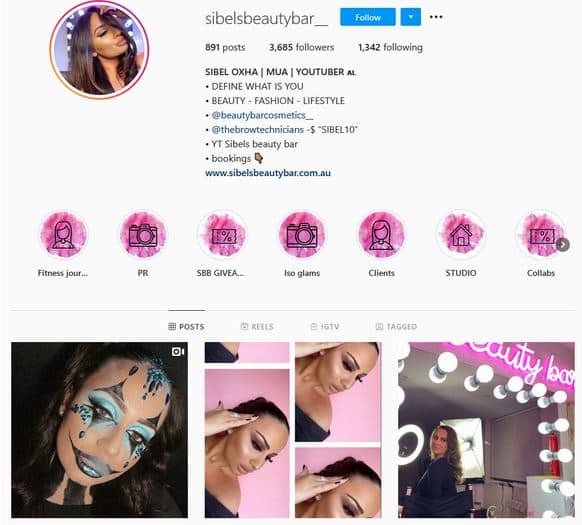 @sibelsbeautybar__ / Instagram
These are just a few of the many examples you can use to inspire you. Spend some time on Instagram seeing what people in your niche are doing. A great way to find them is through hashtags (e.g., #fashioninfluencer, #techinfluencer, and so on). 
The point is that you don't need millions of followers to be an influencer. A few thousand is more than sufficient to having a real impact! 
What Brands Look For in an Instagram Influencer
Brands are picky about the influencers they work with. Therefore, if you want to work with brands as an influencer, you'll need to keep that in mind as you build your channel and your platform. 
Naturally, a brand's preferences and requirements will vary depending on industry. You should study what successful influencers in your niche are doing — not to imitate them but to take note of any patterns or common themes amongst those who do well. 
Speaking broadly, here are a few things brands might look for as they choose a social media  influencer to work with.
Post interactions
The number of followers alone isn't all that important. Having 10,000 followers who mostly ignore your content is far less valuable than having 2,000 followers who hang on to your every word. Therefore, brands are likely to be looking at the average levels of engagement  — likes, comments, and views — that your Instagram posts receive. 
If you have a significant following but low engagement, chances are your content is the problem. You'll need to cast a critical eye over what you're posting and work out what you need to do differently if you want to boost your engagement and work with brands as an influencer. In other words, as you decide what to post on Instagram, let your audience be your guide. 
Audience demographics
It sounds obvious, but a brand will only want to work with an influencer if that person's audience aligns with the brand's goals. For example, a brand that wants to sell luxury fashion to young women is unlikely to work with an influencer whose audience is mostly men, no matter how good their content and metrics may be. Similarly, a local or regional business in Spain won't glean much benefit from working with an influencer whose audience is mostly based in Canada. 
If you want to succeed as an influencer, you'll need a strong understanding of your audience. Who are they? What is the gender, age, and geographical location breakdown of your followers? Then you can work with brands whose target audience aligns with yours. 
Influencer's interests
You might be surprised how much this matters. A brand might want to work with you based on something you talk about regularly, even if it's not your primary subject matter. 
Here's an example: Micro influencer Kirsten (@brightyellowdoor) runs a lifestyle site, blogging about home improvements, motherhood, and food. Her Instagram focuses on her DIY and interior design projects. However, she frequently talks about how much the loves coffee, which led to her partnering with Bulletproof, a company that makes coffee for those on the ketogenic diet.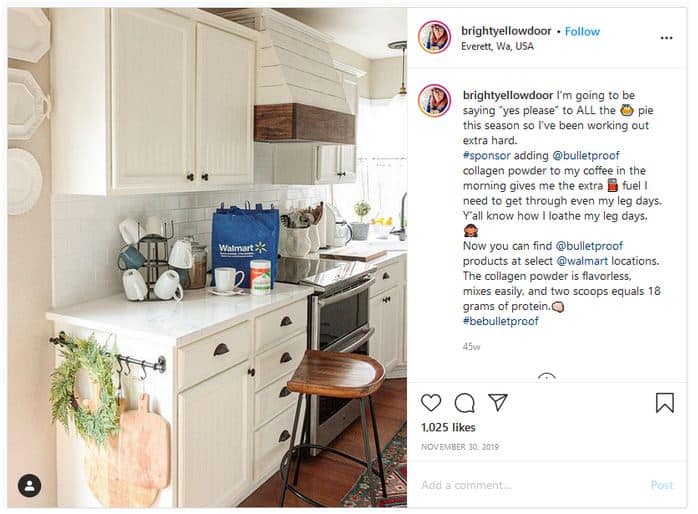 @brightyellowdoor / Instagram
So what do you love? Are you a proud parent, an animal lover, or someone with a unique and interesting hobby? Make sure that's reflected in your Instagram content, because you never know the opportunities it might open up!
Creativity balanced with respect for brand
When it comes to social media influencing, it's often highly creative people who do well. That's because they can think of fun, memorable, and engaging ways to make their point. Therefore, brands often love partnering with creative influencers who can bring their own ideas to the table and create a truly unique partnership. 
However, influencers also need to be willing to defer to brand identity in some ways. Brands don't want to work with someone whose attitude is "my way is the only way." Therefore, remain adaptable and come to the table with a brand as a collaborator. Share your ideas and get creative, but take their needs into consideration, too. If you're too difficult to work with, they won't come back a second time. 
Here's an example. Influencer Julia Zelg (@juliazelg) is known amongst fans for her eye-catching outfits and bright pink hair. In this partnership with fashion brand @aprilalexshop, she kept her unique sense of style while swapping out pink hair and makeup for bright blue to better complement the brand's identity: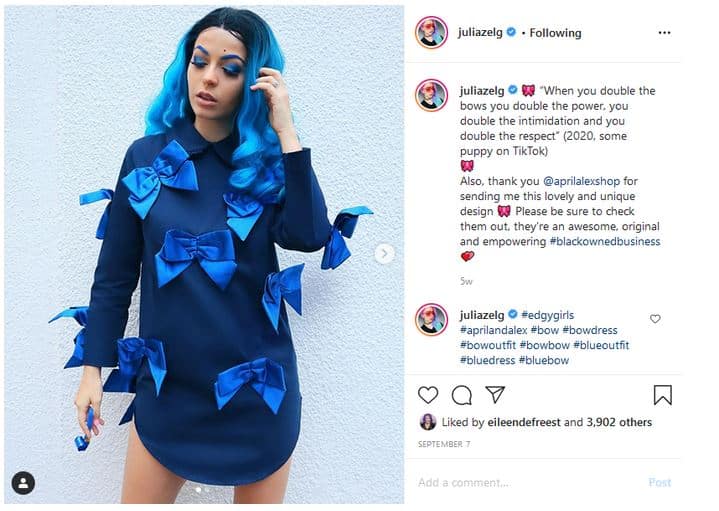 @juliazelg / Instagram
It's entirely possible to remain true to your followers and audience while still adapting to suit a brand's needs. You just need to be creative. 
How to Build and Grow an Audience
Perhaps the most difficult aspect of becoming a successful Instagram influencer lies in building, growing, and retaining a loyal audience. You might have the most amazing pictures and the most creative and original content ideas, but if you don't have people to share it with, you won't be successful as an influencer. 
How many followers do I need?
You might be pleased to know that the answer to this is probably not as many as you think. As already discussed, influencers come in all sizes and more followers isn't always better. It can be just as rewarding to be a micro or nano influencer with a highly engaged and loyal following.
While more followers might get you a foot in the door with brands, it's your engagement rates and the quality of your content that will close the deal. So focus on growing your audience, but put at least as much attention into growing your engagement rates and improving the quality of your content. 
How do I increase Instagram followers?
There's a short answer to this one: patience and consistency. You need to post high-quality content regularly if you want to build an audience, and it might take more time than you'd like to get there. There's very rarely any such thing as overnight success in influencer marketing. 
Here are a few other tips you can follow to help you get more new followers on Instagram:
Whatever you do, don't be tempted to buy followers. Your engagement rates will suffer and you won't see the results you want if you have a lot of fake followers. It's much better to take your time in building an audience of real people who genuinely love what you do and care what you have to say. 
How to Monetize Instagram?
You've chosen your niche, you're creating quality content, and your audience is growing. Congratulations! Now what? Now it's time to start focusing more on monetizing your Instagram account.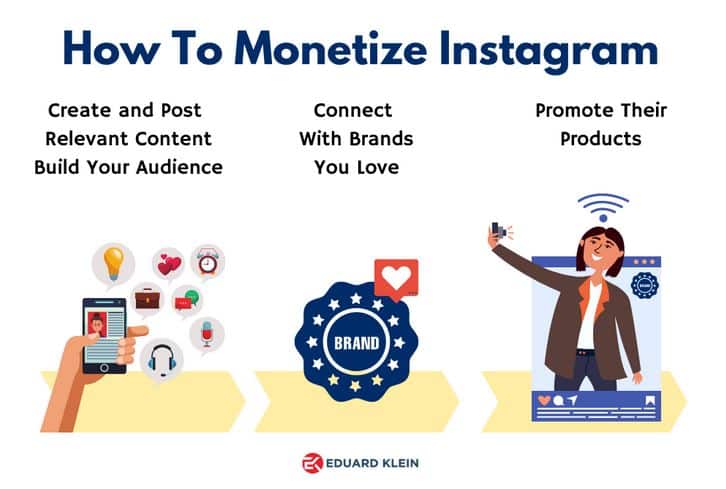 Source: Eduard Klein
Take a look at three great ways you can monetize your content as a social media influencer: 
Try influencer marketing platforms.
An influencer marketing platform is a solution that allows brands to connect with prospective influencers quickly and easily. Some of these platforms select eligible influencers according to an algorithm. Others, however, allow influencers to list themselves in the hope that brands will find them. 
Here are a few platforms you might want to check out to get started:
Afluencer: a one-stop shop for brands and influencers alike. You can get a free Afluencer account as an influencer and be the first to learn about great upcoming partnership opportunities. 
Shoutcart: a platform where brands and influencers can buy and sell social media shout outs. In practice, it's mostly centered on Instagram. Shoutcart is free to register for and easy to use, meaning it can be a great way to get your first paid partnerships. 
Social Bond: an advanced influencer marketing platform. Influencers can join for free but can benefit from additional features such as access to more contacts, insight reports, and the ability to upload a media kit if they pay for the $9-per-month premium version. 
These are just a few of the influencer marketplace platforms you might like to check out. Try a few different ones to see what works for you. 
If you don't have a huge following already, you can start with platforms like trend.io. They have a marketplace for brands that send you their products for review, and you get paid for the content you create.
Get direct connection with brands.
Another way to start monetizing your Instagram account is to connect with brands directly, rather than going through an influencer marketing platform. This can lead to opportunities for sponsored posts, which can be lucrative. 
The best way to connect with a brand is to make sure your content shows up regularly in their Instagram feed. That means providing a consistent, steady stream of great posts and making sure you're using the right hashtags. You should also use geotags to add your location to your posts, as many local and regional brands prefer to work with influencers in their area. 
Another way to get the attention of brands you'd like to work with is to interact with their content. Comment on their posts regularly and reply to their Stories. 
Finally, you can tag them on your content when it's relevant. For example, if you find a new line of cosmetics you love, you could post a picture of your latest makeover and tag the company whose products you used. If you go to an amazing coffee shop or restaurant, take a photograph of your order and tag the brand in the caption, complimenting them on the food or service. Brands love to work with influencers who genuinely love their products, so be authentic, and when you find something you like, don't be afraid to post about it. 
Participate in affiliate marketing.
Affiliate marketing is another way many influencers make money on Instagram. Affiliate marketers work with brands under a revenue-sharing system. You share links to a company's products and, when someone buys using your link, you make a commission. Some companies will also send you a free product, which you can use in your content, allowing you to give your readers a first-hand perspective. 
Affiliate programs exist in every niche you can think of, and all reputable programs are free to join. You can join as many as you like, but start with just one or two. 
Here are a few tips to help you get started with affiliate marketing on Instagram:
Wondering how you can promote affiliate products using Instagram, given the fact that you can't add clickable links to your posts? Don't stress — use the "link in bio" workaround and use an Instagram bio linking tool (like Linktree or lnk.bio) to collate all your links on one simple landing page that your fans can access from your Instagram profile. Once you have over 10,000 followers, you can also use the "swipe up" function to embed links directly into your Instagram Stories. 
Essential Influencer Help Tools and Resources 
If you're keen to get started, you might be wondering what else you need to help you get started. While you can become an influencer with nothing but great content and hard work, it's better to have a little help. 
To help you, here's  a list of the best tools to grow your Instagram. It includes some of the best social media scheduling tools, Instagram analytics platforms, and content creation tools. 
Here are a few other tools, resources, and tutorials you might want to look at, too: 
As you embark on your influencer career, you'll undoubtedly find the tools that work best for you. The most important thing is to invest in the tools and resources you need and then use them properly.
Influencer FAQ
How much do influencers get paid?
It varies widely, so there's no simple answer to this. However, please don't be taken in by stories of instant wealth and lavish lifestyles just for posting on Instagram. It's not quite that easy! Huffington Post interviewed various influencers about how much they make, and answers varied from $2,500 per year (influencer has 12,000 followers) to $150,000 to $200,000 per year (influencer has 134,000 followers). 
Is influencer marketing ethical? 
Yes.
At its best, influencer marketing is just getting paid to promote products you love and talk about things you're passionate about. 
As with anything, there are unethical ways to do it. For example, lying to your audience to make a quick sale or partnering with a brand known to have unethical practices is unlikely to go well. This will lead people to unfollow you and your reputation to suffer, but as long as you're authentic and remain true to your values, it's fine. 
What kind of brands work with Instagram influencers?
All kinds!
While influencer marketing is particularly popular in industries such as cosmetics and fashion, brands across almost every niche you can think of work with influencers. This week alone there are influencers advertising products as varied as gym equipment, pet products, children's toys, and software packages. 
What kinds of people can become influencers?
Again: all kinds!
There's an unfortunately prevalent stereotype that leads people to think only those who look like models can become influencers. But that's simply not true. A great influencer doesn't need to look a certain way or be a particular age or gender. They just need to be knowledgeable and passionate about their niche and know how to offer fantastic content. 
Time to Get Started!
Hopefully this article has given you all the grounding you need to get started. Succeeding as an influencer takes time, patience, and effort. But if you invest all of those things and create great content on a consistent basis, your audience will grow more quickly than you think.