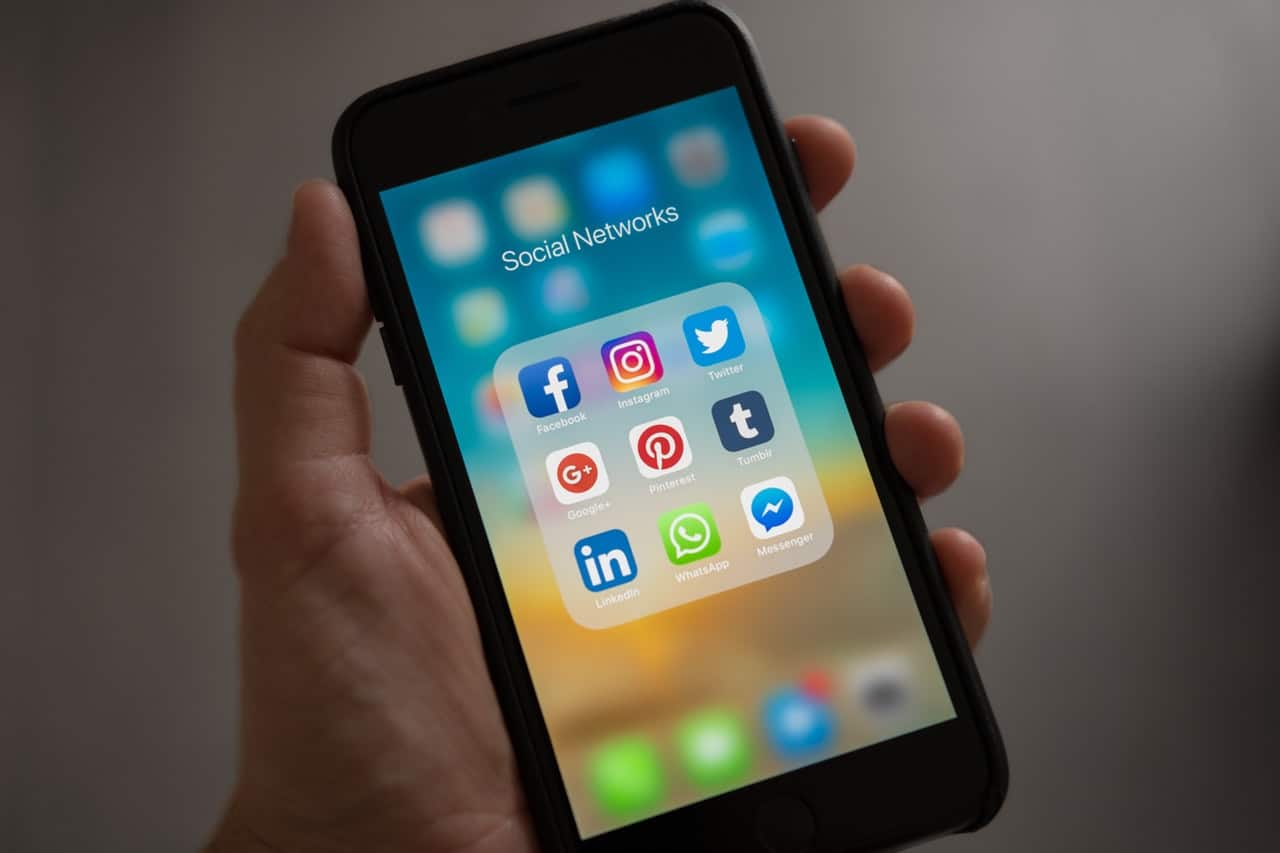 You can discover valuable information about your customers by tracking their activity on your business's website. Various coding tools are available to help you track behaviors so you can measure the success of your ad campaigns and find insights into what you should change. The Facebook Pixel is one such tool. It's a code you can copy and paste within the backend coding area of your web pages to track visitors' behaviors across your website.
Another tool you may not be as familiar with is the LinkedIn pixel or Insight Tag. Similar to the Facebook Pixel, the Insight Tag is a snippet of Javascript code that drops a cookie on a visitor's browser whenever they visit a page on your website where you have installed the code. So when visitors click on your LinkedIn ads and are directed to your website, you can see how they interact with your pages containing the code, offering significant, measurable insights for your campaigns.
The actions the LinkedIn pixel tracks are conversions or events. For example, when a visitor completes a download or fills out a registration, that is a conversion. A conversion is essentially any impactful action relevant to your business or campaign goals.
Why use the LinkedIn pixel?
The LinkedIn pixel is an indispensable tool for modern marketers, bridging the gap between audience insights and effective ad strategies.
This pixel holds the key to unlocking a wealth of insights that fuel targeted and effective advertising campaigns. By embedding the pixel on your website, you gain the ability to track user interactions, measure conversions, and fine-tune your ad strategies based on real-time data.
This data-driven approach ensures that your messages reach the right audience at the right time, increasing the likelihood of engagement and conversions. Moreover, the pixel enables dynamic retargeting, allowing you to reconnect with users who have previously shown interest in your offerings.
The power of custom audience creation amplifies your campaigns, enabling you to segment users and deliver tailored content that resonates.
In a digital landscape driven by relevance and personalization, the LinkedIn Pixel empowers you to make informed decisions that optimize your ad spend, enhance user experiences, and ultimately drive business growth.
How to Set It Up
Step 1: Go to your account.

Step 2: Go to "Account Assets" then "Matched Audiences."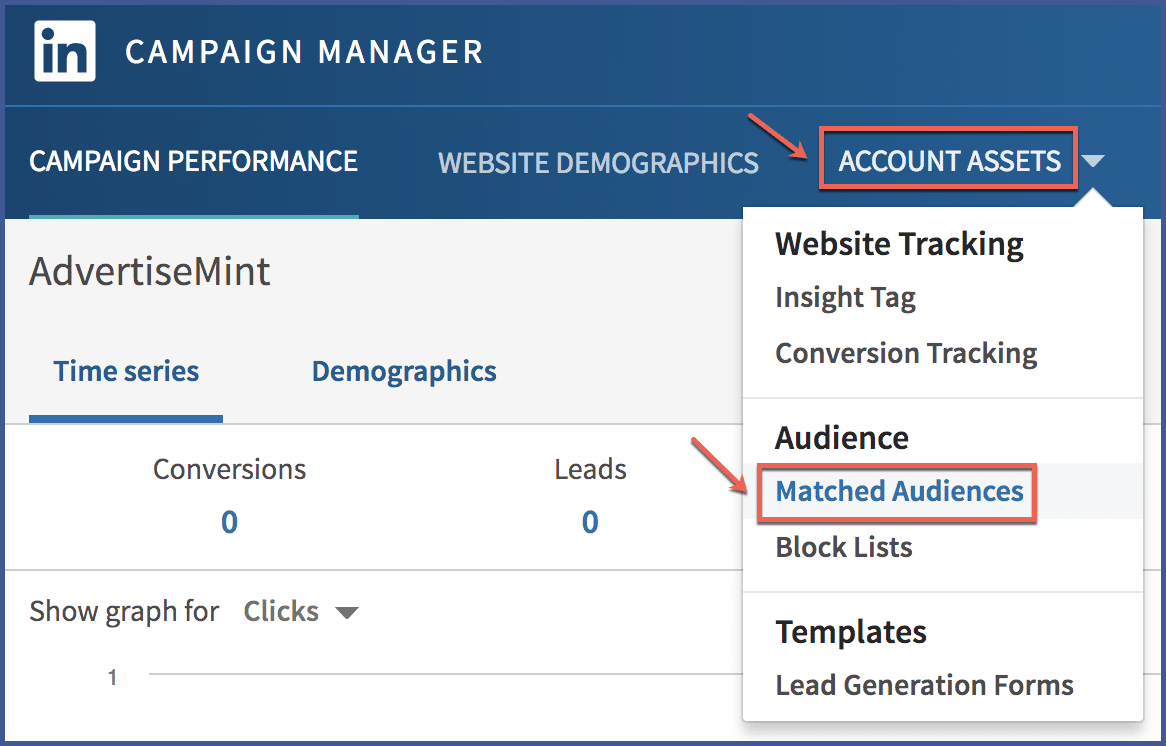 Step 3: Click "Create an Audience."

Step 4: Name your audience and enter your website's URL.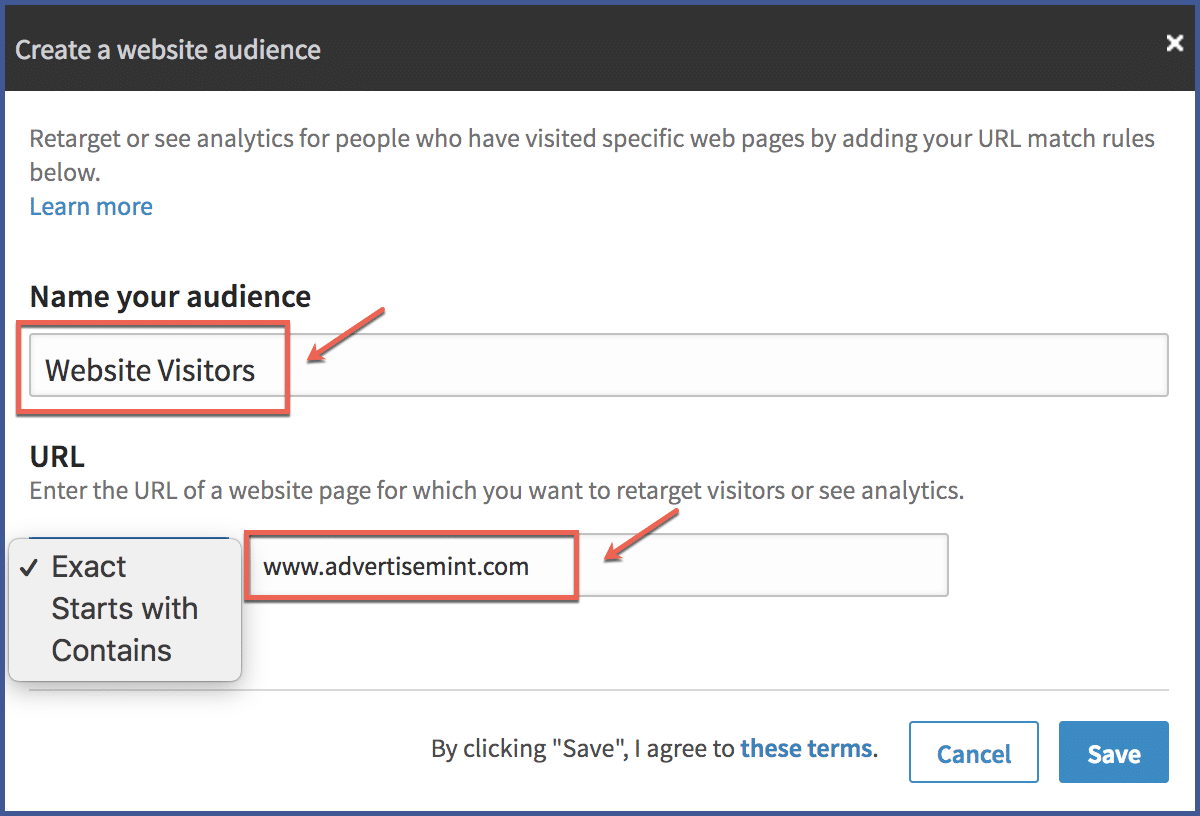 Step 5: Copy the pixel.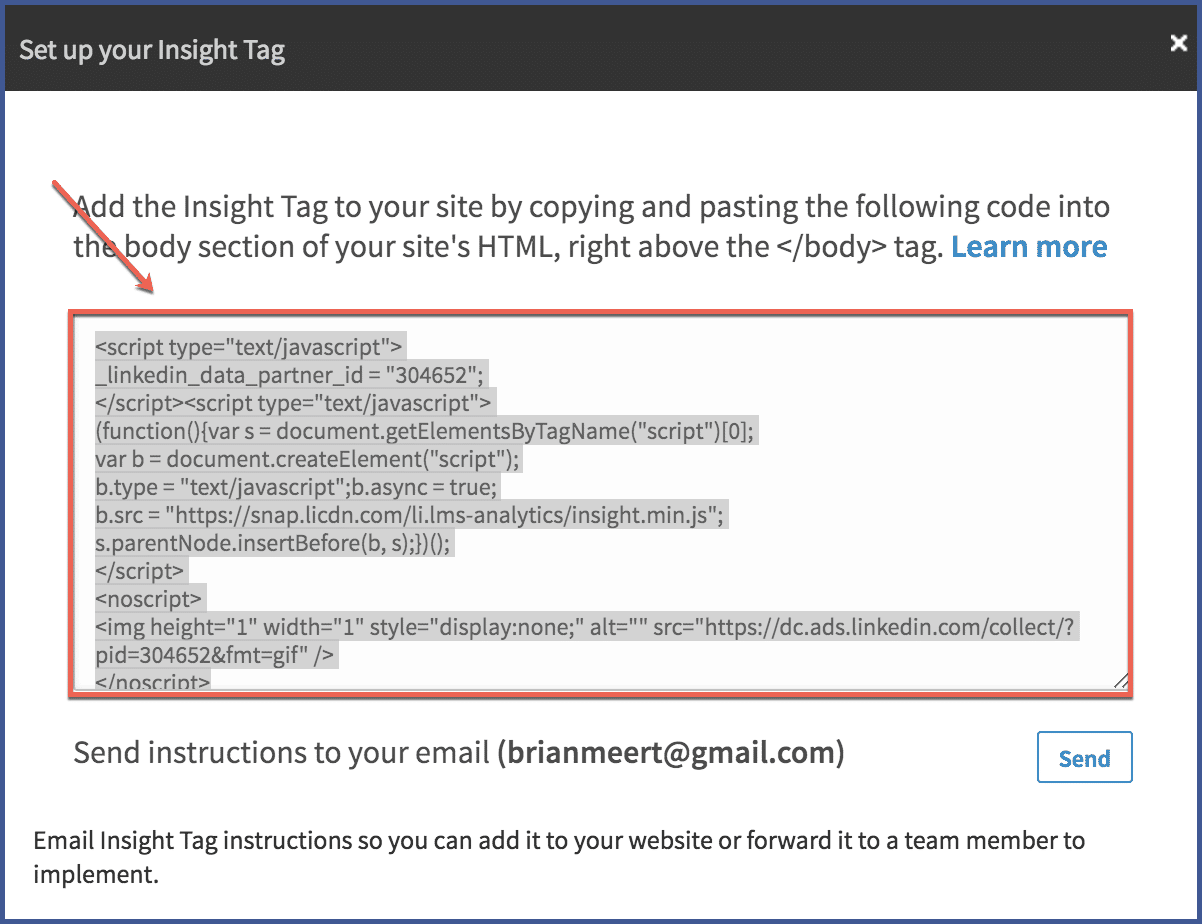 Step 6: Paste the pixel into the header and footer of your WordPress site.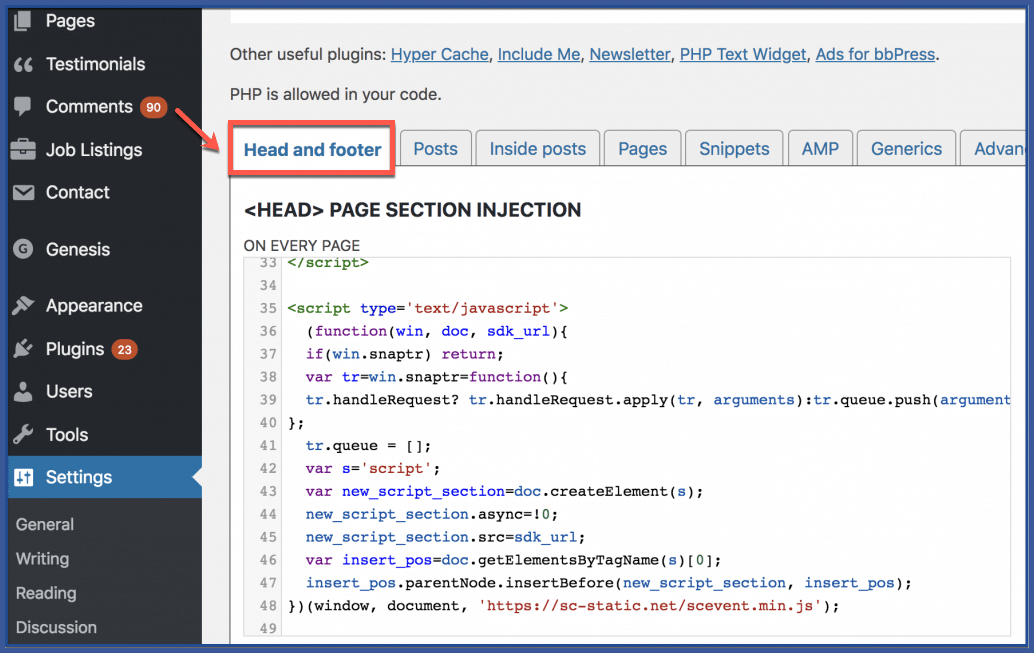 Configuring Events for Conversion Tracking
Conversion tracking amplifies the power of the LinkedIn Pixel, enabling you to track specific actions that matter most to your business. Imagine measuring the success of a product purchase, lead generation form, or newsletter sign-up.
With the LinkedIn Pixel, it's all within reach. By configuring events, you're not just collecting data; you're uncovering actionable insights that steer your marketing ship toward the shores of success.
Troubleshooting and Best Practices
If you encounter hiccups during installation, fear not – you're not alone. Common issues like tag firing discrepancies or data anomalies can be resolved with a dash of troubleshooting magic.
Double-check your code placement, ensure your tag manager is set up correctly, and don your detective hat to uncover any gremlins in the system. Remember, patience and persistence are your allies in the troubleshooting realm.
How to Utilize Pixel Data for Ad Campaigns?
Once your pixel is up and running, you can strategically retarget users who've shown interest in your offerings, tailoring ads to their specific preferences.
This personalized approach enhances engagement and boosts conversion rates. By segmenting audiences using pixel data, you ensure that your ad campaigns reach the targeted audience with the right message.
Moreover, delving into lookalike audiences expands your horizons, connecting you with a fresh pool of potential customers who mirror the behaviors of your engaged users. The data-backed insights from the LinkedIn Pixel empower you to refine your strategies, creating ad campaigns that resonate, drive results, and maximize your return on investment.
Facts about LinkedIn pixel
Businesses using the LinkedIn pixel observed a 20% increase in conversion rates from LinkedIn ads.

Business firms using the LinkedIn pixel saw an average of 30% increase in ROI from LinkedIn ads.

Linkedin has over 900 users worldwide.
Conclusion
By installing the LinkedIn Pixel, you've unlocked a realm of insights, conversions, and engagement that will propel your business forward.
From tracking user actions to optimizing ad campaigns, the LinkedIn Pixel is your compass, guiding you toward data-driven decisions and unprecedented success.
By seamlessly integrating this powerful tool into your website, you open doors to precision targeting, refined strategies, and enhanced engagement. The LinkedIn Pixel isn't just a code snippet; it's a beacon guiding you towards data-driven decisions that resonate with your audience and drive tangible results.
And that's all there is to it!
FAQs
 What is the LinkedIn Pixe?
The LinkedIn Pixel is a snippet of code provided by LinkedIn that you place on your website. It helps you track user interactions and gather valuable data to improve your LinkedIn ad campaigns. Installing the pixel enables you to optimize your advertising efforts and reach your target audience more effectively.
How does the LinkedIn Pixel work?
Once installed, the LinkedIn Pixel tracks user actions on your website, such as page views, sign-ups, or purchases. It collects anonymized data that provides insights into user behavior, allowing you to understand how people engage with your site and tailor your ads accordingly.
Is installing the LinkedIn Pixel a complex process?
The installation process is relatively straightforward, and you don't need to be a tech expert. LinkedIn provides step-by-step instructions for various methods, including manual installation and using tag managers. Even if you're not a coding whiz, you can follow the guides to set it up.
What advantages will the LinkedIn Pixel offer for my advertising campaigns?
Installing the LinkedIn Pixel unlocks several benefits, such as precise audience targeting, effective retargeting of website visitors, conversion tracking, and the ability to create custom audiences. These features enhance your ad campaigns' performance, leading to better results and a higher return on investment.
How can I make sure the LinkedIn Pixel is working correctly on my website?
LinkedIn offers tools to verify your pixel's functionality. You can use the LinkedIn Insight Tag Helper browser extension to see if the pixel fires correctly. Additionally, you can check your LinkedIn Campaign Manager to ensure that the pixel is tracking user interactions and providing accurate data for your ad campaigns.