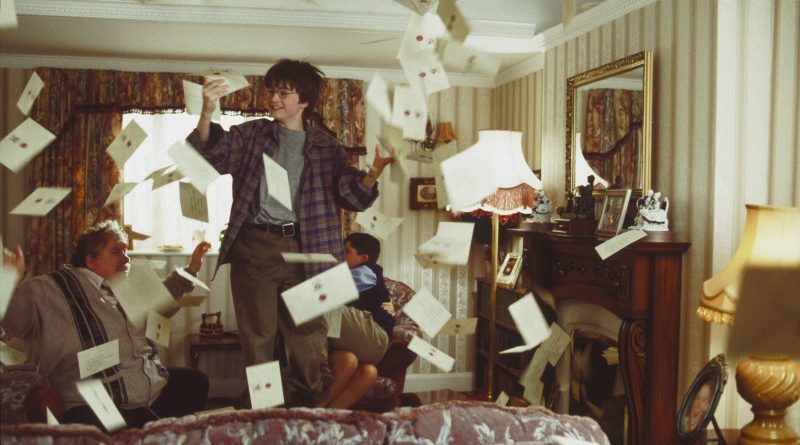 'Tis the season for holiday shopping, and as flustered customers scramble to buy the perfect gift for their loved ones, expect calls and messages to flood in with requests for support and general inquiries, may that be an inquiry about return policies, a request for store hours information, or a small complaint about a defective product.
The holiday season is the busiest time of the year, but don't let the thought of hectic calls and messages overwhelm you. I have a few tricks up my sleeve to share.
Assign a Dedicated Point Person
People often contact customer service to resolve a specific issue. For example, someone may call to initiate a return, ask about a missing package, or inquire about rewards programs. To better organize and expedite responses, assign a dedicated point person for each specific issue. For example, assign one customer service representative to resolve problems about returns and exchanges. Assign another one who will handle store information. This work delegation will keep your customer services organized.
Check in After First Contact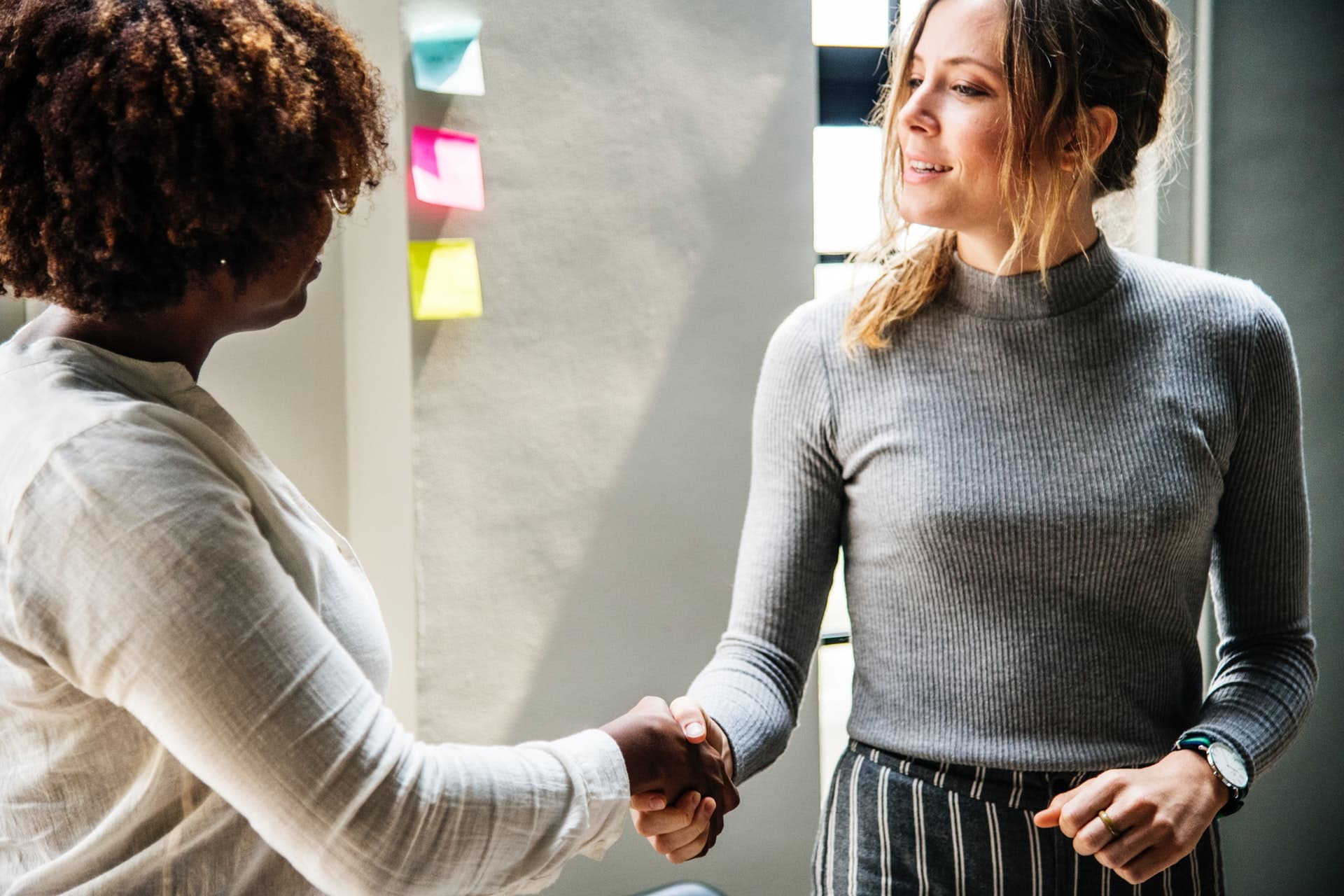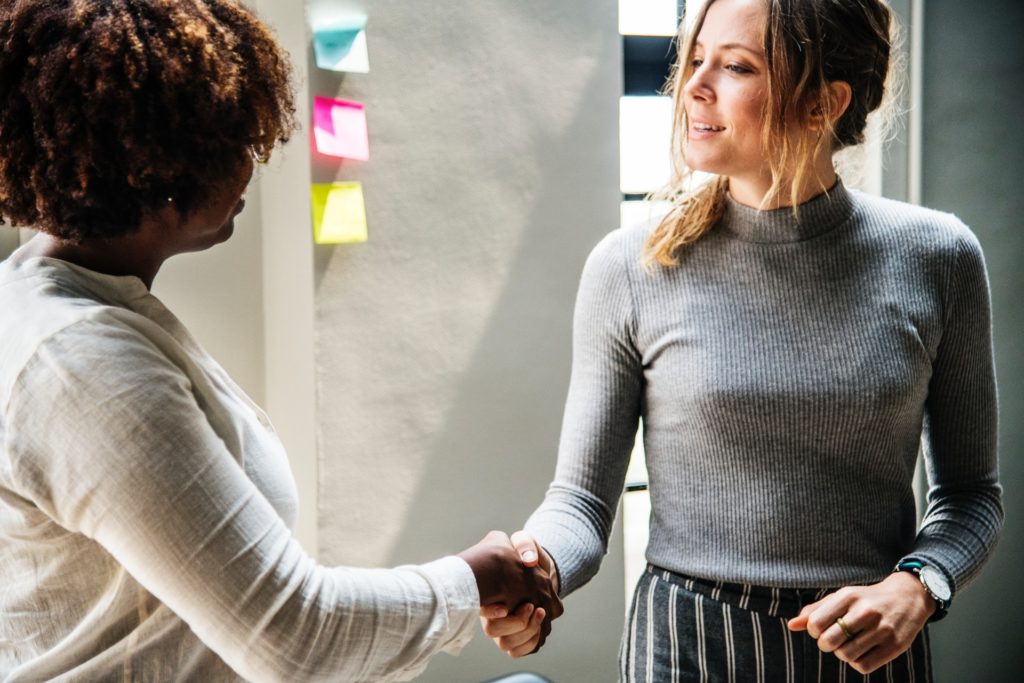 After you've answered all of your customers' queries, you may feel tempted to dust your hands off in self-satisfaction for a job well done. However, the job doesn't end there. In fact, it's important to follow up with your customer after the initial interaction.
Erika Ashley Couto, owner of Driven Damsel, suggests, in an article about customer service, making your customer feel valued.
"Send them a small gift card on their birthday…or a thoughtful gift that clearly was purchased for them specifically. Those small touches make the difference."
Of course, if your business operates in a larger scale, sending personalized gifts may be too time consuming. You can instead send a follow-up message to your customer, asking if there is anything else you can do.
Don't Dawdle
Don't ignore the flood of messages the way you ignore the dishes piling up in your kitchen sink. Although it is overwhelming to see unread messages pile in your inbox, you must respond to each message as quickly as possible to deliver satisfactory customer service.
People are impatient, studies show. In an experiment that measures attention spans, Computer Science Professor Ramesh Sitaraman at UMass Amherst examined the viewing habits of 6.7 million users and found that users abandon a video after the first two seconds. As technology provides people with instant gratification, such as same-day shipping and quick internet speeds, users become more and more impatient. If customers can't finish a video past two seconds, they won't wait days for your reply.
If you communicate with customers using Messenger, Facebook recommends that you respond within a few hours. If you don't, your untimely responses will be documented for all to see, as all Facebook pages disclose a business' response time. If your response time isn't up to par with customers' expectations, your business could be viewed as unreliable and unprofessional.


Enlist the Help of Chatbots
Of course, you're no superhuman being. You can't manage a flood of messages on your own. If you become overwhelmed, enlist the help of a chatbot. According to research by Gartner, organizations that use chatbots had reduced calls, chat, and email inquiries by 70 percent. They also had a 33 percent increase in customer satisfaction.
You don't need coding knowledge to create a chatbot because a few services, like ManyChat, help you easily create Messenger bots without the need to write code. If you're overwhelmed by the number of messages you receive each day, creating a chatbot with a bot-building service like ManyChat will relieve the boulder-sized burden you carry on your weary shoulders.
ManyChat is an automation tool that automates conversations for you, relying on keywords to respond to customers' messages. For example, if you created your chatbot to respond to the keywords "hello" or "help," the ManyChat bot will respond on behalf of your business, presenting  customers with options that could fulfill their queries.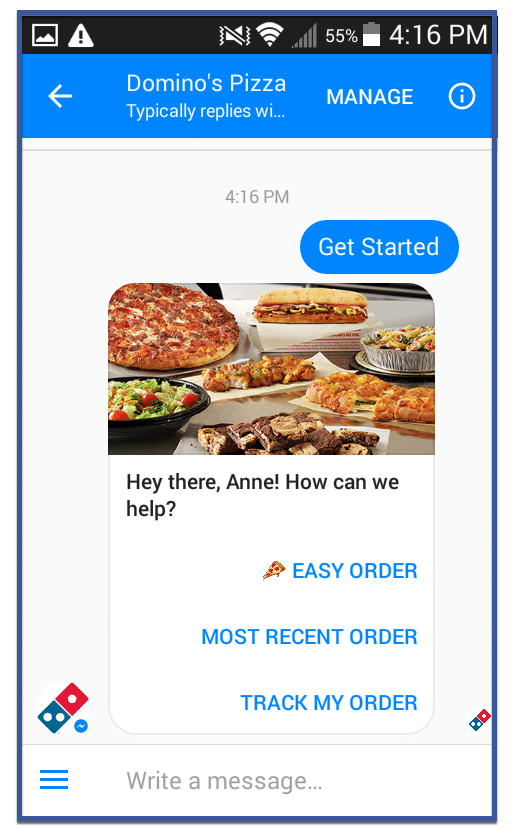 Examine the Domino's example above. After receiving the words "Get Started," Domino's chatbot responds with a menu of call-to-action buttons that may satisfy the customers' queries. Customers can click "Easy Order" to make a purchase, "Most Recent Order" to view order history, and "Track My Order" to see the progress of the order, all without the need to speak to customer service.
Treat Customers like Human Beings
People are intelligent creatures with complex thoughts and feelings. Like most complex and intelligent creatures, people want to be treated like human beings. Talk to them with the same amiable disposition as you would with a friend. Even if you become frustrated (let's say you're dealing with a difficult customer), respond politely and professionally, even when it hurts.
There are a few things you can do to make your messages sound more human and less robotic. You can call customers by their first names and sign your messages with your name to show you are a real person. If appropriate to your brand, add stickers and emojis to your messages to lend a personal aspect to your responses.
Be Organized
There's a way to make your conversations less overwhelming whenever you open Messenger—it's called organization. If you have a Facebook page, you can easily manage all of your messages from the Inbox tab of your page. You can create folders for read and unread messages, messages you replied to, ongoing conversations, and messages you have not yet replied to. If there's a particularly important message you want to easily spot, you can mark it with a star icon.

Once you organize your inbox, you won't have to spend time hunting down messages or worse, lose important conversations in your pile of unread conversations. When you have an organized inbox, you can also easily allocate tasks to your chat support team, if you have one. For example, if one person is in charge of responding to messages, that person can easily find all of his tasks under the "unread" folder. Similarly, if another is in charge of responding to important messages, that person can easily find important messages marked with a star.
Don't Let the Holiday Season Overwhelm You
As Thanksgiving, Black Friday, and Christmas quickly approach, customers will be scrambling to buy the perfect holiday gift. When they contact you for any reason, don't be overwhelmed. You have three new tricks up your sleeve to make this holiday season easier.