Split Audiences, a new feature currently rolling out to Power Editor, allows you to split your audience across ad sets, paving a new and easier way to test your ads. When you split your audience, you can target different age ranges and genders. For example, you can split your audience between men ages 30-60 and women ages 30-60. When splitting your audience, you must keep these three points in mind:
Facebook, by default, will create a new budget for each new ad set unless you uncheck this option
Splitting ad sets will duplicate the ads within those ad sets
Adjust your targeting in a way that doesn't overlap and compete with each other
This new feature may have rolled out for some and not for others. If yours hasn't rolled out yet, check for it another time.
If you want to learn how to use the new Split Audiences feature, follow the four steps listed below.
Step 1: Click "Split Audience"
Click the expand button for the Duplicate dropdown menu then click "Split Audience."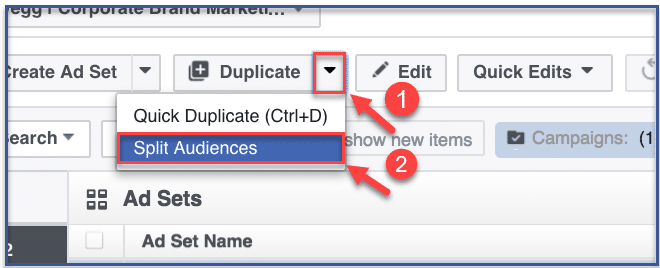 Step 2: Click "Add an add set"
Click "Add an add set" to create an additional add set.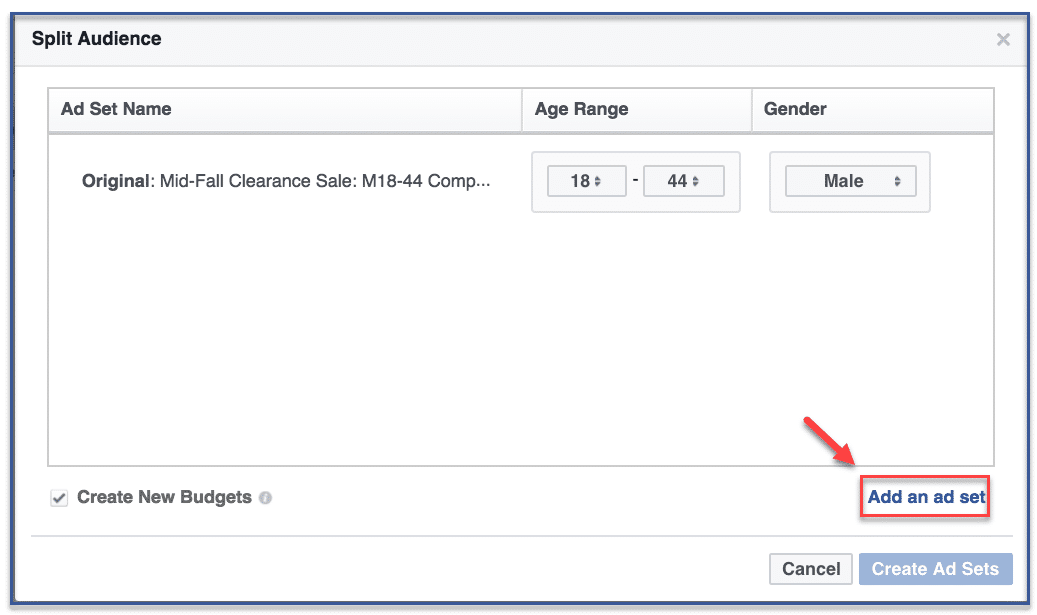 Step 3: Split Your Audience
When you add a new ad set, split your audience by adjusting the target age and gender. Make sure your targeting does not overlap and compete with each other.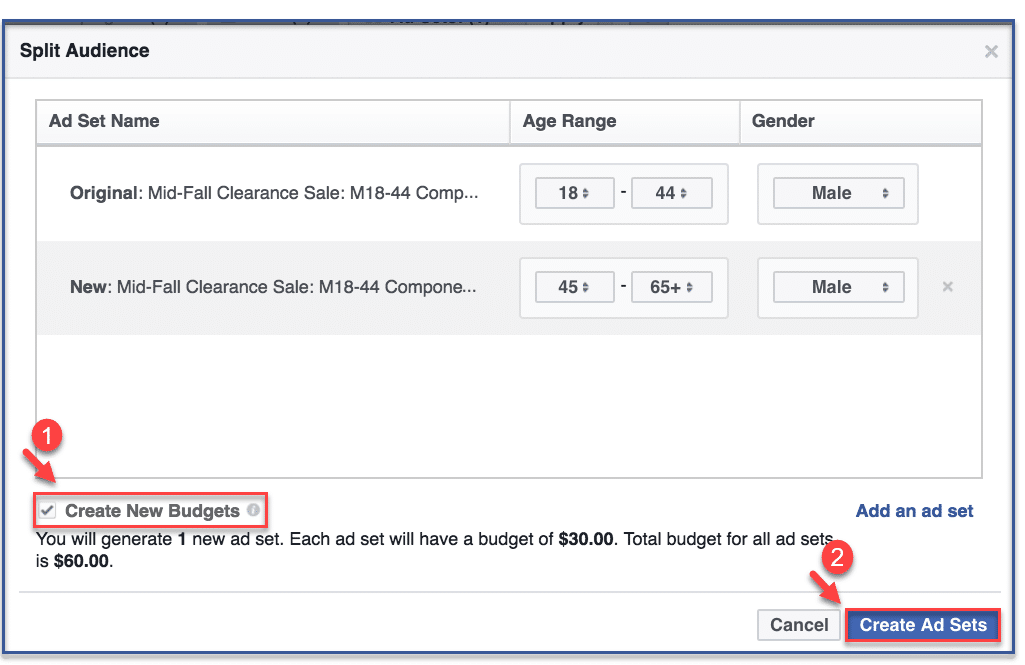 Note: As indicated by arrow 1, Facebook automatically checks "Create New Budgets" for you. This means your budget will duplicate according to the amount of duplicate ad sets you create. For example, if your budget for the original ad set was $20, if you create one new ad set, your budget will increase to $40 ( 1 $20 ad set + 1 $20 ad set=$40). If you want to split your original budget among ad sets, uncheck this box. Thus, your $20 budget will be split by two ad sets, equaling to $10 per ad set.
Step 4: You're done!
Your duplicate ad set with its split audience should appear here.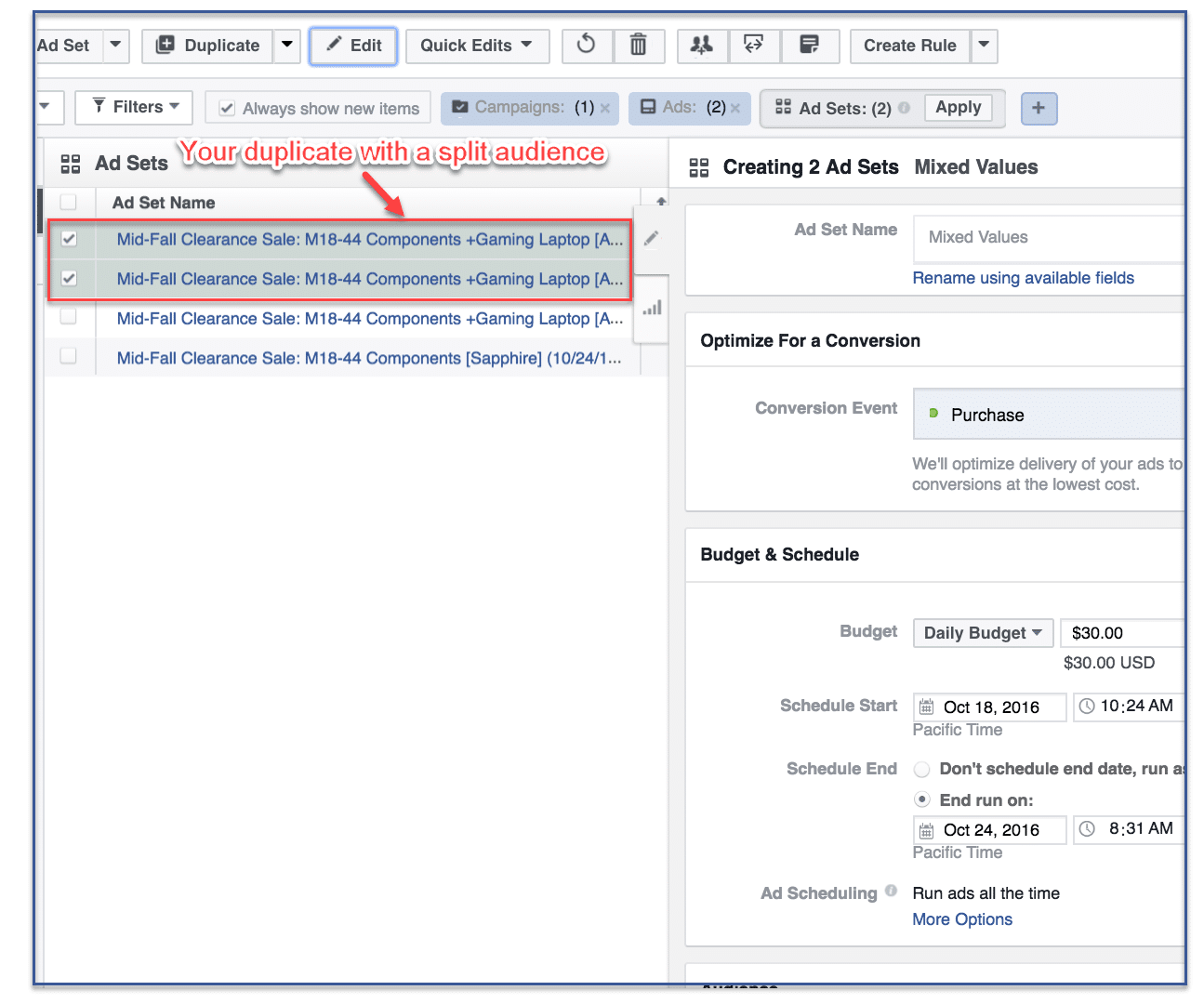 Why split your Custom Audience across ad sets? 
Splitting your Custom Audience across ad sets is a good strategy to enhance the effectiveness of your Facebook advertising efforts.
It allows you to divide your audience into distinct segments based on various factors like demographics, interests, and behaviors. This segmentation enables you to deliver tailored messages and ad content to each group, increasing the relevance of your ads.
Consequently, you'll likely see improved engagement, higher click-through rates, and better overall ad performance. By reaching different segments with messages that resonate with their specific preferences and needs, you can maximize the impact of your advertising, ultimately leading to more successful campaigns and better results.
Types of Segmentations in Split Audience Feature.
There are three types of segments in the split audience feature:
Lookalike Audience:

 This segment is a great way to reach new people who are likely to be interested in your business. It's important to note that lookalike audiences are not an exact match to your custom audience. They will include some people who are not similar to your custom audience and may not include all of the people who are similar to your custom audience.

Similar Audience:

 This segment is a good option if you're looking to reach people who have already visited your website but haven't taken any other action. This segment can help you re-engage with these people and encourage them to take the next step, such as liking your Facebook Page or signing up for your email list.

Custom Audience:

 This segment is a good option if you're looking to reach people who have interacted with your business in a specific way. For example, you could create a custom audience of people who have visited your website in the past month or those who have purchased from your website.
Pro Tips for Splitting Your Custom Audience.
Clearly Define Audience Segments
Before you split your custom audience, clearly understand the distinct segments within your audience. Consider factors like demographics, interests, behaviors, and engagement levels to create meaningful segments.
Start with Broad Categories
 Begin by dividing your audience into broad categories that align with your campaign objectives. For example, you might separate your audience into age groups, gender, or geographic locations.
Apply Layered Targeting
Combine multiple targeting options to refine your segments further. For instance, you can target users who are interested in specific topics and live in a particular location.
Consider the Buyer's Journey
Think about where your audience is in their customer journey. Segmenting based on awareness, consideration, and conversion stages allows you to deliver appropriate messages.
Allocate Budget Strategically
Allocate your budget based on the potential of each segment. High-value segments or those closer to conversion may receive a larger budget share.
Final Thoughts
Splitting your Facebook custom audience into different ad sets is a valuable tool for being precise and effective. This method empowers you to connect with your audience on a deeper level by sending messages that match their unique interests.
By dividing your audience into clear groups, you're not just making your campaigns work better; you're also creating real engagement, boosting sales, and making your business grow. Whether you're new to this or have experience, remember that successful ad splitting begins with understanding your audience and creating meaningful messages.
FAQs
Why should I split my Facebook custom audience into ad sets? 
By dividing your custom audience into ad sets, you can focus on specific groups and deliver personalized messages. This approach increases engagement, improves conversions, and more successful campaigns.
What criteria can I use to segment my custom audience? You can segment your custom audience based on various criteria like demographics (age, gender, location), interests, behaviors, customer journey stage, and even engagement levels with your content or website.
How many ad sets should I create from a single custom audience? The number of ad sets depends on your campaign goals and the complexity of your audience segmentation. It's better to start with a few well-defined segments to avoid overcomplicating your strategy.
Can I change the segments in my ad sets after the campaign starts? Yes, you can adjust your ad sets and segments during the campaign based on performance data. Facebook's Ads Manager allows you to make changes to targeting parameters while your campaign is running.
Do I need to create separate creatives for each ad set? While it's recommended to tailor your ad creatives to each segment, you don't necessarily need to create entirely separate ads for each ad set. You can modify headlines, copy, and visuals to match the preferences of each segment.
Now that you've learned how to split your audience in Power Editor, try it out then comment below on your experience. Was it hard or easy to do? Did you face any challenges?
If you found this article valuable and helpful, please comment below or share to friends.