Split Audiences, a new feature currently rolling out to Power Editor, allows you to split your audience across ad sets, paving a new and easier way to test your ads. When you split your audience, you can target different age ranges and genders. For example, you can split your audience between men ages 30-60 and women ages 30-60. When splitting your audience, you must keep these three points in mind:
Facebook, by default, will create a new budget for each new ad set unless you uncheck this option
Splitting ad sets will duplicate the ads within those ad sets
Adjust your targeting in a way that doesn't overlap and compete with each other
This new feature may have rolled out for some and not for others. If yours hasn't rolled out yet, check for it another time.
If you want to learn how to use the new Split Audiences feature, follow the four steps listed below.
Step 1: Click "Split Audience"
Click the expand button for the Duplicate dropdown menu then click "Split Audience."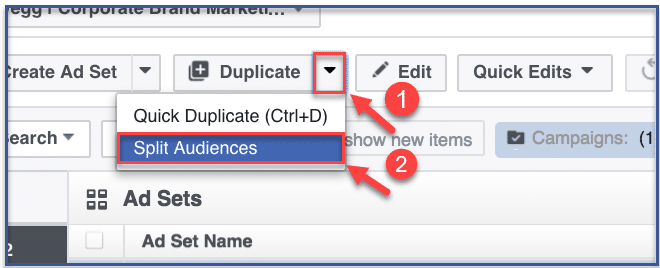 Step 2: Click "Add an add set"
Click "Add an add set" to create an additional add set.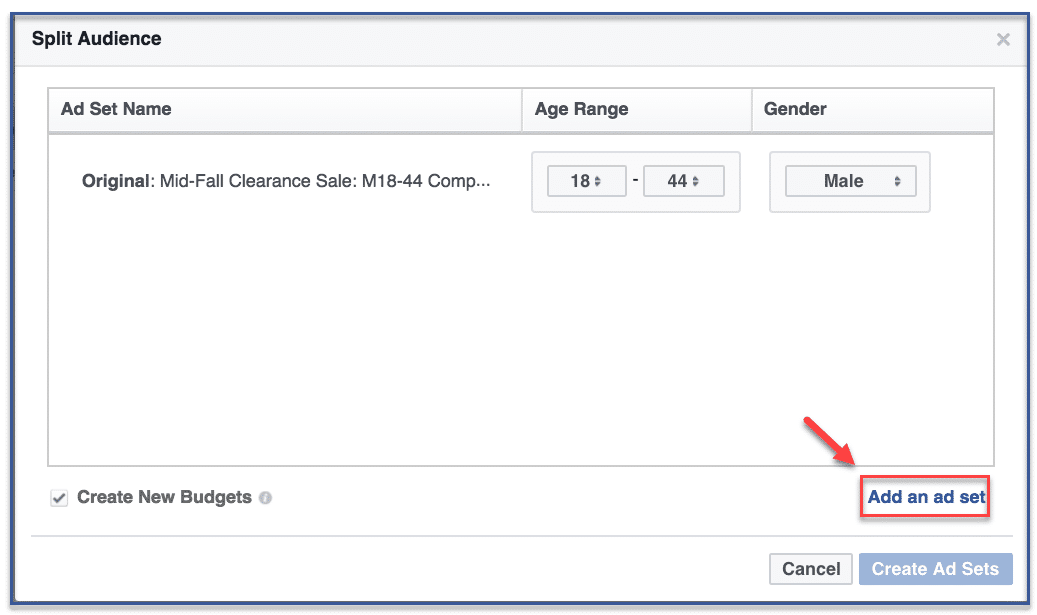 Step 3: Split Your Audience
When you add a new ad set, split your audience by adjusting the target age and gender. Make sure your targeting does not overlap and compete with each other.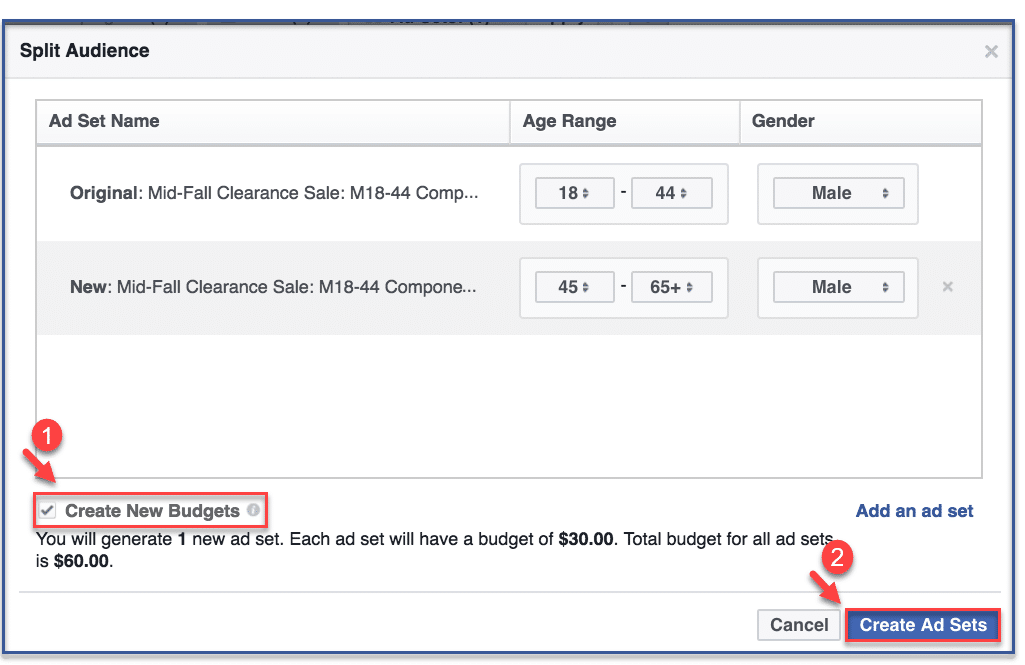 Note: As indicated by arrow 1, Facebook automatically checks "Create New Budgets" for you. This means your budget will duplicate according to the amount of duplicate ad sets you create. For example, if your budget for the original ad set was $20, if you create one new ad set, your budget will increase to $40 ( 1 $20 ad set + 1 $20 ad set=$40). If you want to split your original budget among ad sets, uncheck this box. Thus, your $20 budget will be split by two ad sets, equaling to $10 per ad set.
Step 4: You're done!
Your duplicate ad set with its split audience should appear here.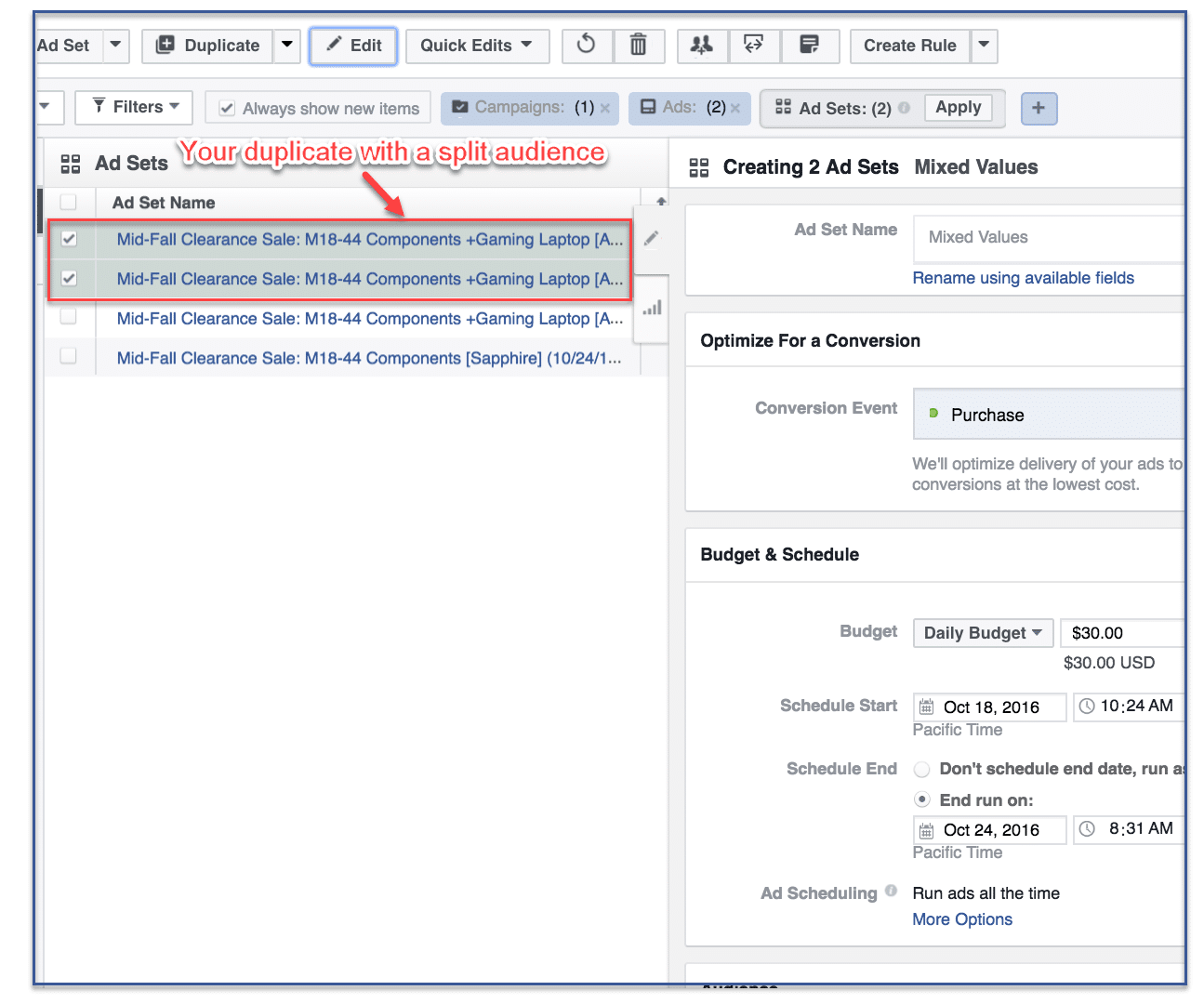 Now that you've learned how to split your audience in Power Editor, try it out then comment below on your experience. Was it hard or easy to do? Did you face any challenges?
If you found this article valuable and helpful, please comment below or share to friends.
Comments
comments