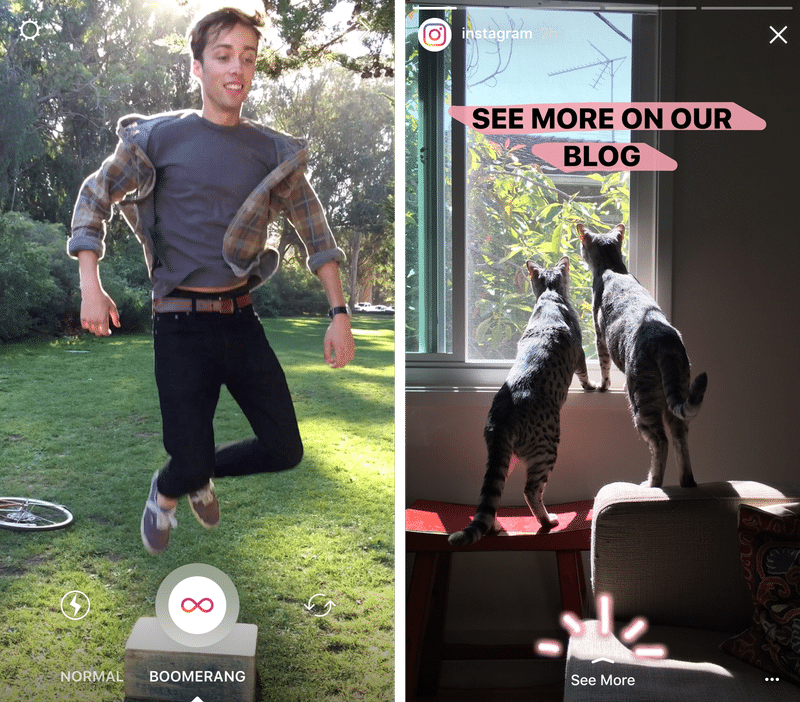 Instagram Stories now features links, mentions, and a version of Boomerang, features that further differentiate the brand friendly Stories from its rival, Snapchat, by helping users discover other accounts.
With Stories' new link feature, which is only currently available to verified users, users can attach hyperlinks to individual Instagram stories. Links are indicated by the words "see more" on the bottom of the story. Users can tap the link or swipe up to access the information, which will load within Instagram's in-app browser. Links within Stories prevent users from leaving the app.
Nathan Sharp, Instagram's product manager, told The Verge that the company added links to stories in response to the large number of brands using the feature to promote content. "It was a question of trying to keep this seamless, linear narrative experience," Sharp said.
Although Sharp mentioned that the links feature is only available to verified users, he has not confirmed whether it will soon be available to all Instagram users. Nonetheless, all Instagram users can take advantage of the app's other tool, mentions.
To mention other accounts on Stories, users need only type the "@" symbol, bringing up a list of frequent contacts. Doing so automatically tags the user, a process similar to tagging someone in an Instagram photo. Instagram will notify the tagged user via direct message.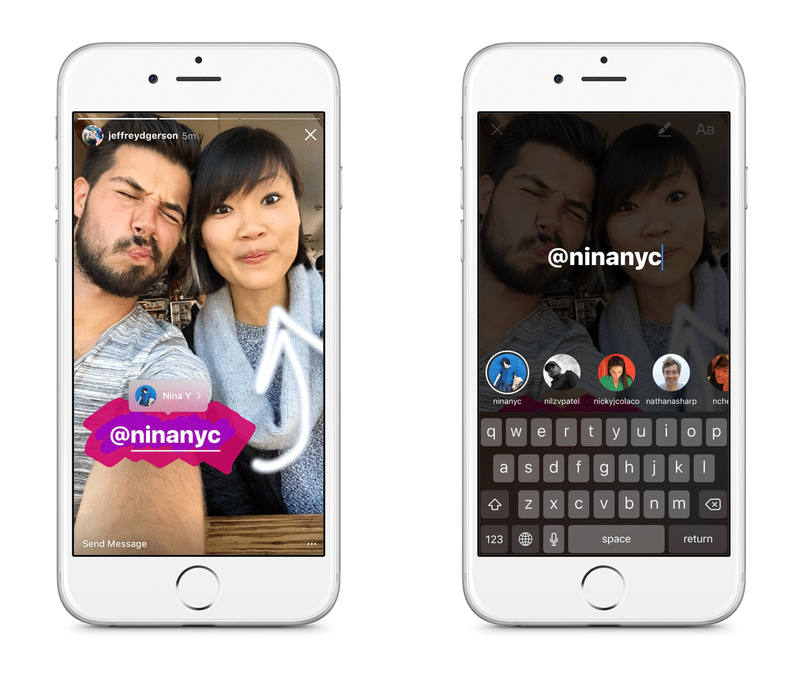 Mentioned accounts will appear with an underline to indicate that they're tappable. However, underlines only appear under account names that are moderately sized. If an account name is too long or too short, the underline will disappear. Regardless of the appearance of an underline, all mentions are tappable. To preview the profile, users must tap the name once. To visit the profile, users must tap twice.
Another new Instagram feature that all users can take advantage of is its inline version of Boomerang, Instagram's standalone app for making looping videos. Boomerang is a tool now available to Instagram users regardless of whether or not they have installed the app on their phone.
With Boomerang, users can tap it to create a looping burst of up to five photos, which will endlessly play and rewind. Much like the standalone app, Stories with Boomerangs can be shorter than 1.5 seconds. Boomerang allows users to reverse the camera mid-shot and zoom in on a subject while recording in a new media format called zoomerang.
With Stories' ability to include links and mentions and to create looping videos with Boomerang, Stories offers users a chance to highlight a person or a brand. This is great news for Instagram stars and advertisers, who can use these new capabilities to promote their name and their product.
What do you think of Instagram's new features? Comment below or share this story to friends. 
Comments
comments