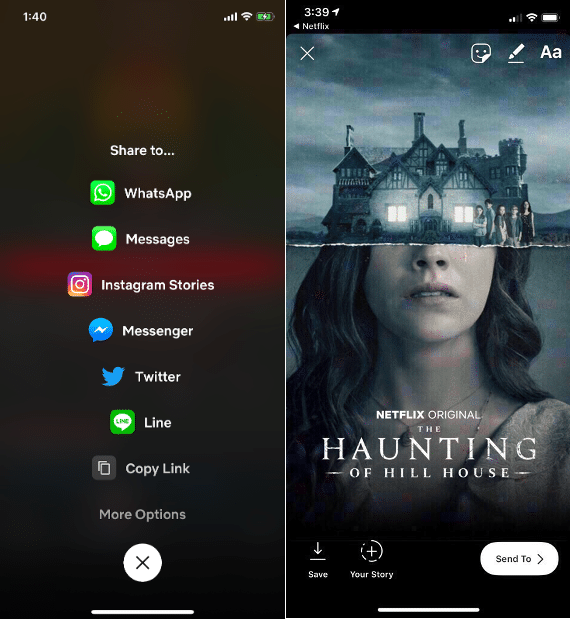 After watching Netflix's interactive, choose-your-own-adventure movie, Bandersnatch, I quickly went to Facebook and wrote a raving review, praising the movie for its innovation. When movie fans like me see a beloved movie, we flock to social media to breathlessly declare our praises. It seems Instagram recognizes this habit given its partnership with Netflix.
According to Variety, Netflix integrated with Instagram to allow iOS (and soon Android) users to share their favorite movies and shows to Instagram Stories. If users are particularly pleased with a title that they saw, they can easily click the title and choose the "Share to…Instagram Stories" option. If compelled, users can add text, stickers, and gifs to the default art. Users can either send their recommended title to their Stories or to specific friends from Direct.
This partnership not only helps movie fans gush about their favorite films, but it also helps Netflix drive more traffic to its app and increase views, especially when people on Instagram are already open to Netflix recommendations. (I've numerous times seen friends ask for recommendations on Stories.)
Instagram is just one out of several partnerships Netflix made in May of last year. The movie-streaming company also partnered with Spotify and Soundcloud, and I can't wait to see what those partnerships will come up with.