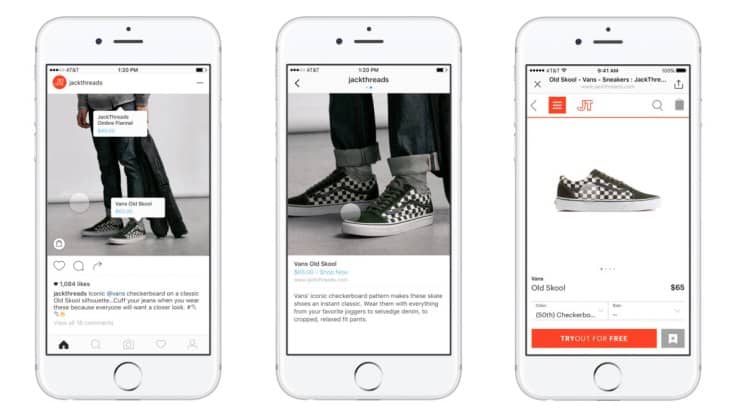 Today, Instagram tests shoppable tags on Instagram photos, tags that allow users to shop without having to open a new web browser. These shoppable tags, which are only available in iOS in the U.S., hide behind a subtle"Tag to view products" button. When users tap this button, they will see an in-app product page that includes the product's price, description, additional photos, and a "Shop Now" button. If users want to buy the product, they can do so through the app. Otherwise, they can close the page and continue scrolling through their feed.
This new advertising design stems from celebrities' promotional behavior of tagging brands they are using from their sponsors. Additionally, it is also inspired by Instagram users' shopping behavior. According to a study by Instagram, 60% of users learn about products and services on the app while 70% of users take action after being influenced by a post on Instagram.
James Quarles, Instagram's VP of monetization, says that most Instagram shoppers complain that "[They] want to learn more, but it's very hard to go do a web search from another app. The product details are hard to find." However, thanks to Instagram's new shoppable tags, the Instagram shopping experience is easier and less intrusive.
In the future, Instagram aims to add a "Save" feature that bookmarks product posts, allowing users to return to their products should they choose to purchase later. It also aims to expand to video, photo carousels, other countries and brands. Currently, brands allowed to participate in this test launch includes Abercombie&Fitch, BaubleBar, Coach, Hollister, JackThreads, J.Crew, Kate Spade, Levi's Brand, Lulus, Macy's, Michael Kors, MVMT Watches, Tory Burch, Warby Parker, and Shopbop.
Eventually, if Instagram's shoppable tags become a success and officially roll out to iOS, smaller brands will be able to use this feature. Although Instagram will not take a percentage out of the brand's sales, it will charge brands for serving ads to users who do not follow them.
What do you think of Instagram's shoppable tags? Leave your comments below or share to friends. 
Comments
comments