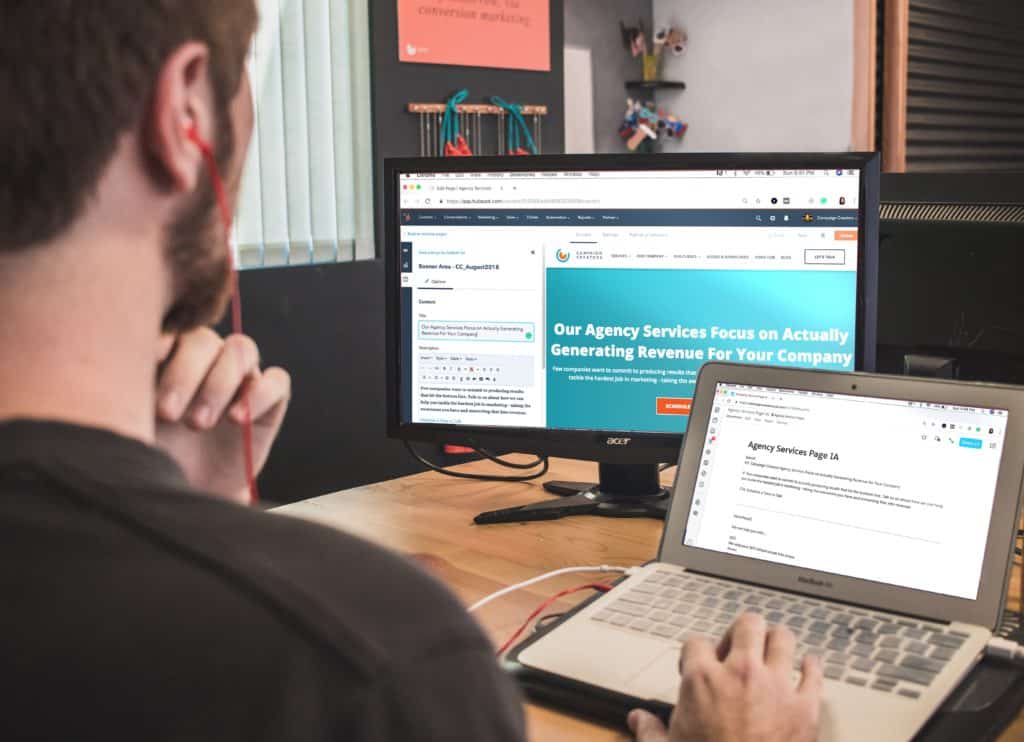 Campaign Creators / Unsplash
Social media is now a significant part of people's lives. According to Emarsys, there are 3.5 billion social media users, or about 45 percent of the entire global population. Review42 reported that people spend an average of three hours per day on social media networks. 
It's no wonder, then, that businesses are using social media to reach their target audiences. This also means that more and more companies are making use of social media landing pages. 
This article explains the purpose of social media landing pages and the ways to create a great one.
Social Media Landing Pages Defined
A social media landing page is a specific web page where you send people after they've clicked on a link you've shared on a social media post. Landing pages can be used for both paid and organic social media marketing campaigns. 
Why not just send someone to your website's home page? A phenomenon known as choice overload states that when consumers are overwhelmed with too many options, they often end up taking no action at all. This can easily happen if you send them to your home page. 
Landing pages are designed to prompt specific actions. If you send visitors to a landing page as opposed to your home page, there's a much better chance they'll take the action you want them to take. That action might be giving you their email addresses, signing up for a free trial, registering for a webinar, or even making a purchase. 
Now that you know the purpose of a social media landing page and why you need one, how do you create it? 
Tips For Creating a Social Media Landing Page
Social media landing pages are not particularly difficult to create. You can use landing page software to build one yourself without any coding knowledge required. If you'd rather outsource the work, you can ask your web designer to do it for you.  
This section contains the steps you need to take to create a brilliant landing page. Let's get started! 
1. Determine the goal of your social media landing page.
Before you can start, you need to be clear on what you want to accomplish. In other words, what is your goal? This must be specific and clearly defined if you want to achieve it. 
Here are only some of the things you might want your social media landing page to do:
Increase brand awareness

. This might involve directing site visitors to your blog posts or sharing a piece of news such as a new release. 

Increase subscribers to your email list.

Once you have someone's email address, you can market to them. You can offer a lead magnet, such as a discount, coupon, or access to a downloadable resource to increase the number of people who will sign up. You can use an

email finder

to validate the email addresses you receive, reducing your bounce rate and keeping your deliverability score high. 

Sell a product or service.

Businesses usually first warm leads before trying to make them purchase a product or service. However, in some cases, landing pages are designed to inspire an immediate purchase. 

Get visitors to try out your product or service.

You can offer a demo or a free trial to show new prospects the benefit of your product or service. 

Get visitors to sign up for an event. If you're holding a virtual event such as a webinar or online conference, you can use your social media landing page as your registration page. 
It's best to have just one goal for each page. Mixed messaging will only confuse your audience, leading to choice paralysis. Once you've determined your goal, you can design your social media landing page around that.
2. Make sure your landing page mirrors your social media content.
Coherence in branding and messaging is essential. Therefore, ensure that the content and tone of your social media posts are reflected on your landing page. Use the same or similar color scheme, font, images, and language. This is important because you want to maintain a good customer experience.
Your call to action in your social media ad or post should also be the same as the CTA on your landing page.  Check out these examples from BigCommerce: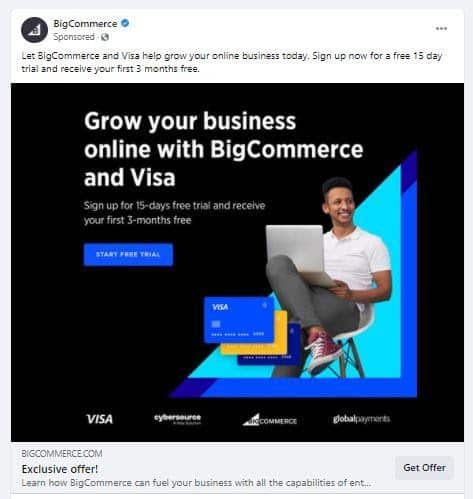 BigCommerce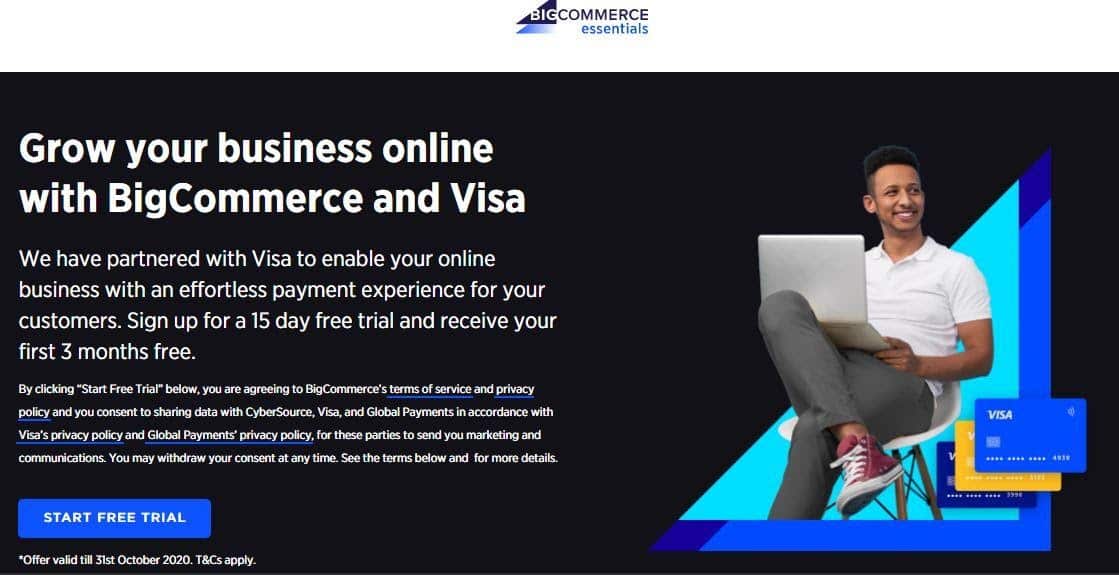 BigCommerce
Notice that both use the CTA "start free trial." 
Consistent messaging is key to getting your visitors to take your desired action. If your messaging and branding are consistent, you provide that seamless customer journey from the social media post to the landing page and beyond. 
3. Include a clear call to action.
Your call to action, or CTA, is where you tell visitors what to do. It must be clear and concise. If your final instruction on your social media landing page is unclear or hard to follow (or worse, completely absent), your visitors will simply leave your page and not come back. 
Your CTA should have the following characteristics: 
It should be action-oriented. Use action words such as "click," "get," "stay" and "join."

It should stand out. To make your CTA stand out, use a bigger font or a different color. 

It should be prominently located. Don't hide your CTA. Make sure it's one of the first things visitors see when they arrive on your landing page. 
Check out this example from Snickers: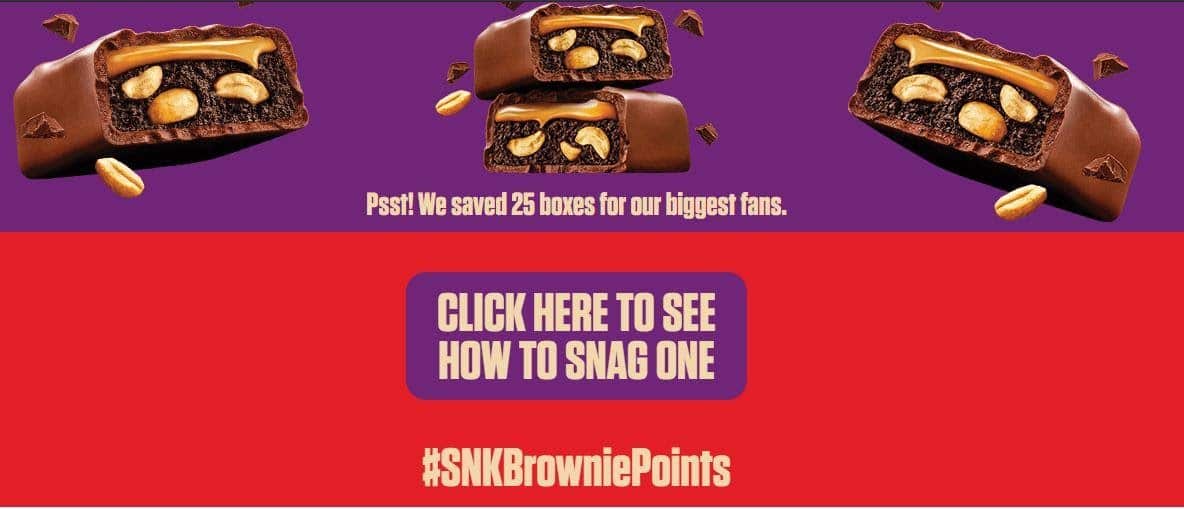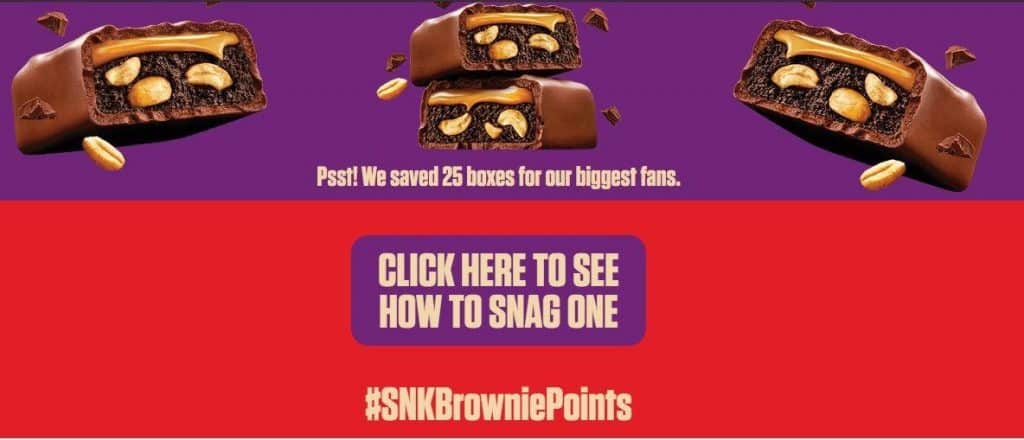 Snickers / Twitter
The CTA uses a clear and simple instruction. It is also right in the middle of the page, in a bigger font, and in a bright color that contrasts with the red background. In other words, it's very hard to miss. 
4. Add eye-catching visuals.
Humans are visual creatures. The brain processes visual information 60,000 times faster than purely written information. In marketing, images grab and hold consumers' attention, and holding someone's attention gives you the best chance of converting them. 
Visuals on your landing page can increase conversions by a whopping 80 percent. This is because visitors will stay on the page for longer, making them more likely to take the desired action. Therefore, make sure you utilize images such as photographs or infographics. You can also use video content for an even high conversion rate. 
Here's an example from Designrr, a software that helps users create ebooks: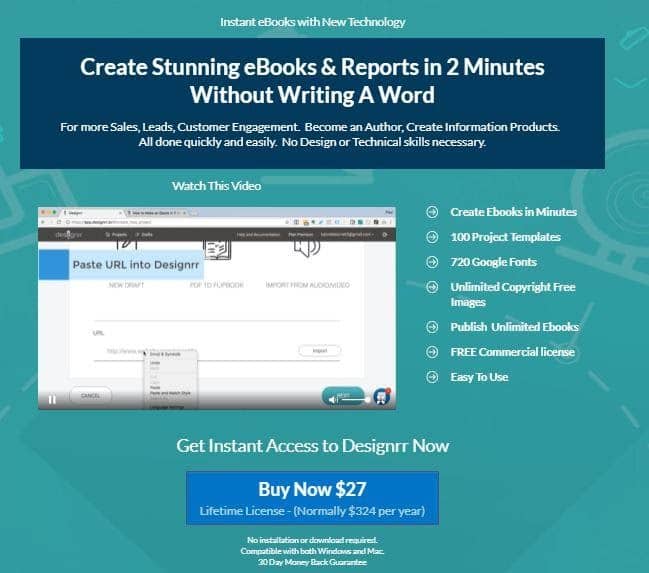 Designrr
This landing page includes a video demo of the company's product. That video supports Designrr's goal of getting visitors to purchase the heavily discounted lifetime product license. 
Of course, the video and visuals you use must be directly relevant to your offer and your CTA. 
5. Leverage testimonials.
It's always a good idea to include customer reviews on your social media landing page. Testimonials serve as a kind of social proof. If your visitors see that your customers believe in your product, they will be more likely to want it as well. Social proof is the best way to convince website visitors to trust you when they are unfamiliar with your company or product. 
Here's an example from Elementor, a page builder tool. This is where visitors are directed when they click on Elementor's Facebook ad: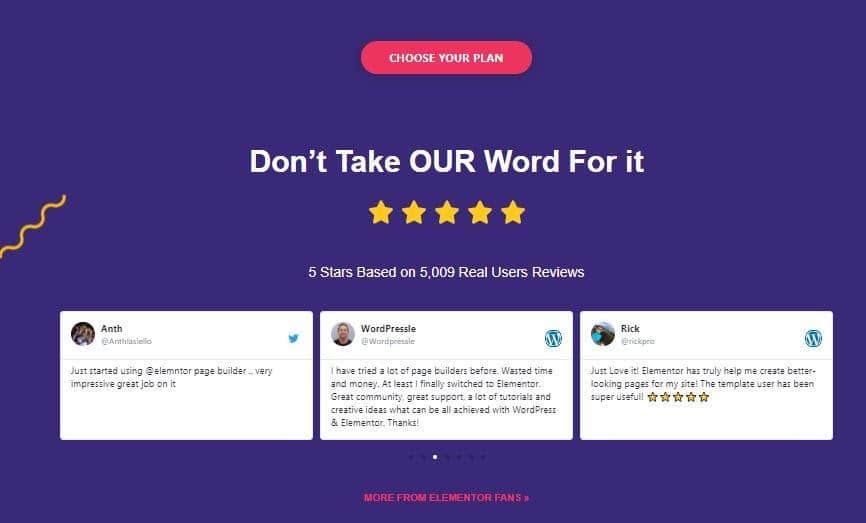 Elementor
Right after its CTA "Choose your plan," Elementor includes testimonials from previous clients. This helps visitors see that it's a high-quality product from a trustworthy company. Using a picture of each person who has given a testimonial also makes them more credible. 
Make sure you include positive customer reviews or testimonials on your landing page. This gives your website visitors reason to believe your product or service is as great as you say it is. For maximum results, locate the testimonials very close to your CTA button. 
6. Keep it simple.
Aim for a simple social media landing page. A site that is too busy or has too many elements looks untidy and makes it more likely that visitors will get distracted. 
Therefore, use short snippets of text and just the right amount of supporting visuals. Look at every element with a critical eye. Does it add to the page and make it more likely to achieve its purpose? If not, get rid of it. 
Here's an example from BambooHR: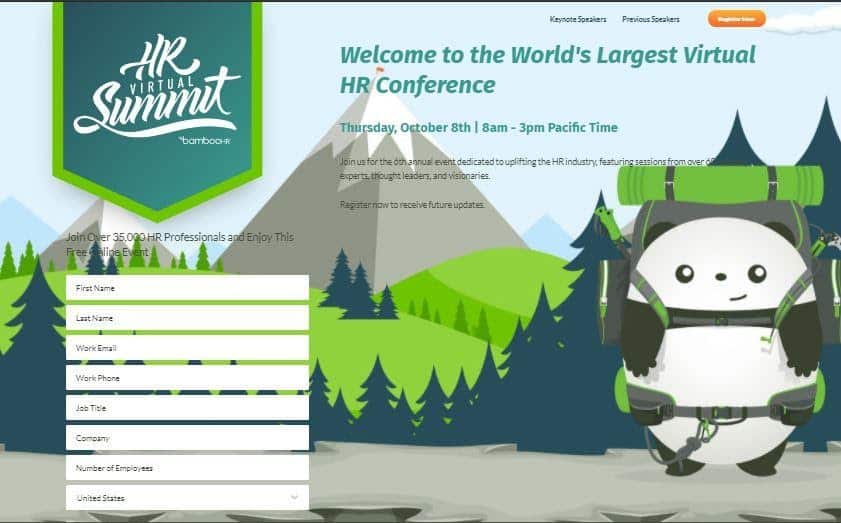 BambooHR / Twitter
This is the landing page customers see after clicking a promotional Tweet. Its goal is to get visitors to sign up for a virtual event. All the elements are aligned with that goal and strongly tied to the company's brand. The page is visually engaging and appealing and well laid out, containing only the most essential information. 
Wrapping Up
If you're doing social media marketing, landing pages are a critical aspect of a successful campaign. Getting people to click on your ad is only half the battle. The right social media landing page can help you drive visitors to take your desired action, bringing you closer to achieving your goals. 
It's not too hard to create a great social media landing page as long as you follow a few basic best-practice tips. It might take a bit of trial and error, but you'll soon master it. 
Hopefully this guide will help you as you. Good luck with your campaign!