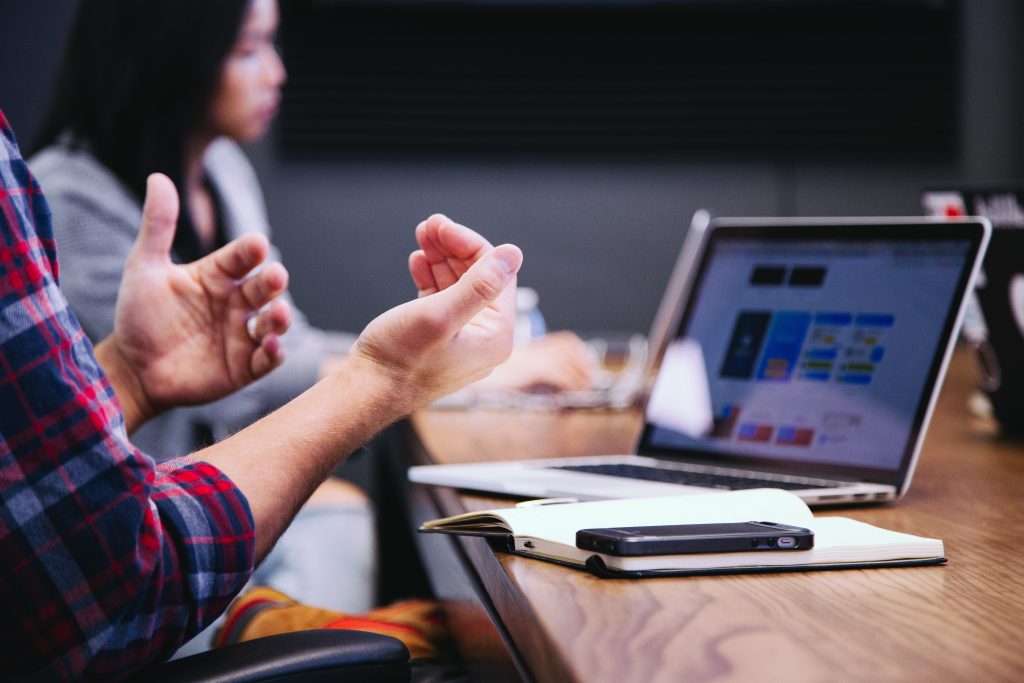 How effective is Facebook advertising? Very effective, at least according to a few stats. As of Q2 2018, there are 80 million small- and medium-sized Facebook business pages, a 23-percent increase from last year. Six million of those businesses regularly advertise on Facebook.
The increasing number of advertisers flocking to Facebook can be attributed to the social media company's ability to bring more customers to businesses. In fact, almost 80 percent of American consumers say they've both discovered and purchased products through Facebook ads, a substantially higher percentage than Pinterest or Instagram. Of course, those numbers reflect average marketing performance. Some businesses that put any advertisement on Facebook don't do this well—others do substantially better.
The difference has less to do with these companies' total ad spend than with execution. Said differently, the businesses that have the most success are those that effectively leverage Facebook's marketing tools, strategically segment their target audience, use customized landing pages in conjunction with Facebook ads, learn the nuances of ad bidding and budgeting, and make the most of the social media giant's visual potential.
What Facebook Advertising Strategies Are Best for Your Business?
First and foremost, make sure your business qualifies for Facebook advertising by checking the list of prohibited items to sell on Facebook. Businesses currently advertising on Facebook or contemplating doing so often wonder which strategies would do well for them. Certainly, the most successful campaigns are those that are built on careful planning and grounded in clearly defined, realistic, and measurable marketing objectives. They also precisely target audiences and effectively leverage Facebook's advertising tools. That said, some Facebook advertising strategies are more effective than others, including the following nine.
1. Get Your Target Audience Right
Targeting the right audience is marketing 101, and with that beginner course comes the usual recommendation to segment your audience, create buyer personas, and ensure your campaign reflects your entire sales funnel, not just the top. Facebook offers unique opportunities based on the granularity of its user data to define your target audience with a much greater degree of precision. In fact, audience targeting options are one of the many benefits of Facebook ads compared to other platforms.
There are several ways you can improve your ad campaigns using Facebook's ad targeting tools. One way is to effectively incorporate key data parameters. For example, you can clearly define the location, age, interests, and detailed demographic data of your target audience.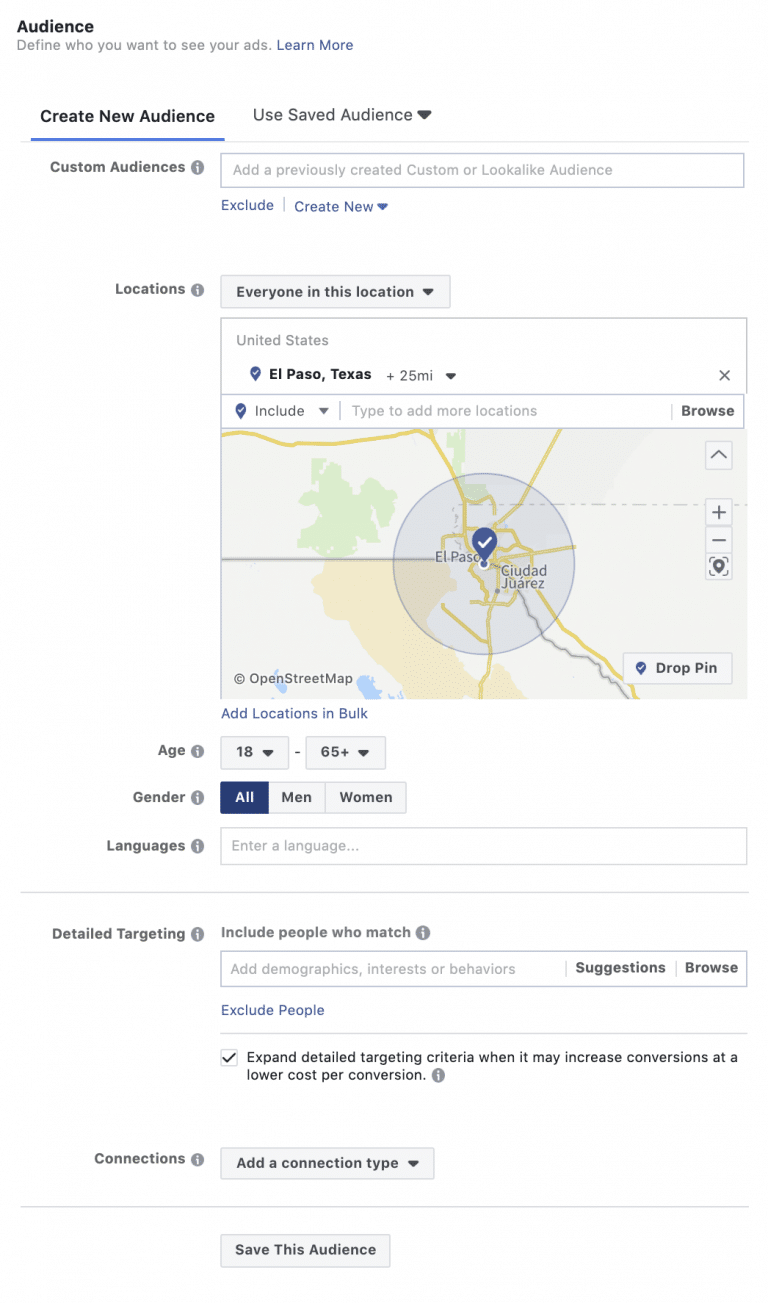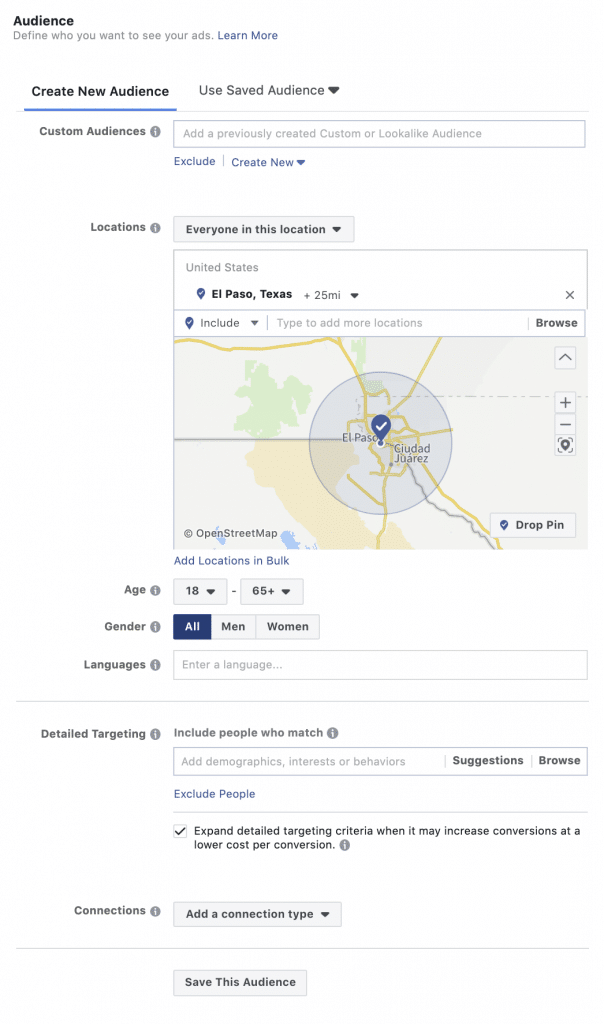 To get even more granular, you can use Facebook's Custom Audiences tool, which allows you to target users who interacted with your business in the past. You could target, for example, the leads who downloaded content from your website after clicking on your Lead Ad.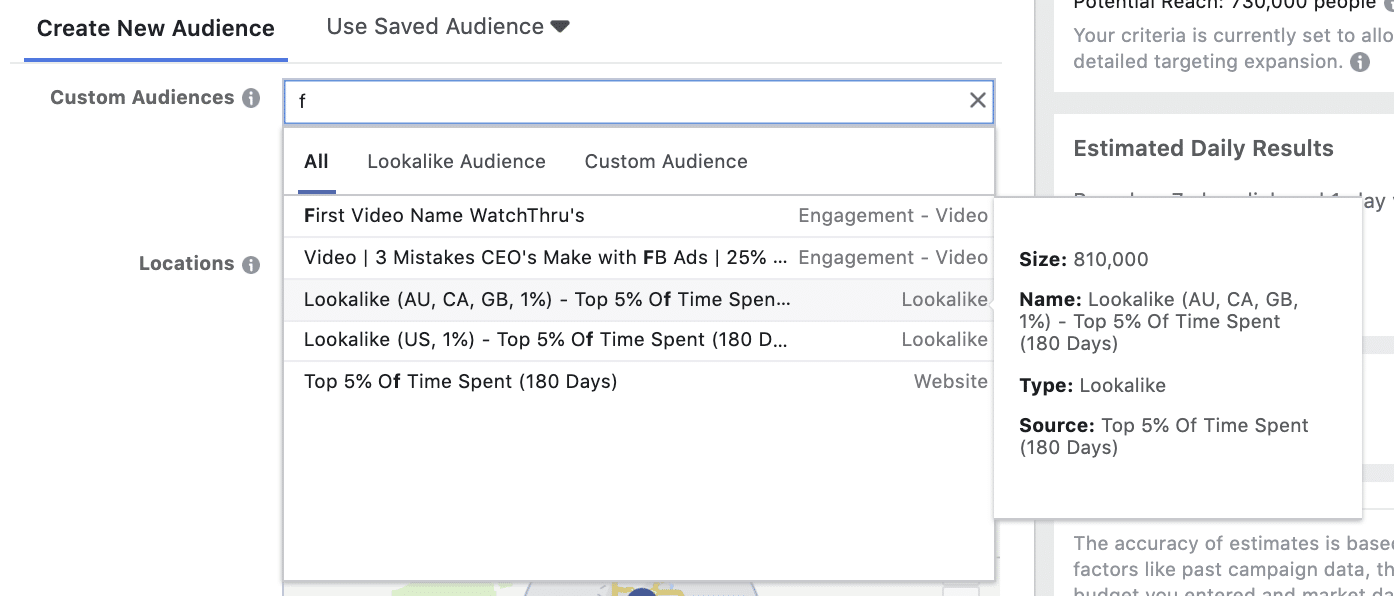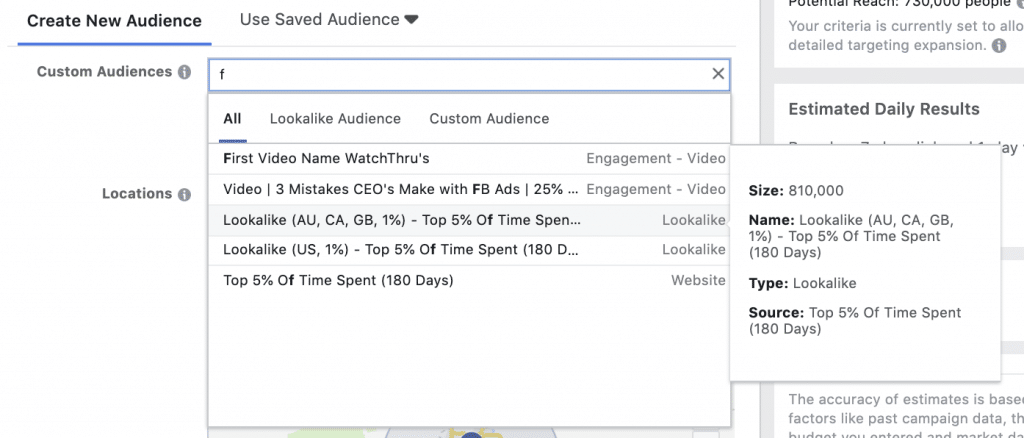 You could also use Lookalike Audience to expand the reach of your ads and grow your customer base. Whereas a Custom Audience consists of people who have already interacted with your business, a Lookalike Audience is comprised of Facebook users who resemble people who engaged with you, based on key behavioral and demographic data. Using Lookalike Audience, you can expand your reach to users who haven't yet engaged with your business but are more likely to do so.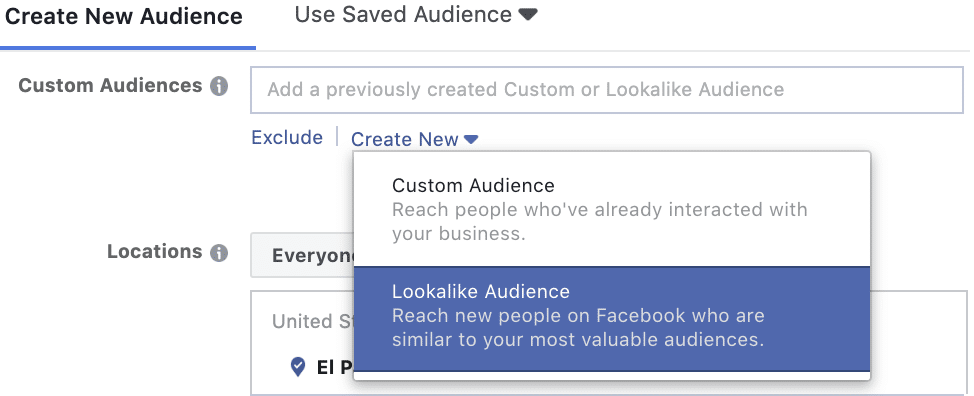 2. Select Ad Types Based on Stage in the Buyer's Journey
It's important to use Facebook for more than lead generation. Sure, you can create Lead Ads that give people exclusive content in exchange for their contact information, a classic inbound approach to generating more leads and awareness of your business, but Facebook is equally useful for nurturing those leads with ads that push them to the consideration and conversion stage. You can, for example, create a Carousel Ad, an attention-grabbing format that displays multiple products simultaneously.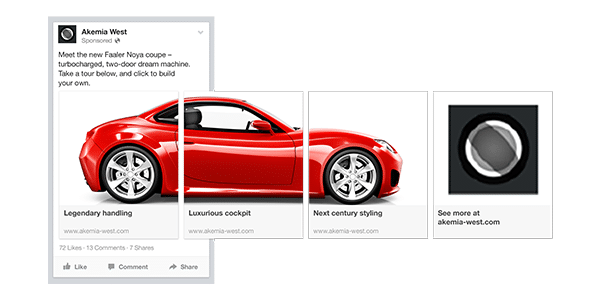 You can also create Dynamic Product Ads to remarket and re-engage previous customers.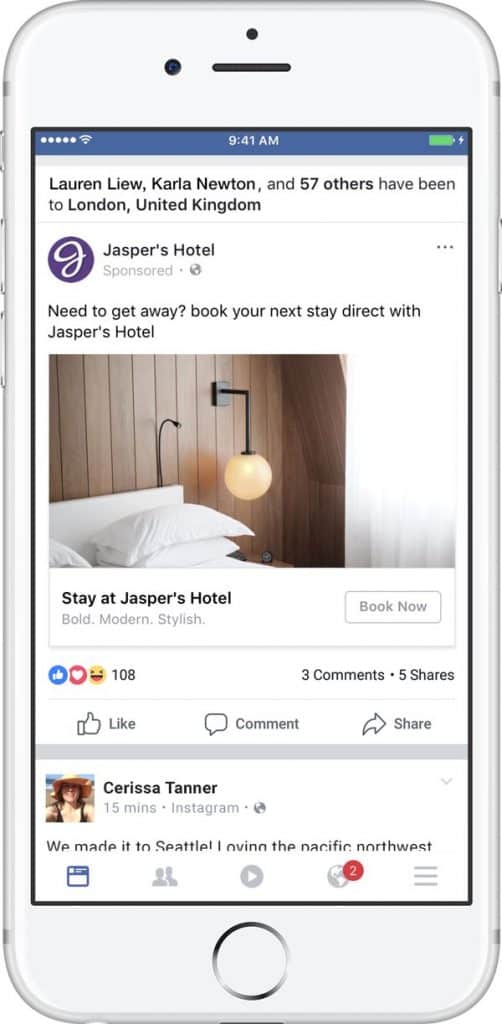 3. Capture Leads Using Gated Content
You can increase the effectiveness of your Facebook advertising campaigns when you integrate those campaigns with your overall inbound strategy, one aspect of which is lead generation through content marketing. The idea isn't new: You create relevant and useful content then promote that content in a Facebook Ad. When users click on the ad, they will be taken to a customized landing page where the gated content is available to download. You offer access to the content in exchange for users' contact information and, bingo, you have a new lead.
Social media sites—Facebook in particular—can be enormously effective in extending the reach of your content marketing campaigns. Facebook, after all, is no longer only about posting funny kitten photos. In fact, according to HubSpot, 74 percent of Facebook users are there for professional purposes, and Facebook sends a substantial portion of its users to longer articles on other sites. Whatever your content and call to action, include it in one of your Facebook ads to bolster lead generation.
4. Use Videos
Facebook is a visual medium. To get the most out of it, take the time to create striking videos in your Facebook ads. Consider, for example, these visual asset stats from HubSpot:
Facebook users watch 100 million hours of video content every day.
Only 20 percent of people will read text in a Facebook ad. Eighty percent will watch a Facebook video.
Sixty-four percent of Facebook users say they're more likely to buy a product online after watching a video.
On average, people can recall 65 percent of visual content they saw three days earlier.
The videos you use in Facebook ads should work naturally and organically with the copy that accompanies them. Don't, for example, hit users with gratuitous shots of your business or your products unless those are directly related to the ad in which they appear.
5. Link Facebook's Organic and Paid Advertising
Facebook has dramatically decreased the organic reach of brands, businesses, and public figures, but they can still leverage organic marketing through methods such as employee advocacy and customer service pieces. Those are dramatically more effective when linked to Facebook paid advertising, one of the reasons Sprout Social recommends a hybrid social media strategy. Organic activities, like the aforementioned, will help you build the trust you need to make your Facebook ads more effective. And, of course, your organic posts will be more effective when linked to conversion-enhancing Facebook ads.
6. Target Life Events
Among the more powerful marketing tools Facebook makes available is life event targeting. In other words, you can target prospects based on life events, such as a recent move or a recent engagement. By targeting life events, you can put highly relevant content in front of your Facebook audience at precisely the moment they want to see it. Some examples of how you might target life events include targeting a recent homebuyer with an ad promoting your moving services, targeting a recent home seller with your real estate ad, or targeting a newly engaged couple with an ad promoting your wedding planning agency.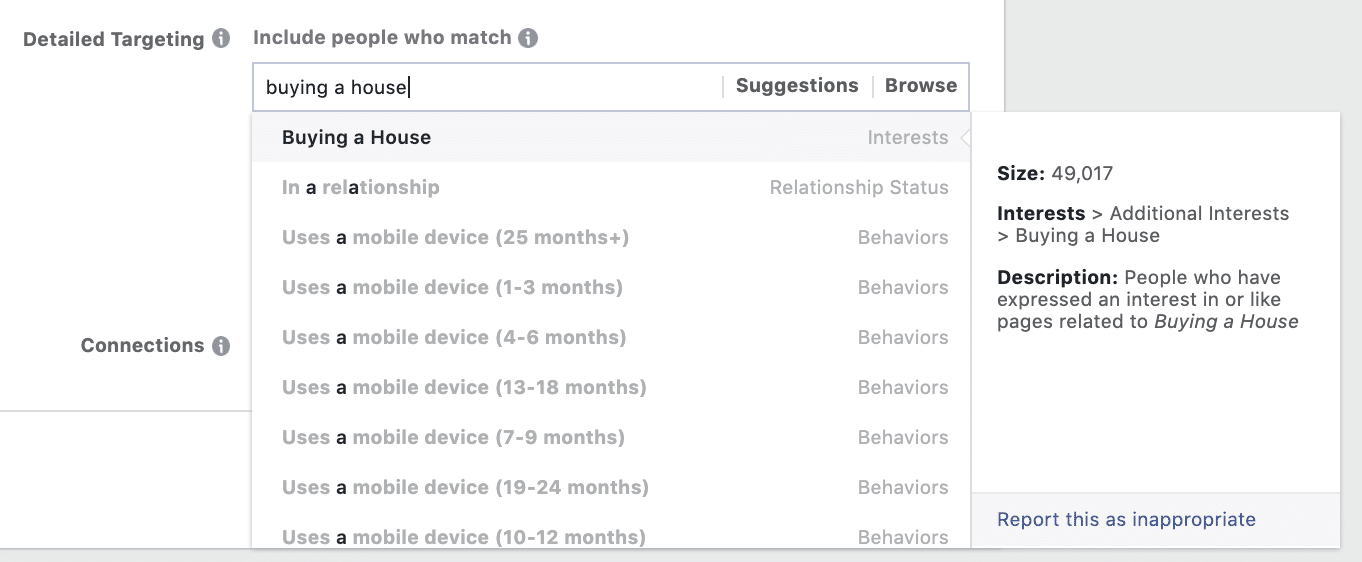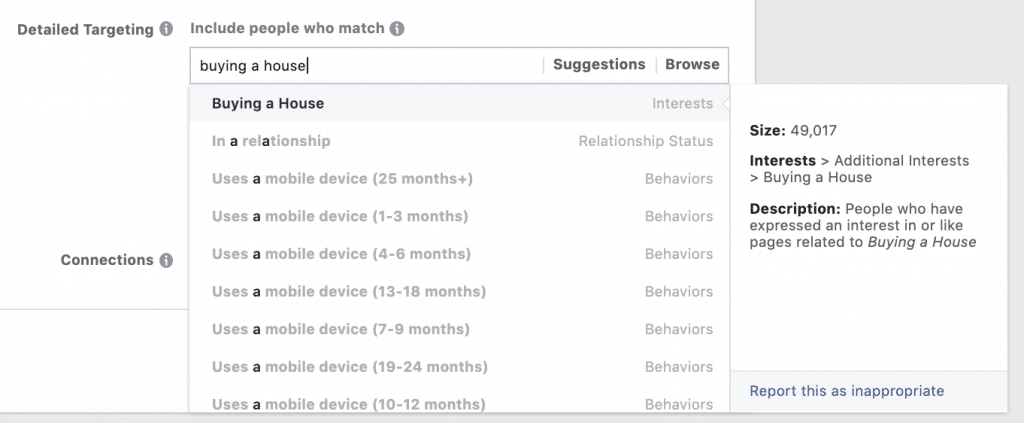 7. Use Layered Targeting Options to Get Super Specific
A few years ago, AdWeek raised some eyebrows with its article, "This Marketing Pro Practiced His Facebook Ad Targeting by Making His Roommate Completely Paranoid." In this article, AdWeek tells the story of a man who created ads so targeted and specific he was able to convince his roommate he was being cyberstalked—that's the power of Facebook layered targeting options.
Now, you probably don't want to freak out your Facebook prospects, but you can put ads in front of them that are remarkably granular. Leveraging layered options, you can create target audiences grounded in a combination of behavioral, demographic, and geolocation data, so much so that an audience could be as small as a handful of people—or even just one. For example, if you run a real estate business, and you want your ad to appear to a specific group of potential clients, you can get as specific as targeting individuals in El Paso, Texas, with an average household income of $70,000 and an interest in buying a house.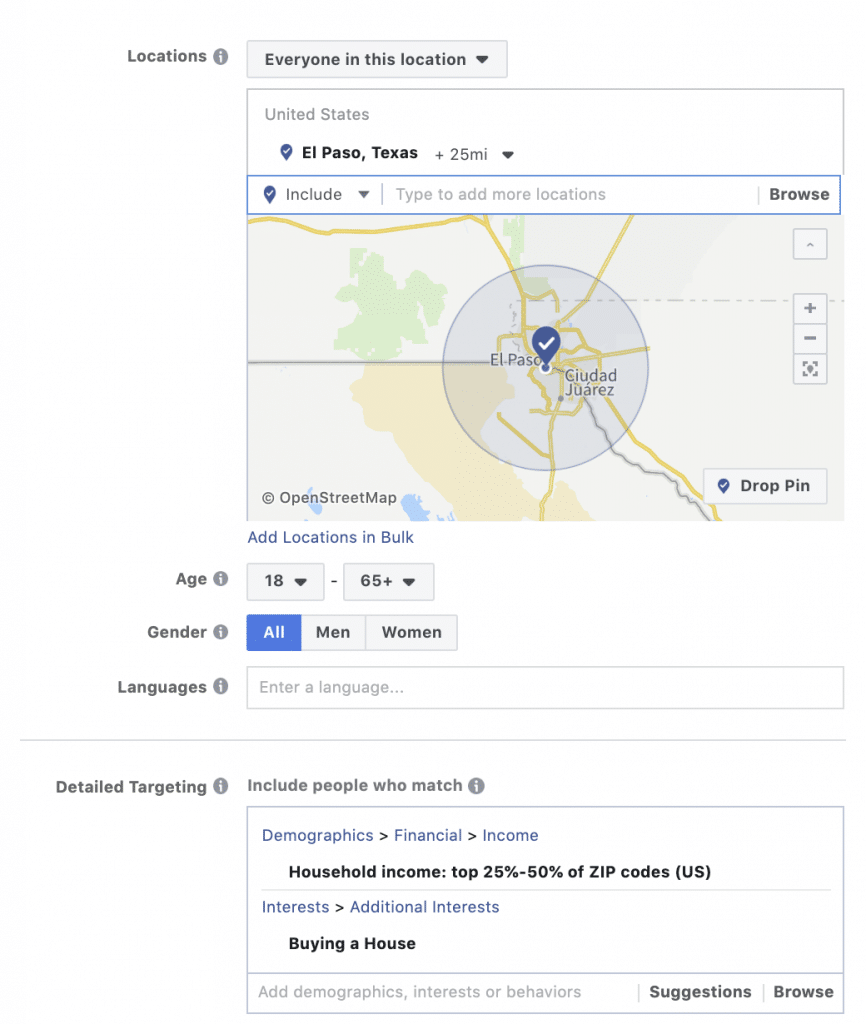 8. Create a Smart Bid Strategy
Marketers are naturally concerned with the bottom line, and with increasingly limited marketing dollars and an increasingly large number of marketing channels, marketers need to be cost-conscious. You don't want to spend more than you planned to, and you don't want the wrong people clicking on your Facebook ads.
Fortunately, Facebook makes creating a smart bidding and budget strategy easier with its optimized CPM feature. With optimized CPM, you give Facebook permission to bid for ad space based on your goals and budget constraints, making it relatively easy to create the most of the budget you have.
9. Measure Results and Test Campaigns for Continual Improvement
Testing and tracking campaigns are the sine qua non of effective marketing, and Facebook is no different, with one small exception. Whereas most marketers have reasonably good familiarity with SEO, PPC, and content marketing, many are new to Facebook.
If you're starting out as a Facebook advertiser, it's a good idea to run relatively small test campaigns, same as would do if you just started trading stocks. Make adjustments based on results and gradually increase your scope. If you take the time to learn from your mistakes, you can ensure that your Facebook ad campaigns will continually improve over time.
Facebook is a platform many marketers use to grow their businesses. Although the social media company offers many advertising tools to help you succeed in the platform, the tools will hardly make an impact if not used with a strategy. If you put in the work, Facebook will produce the results.