What is the best TikTok filter?
TikTok filters can transform your videos from ordinary to extraordinary. However, it can be tricky to find the best filter as there are several options.
To make things easier, this blog post will explore the best TikTok filters in 2023.
What Are TikTok Filters?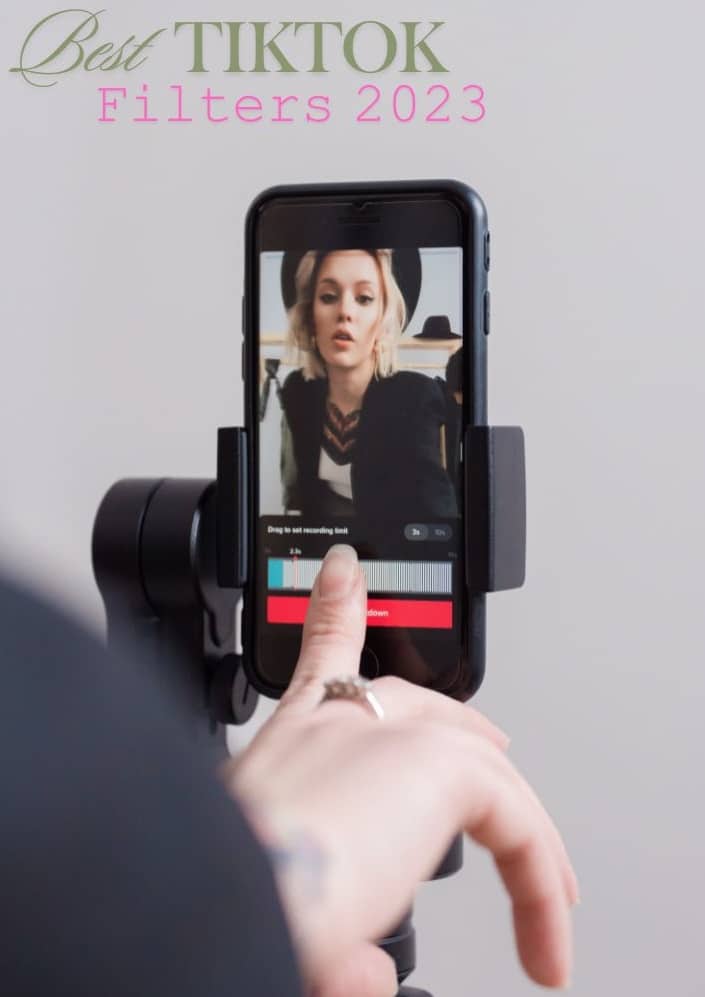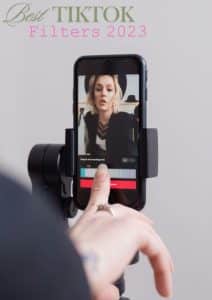 TikTok filters are special effects and enhancements you can apply to your videos on the app. These filters are like virtual magic tools that can transform your clips and add a touch of creativity.
Here's a breakdown of what TikTok filters can do:
Beauty filters: These filters can smooth your skin, enhance your features, and make you look more polished. They're great for beauty and makeup-related content.
Augmented Reality (AR) filters: AR filters can turn you into animals or characters or even change your surroundings. They're fun and often used in various challenges.
Color filters: These filters alter the colors and tones in your video, creating different moods and atmospheres. They're perfect for setting the right vibe.
Time effects: These filters can speed up, slow down, or reverse your video, allowing for creative time manipulation in your content.
Special effects: You can find filters that add effects like fireworks, confetti, and more to make your videos visually exciting.
Face filters: These filters add funny or quirky elements to your face, like oversized glasses, bunny ears, or animated expressions.
Transition filters: Transition filters can make your video smoothly change from one scene to another, adding a professional touch to your content.
Read more: How to do transitions on TikTok.
Top TikTok Filters in 2023
Here are the eight most popular TikTok filters you should try:
1. G6 preset filter.
The brew filter, or the G6 filter on TikTok, is ideal for users who want a retro vintage vibe on their video content. This filter gives a warm glow to your TikTok videos and is a popular choice for creators.
Thanks to its bright, colorful, and nostalgic feel, it also falls in the food category. Most food bloggers use this TikTok filter to add more depth and color to their content.
2. Anime filter.
Do you want to see yourself as an anime character? This amazing filter feature on TikTok will make that happen. Pick from any effects available on TikTok, such as anime effects, anime eyes, or anime cartoon eyes.
3. Green screen effect.
The green screen filter on TikTok allows you to replace the background of your video with any image or video you choose. It works by providing a green background for your video or photo and replacing it with the selected background. This filter is perfect for creating unique and creative videos, as it allows you to transport yourself to different places or use fun.
4. Time warp scan effect.
This blue line trend on TikTok has been popular among users. The time warp effect is similar to panorama photo effects, where it distorts any images on the screen once the blue line moves.
Many challenges and TikTok filter trends went viral with this filter effect. One of the viral trends that used feature is the #TimBurton challenge.
5. Beauty filter.
This filter gives TikTok users a movie star look. You can improve your appearance in an instant with it. Beauty filters can be used automatically to make up your skin tone, improve blemishes, and ensure you look perfectly beautiful on screen.
6. Bling filter effect.
You may have noticed the bling filter effect on your "For you" page lately. It gives and imitates the flash effects of a shine bright like a diamond. It is a popular TikTok filter for business accounts because it has a dazzling and shimmering effect on products.
7. Trio filters and effects.
The Trio effect on TikTok enables users to create two clones of themselves. It is one of the top choices for those participating in TikTok dance challenges. Trio provides a perfect illusion for dance TikTok videos, where users seem to be dancing in a group. Look for a pink icon with three images if you want to use this TikTok filter.
8. Inverted filter
The inverted filter on TikTok is a creative effect that flips your video. Most users use it with the front camera to mimic how they appear to others. This filter adds a unique twist to your videos and can be used for fun and engaging content.
How To Use TikTok Filters and Effects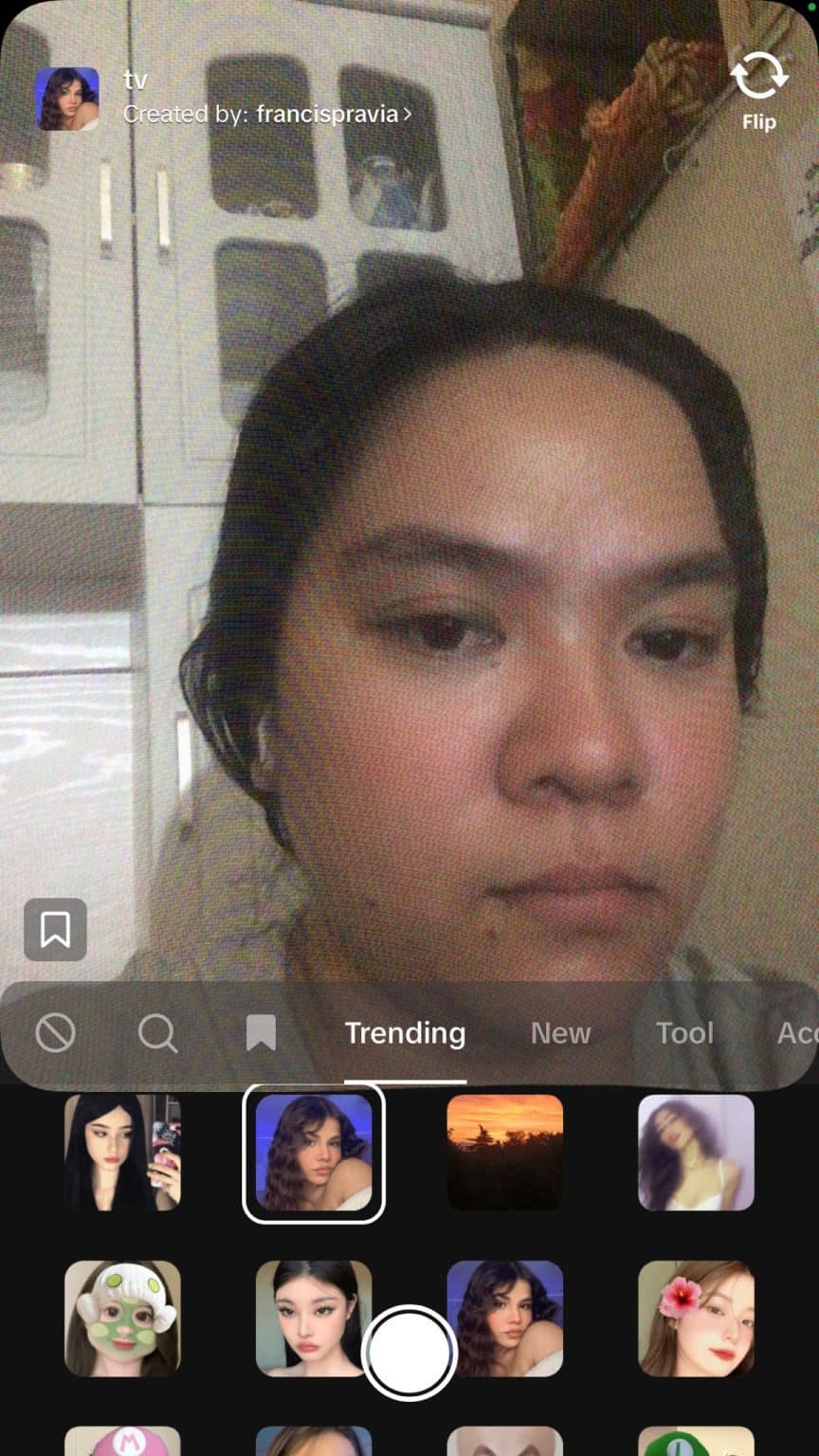 If you want to use popular TikTok filters and effects on your video content, follow these steps:
Open your TikTok app
Tap the "+" (plus sign) button at the middle bottom of your screen
Select the "effects" icon at the lower-left corner of TikTok
Then tap the specific filters and effects you want to use.
Start recording your TikTok video by pressing the record button at the middle-bottom part of your phone screen.
Final Thoughts
TikTok filters are the creative tools you need to make your content unforgettable. With a vast array of filters at your disposal, there's no limit to the uniqueness and style you can add to your videos. We have explored the best options to help you find the best TikTok filter.
Are you considering running ads on TikTok? Contact the best TikTok ad agency!
Frequently Asked Questions
What are the other filters and effects available on TikTok?
Here are the four more filters and effects you might want to try on TikTok:
fantasy filter
V1
Trisection 2
Double screen effect
Can I use the 0.5 effect on TikTok?
Yes, press or create a new video, then pinch your screen on the rear camera to 0.5.
What is the shortest TikTok video on the platform?
The minimum video length on TikTok is three seconds.
Related Articles
Selling on TikTok: Everything You Need To Know
How To Make Playlists on TikTok