Is your target market accurate? Have you considered buying a suitable bidding system? Do you need the correct advertising format?
We've simplified the process of creating Facebook Ad campaigns for you. We'll teach you how to improve results, check the accuracy of your target market, consider using a suitable bidding system, and use the correct advertising format.
Moreover, we've prepared a checklist to help you through the steps. Here's what you can expect from this blog post:
Create Your Meta Business Suite
Make Facebook Audiences
Set up Meta Pixel
The Three Main Sources of E-commerce Businesses
Searching for Potential New Customers
Create a Facebook Ads Campaign
Selecting Your Creative and Schedule
Improve Your Facebook Campaigns
Different Kinds of Facebook Ads
Final Thoughts on Facebook Ads
Frequently Asked Questions on Facebook Ads
Create Your Meta Business Suite
Most of the time, people who give up on Facebook advertising do so because they set up their accounts incorrectly. Perhaps, they were so overwhelmed by the platform's massive ad options that they never reached the point of running a campaign.
So, before anything else, set up your Meta Business Suite account correctly.
Meta Business Suite is the section that houses your Facebook ad account, business pages, and other tools you'll need to run your ads.
To create your Meta Business Suite account, follow the steps below:
Open your browser.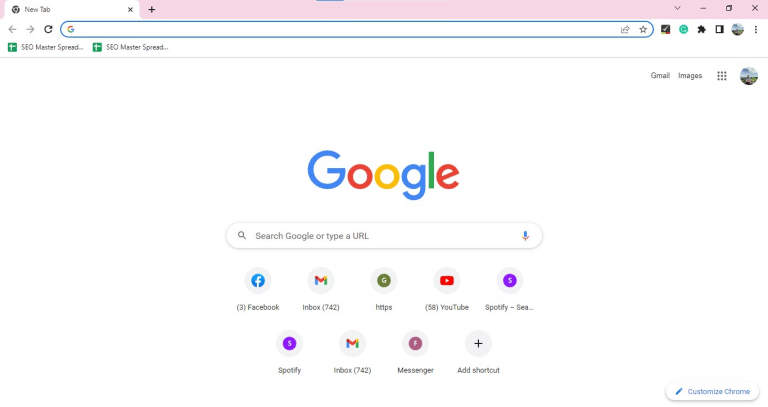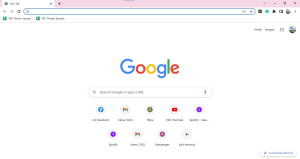 In the address bar, go to "business.facebook.com."

In the Meta Business Suite and Business Manager website, click "Create an account."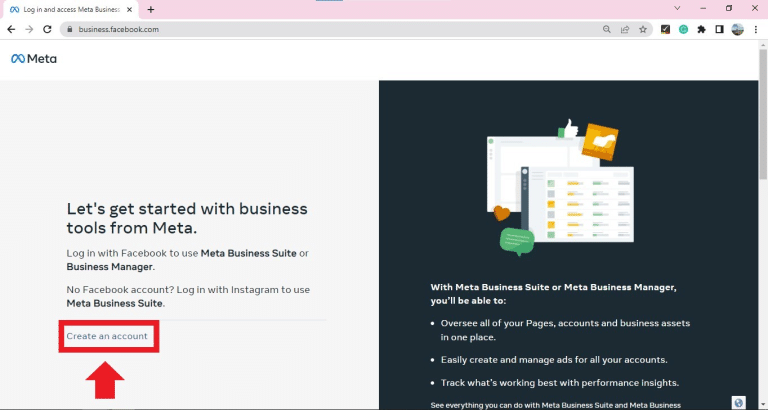 Facebook will need your business name, your Facebook business page, your name, and your email address. Lastly, click the Submit button.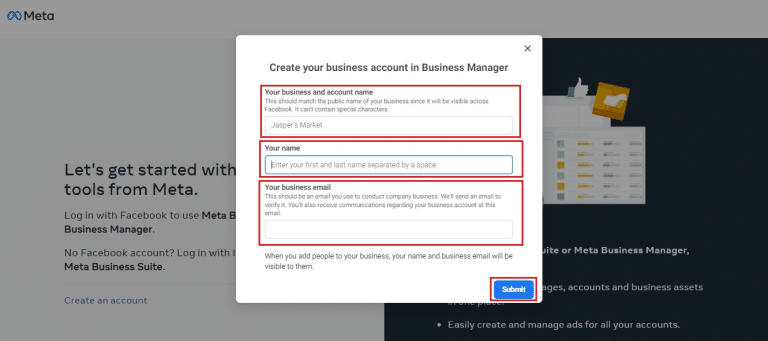 Afterward, you'll need to create or add an existing advertising account, which can be done by choosing Ads in the left menu bar.


Having an ads account is your advertising hub, where you can go to all the different areas of your business on Facebook.
Set up Meta Pixel
New Facebook advertisers often need help determining if their ads are effective.
You can boost a post or create an advertising campaign in Ads Manager. However, you will only know if an ad resulted in sales on their website if you install the Meta Pixel.
Meta Pixel functions as a bridge that connects your Facebook ads with your website. You must make a tracking code in your Meta Business Suite account and add it to your website before paying for ads.
Moreover, it will tell you what people who see your Facebook ad do when they visit your website. Meta Pixel helps you understand which type of audience and creative content works best for getting results from ads.
Make Facebook Audiences
To succeed in Facebook advertising, targeting the appropriate audience for your ads is crucial.
With billions of users worldwide, using Facebook's Audience Insights is necessary to discover individuals likely to be interested in your product or service.
In Meta Business Suite, the audience refers to a section where you can list people to aim your advertisements.
You can use various features in the audience section to create these lists, which you can categorize into retargeting and prospecting.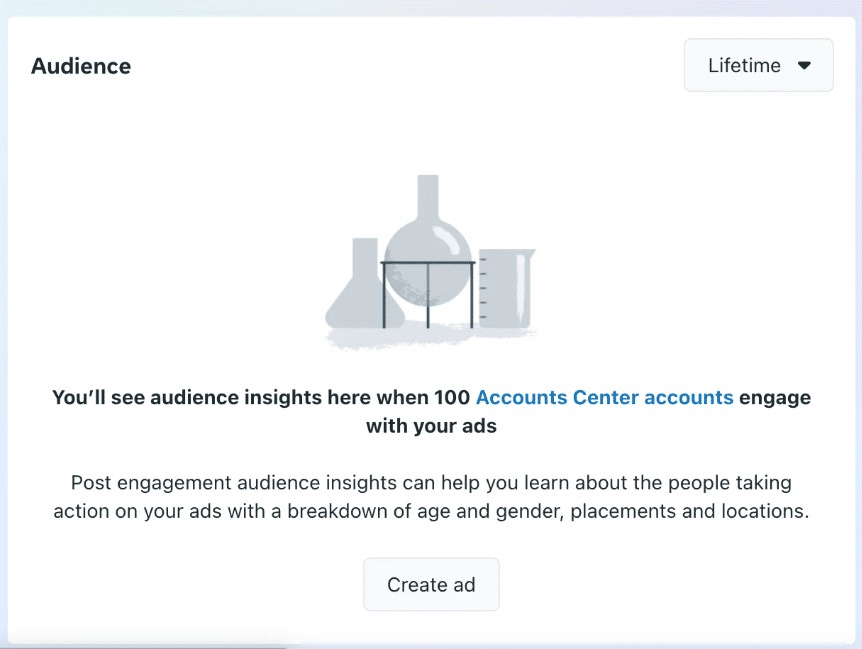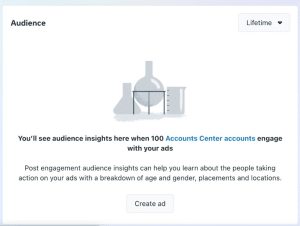 Retargeting warm audiences for conversion.
Visitors who added items to their cart or followed you on Instagram are more inclined to purchase but might require some incentive.
Retargeting is a Facebook advertising strategy where ads follow you on Facebook and Instagram after you've visited a brand's website. It is a highly effective marketing technique.
To create Facebook retargeting audiences:
Go to the Audiences section of Meta Business Suite.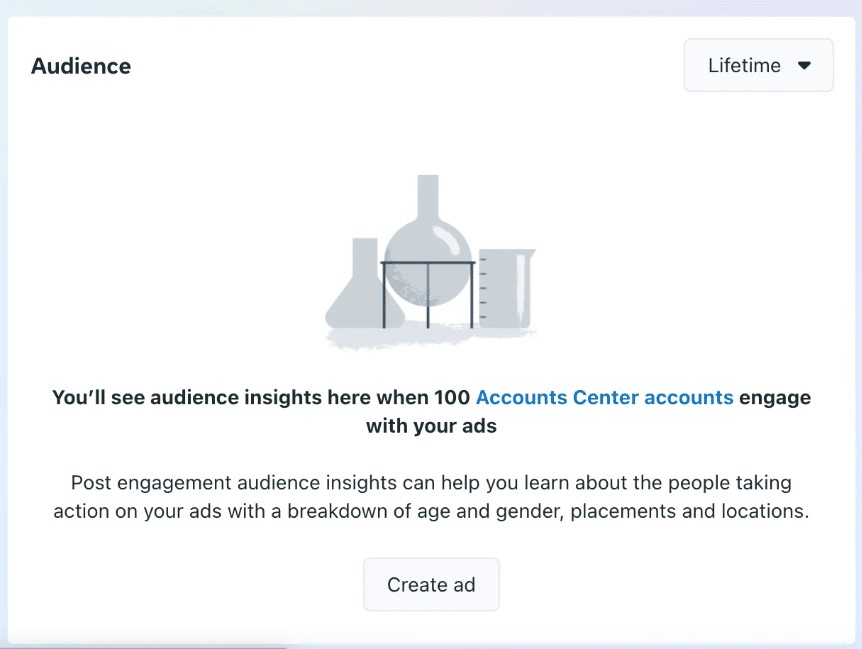 Use the Custom Audiences feature. This way, you can access all the data collected by Meta Pixel and business pages on Facebook.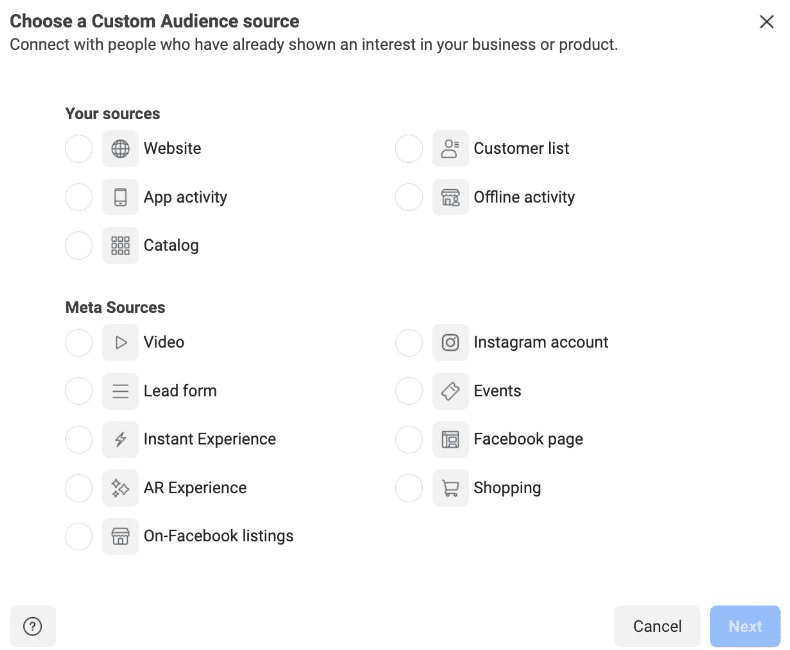 The Three Main Sources of E-commerce Businesses
When making a Custom Audience, you can select from several sources. For e-commerce businesses, the three primary sources to consider are customer lists, websites, and catalogs.
Customer list source
You can use a customer list to upload contact information from customers or leads. Facebook then matches this information with its users, allowing you to target them directly with your ads.
Making a list of customers is good for getting existing customers to buy new products or for people who are subscribed to emails but haven't purchased anything yet.
Website source
To effectively target your website visitors, you can use traffic insights to create retargeting lists. These lists can vary in size depending on the actions or pages visited on your website.
Popular lists with higher conversion rates include visitors from the past 30 days or those who have added items to their cart in the past seven days.
Catalog source
Using this custom audience will help you connect with individuals who have engaged with items in your catalog.
Searching for Potential Customers
Compared to retargeting and converting website visitors, finding new customers can bring better results for your Facebook ads.
If you want to find new customers, consider "prospecting." This process involves advertising to individuals who have not purchased from a business or interacted with it online.
For small to medium-sized businesses, this means targeting a significant portion of Facebook's active user base, which amounts to billions.
However, narrowing this vast pool of potential customers can present a significant challenge.
Creating lookalike audiences.
Another way Facebook finds better prospects for your business is by having a list of customers or leads you've collected.
Lookalike audiences must use your custom audiences' data to create a new audience with Facebook users who share likenesses with your existing customers.
You can make lookalike audiences based on any of your custom audiences, with size and similarity varying from 1% to 10% of the chosen country's population.
A 1% lookalike audience represents people who closely resemble your custom audience source, making them a great starting point for your prospecting campaigns.
To gain more potential customers while staying within the profile of your target audience, consider gradually switching to 3% or 5%. Finally, a 10% lookalike audience as you increase your advertising budget.
Use Facebook's interests, behaviors, and demographic data.
Suppose you need a list of previous customers or website visitors to generate a lookalike audience.
In that case, you can use Facebook's interests, behaviors, and demographics data to craft prospecting audiences while creating an ad.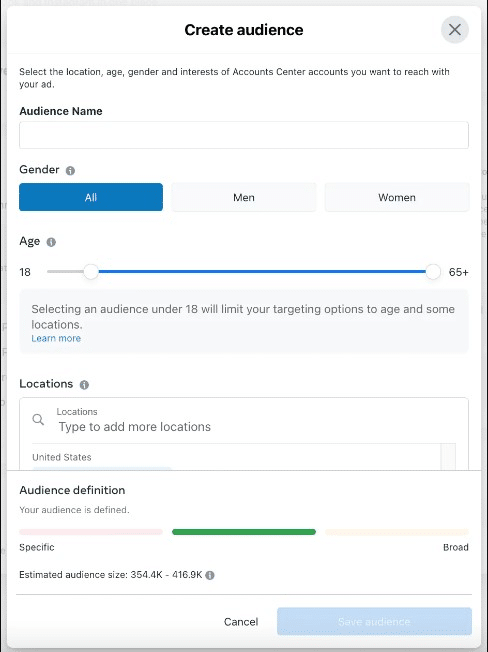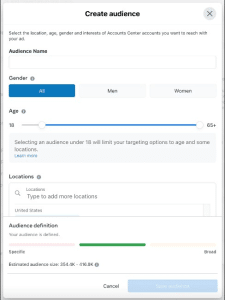 Demographics refer to gender, age, location, and user profile details like being a new mom, engineer, or college graduate.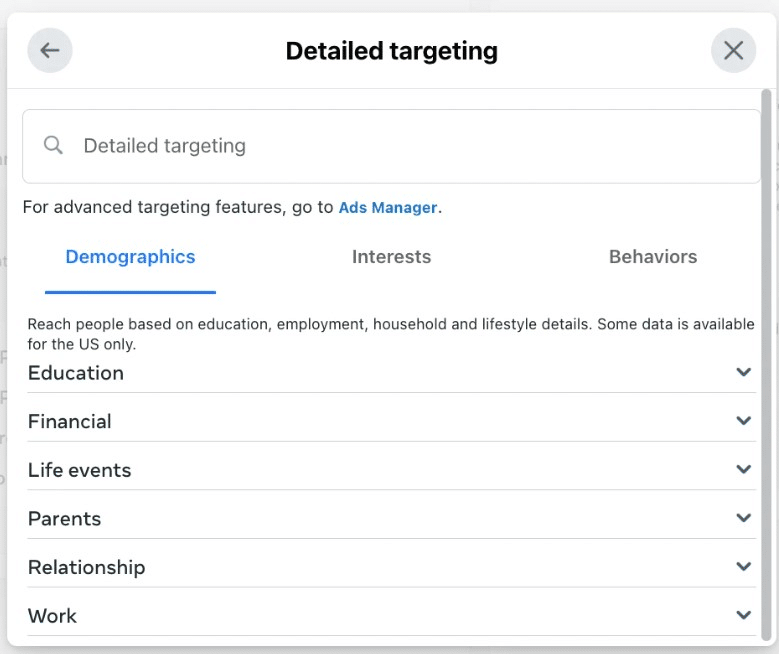 Interests on Facebook are determined based on the pages they have engaged with, such as K-pop, scuba diving, and exercise.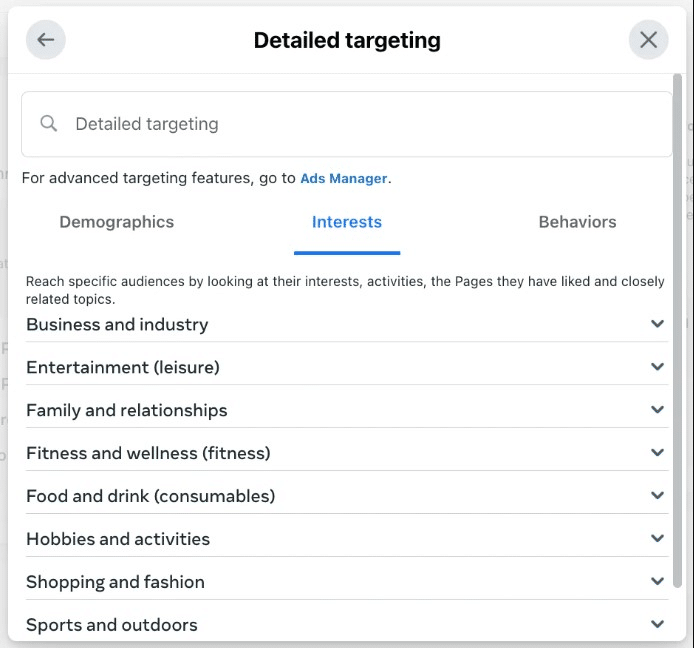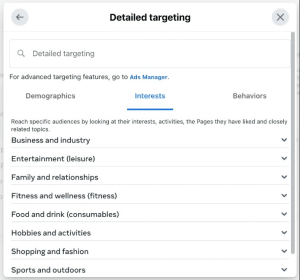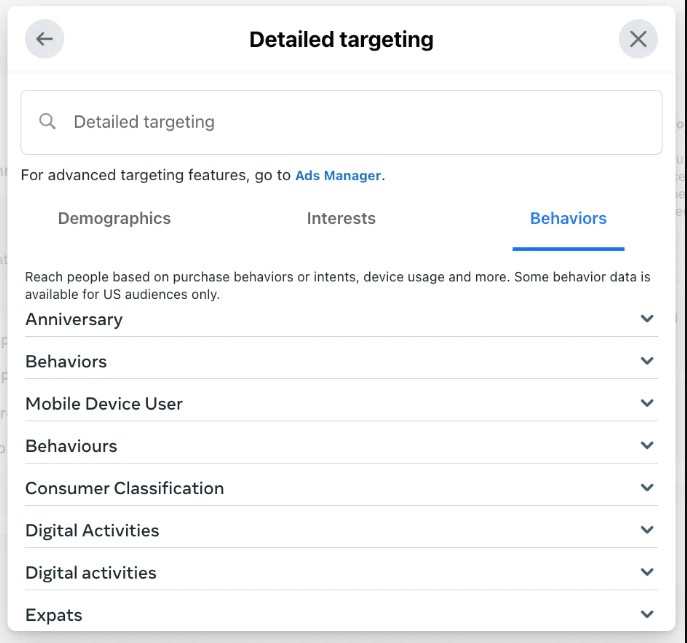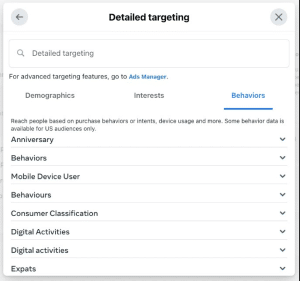 To increase your chances of success, you must test different audiences based on interests, behaviors, and demographics separately.
These audiences are usually broad and can include a large number of users. You can determine the most effective for your goals by testing them individually.
After identifying the audience most likely to respond to your ads, you can add more layers to your prospecting campaigns and expand your reach.
Create a Facebook Ads Campaign
To start making your initial campaign, access the Ads section of your Meta Business Suite account. Click the "Create ad" button. Then, choose a goal.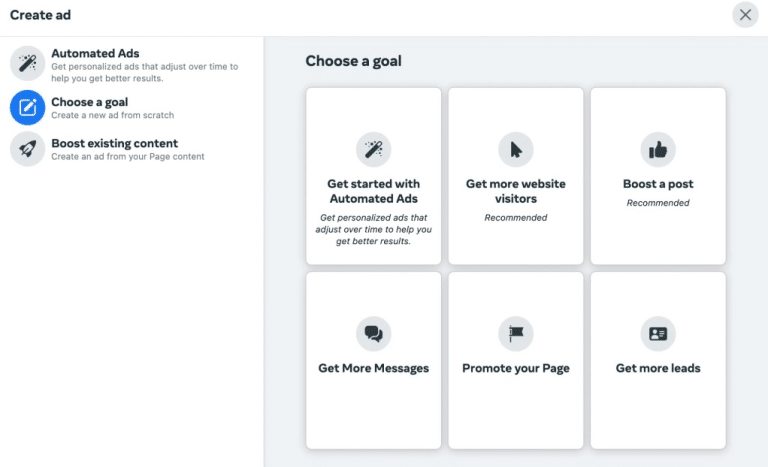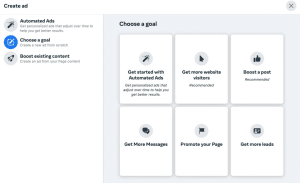 Varieties of categories of goals within Facebook ads:
Get more website visitors: when you want more website traffic.
Boost a post: in cases where you need to nurture an organic post.
Get more messages: the aim of using click-to-Messenger ads.
Promote your page: simple ads that develop your Facebook business page.
Promote your business locally: if you owned an in-person business or event.
Get more leads: collecting contact info from people on Facebook.
Automated ads: Facebook will test different ad versions to see which performs best.
Think about what you want to do with your Facebook ads. The platform will charge you for the number of people who see your ad.
Tell Facebook about the specific results you want. So, if you want people to buy products from your website, you shouldn't choose "grow traffic" as your goal.
Selecting Your Schedule and Budget
The next step in making a Facebook ad is to find a creative way to get people to buy what you're selling.
For instance, selecting your ad schedule can help more people know about your brand. They may follow your social media accounts even if other campaign goals exist.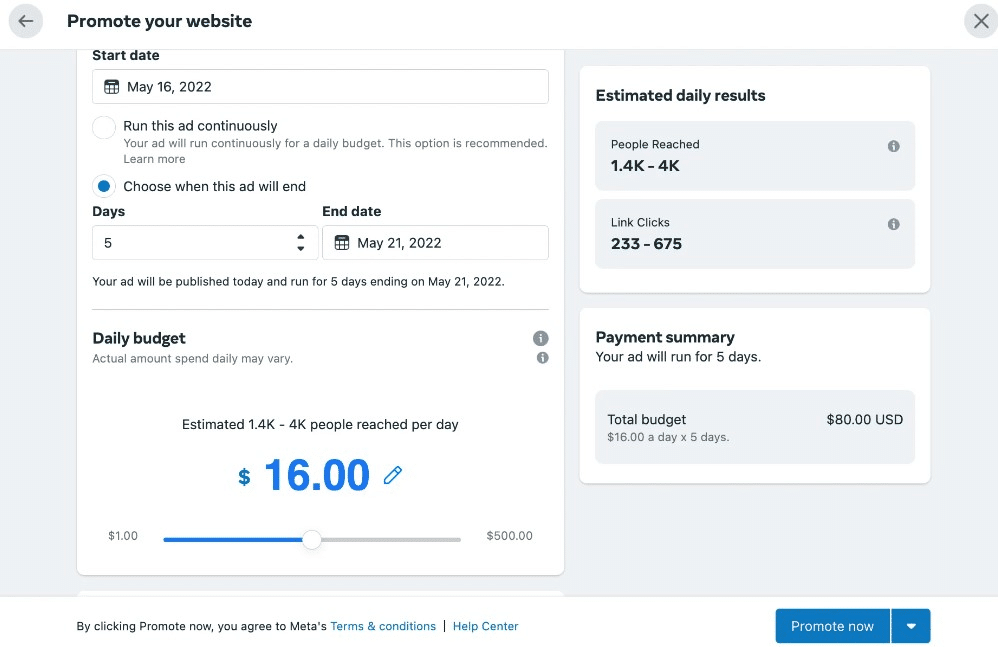 You can pick and improve a list of people to target. Moreover, you can choose their location, age, gender, and language, which will help you find the right people for your ad.
Click "Create new" to create your audience.
Choose how long you want your Facebook ad campaign to last. You can keep it running forever or just for a certain period.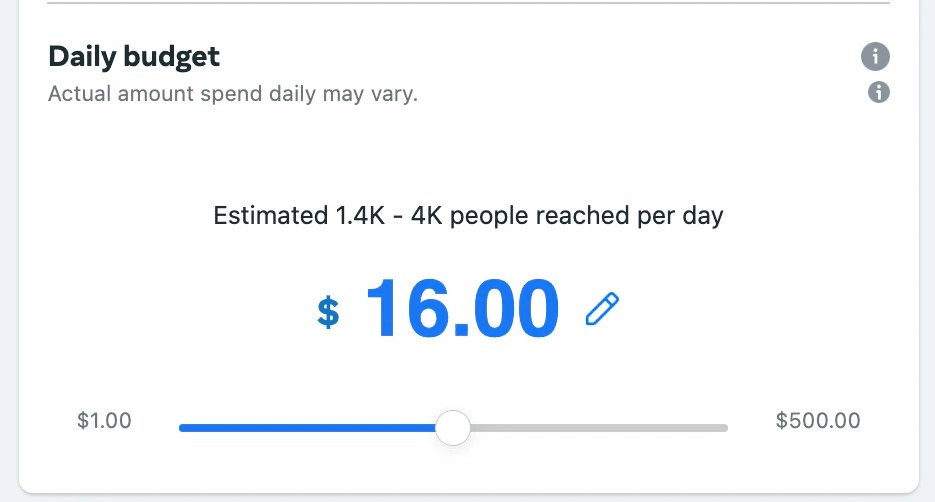 Select how much you want to spend on Facebook ads. Then, decide if you want the money to last a day or forever. There are a few things that will help determine how much to spend:
Think about how much money you can spend on marketing.
If the product costs more, you must have a bigger budget for advertising.
You could be trying to get people to buy something or know about it.
If you have tried paid advertising before, consider how much it costs. Use that same amount here.
When you try Facebook ads, make sure to set a sufficient budget for reaching your goal. The algorithm will take some time to figure out what works best.
You can use campaign budget optimization from Facebook to help manage how much money you spend on different ads.
With ad sets, you can decide where your advertisement will show. Moreover, you can pick Facebook, Instagram, or Messenger for your ad.
When you are done making the ad, click "Promote now." Facebook will check it and ensure that your ad's good to go. Once approved, your ad will be live!
Repurposing dynamic product ads
Dynamic product ads are the most common Facebook ad formats in e-commerce. If you've ever browsed a store online and seen repurposed ads with the exact products you viewed, you've seen a dynamic ad in action.
These ads pair your Meta Pixel data and your Facebook product catalog, so visitors to your website appear products they looked at or added to their cart.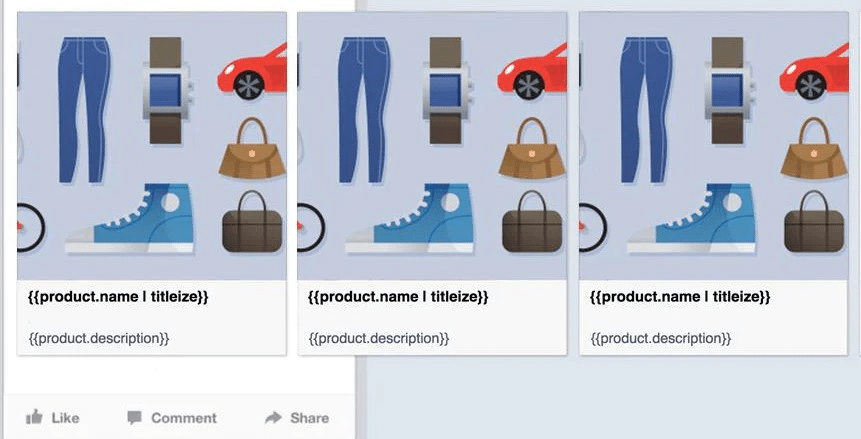 You can use the "Assets" menu in the Meta Business Suite to connect your business website and ad account.
Moreover, you can make a catalog with Meta Pixel. Meanwhile, if you have Shopify, add the Facebook sales channel to sync products easily with your ad account.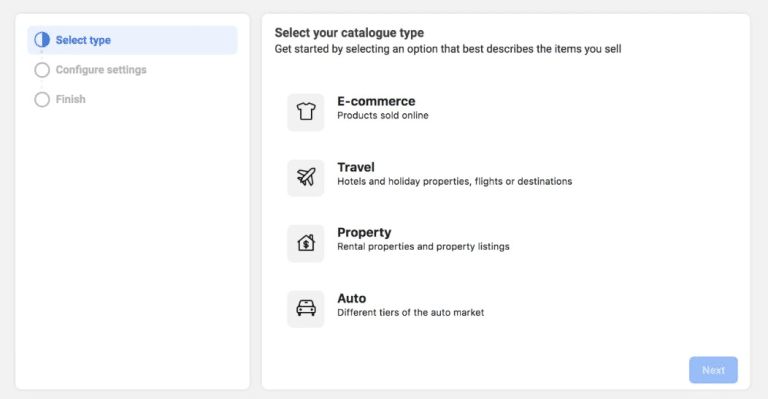 Go to the Ad Manager to create a product ad. Then, pick Product Catalog Sales as the goal. Finally, choose your product catalog and who to show it to.
You can use dynamic product ads to show items in your store that interest people, even if this is their first time on your website. Facebook will decide which products to use based on their profile data.
Improve Your Facebook Campaigns
Creating a campaign and learning how to monitor and optimize its performance over time is crucial to succeed on Facebook.
So, you must check your Facebook ads at least once daily and even more frequently as your spending increases.
It can be tempting to change your ad if you do not get any purchases after one day. However, it is important to wait. Facebook ads need time for the algorithm to learn who might buy your product.
Wait until you have 1,000 people looking at your ad before deciding to turn it off or spend more money on it.
Different Kinds of Facebook Ads
When advertising on Facebook, it matters what you want to do and what type of ad you use. It can be hard for people new to this because there are many types of ads.
However, we have made it easier by giving four different types of ads that you can use on Facebook.
Image Facebook ads
Single-image ads are the usual type of ad for Facebook pages. They are simple to make and look nice. Besides, image posts get the highest engagement at 0.12%.
Photo ads work best when you have little time or money. You can make an image ad from your page or use Facebook Ads Manager for more options.
Video Facebook ads
Video ads help show people your product or brand. You can make video ads on Facebook Ads Manager or boost a post with a video from your page. The video will show up on Facebook, Instagram, and Messenger.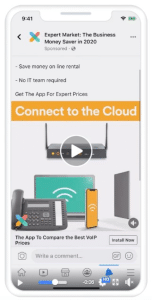 Moreover, you can use Facebook videos to show people special things about your brand.
The videos should be 15 seconds or less and have an ending that tells people what to do, like buying a product or going to a website.
Carousel Facebook ads
Carousel ads let you show up to ten pictures or videos in one ad. People can move through the images by swiping left or right on their phones or clicking the computer's arrows.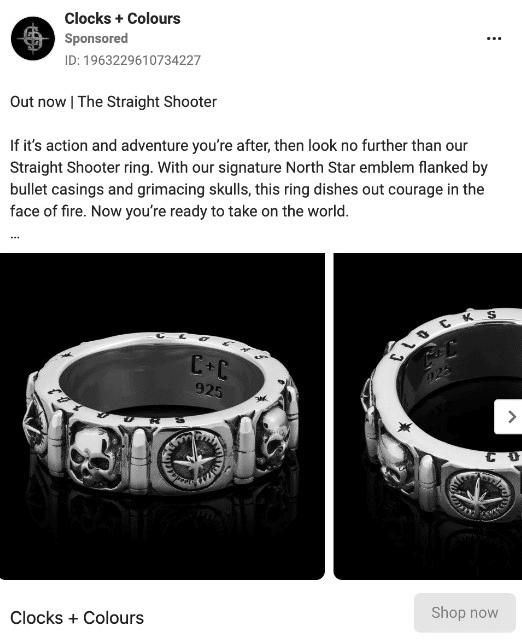 Carousel ads can help you show different products. They can also offer different views of one product. Moreover, you can use them to explain how something works or give a tutorial.
Besides, you can make one big picture across multiple frames for a better experience.
Collection Facebook ads
Using the collection ad format can help you show your products to people. This type of ad has a big picture or video at the top. It also shows multiple products below it.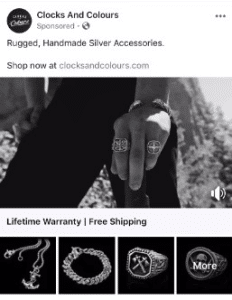 Collection ads are a good way to show people what you are selling.
You can publish them on Facebook, Instagram, and IG Stories. It will help people review and purchase your products.
Final Thoughts on Facebook Ads
Facebook advertising is easy to use, even if you know little about digital marketing. So, it is perfect for entrepreneurs with no budget to hire an agency. Learning about Facebook advertising and setting up a campaign can help your business grow.
Frequently Asked Questions on Facebook Ads
What are Facebook ad specs for?
When running Facebook ads, consider the character counts, image sizes, and campaign objectives. You must ensure all these parameters are right so your ads will succeed.
How much do Facebook ads cost?
Facebook advertising usually costs about $0.94 for each person who clicks on the ad. For every 1,000 people who see it, you might have to pay about $12.07.
How important is it to create Facebook ads?
Creating Facebook ads can be extremely valuable for businesses and individuals who want to promote products, services, or brands to a large audience.