If you want to grow your page likes, then you should choose the promote-your-page objective for your Facebook ad campaign. Page likes, historically, have been used as evidence of credibility. Ask any Facebook marketing agency, the more page likes your Facebook fan or business page has, the more credibility you have. If you want to gain that credibility, then you should consider promoting your page.
Even if your goal is not to gain page likes, the promote-your-page objective also helps you increase awareness of your brand: since more people will be exposed to it, more people will know of your brand. Or better yet, more people will visit your page and convert.
What is the Promote Your Page ad objective?
The "Promote Your Page" ads objective on Facebook is a targeted advertising strategy designed to increase the visibility and following of your Facebook Page. With this objective, businesses and content creators can introduce their pages to a broader audience and gain more page likes.
By targeting users who are likely to be interested in your content or services, this objective aims to grow your online community, boost engagement, and ultimately enhance your online presence.
The objective is useful for connecting with potential customers, building brand awareness, and fostering meaningful interactions with a wider audience.
Why use the Promote Your Page ads objective?
The "Promote Your Page" Facebook ads objective holds significant value for businesses and content creators aiming to expand their online presence and engagement.
This objective focuses on increasing the visibility of your Facebook Page and attracting new followers who are genuinely interested in your offerings. By targeting users who align with your page's niche, demographics, and interests, you can cultivate a community of engaged followers. 
Furthermore, this objective facilitates audience expansion beyond your current followers, resulting in a broader reach and increased page likes. This enhances your brand's visibility and encourages interactions, such as likes, comments, and shares, fostering a thriving online community. 
Overall, the objective empowers you to boost your brand's recognition, build a loyal following, and create a platform for meaningful engagement with your target audience.
How to create Promote Your Page objective?
You can choose which Facebook page you want to promote on the "Page" section when creating the ad.

Which platforms support the promote-your-page objective?
You can serve all ads with the promote-your-page objective on Facebook's platform. When creating an ad in Ads Manager, you can choose where you want to serve your ads in the "Placements" section. Unfortunately, promoted pages are not eligible for placement on the Audience Network and Instagram's platform.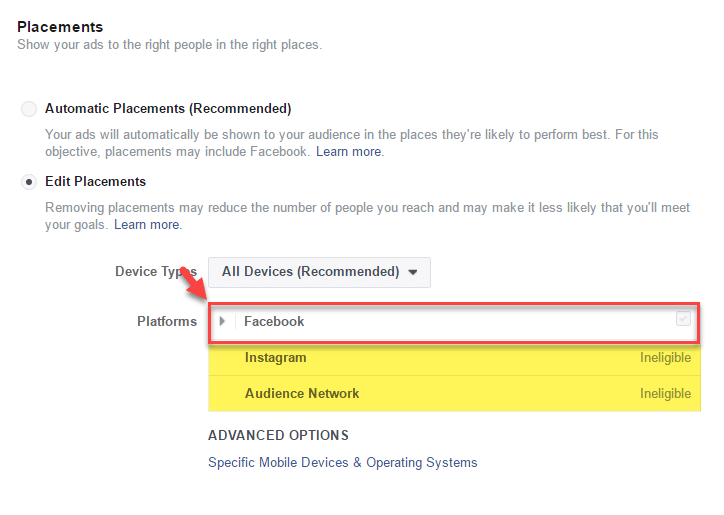 Which ad formats can I choose from in the promote-your-page objective?
Ads with the promote-your-page objective are eligible for the single image, video, and slideshow formats. It is, however, ineligible for the canvas and carousel format.


Targeting Options with Promote Your Page
The ad objective on Facebook offers a range of targeting options to help you reach the targeted audience and expand your page's following. Here are the key targeting options available:
Location

: Specify the locations where your ads will be shown. This can range from countries and cities to specific regions.

Demographics

: Refine your audience based on demographics such as age, gender, education, job titles, and relationship status.

Interests

: Target users based on their interests, hobbies, pages they like, and activities they engage in on Facebook.

Behaviors

: Reach users based on behaviors they exhibit both on and off Facebook, such as purchase behaviors, device usage, travel preferences, and more.

Connections

: Target users who are already connected to your page or who have friends connected to your page. You can choose to exclude these connections as well.

Custom Audiences

: Utilize existing customer data to create a custom audience. This can include your email list, website visitors, app users, or engagement with your Facebook page.

Lookalike Audiences

: Create a new audience that shares similarities with your existing customers or page followers. Facebook uses its algorithms to identify users with similar traits.

Detailed Targeting

: Combine various targeting options to create a more refined audience. For example, you can target customers who are interested in fitness, aged between 25-40, and live in a specific city.

Languages

: Reach users who speak specific languages, which is particularly useful for campaigns targeting multilingual audiences.
Crafting Effective Ad Creative
Your ad creative plays a vital role in capturing your audience's attention and conveying your message. Consider these tips:
Visual Impact

: Use eye-catching visuals that represent your brand's identity and resonate with your target audience's preferences.

Clear Message

: Communicate your value proposition succinctly. Highlight what makes your page worth following.

Compelling Call-to-Action

: Encourage users to like your page with a clear and persuasive call-to-action.
Tips for Successful Campaigns
For optimal results, consider these tips:
A/B Testing: Experiment with different ad creatives and copy to identify what resonates best with your audience.
Ad Performance Monitoring: Regularly review your ad performance. Adjust targeting, ad creatives, or budgets based on insights.
Content Strategy: Ensure your page's content is aligned with your target audience. Engaging posts can further strengthen your engagement levels.
Final Thoughts
Promote Your Page ad objective is important for growing your online reach. By purposefully introducing your page to new people, you can increase your followers, boost interactions, and create a lively online group.
No matter if you're a company, a content maker, or an organization, think about using the "Promote Your Page" objective to elevate your online experience.
FAQs
What is the Promote Your Page advertising objective on Facebook?
The "Promote Your Page" objective is a specific goal within Facebook advertising that aims to increase the visibility of your Facebook Page. It focuses on reaching a broader audience and attracting new page likes to enhance your page's presence and engagement.
Who should consider using the Promote Your Page objective?
The objective is valuable for businesses, organizations, influencers, and content creators looking to grow their online community. If you want to increase page likes, broaden your audience, and foster engagement, this objective can be an effective choice.
What are the key benefits of using the "Promote Your Page" objective?
The benefits include reaching a wider audience beyond your current followers, gaining more page likes, and increasing engagement. It's an excellent way to introduce your page to users who are likely interested in your content or offerings.
How can I optimize a "Promote Your Page" campaign for better results?
To optimize your campaign, ensure your targeting settings are specific and aligned with your audience. Craft compelling ad creatives and clear calls-to-action that encourage users to like your page. Regularly monitor the campaign's performance metrics and adjust based on insights to achieve optimal outcomes.
New to Facebook and want to learn more about Ad Manager options? Here are 19 resources for beginners to learn Facebook advertising basics. Feel like you may need expert help with your ad campaigns? Check out this Facebook marketing partners list for agencies that may be able to provide the professional touch you're looking for.