Are you seeking a creative, results-driven way to market your newest product or service?
Social media influencers may be the answer. TikTok is becoming an increasingly popular platform, with dozens of internet celebrities creating unique and exciting content that resonates with viewers.
So, today we will look at some of the most famous TikTokers and how their stories can help you win your marketing campaign.
Read on as we cover the following:
The Impact of TikTok Influencers on Marketing Campaigns
The 15 Most Famous TikTok Accounts
Final Thoughts on Famous TikTokers
Frequently Asked Questions on Famous TikTokers
The Impact of TikTok Influencers on Marketing Campaigns
Owned by Beijing-based tech company ByteDance, TikTok is a popular social media app that lets users watch, upload, and share short-form videos. The business also acquired Musical.ly in 2017 when it expanded to foreign markets.
According to Backlinko's 2022 Tiktok Statistics, the video-sharing app has become very popular, with over 3 billion downloads worldwide.
Moreover, it has outperformed other popular platforms like Facebook, Instagram, Messenger, and Snapchat in terms of App Store and Google Play downloads. Besides, approximately 800 million users have joined the platform since 2019, more than the monthly users that Instagram gained in any quarter of that year.
TikTok is a growing video-sharing platform and a good way to promote your business. Many users watch and share videos on this platform. So, working with TikTok influencers can help get the word out about your brand.
Advertising on TikTok can be tricky because most users are part of Generation Z, who don't like traditional advertising methods.
Even so, brands use influencer marketing tactics, partnering with popular TikTok influencers to increase sales and website visits.
The 15 Famous TikTok Accounts
Are you curious about who has the largest following on the app? Below is a list of the top 15 TikTok influencers with the most followers as of 2023.
1.) Khaby Lame @KHABY.LAME (161M)

Khaby Lame's videos have gained significant popularity as they appear to parody the TikTok "life hacks" trend, where users offer tips on simplifying tasks.
Lame silently performs the same task from the life hack video but in a simpler way. He frequently uses the hashtag #LearnfromKhaby in his posts.
2.) Charli D'Amelio @CHARLIDAMELIO (150.8M)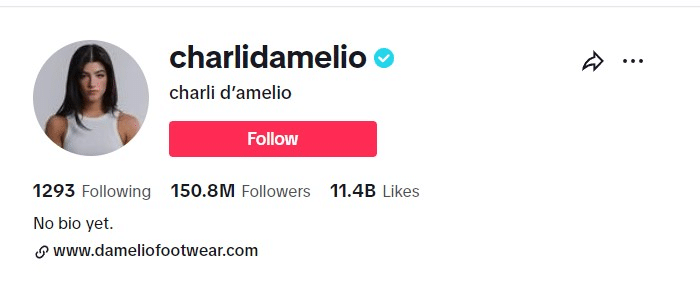 Anyone even remotely familiar with TikTok will have come across Charli D'Amelio.
Even before her TikTok fame, D'amelio already had a successful career as a competitive dancer.
However, she quickly became a star in 2019 by posting dance videos to popular songs on social media.
Her videos almost instantly went viral, leading to acting roles and partnerships with brands like EOS Cosmetics and  Hollister sponsorships. Eventually, she launched of her merchandise brand.
In 2020, D'Amelio was listed as one of the most important people in fashion by Lyst.
They chose her based on how often people looked for her style, how much money she made from it, and what she shared on social media.
She was also included to the Time 100 Next list and Teen Vogue's Young Hollywood Class of 2021 that same year.
3.) Bella Poarch @BELLAPOARCH

In 2022, Bella Poarch, an American-Filipino TikTok user, became one of the most successful influencers on the platform.
A few months after creating an account in April 2020, she posted a video, lip-syncing to Millie B's "M to the B" and bouncing her head.
She uploads clips related lip-syncing, dancing, fashion, and video games. In 2021, she released her first song, called "Build a Bitch." Its music video received nominations from the UK Music Video Awards, MTV Video Music Awards, and iHeartRadio Music Awards.  Other celebrities like Mia Khalifa and Bretman Rock were also featured in the video.
Bella has been speaking out against unfairness towards Asian people. She made a TikTok video, talking to Vogue about the subject. She said that when she moved from the Philippines to the United States, people treated her poorly and hurt her for no reason.
4.) Addison Rae @ADDISONRE (88.6M)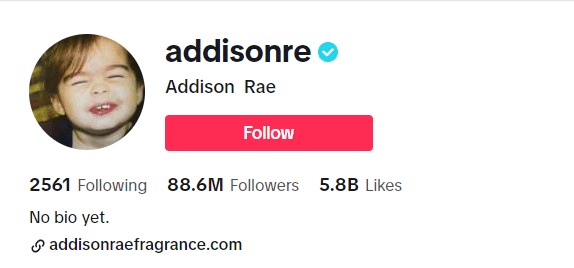 In 2022, Addison Rae, a popular social media personality from Louisiana, gained recognition for her creative dance and lip-sync videos on TikTok.
She collaborated with other influencers like Charli D'Amelio and Chase Hudson after helping to form The Hype House in December 2019.
Due to her quick rise on the video-sharing app, she secured a contract with talent agency WME along with multiple sponsorship deals with American Eagle and other brands.
She has also been engaged as a podcast host and cast in a film, among other opportunities.
Forbes named Addison as the top TikTok influencer in August 2020, and reported to be one of TikTok's highest-paid stars.
5.) MrBeast @MRBEAST (83.9M)

Jimmy Donaldson, also known as MrBeast online, has over 150 million YouTube subscribers. He does special stunts and gives away money to people to help them.
The 24-year-old started on YouTube when he was 13 years old. In 2017, his "Counting to 100,000" video became popular and got a lot of views in just a few days. He is now more popular than ever, and most of his videos have millions of views. Naturally, the videos he post on TikTok also gather the same number of views quickly.
6.) Zach King @ZACHKING (77.6M)

Zach King is a famous filmmaker and magician living in Los Angeles. He is well-known on TikTok for his amazing and creative special effects videos. He became even more famous after he made the "Jedi Kittens" video on YouTube. Lots of people liked it right away!
Zach is equally popular on TikTok. He made a video with over 2.1 billion views that showed him flying on a broomstick using a mirror. Big-name companies like BMW, Chipotle, KIND, and Jumanji have worked with him.
By 2022, Zach had over 67 million people subscribed to his YouTube channel.
His videos got more than 850 million likes. In May 2013, YouTube named him as one of the best young filmmakers in the US.
7.) Kimberly Loaiza @KIMBERLY.LOAIZA

Kimberley Loaiza is a 25-year-old Mexican singer. In 2016, she started to upload videos on YouTube. These videos were about make-up, hairstyles, and other fun topics.
Kimberley began making music in 2019 and released her first single, "Enamorarme." She has 74 million followers on TikTok, where she posts dance videos, trends, and exclusive content.
8.) Will Smith @WILLSMITH (73.3M)

Despite not being a typical TikTok star, Will Smith has gained 73 million followers on the platform. He shares a mix of content, such as special effects edits, cooking videos, and workout routines.
In February 2023, he uploaded a TikTok video referencing the well-known incident where Chris Rock slapped him at the Oscars.
9.) Cznburak @CZNBURAK (71.7M)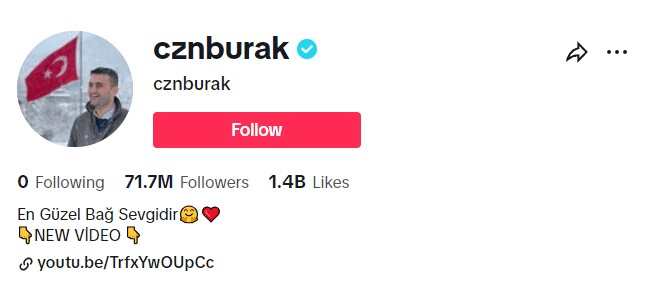 Burak Özdemir is a Turkish chef and restaurateur. People know him as Cznburak on TikTok. He makes cooking videos and shows people how to make Turkish recipes. His videos are popular online, and he always smiles while preparing meals!
10.) Jason Derulo @JASONDERULO (58M)

Jason Desrouleaux, also known as Jason Derulo, is famous on TikTok. He was already well-known as a singer, songwriter, and dancer before joining the platform. However, on TikTok, he often shows his funny side.
He does dance covers, challenges, comedy skits, and pranks with other celebrities like Zach King and Will Smith. People find him funny, which is why he has over 43 million followers and one billion likes.
Derulo and Jawsh 685 released a song called "Savage Love" in June 2020. Thousands of TikTok users liked the song, and it became even more popular when BTS remixed it. The record became number one in the US.
11.) Dixie D'Amelio @DIXIEDAMELIO (57.1M)

Charli D'Amelio's sister, Dixie D'Amelio is also among the most followed TikTok celebrities. The singer and internet personality is so popular that companies like Hollister and Morphe chose her to promote their products.
While Dixie is often associated with Charli, she has done things independently. She released the song "Be Happy" in June 2020 and was part of a TV show called "Attaway General."
In 2020, Dixie also signed a record deal with HitCo Entertainment. She released two songs in December 2020: "One Whole Day" featuring Wiz Khalifa and another co-written by Demi Lovato called "Roommates."
12.) Spencer Polanco Knight @SPENCERX (55.2M)

Spencer X is a famous TikTok influencer from New York. He makes fast beatboxing and YouTube videos. People worldwide noticed him after his videos "One Beatboxer, 14 Genres" and "One Beatboxer, 20 Sound Effects" got popular.
Spencer X has worked with big-name musicians like Alicia Keys, Russ, Marshmello, and Sean Kingston. He also works with other popular TikTok stars like the Lopez Brothers. USA Today and other magazines named Spencer X as someone to watch out for.
13.) Loren Gray @LORENGRAY (54.3M)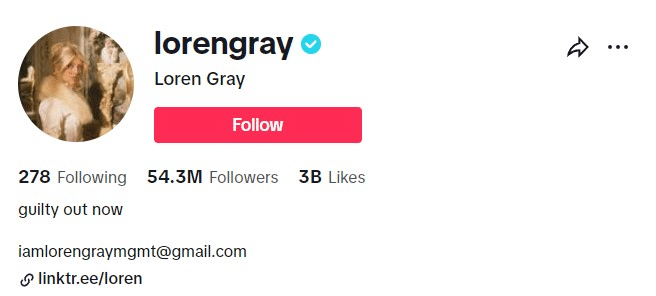 Loren Gray Beech is a popular TikTok influencer and singer who signed with Virgin Records in 2018. She has released eight singles so far.
Loren used to have the highest number of followers on TikTok, which helped her secure partnerships with Revlon, Skechers, Hyundai, and Burger King.
In addition to being a singer and influencer, she is also an entrepreneur who recently launched her jewelry brand called "& Always" on December 3, 2020.
14.) Michael Le @JUSTMAIKO (52M)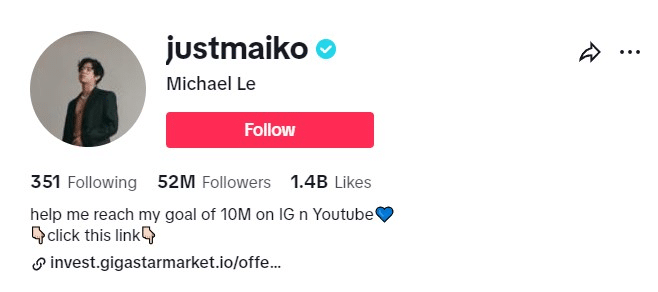 JustMaiko is an American dancer and choreographer whose real name is Michael Le. He is popular on TikTok and is recognized as one of the top influencers on this social media platform.
Michael is famous for his dancing videos and tutorials. He has collaborated with other dancers and personalities such as Jason Derulo, Crissa Jackson, Mikeila J., and Javier Romero.
Additionally, Michael is passionate about blogging and photography and enjoys documenting his life as a dancer in his free time.
15.) Riyaz Aly @RIYAZ.14 (45.7M)
Riyaz Aly, a 16-year-old Bhutanese/Indian actor and model, is a popular TikTok influencer with over 45.7 million followers.
He is known for his fashion sense and lip-syncing videos on the platform. Riyaz has also appeared in several hit Hindi and Punjabi music videos and dreams of becoming a Bollywood actor.
Riyaz now has a social media presence on Instagram. There, you can see him post random details in his daily life. He also started Underdog Digital, which promotes products online.
Final Thoughts on Famous TikTokers
Consider some of these top TikTokers for maximum exposure as your marketing campaigns expand beyond other mediums. With these well-known names behind your strategy, you can get closer to bringing even greater success to your brand.
Hire a TikTok advertising company to help you connect with your target audience, build brand identity, and boost sales.
Frequently Asked Questions on Famous TikTokers
How do brands choose the best TikTok influencer to work with?
Brands pick the best TikTok influencer to work with by seeing if that person can reach the people they target. They look at how many followers the influencer has, how people like their posts, and what their followers are interested in.
Do brands work with young TikTok influencers?
Brands often collaborate with young TikTok influencers with significant followers and high engagement rates to boost their brand image and advertise what they offer.
These influencers can help create organic and authentic brand awareness that resonates well with their followers.
How did young TikTok influencers become so famous?
Young people on TikTok are good at connecting with their audience. They make fun and interesting content that many people like, which helps them get many followers.