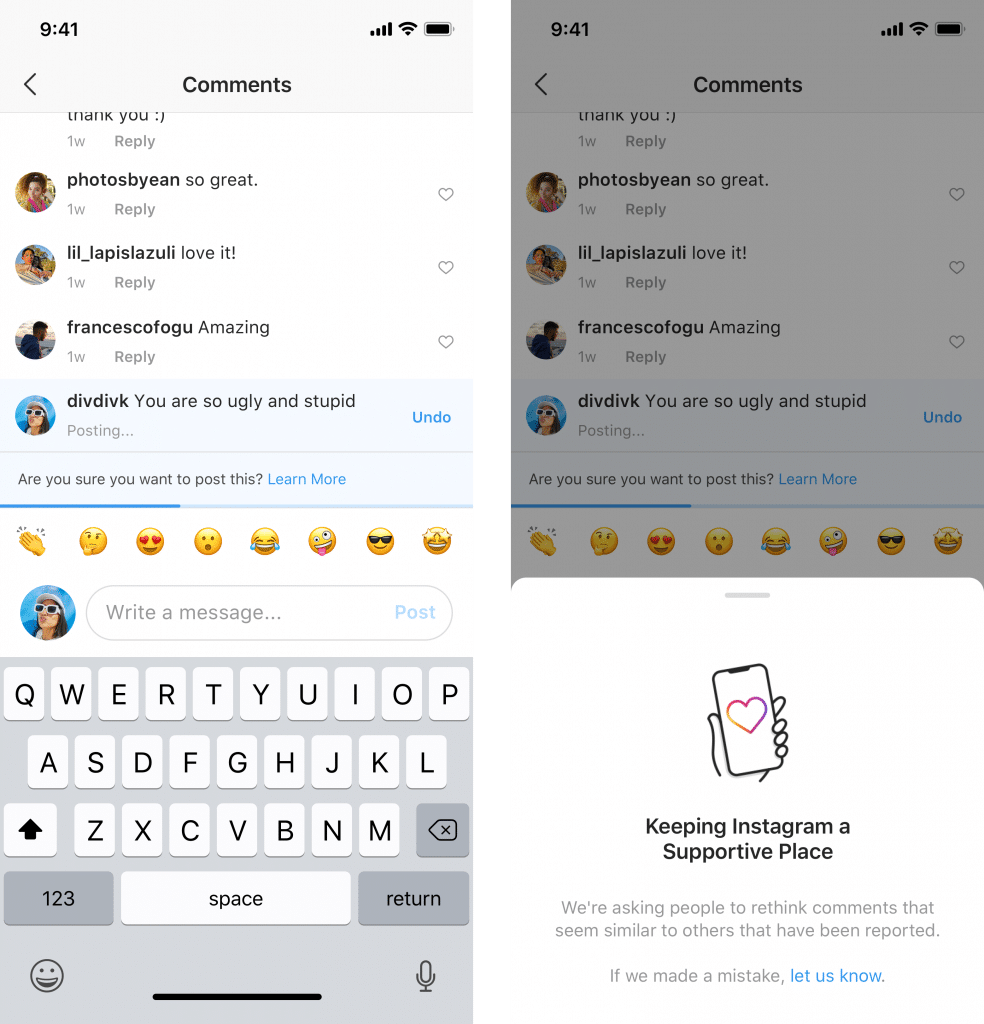 Instagram is tackling social media bullying head on with two new features that the company hopes will discourage bullies from abusing other users. The platform is also testing a Suggestions for You feature in Direct.

The first anti-bullying feature allows users to think before they post. When Instagram's AI systems detect offensive language in a user's comment, the user will receive what is called a comment warning. Even borderline content will come with a warning, prompting users to reconsider what they want to say.

This feature, Instagram hopes, will provide enough friction to prevent users from posting offensive comments.

"The idea is to give you a little nudge and say, 'Hey, this might be offensive,' without blocking you from posting," Francesco Fogu, a designer who works on well being, told Time.

By warning users that their content may be offensive, the feature helps Instagram curb bullying on the platform. However, the feature does need improvement on distinguishing between a harmful comment and a playful comment. Context often affects whether a comment is offensive to a user, and AIs have not yet perfected the art of understanding context.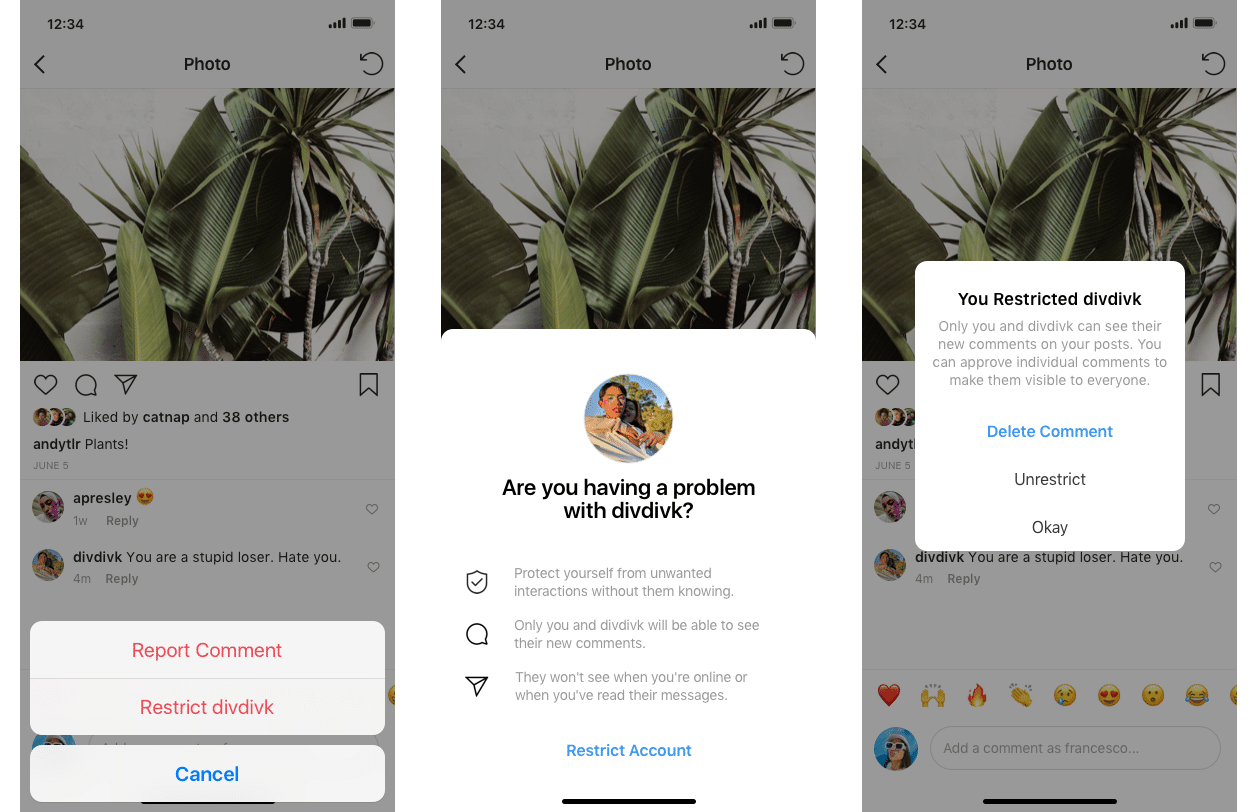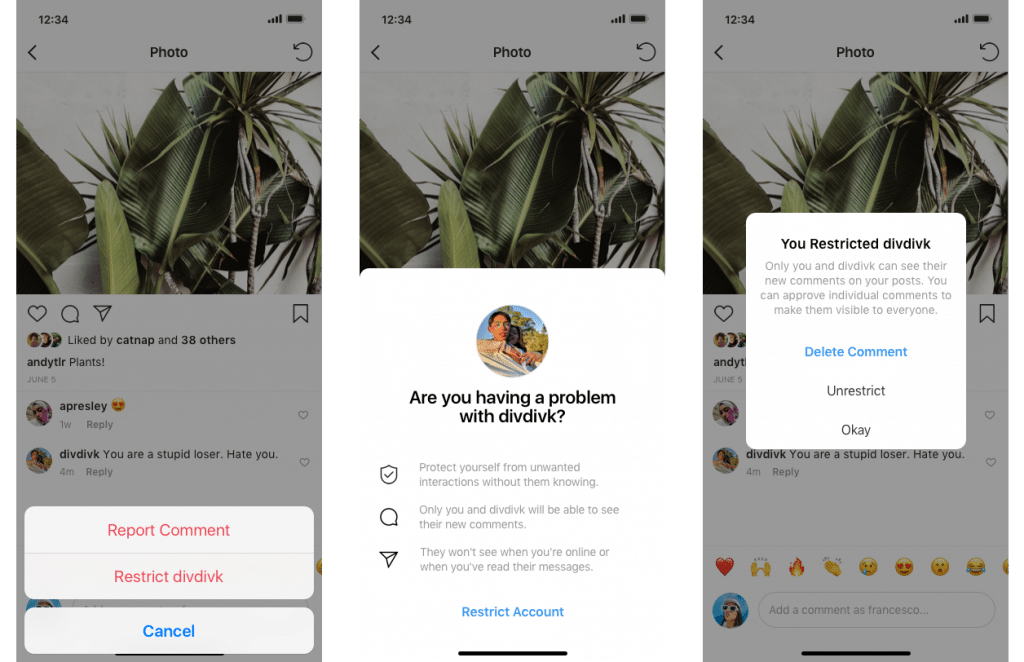 The second anti-bullying feature is called Restrict. Instagram has found one issue with blocking users: it both discloses to bullies that their words struck a chord and prevents victims from seeing what other offensive actions bullies may take afterward.

As a result of those two issues, Instagram created the Restrict feature, which is less obvious to bullies and gives victims the power to review comments by users they've restricted. Victims can choose to approve, delete, or leave the comments pending for as long as they wish. If a comment is deleted or left pending, it will remain unseen by everyone except the bully. When a bully is restricted and tries to tag the victim in a public post, he or she will also have to type out the username of the victim, letter-for-letter, without any auto-completion by Instagram.

With so much bullying taking place on social media these days, Instagram is doing its part to discourage the practice as much as possible.

"We are in a pivotal moment," Head of Instagram Adam Mosseri told Time. "We want to lead the industry in this fight."

Unfortunately, bullies continue to find novel ways to target their victims with each new feature the platform rolls out. "Teens are exceptionally creative," Instagram Head of Public Policy Karina Newton told Time. However, that isn't stopping Instagram from heightening its efforts. Mosseri is making anti-bullying efforts the platform's first priority.

A major obstacle in Instagram's anti-bullying efforts is the issue of free speech. "I do worry that if we're not careful, we might overstep," Mosseri told Time.

Regardless of the challenges, the platform will continue fighting the good fight, even if it leads to a decline in time spent on the app.

"We will make decisions that mean people use Instagram less, if it keeps people more safe," Mosseri added.

Instagram is rolling out both features this year.

Instagram Tests Suggestions for You in Direct
Another feature Instagram is currently testing is a Suggestions for You panel in Direct. When a user sends a post in Instagram Direct Messaging, the feature loads suggested accounts that are related or similar to that of the sender. Beneath the grid is a link the user can tap to discover more suggestions.

Suggestions for You only appears when a post is shared via Direct, according to Mashable.

"We're always working on ways to improve your experience on Instagram and bring you closer to the people and things you love," an Instagram spokesperson told Mashable.

At this time, it is unknown how many users have access to this new feature. It is also unknown when this test will roll out, if it does. Some of the tests Instagram tries don't roll out to users, especially if those tests weren't received well.
Suggestions for You has the potential to be disliked by Instagrammers, as the feature is a bit more invasive, encroaching on people's private space. Until now Direct has been untouched by monetization and plans to expand the feed, so this change may be jarring for users.

Instagram kicked off July with a slew of changes. Recently, the social media platform also introduced ads in Explore. The year is still young, and it is likely that Instagram will announce more changes in the following months.